Articles and Features
John Baldessari: "I could never figure out why photography and art had separate histories. So I decided to explore both."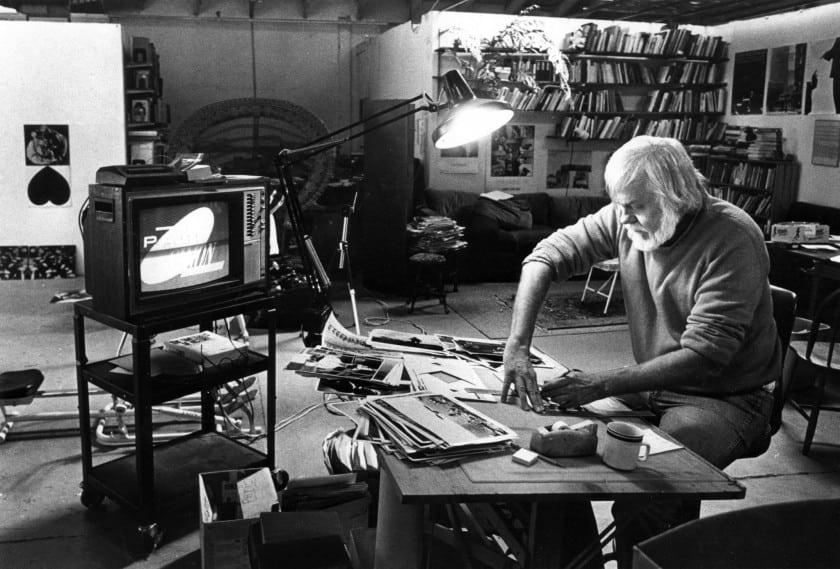 By Tori Campbell
"I get labelled as a conceptual artist and I think that's a misnomer. But everyone gets a label in life. I get labelled a California artist and I think that's a misnomer also…I just would rather be called an artist."

John Baldessari
After his passing on January 2, 2020 we look back at the life, art, and legacy of prolific conceptual artist John Baldessari. First and foremost an art educator, Baldessari shaped the Los Angeles art world through his lifelong teaching career. His influential former pupils include David Salle, Tony Oursler, Matt Mullican, Jack Goldstein, James Welling, Meg Cranston, Liz Larner, Mungo Thomson, Elliott Hundley and Analia Saban. Baldessari's engagement with combining photography, painting, and text led him to be described by New York Times critic Christopher Knight as "arguably America's most influential Conceptual artist."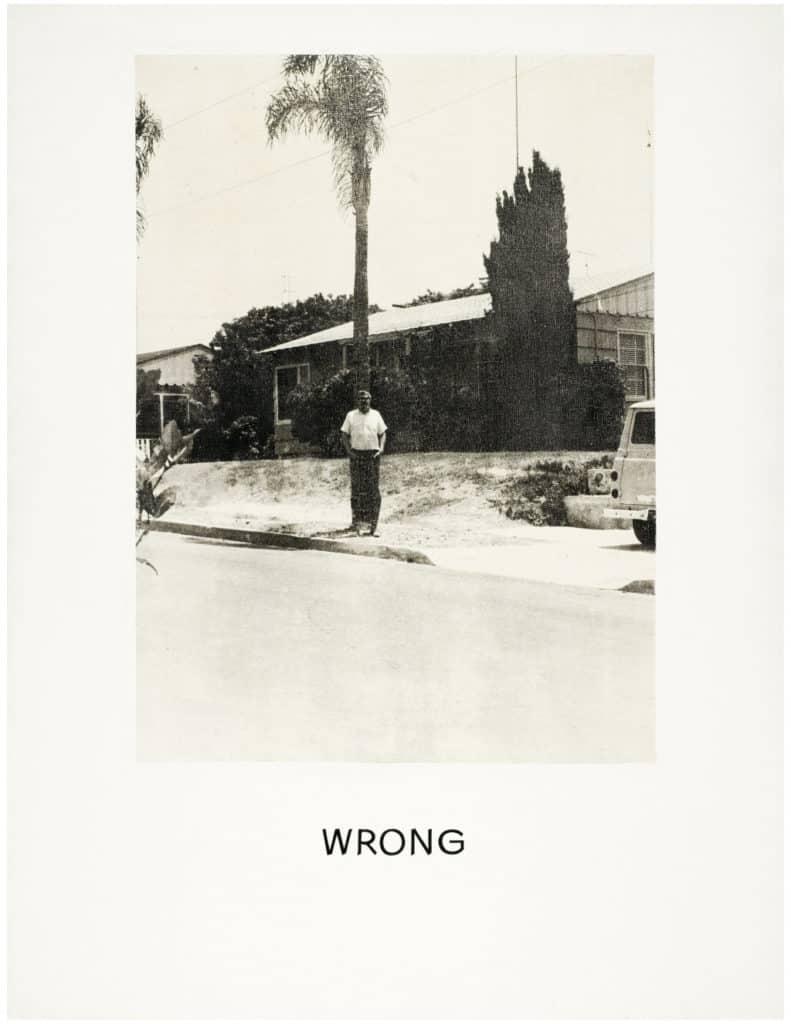 Early life and education
John Baldessari was born on June 17th, 1931 in National City, California fifteen minutes from the national border. Born to Antonio and Hedvig Baldessari, from Austria and Denmark respectively; his parents grew their own fruits and vegetables, composed waste, and raised chickens and rabbits. Antonio spent his life working as salvage dealer, and John Baldessari credits his father's influence as the reason he had such a difficult time throwing anything away.
"My studio is a mess. I trip over things, and it's full of books, records and magazines. I know where everything is, but I'm a pack rat. I think I've replicated my father's salvage store. He couldn't throw anything away because he saw value in everything. I see visual value in everything."

John Baldessari from a December 1998 interview for Barbara Isenberg's State of the Arts: California Artists Talk About Their Work published in 2000 by William Morrow
Education and teaching
Baldessari majored in art education, earning his master's degree from San Diego State College. Shortly after graduation he began teaching art in junior high school and later went on to teach at a community college, ultimately going on to join the faculty of the University of California, San Diego. A driven and restless man, he spent a summer teaching at a camp for juvenile delinquents in the mountains outside San Diego. Inspired by the kids' desire to create art despite their difficult circumstances, his time with them reinvigorated his passion and drive for experimentation.
A shift in focus
During this time his paintings were beginning to show in Los Angeles galleries, though by the late 1960s he was beginning to feel his work was futile. He explained that he realised he was defining art as painting, and painting as art, and thus desired an artistic shift. He began to photograph everything and anything, and he placed those photographs on canvas with text, creating tongue in cheek works like Wrong that gained national attention. His spirit of curiosity was piqued again by this unexplored territory, and he grew increasingly interested in the intersections and gaps between painting, text, and photography.
The Cremation Project
Baldessari made a bold statement in 1970. He decided to cremate all of the paintings he had made between May 1953 and March 1966, thereby creating one of the pieces of conceptual art he is best known for: The Cremation Project. After folding some of these ashes into cookie dough, he displayed the baked goods at New York's Museum of Modern Art's seminal survey of conceptual art, Information, and thus entered a new phase of artistic production.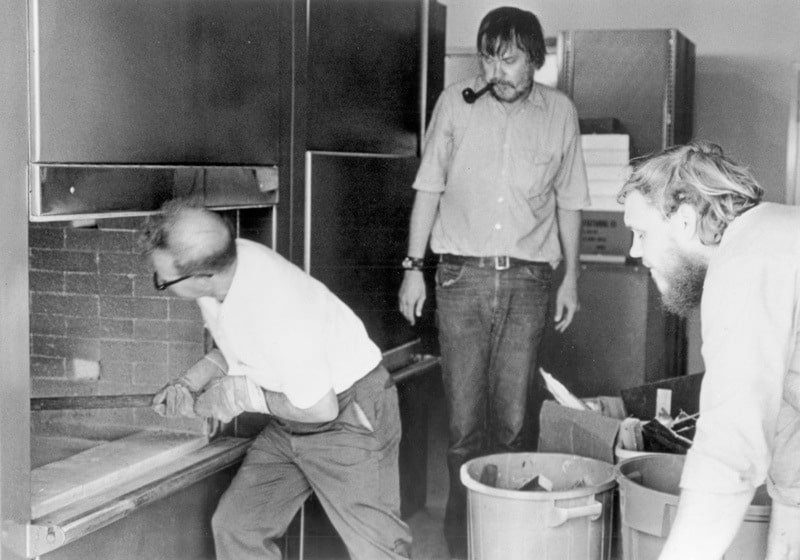 Film and photo work
Shortly thereafter he moved to Santa Monica to teach a course at CalArts he dubbed "post-studio", that was genre-less and exploratory. It was here that he began making short videos, proclaiming in one: I Will Not Make Any More Boring Art, by way of writing lines on paper as if punished for his wrongdoings. His work continued to show his wit and wry self-awareness, shown in videos like Teaching a Plant the Alphabet, a reflection on his position as an art educator.
He began to work in photo-collage in 1980, and one of his most well-known motifs was born one day in 1985 when he placed a round price sticker on the face of a photograph of a public figure he disliked. This playful moment resulted in a signature technique with sticker-ed and painted faces urging his viewers to make something out of nothing. He brought this playful approach of focusing on what is missing into his later work such as his ongoing Body Parts series.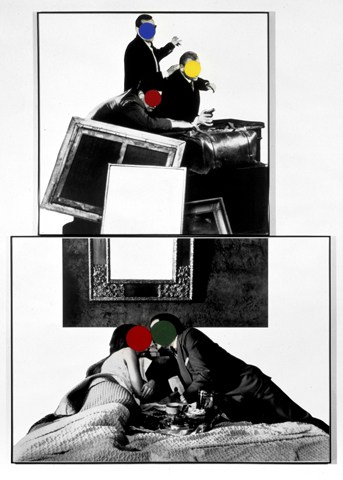 In 2012 the Los Angeles County Museum of Art commissioned Baldessari to create a film for its first annual "Art + Film Gala" that would honor both him and Clint Eastwood. He brought on musician Tom Waits as a narrator to help him create an iconic six-minute film A Brief History of John Baldessari. In the film he continues his legacy as an educator, explaining to art students everywhere the three things that he believes they should know:
Talent is cheap
You have to be possessed which you can't will
Be at the right place at the right time
His educational legacy was honoured at CalArts in 2013 when the John Baldessari Art Studio Building opened in recognition of his impact there. The same year a quote attributed to Baldessari: "Learn to dream", was plastered on buses and throughout public spaces in Los Angeles to ignite interest in arts education.
A Brief History of John Baldessari
Legacy
At the 2009 Venice Biennale he was awarded the Golden Lion award for lifetime achievement, a high honour. Additionally, in 2015 President Obama awarded Baldessari the National Medal of the Arts. He has been the focus of retrospective exhibitions the world over, including at the Museum of Contemporary Art, Los Angeles; Kunsthaus Graz, and Museum Moderner Kunst, Austria. He passed away on January 2nd, 2020 but leaves behind a legacy of innumerable inspired students, over 375 solo exhibitions, more than 4,000 works, and the lasting impression of his wit and attitude towards art.
Relevant sources to learn more
Baldessari explains his strange mind to the San Francisco Museum of Modern Art
Check out the artists website