Articles and Features
Lost (and Found) Artist Series: Huguette Caland
By Shira Wolfe
"I love every minute of my life… I squeeze it like an orange and eat the peel, because I don't want to miss a thing."

Huguette Caland
Artland's Lost (and Found) Artist Series features artists who were originally omitted from the mainstream art canon or largely invisible for most of their careers. In our last edition, we explored the groundbreaking work of abstract artist Samia Halaby. This week, we focus on Huguette Caland, the daughter of the first president of postcolonial Lebanon, who forged her own path as an artist and became known for her bright abstract paintings, erotic line drawings, and fashion designs inspired by the Middle East.
Early Career in Beirut
Born in Beirut in 1931, Huguette Caland was the daughter of Bechara El Khoury, who was to become the first president of post-independence Lebanon in 1943.
She took up painting at the age of 16 under the tutelage of Italian artist Fernando Manetti, but it was only after her father's death in 1964 that Caland decided to pursue a career in art. That same year, she enrolled in a fine art course at the American University in Beirut. At the beginning of her career, she was mostly engaged with painting and sculpting erotic, semi-abstract bodyscapes. She explored topics such as love and anatomy with her signature humour and light touch. "I'm a line person," she said of herself, referring to her work's delicate lines, inspired by the Byzantine mosaics and hand-woven rugs she grew up with in her native Beirut.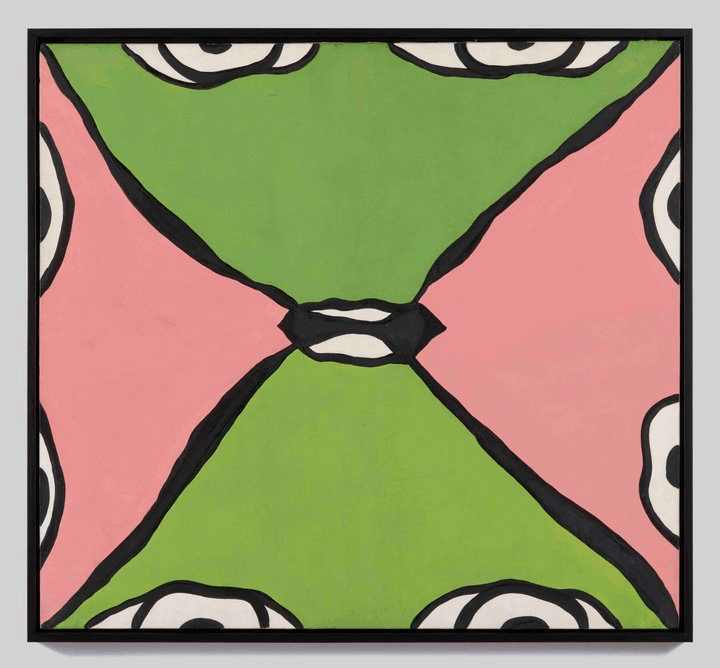 By the time Caland started dedicating her life to art, she had married Paul Caland, the nephew of one of her father's political rivals, and had children. She also had an affair with a man named Mustafa, who was to feature in many of her works. In 1970, she decided to leave behind her life in Lebanon and move to Paris, in order to build a career there as an artist.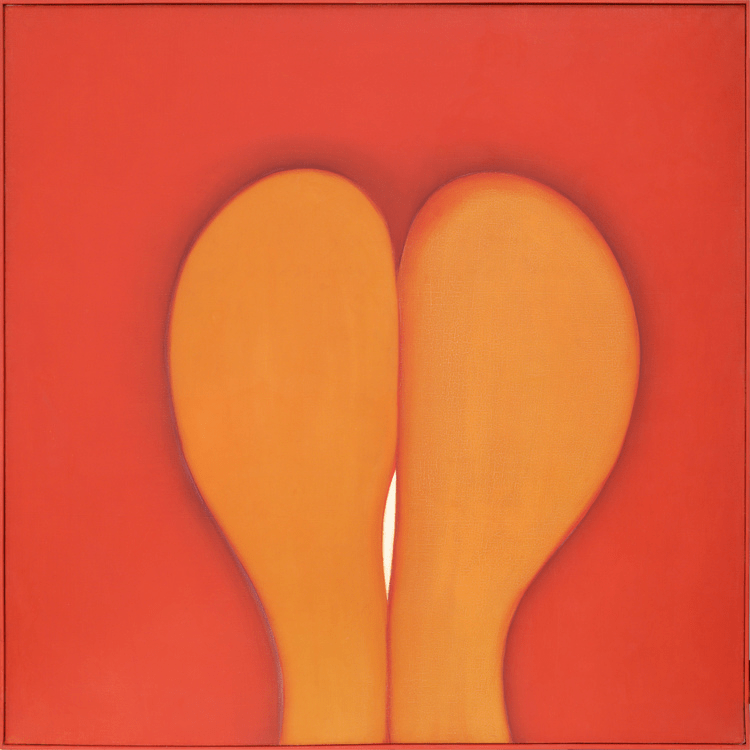 "I thought that I was strong enough to confront the world with my work. I thought I had wings to fly and I said goodbye to everybody."

Huguette Caland
Huguette Caland in Paris
Caland's move to Paris came from a strong need to dedicate her life fully to art. The story goes that she announced her plans to leave Lebanon, her husband and teenage children, at her own dinner party. She wanted to have her own identity, free from the identity of daughter, wife, mother, and sister. For Caland, waking up in Paris alone was the ultimate freedom she needed to develop and expand as an artist.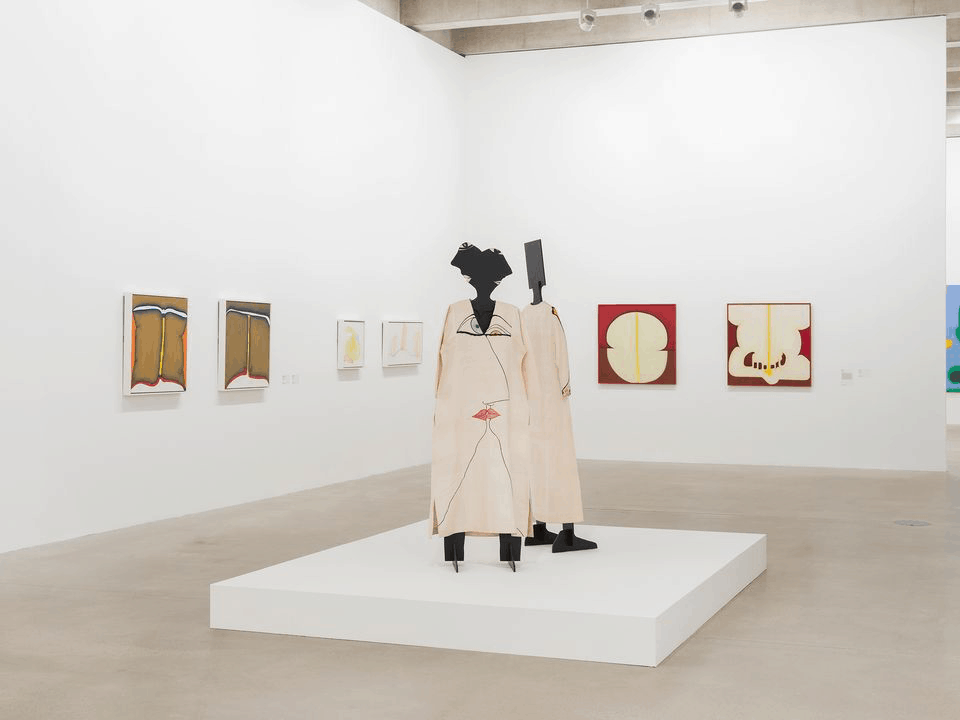 Back in the 1960s in Beirut, Caland decided to reject the western-influenced fashion worn by many of her peers, instead opting for loose-fitting kaftans inspired by the abaya, a type of traditional Arabic dress. She frequently designed and made these kaftans herself, and when she moved to Paris, she brought her kaftans with her and continued to explore working on these. She met designer Pierre Cardin, who was fascinated by her kaftans, and she ended up designing a line of haute couture kaftans for him, beginning to make the textile-like, patterned compositions that she continued to explore throughout her life.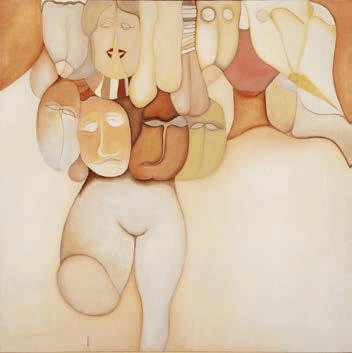 Caland's Paris days (1970-1987) were marked by exuberant and erotic paintings, with which she challenged conventional norms surrounding beauty, desire and femininity. Although she had left behind her family and her lover in Lebanon, Caland maintained close relationships with them, and they featured in several of her works in this period. One of her most political works was Guerre incivile (Uncivil War) from 1981, which reflects on the Lebanese Civil War, which was upending the country when she made the painting.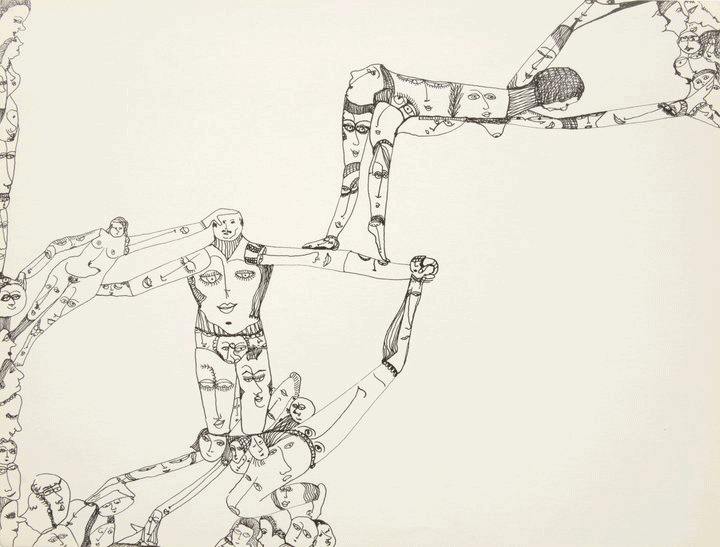 In 1986, her then-partner, Romanian sculptor George Apostu, passed away. One of the last paintings she did in Paris is, in fact, Apostu (1986), a homage to their relationship. Soon after, in 1987, Caland started a new chapter and moved to Venice, California.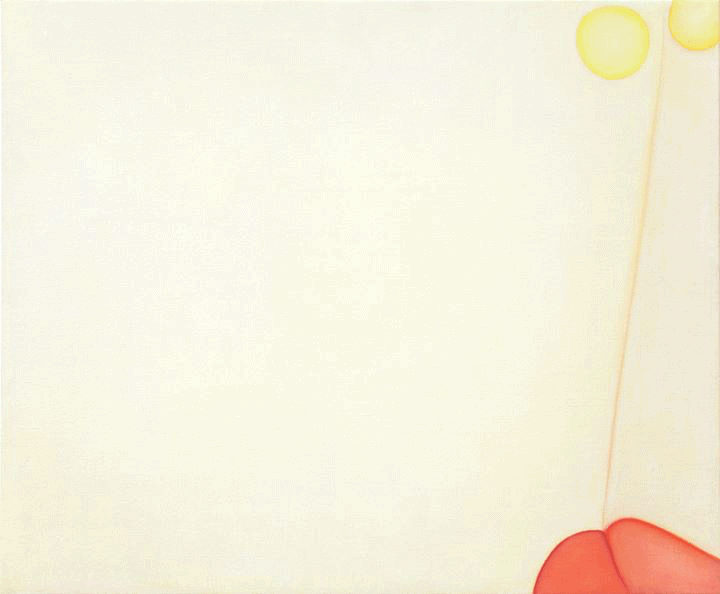 The Line
The use of the line is central to Caland's art. "My lines tell a story of my life, of people I met along the way, whom I loved and found and even lost," Caland once said. In her 1972 series Flirt, minimal lines flowingly depict playful and erotic encounters – lips, noses and mouths finding one another on the paper.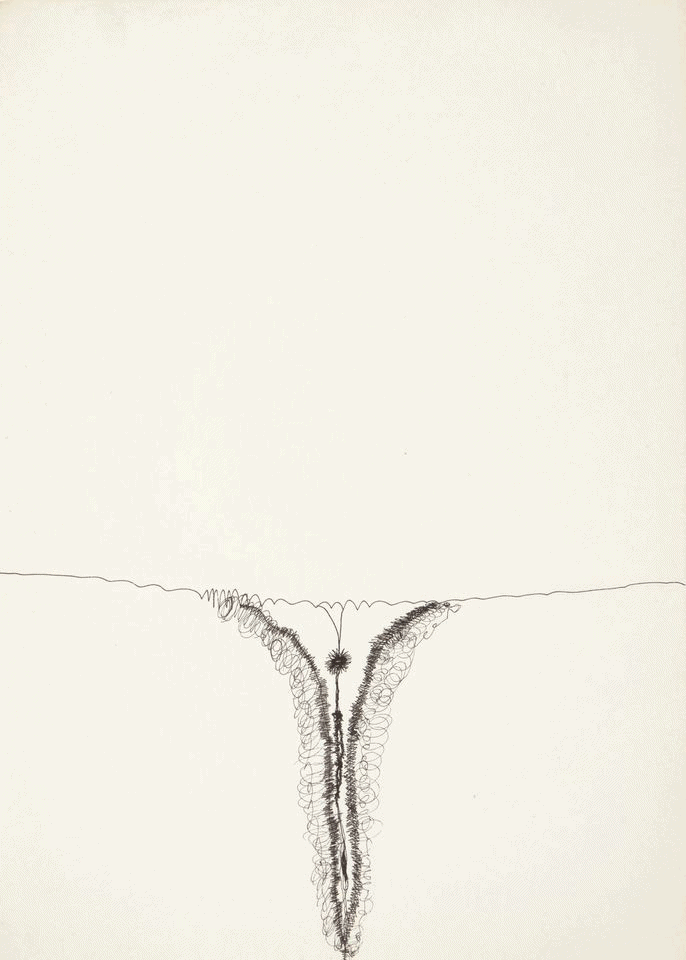 Caland's lines and shapes had become more refined in Paris, often delineated by monochrome edges. Her Bribes de Corps (Body Parts) series (c. 1972-1975) was characterised by voluptuous, curvy shapes suggesting sensual body parts. Caland loved to play with the tension between abstraction and figuration, creating titillating works that balanced between delicate and subtle contours and an unabashed boldness and teasing nature.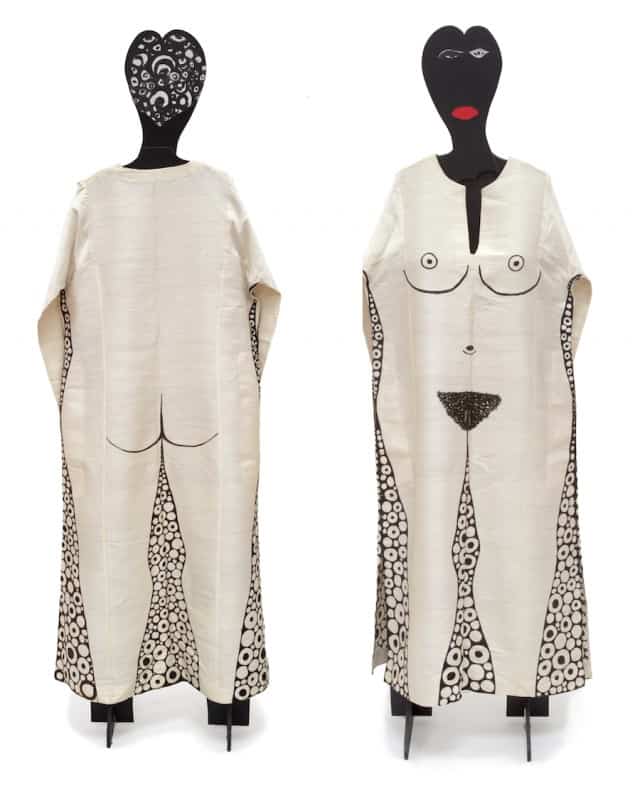 In her kaftan fashion designs, Caland's lines and contours also found their place. The garments were absolutely ahead of their time, at once rejecting the trend at the time for form-fitting female dress, and fully celebrating the female form. In her kaftan Miroir (Mirror) from 1974, Caland created the outline of a naked female body on the fabric, complete with a triangular bush of pubic hair.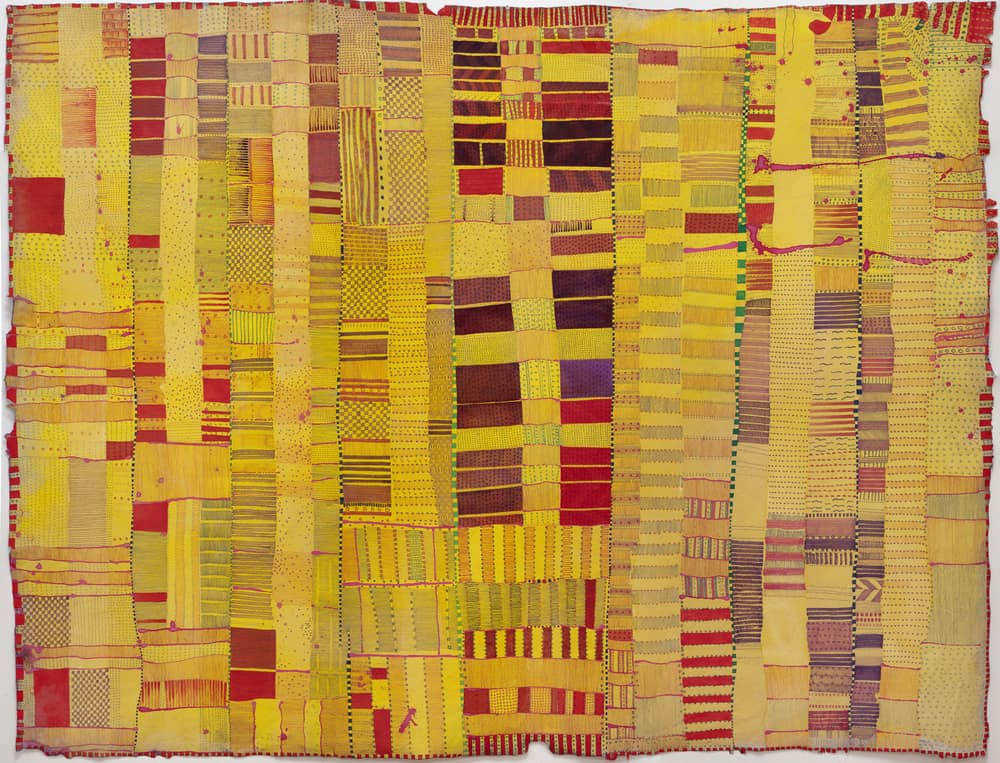 Huguette Caland in California
In 1987, Caland moved to the Venice Beach neighbourhood in Los Angeles, where she set up a spectacular studio space in her large home, which, in keeping with her deep need for freedom, had no interior doors whatsoever, except for in a small guest bathroom. Doors made Caland feel claustrophobic. She lived and worked here for years, with some of her children living nearby at various points. During her time in California, Caland explored new materials and approaches, working with mixed media and collage on canvas, paper, and even sheepskin. In 2013, she moved back to Beirut to be with her dying husband – despite having lived many different lives and having had many different lovers, Caland had remained close with her husband and she cared for him until his death.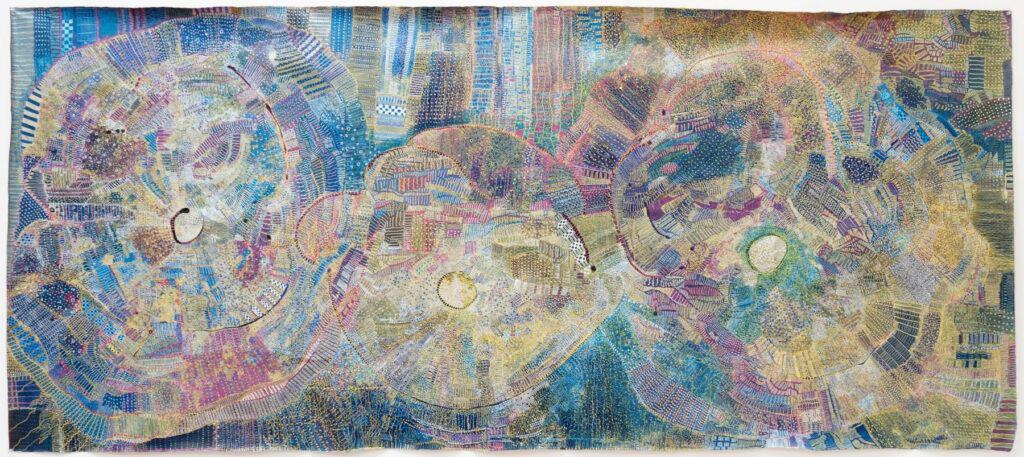 Widespread Recognition and Recent Retrospective
Despite her brilliant and bold presence in the art world and her fearless working approach, Caland only gained widespread institutional recognition in the past decade, since participating in the 2012 group show "Le corps découvert" at the Institut du Monde Arabe in Paris, and the 2014 Prospect New Orleans triennial. In 2016, curators Aram Moshayedi and Hamza Walker staged a mini-retrospective for Caland at the Hammer Museum in LA, at which point Caland was truly catapulted onto the scene as a star, at the age of 85. Participation in the 2017 Venice Biennale and the 2019 Sharjah Biennial followed, and, in 2019, the Tate St. Ives put on her first museum show in the UK, a retrospective of Caland's works curated by Anne Barlow. The exhibition closed just before the artist's death at her Beirut home, on 23 September 2019. She leaves behind a daring, provocative and sensual body of work that was absolutely ahead of its time, and continues to inspire with its messages of freedom, female empowerment and a full dedication to pleasure and life.
Relevant sources to learn more
Huguette Caland Website
Tate
Hammer Museum
Nathalie Karg Gallery
Kayne Griffin Corcoran
Lombard Freid
For previous editions of the Lost (and Found) Artist Series, see:
Samia Halaby
Etel Adnan
Alma Thomas
Carmen Herrera