Articles and Features
Lost (and Found) Artist Series: Etel Adnan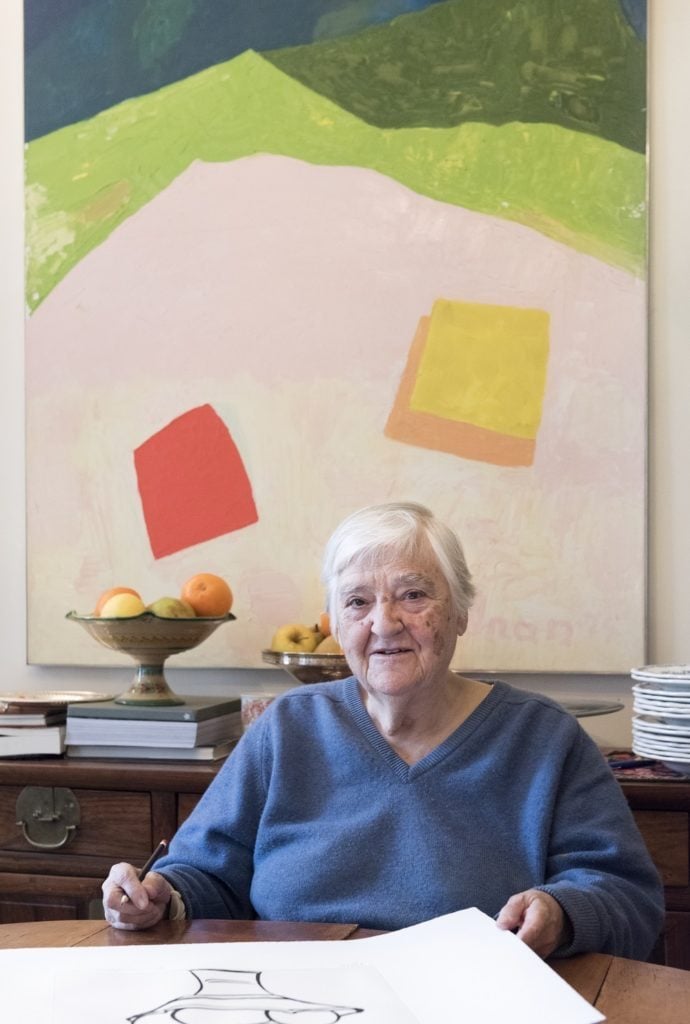 By Shira Wolfe
"You know, all art is abstract. I mean, if you do a portrait, a human face is not flat like a portrait. There is abstraction at the base of everything."

Etel Adnan
Artland's Lost (and Found) Artist Series focuses on artists who were originally omitted from the mainstream art canon or largely invisible for most of their careers. This week, we dive into the work of Etel Adnan, the 94-year-old Lebanese-born artist, whose career spans several decades and whose visual art only became recognised later in life.
Beirut, France and California
Etel Adnan was born in Beirut in 1925, the child of a father from Damascus and a mother from Smyrna in Greece. Adnan was schooled in French and moved to Paris in her twenties to study philosophy. After a few years, she had relocated to the United States where she continued her education and started teaching the philosophy of art and aesthetics at Dominican College in San Rafael, California. Painting came to her in her thirties. Before painting, there was writing. Adnan was mostly known for her prolific political writing and engagement in the anti-war movement of the '60s which emerged from the Bay Area.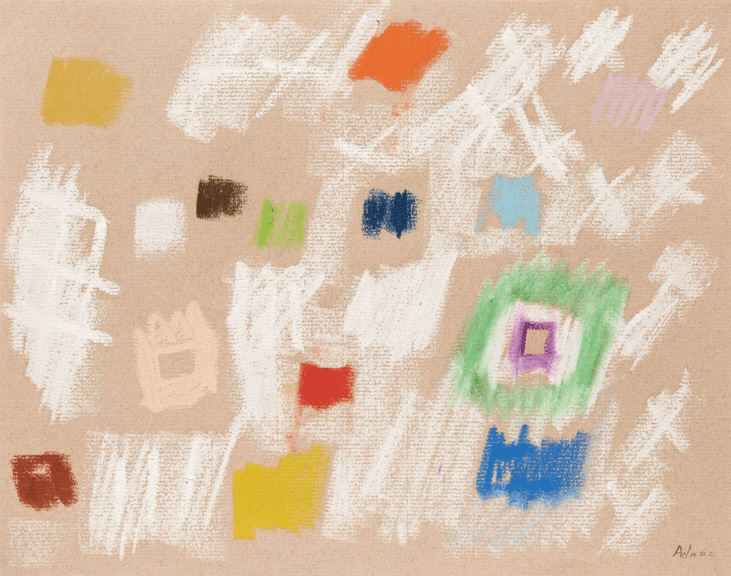 "The tool you use, it works with you. It's a collaboration between you and the tools. For poetry, it's language. We don't make language, we inherit language. It's ready and we use it. Writing is drawing, drawing is writing. Because it's the same gesture."

Etel Adnan
Between Writing and Painting
Adnan describes a clear division in her creative output. There is palpable darkness and pessimism in her writing, stemming from her experience growing up in Beirut and her inevitable connection to the political turmoil and tragedies in that region. She could never forget about the problems in the Middle East, no matter where she lived. Moreover, Adnan was the daughter of a Syrian father who was really from the Ottoman Empire and was an officer in the Ottoman Army, and a mother from the Greek Smyrna. Her father became unemployed at the age of 38 because the entire Ottoman Empire had collapsed, and her mother's Smyrna had burned to the ground. Thus, Adnan grew up with parents who had seen their entire worlds destroyed. This loss and devastation naturally influenced Adnan's perception of the world.
Adnan explains that words are social, so it is more natural to express things that bother you in words. Visual art, on the other hand, she describes as a language of feeling. And when she paints, she is happy. This translates into her colourful, exuberant paintings which seem full of hope, happiness, and exploration. Adnan thinks of herself as a Californian artist – the colours and brightness she uses in her paintings belong to California and its climate and landscape.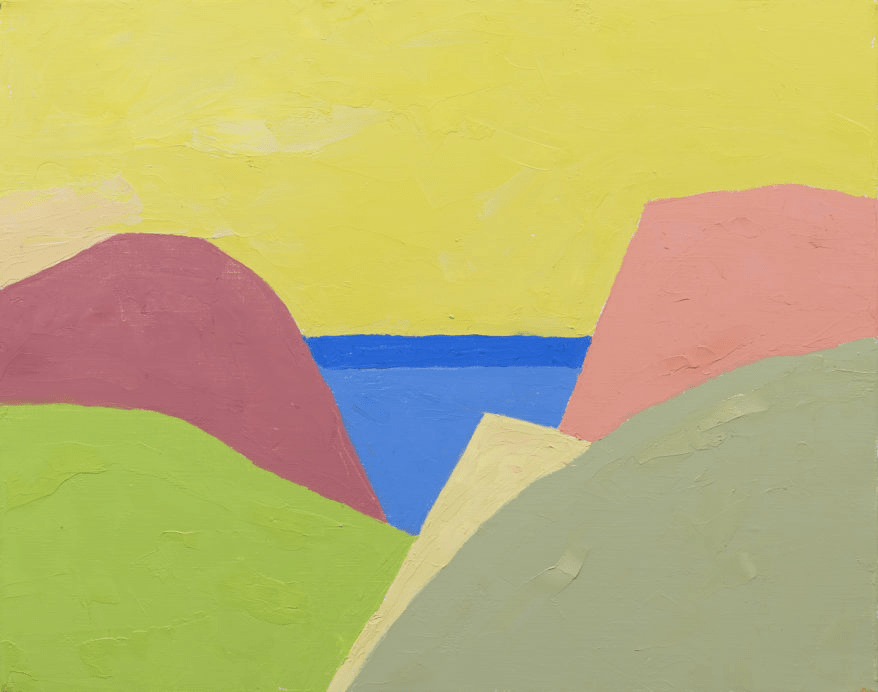 The Landscape of California, and Towards Pure Abstraction
First and foremost, her paintings are a response to the Californian landscape. They are abstract embodiments and impressions aimed at conjuring up the vastness and intricacy of the air, the sea and the earth there. She often works with a palette knife, layering oil paint straight from the tube onto the canvas in order to build up a physical terrain. Especially the mountains in California inspired her, and one in particular: Mount Tamalpais near Sausalito, where she lived for many years. That mountain became her best friend, a point of orientation that always made her feel truly at home, and thanks to which she never really felt alone. She has said that that mountain saved her life on a very existential level. This majestic triangular form often features in her paintings – one of the only figurative elements in her paintings, along with the occasional red disc indicating the sun, or band of azure blue as the sea.
In the past years, Adnan's painting has tended more towards pure abstraction. She believes the reason is that she is no longer able to travel much anymore or take airplanes. Nowadays, based in Paris, she invokes an internal landscape, the one she can still access. She misses California deeply, but continues to access its landscapes from within.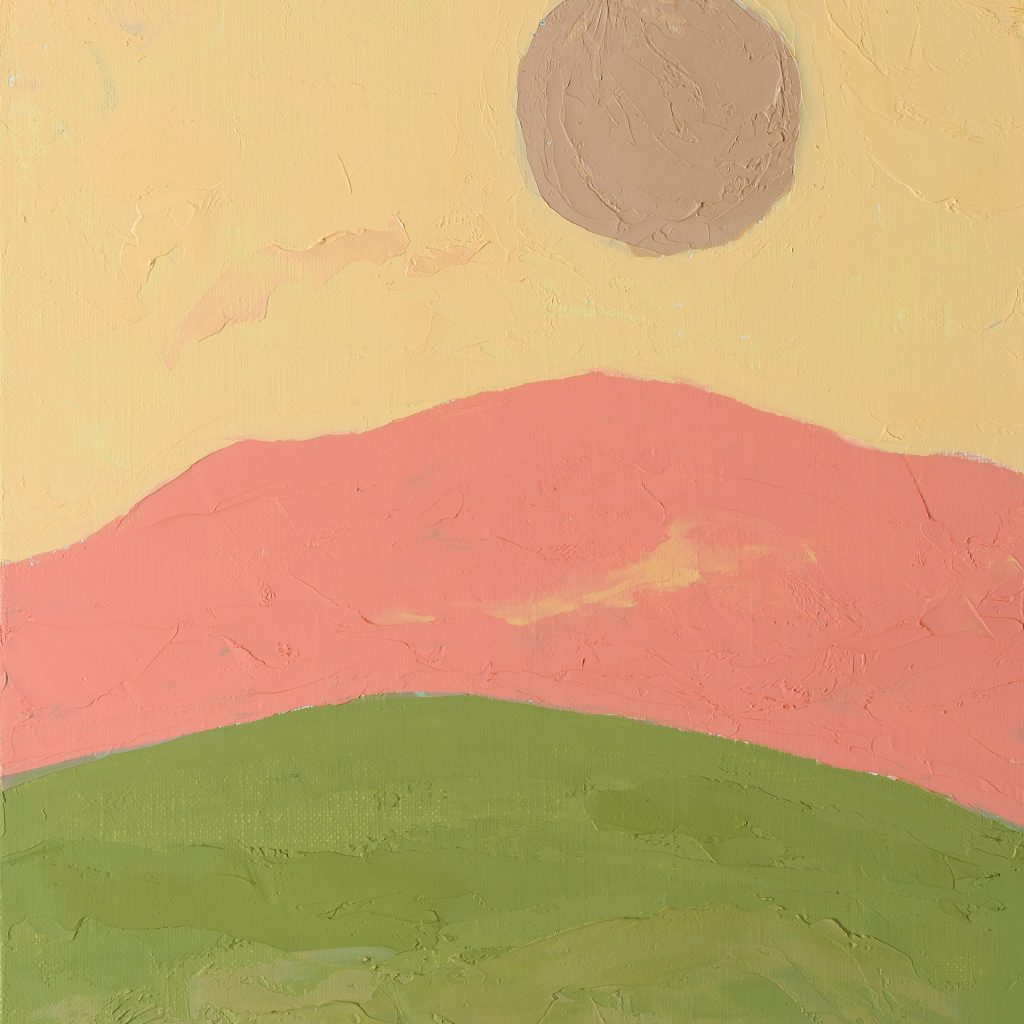 Etel Adnan's "Leporellos"
Interesting elements in her visual art practice are her "leporellos," pocket-sized pleat-folded booklets that usually contain many pages and combine poetry and painting. She initially started transcribing poems by Arab poets such as Mahmoud Darwish and Yusuf al-Khal, and later also used the English words of American poets or her own poems translated into Arabic from English. Watercolours create delicate patterns interacting with the words. Through this work, Adnan discovered that the act of writing can also be seen as an act of drawing. The leporellos are like a voyage that invites a slowing down of the way we look at things and an intensification of our experiences.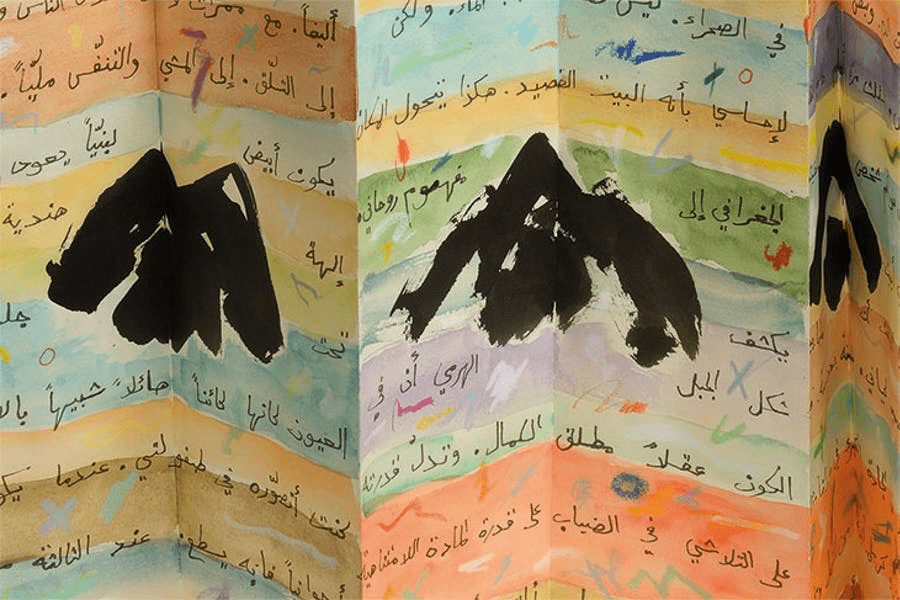 Widespread Recognition of Etel Adnan's Visual Art
In the 2012 edition of documenta, a suite of Adnan's paintings was included and she became known overnight. She was in her 80s at the time. Before that, she had shown her works occasionally in small shows and was known in certain circles. In her words, she was content working in her corner. But since documenta 13, her work has been shown in large commercial galleries such as White Cube, and important public institutions including the Serpentine Galleries (2016), MASS MoCA (2018), Zentrum Paul Klee (2018), SF MoMA (2018) and the Whitney Biennial (2014). She is now represented by Galerie Lelong & Co.
Adnan is cynical about people's obsession with this recognition in her old age, but is happy to be meeting interesting art-world figures to share conversations with since her more widespread success. Meanwhile, she has won numerous awards for her writing over the years.
Speaking about one of her most recent solo exhibitions at SF MoMA, which was very important to her, Adnan says: "I am profoundly happy in a mystic way that one of my last shows is there. I wouldn't have dreamed, to be honest, when I was painting, that I would have a show. For me, it was like the paradise you don't enter. So I am amazed I will have a show. And I think it's a poetic justice somehow. It's really both unexpected and maybe natural."
Learn more about Etel Adnan here:
Colour as Language: Etel Adnan Retrospective at the Van Gogh Museum
Etel Adnan Website
Apollo Magazine
Galerie Lelong & Co.
SF MoMA
Discover & Buy Paintings for Sale