Articles and Features
Colour as Language: Etel Adnan Retrospective at the Van Gogh Museum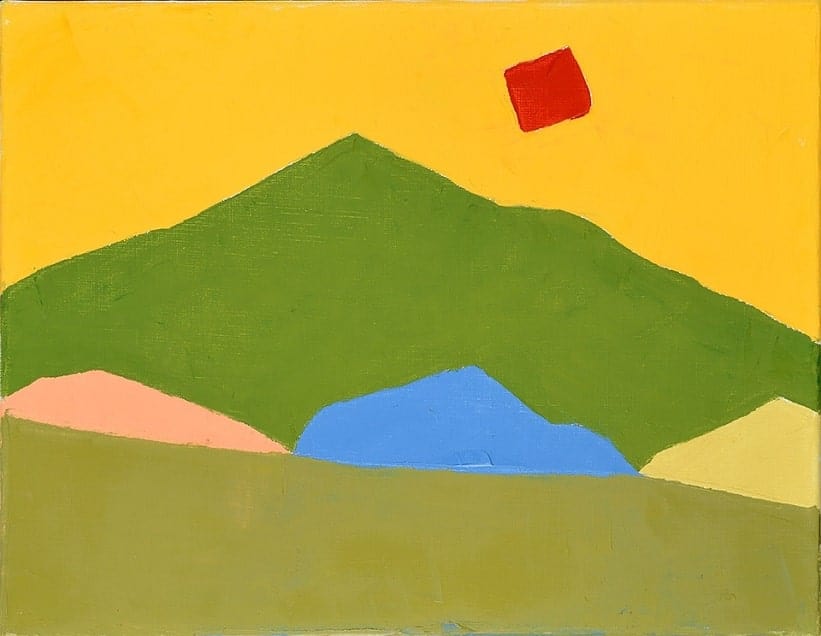 By Shira Wolfe
"Colours make visible what the person is trying to say, but silent."

Etel Adnan
Artist and writer Etel Adnan's vivacious body of work is celebrated alongside the work of Vincent van Gogh, whom she greatly admired, in the current retrospective Colour as Language at the Van Gogh Museum in Amsterdam. The exhibition was developed in close collaboration with Adnan herself until her death in November 2021, and her words and thoughts on color, poetry, nature, and life thread the exhibition together.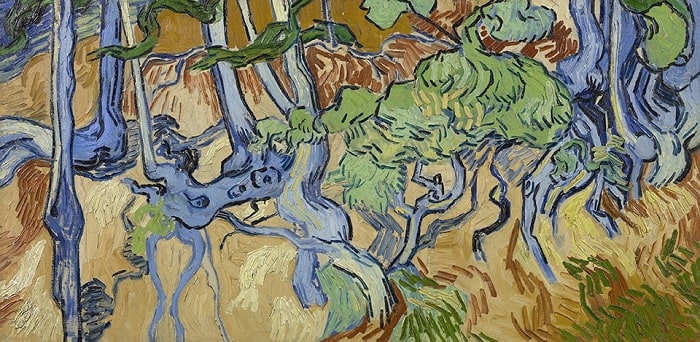 The art of Etel Adnan
Born in Beirut in 1925, Etel Adnan was a child of many different cultures: the daughter of a Greek mother and a Turkish-speaking father from Damascus. She was schooled in French, and in her twenties, she moved to Paris to study philosophy. She then relocated to California, where she began teaching the philosophy of art and aesthetics, and also started writing.
Writing and painting
It is for her poetry and her political writing that she became known first in the 1960s and 1970s. She wrote both prose and poetry about the wars and violence in Lebanon and elsewhere in the world. As a response to the ongoing Algerian war of independence (1954-1962), she began feeling conflicted about writing in French, the language of the colonizer. Around this time, at the age of 34, she started painting, something that helped her to deal with this conflict. In her paintings, Adnan discovered the universal language of color. She was greatly inspired by the use of color and expression of Vincent van Gogh. Adnan eventually began writing poems again, in English this time.
Moving between Paris, California, and Beirut for most of her life, and having had to leave Beirut due to the civil war in the late 1970s, Adnan could never forget about the struggles in the Middle East. In her writing, there is a pessimism that comes from these experiences and her connection to the tragedies in the region. Her novel Sitt Marie Rose is set before and during the 1975-1990 Lebanese Civil War and became an influential work of literature condemning war and examining gender and politics. In her paintings, Adnan expresses her more cheerful side, filled with colors, beauty, and hope, while always sensitive to and concerned with the state of the world.
Adnan only received international recognition for her art at the age of 87, when she was included in documenta in Kassel in 2012. She leaves behind a beautiful body of work that is read and exhibited worldwide.
"It was a big shock for me to see Van Gogh's work for the first time. It must have been in Paris in the early fifties. Coming from Beirut, I had never even seen any reproductions of art – we had no museums in Lebanon. […] I remember his self-portraits. I was amazed that a person could look at himself with such precision, such intensity, to an unbearable degree. That shock never disappeared."

Etel Adnan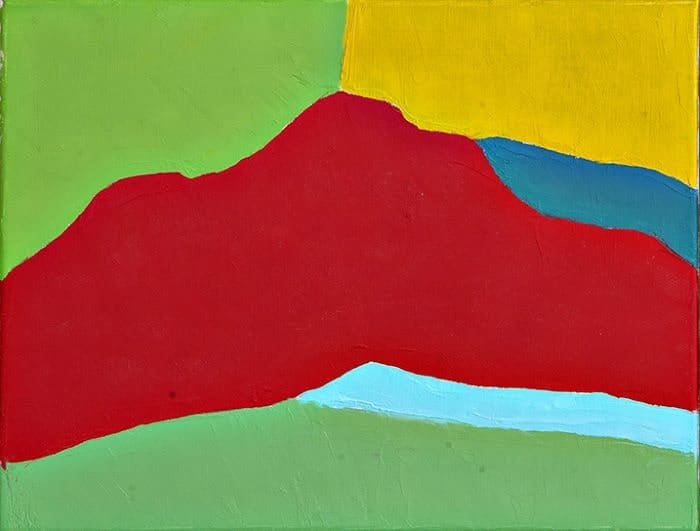 Colour as Language: Adnan's encounter with Van Gogh
While studying in Paris, Adnan had her first encounter with the paintings of Van Gogh. She was deeply moved by his intensity, by his search for the essence of existence, and his use of bright colors to depict a personal experience of nature.
Adnan believed that nature expressed itself most powerfully through color, and felt that Van Gogh was the first artist who dared to apply this in his art. Adnan's early works from the 1960s, on view at the Van Gogh Museum, are abstract compositions of areas of color. Her later works are smaller in scale and are landscapes. A recurring subject in her paintings is Mount Tamalpais, a peak in California that became beloved to her when she returned to California in 1980. She would make countless interpretations of the mountain, her view from her house in Sausalito. Another important subject in her work is the sun, one of her most vivid memories of growing up in Beirut. Adnan often depicted the sun as a fiery crimson circle or square. The rest of the painting was built around this. She considered the sun in her work, and in Van Gogh's paintings such as The Sower (1888), an "architect of the landscape".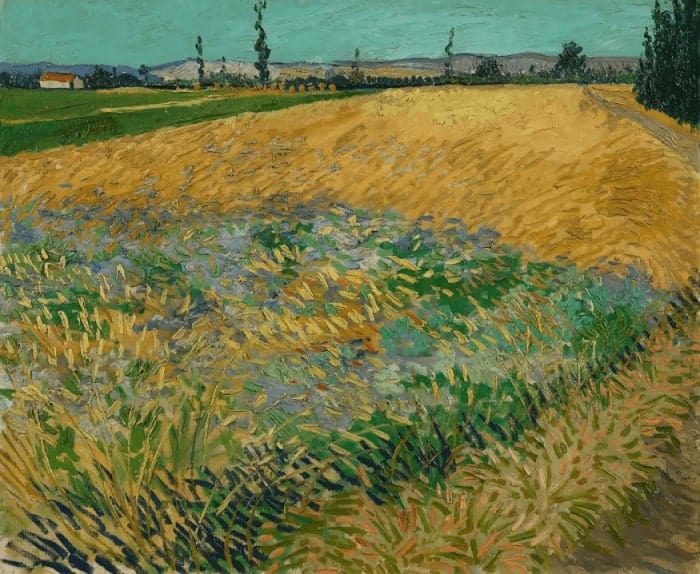 Later in life, Adnan began making colorful tapestries, which she referred to as "hanging gardens". There were no museums when she was a girl growing up in Lebanon, so her father would take her instead to visit the carpet traders at the bazaars and admire the Persian carpets. This was her first introduction to art, and she returned to this experience by making her own beautifully colorful tapestries.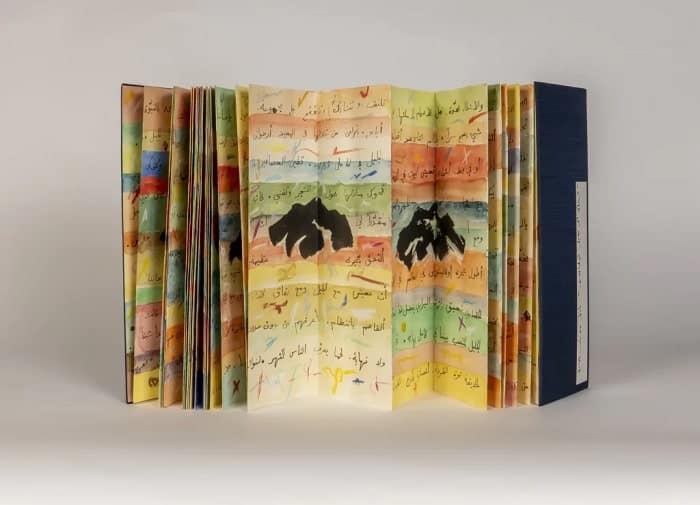 Leporellos: writing is drawing
According to Adnan, "drawing is writing and writing is drawing." In her leporellos (books folded like an accordion), she literally united drawing and writing. In Colour is Language, five leporellos are exhibited. She often copied texts by Arab writers and poets whom she admired, using the Arabic script and adding her own watercolor illustrations. For the leporello Journey to Mount Tamalpais (2008), now on view at the Van Gogh Museum, Adnan had some of her own writing and poetry translated into Arabic (as she grew up in French-controlled Lebanon, she did not master Arabic perfectly). She then copied it to the leporello and added illustrations of her beloved Mount Tamalpais.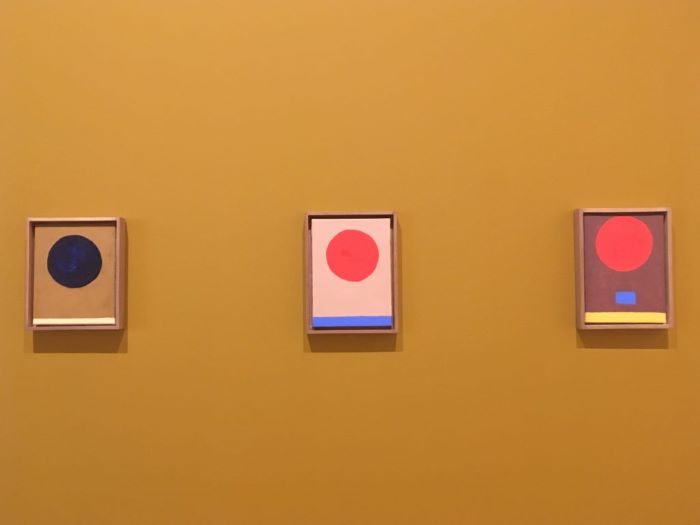 The exhibition
Seventy-eight of Etel Adnan's works can be seen alongside 10 by Van Gogh in the exhibition Colour is Language at the Van Gogh Museum through September 4th, 2022. The two artists' works juxtaposed highlight their shared connection with nature and the way they used color to render this connection onto the canvas across epochs and styles.
Relevant sources to learn more
Read more on Artland Magazine
Art Exhibitions to See Around the World in Summer 2022
Read more about the life and paintings of Etel Adnan
Most famous paintings by Vincent Van Gogh
Other relevant sources
Colour as Language at the Van Gogh Museum
Wondering where to start?