Articles and Features
Vincent van Gogh: Life of the Post-Impressionist Master
By Shira Wolfe
"I keep on making what I can't do yet in order to learn to be able to do it."

Vincent van Gogh
The Dutch painter Vincent van Gogh is one of the most influential figures not only in the area of Post-Impressionism but in the whole Western art history. During his lifetime, he was commercially unsuccessful and considered a madman. He suffered intense psychological breakdowns and in 1890, he committed suicide at the age of 37. Yet some people during his lifetime believed in his artistic genius, including his younger brother Theo van Gogh and fellow artist and friend Paul Gauguin. Despite his life being tragically cut short, Van Gogh produced a vast body of work in the decade that he was active as an artist, leaving behind a total of 2100 artworks of which most date from the last two years of his life, when he spent time in psychiatric hospitals. He is now considered a pioneer of modern art and his works are among the most expensive paintings ever sold.
Biography of Vincent van Gogh
Vincent Willem van Gogh was born in Zundert, The Netherlands, on 30 March 1853. He was the oldest child of the Protestant minister Theodorus van Gogh and Anna Carbentus and was followed by five siblings: three sisters and two brothers. He had a very close relationship with his brother Theo, who would end up supporting Vincent's life as an artist. At the age of 16, Vincent's uncle found him a job as a trainee at the international art dealer Goupil & Cie. It is in this period, in 1872, that Vincent and Theo began their life-long letter correspondence – an essential source of information about the artist's life story and exceptional work.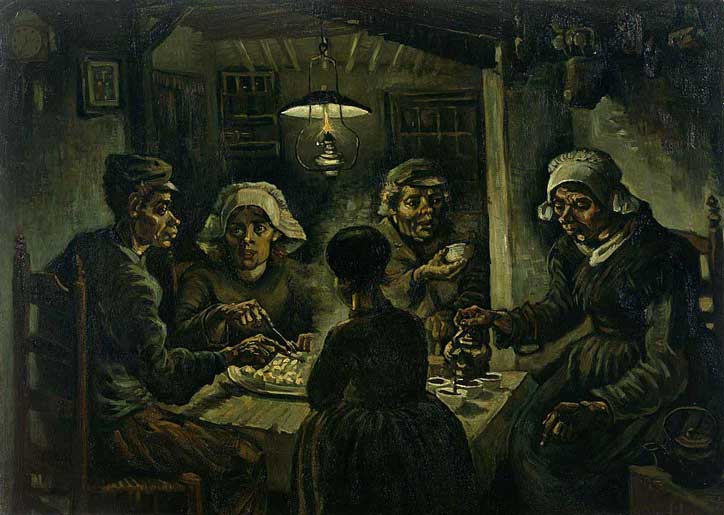 Finding Art
Vincent only found his true calling as an artist at the age of 27. This is in part thanks to his younger brother Theo, who advised him to concentrate more on his drawings after seeing Vincent's talent in little sketches he enclosed in his letters. In 1880 he moved to Brussels, where he started to work on his drawing technique and associated with other artists. Without having had any training, and not knowing whether he had real talent, he started out with great determination. He mostly taught himself the basics of art by studying the work of others. Vincent greatly admired the work of French 19th-century peasant painters such as Jean-François Millet and Jules Breton. Like these artists, he wanted to portray life in the countryside and honor the humble existence of the peasants living and working there.
The next years were spent living in various places in the Netherlands. In The Hague, he took painting and drawing lessons with an uncle, the artist Anton Mauve. In this period, Vincent developed his perspective skills and also learned the basics of watercolor and oil paint. Between 1883 and 1885, Vincent lived with his parents again in Nuenen. The town was an ideal setting for the peasant paintings that Vincent was eager to create. Many farmers, rural laborers and weavers lived there and Vincent sketched and painted them whenever he could. In a letter to his brother Theo, he wrote: "There isn't – as far as I know – a single academy where one learns to draw and paint a digger, a sower, a woman hanging a pot over the fire, or a seamstress."
Shortly after his father passed away in March 1885, Vincent left his family home and moved into his studio in Nueunen, where he started to work on his famous work The Potato Eaters. However, the lukewarm responses to The Potato Eaters made him realize he still had a great deal to learn. Later that year, he decided to enroll at the Antwerp art academy and left the Netherlands for good.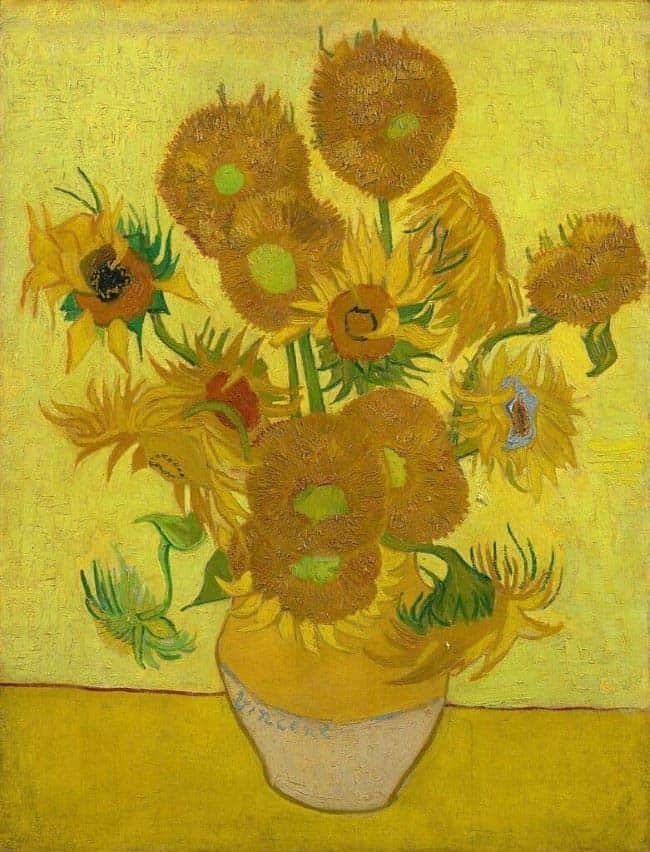 A New Life in Paris
After some time at the academy in Antwerp, Vincent moved to Paris in 1886, eager to be close to the newest developments in art. When he found himself in the midst of the Parisian avant-garde art scene, he realized how old-fashioned his works made in the Netherlands seemed in comparison. Deeply inspired, he started experimenting with color, brushstrokes, lines, and planes. He also forged friendships with contemporaries such as Paul Gauguin, Émile Bernard, and Henri de Toulouse-Lautrec. They would work together and exhibit their art in the Montmartre cafés. Thanks to his relationships with other artists and the burgeoning art scene around him, Vincent's time in Paris proved extremely fruitful and he started developing his own expressive style.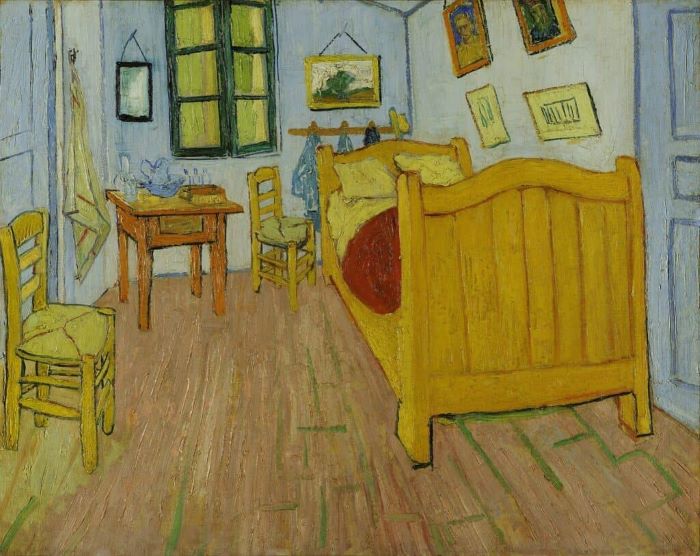 To the Countryside
His stay in Paris had made Vincent more sure of himself as a modern artist, yet he craved the peace of the countryside, needing quiete and space to find his direction. He, therefore, left Paris and moved to the town of Arles in the countryside of South France. In Arles, he developed his famous style with energetic brushstrokes and intense color contrasts. He painted orchards in bloom and scenes of harvesting, and also focused on portraiture, wishing to capture the essence of his time. This was an extremely prolific period in which he completed 200 paintings and over 100 drawings and watercolors. During his time in Arles, Van Gogh also drew inspiration from Japanese woodblock prints, which he collected together with his brother Theo. He admired how Japanese artists translated the world around them by using planes of color, patterns, cropping, and outlines. Van Gogh started applying these techniques in his own art and made several Japonist artworks in 1887, including his famous Bridge in the Rain (after Hiroshige) and Courtesan (after Eisen).
"More than ever I have a pent-up fury for work, and I think that this will contribute to curing me."

Vincent van Gogh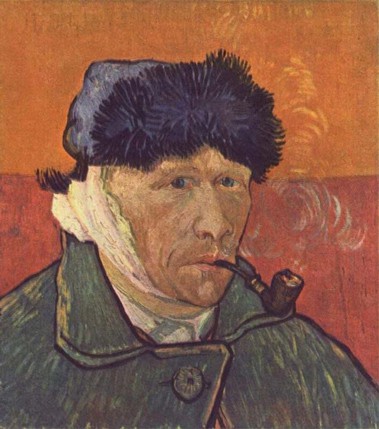 Vincent van Gogh and Paul Gauguin
While living in Arles, Vincent kept in touch with other artists through letter correspondence. A particularly lively correspondence emerged between himself, Émile Bernard, and Paul Gauguin. Gauguin joined Vincent in October 1888, in the now-iconic yellow house he lived in. They worked side by side for some time, which we can even see in some of their artworks such as Gauguin's painting Vincent van Gogh Painting Sunflowers (1888). However, the two artists' characters and ideas did not always get along. Artistically, they disagreed strongly about how to approach art. Gauguin believed in using imagination while Vincent painted only from reality. The relationship became explosive and finally, on the night of 23 December 1888, Gauguin left the house following an argument. He later stated that Vincent had chased him and threatened him with a razor blade. Back at home, totally confused, Vincent cut off his own left ear with the razor. This mental crisis was the first in a series of serious breakdowns, often paired with hallucinations and fears. After a few months, he checked himself into a mental institution in Saint-Rémy-de-Provence. Despite the despair he suffered, he believed his art was the way forward, saying: "More than ever I have a pent-up fury for work, and I think that this will contribute to curing me."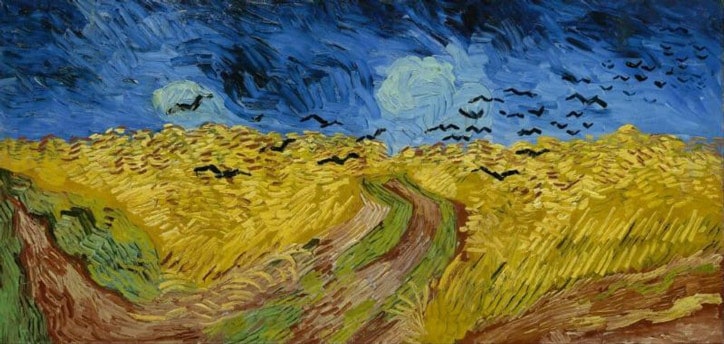 Vincent van Gogh's Final Period and Death
After his hospitalization, Vincent felt he could never be fully mended again. Yet, painting and drawing gave structure to his days, and he continued working steadily to keep developing artistically. He would explore the wild garden of the hospital, and when he was not allowed outside of the institution's walls, he painted the view from the window in his room or painted copies of prints of works by other artists. His paintings of cypresses and wheat fields from his period in the mental institution are some of his most emotionally charged and mature paintings. He also painted his famous painting Almond Blossom (1890) in the last year of his life, as a gift to his brother Theo, his sister-in-law Jo, and their newborn son who they had named after Vincent.
In May 1890, Vincent left the institution in Saint-Rémy and headed to Auvers-sur-Oise, a town more north where his doctor Paul Gachet lived, as well as several artists. It was also closer to Paris so Theo could more easily visit. Gachet encouraged Vincent to devote himself completely to his art, which he did, completing nearly a work a day. Despite his continued passion for his work and the fortifying essence of the countryside, Vincent could not deal with his illness and the uncertainty about the future. On 27 July 1890, he walked into a wheat field and shot himself in the chest. Wounded, he made his way back to his room in Auvers-sur-Oise. Theo made it to Auvers from Paris on time to be there when his brother died. Vincent was buried at Auvers on 30 July 1890, leaving behind his incredible legacy. Theo died shortly after Vincent, and his widow Jo took it upon herself to raise public awareness of Vincent's paintings, eventually leading to the worldwide fame that his art enjoys today.
Van Gogh Museum in Amsterdam
In 1973, the Van Gogh Museum in Amsterdam opened its doors to the public. The building was designed by Dutch architect Gerrit Rietveld, following an increasing demand for a special museum dedicated to the art of Vincent van Gogh. Now, two million people visit the museum every year. And though Vincent never experienced the widespread demand for his art, he knew how valuable it was. In a letter to Theo from c. 25 October 1888, he wrote:
"I can do nothing about it if my paintings don't sell. The day will come, though, when people will see that they're worth more than the cost of the paint and my subsistence, very meager in fact, that we put into them."

Vincent van Gogh
Relevant sources to learn more
Related articles on Artland Magazine
Jo van Gogh-Bonger: The Woman Who Made the Legend
Learn how the work of Van Gogh influenced Etel Adnan's art: Colour as Language: Etel Adnan Retrospective at the Van Gogh Museum
Read about the Kröller-Müller Museum, the second largest collection of Van Gogh paintings
Other relevant sources
Visit The Van Gogh Exhibit: The Immersive Experience
Read the letters of Vincent van Gogh
Wondering where to start?