Trending Lists
Embroidery Art: 9 Artists Pushing the Boundaries of Contemporary Art with Needle and Stitch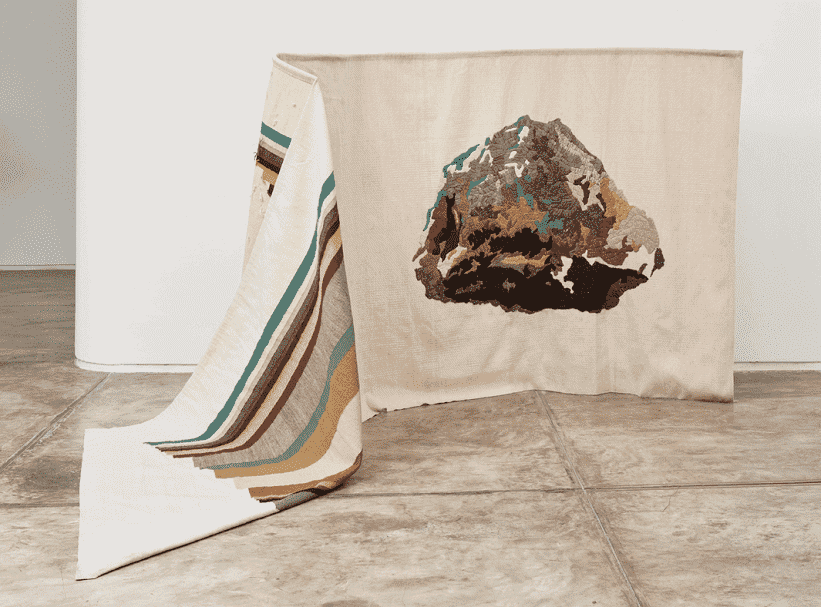 When we think of embroidery art, most people imagine embroidery hoop art, where a 'hoop' structure is used which keeps the fabric in position while working to create the embroidery. However, this field is much more dynamic than one would at first expect. Once pigeonholed into the category of craft and mainly seen as a decoration-driven home practice, during the Industrial Revolution and then in the 1960s and 1970s, embroidery held a significant role in the fight for women's rights and the global feminist movement, giving women a powerful tool of expression and resistance and elevating its status to form of art.
Although still connected – along with other textile practices – to stereotypes linked to the alleged hierarchy between different art forms, embroidery art has earned a significant share of attention from the contemporary art scene, as a technique from the past used to address topics of today in a new, radical way.
Contemporary Embroidery Artists
Let's take a look at a selection of embroidery art artists, who bring this century-long technique to the next level and breathe new life into the contemporary art scene.
Ana Teresa Barboza
Making a splash on the modern embroidery art scene, Ana Teresa Barboza (b. 1981) is one of the most well-known artists in her national art scene. Born in Lima, Peru, where she currently lives and works, she studied painting at the University of Peru but her practice soon shifted towards textiles and fibers, developing an interest in embroidery art. Mainly working with yarn and wool and combining different traditional craft techniques, her subject matter usually involves the natural world and reflects on the transformation of nature, especially in relation to human activity. Some of her most ground-breaking pieces begin with embroidery on a canvas or other support, but then come out of the background and hang down, adding a new dimension to her works, thus located at the intersection between tapestry and sculpture. Her work has been exhibited internationally and is represented in important public and private collections in Peru.
Meredith Woolnough
Australian embroidery artist Meredith Woolnough (b. 1985), uses a range of techniques, including freehand sewing machine embroidery, to create her brilliant embroidery artworks. Inspired by nature, she chooses to portray natural forms such as corals, leaves, plants, and flowers in her work. Before creating a piece, she studies the object she wishes to represent in great detail and then uses the most precise stitchwork to recreate all of the beautiful intricacies and details she observes in those natural objects.
"The more I work with natural forms, the more I find myself drawn into the science of nature. I am fascinated by the way things are built, the way they grow and function. I often find myself marvelling at the perfection of a single leaf or the phenomenal beauty of a coral reef and it can be quite overwhelming at times, almost spiritual."

Meredith Woolnough
Cayce Zavaglia
One of the best embroidery artists today, the work of Cayce Zavaglia (b. 1971) work is so lifelike, that many confuse her signature embroidered portraits with photographs. While originally training as a painter, she later turned to embroidery to remove any toxic chemicals typically found in paint from her studio. In her work, she tries to recreate the shape of brushstrokes found in oil painting by adding as many layers of hand-sewn cotton and silk thread or crewel embroidery wool to the canvas as a means to create more depth and shadows. Based in St. Louis, Missouri, Zavaglia is represented by William Shearburn Gallery.
Natalie Baxter
Unlike the artists mentioned above, Kentucky-born artist Natalie Baxter (b. 1985) investigates themes of Americana, nostalgia, identity, and gender stereotypes. She predominantly works with quilts – a technique she learned and pursued as a family tradition – to which she then adds embroidery by cross stitch and other means. Baxter's work has been featured in museums, galleries, and magazines around the world. In particular, her series titled Warm Gun caught the attention of the art scene as it critically explores the US' problems with gun violence and masculinity through a series of brightly colored quilted caricatures of arms.
George Bolster
New York-based Irish artist George Bolster (b.1972) turned to embroidery art after some time working as a researcher at the SETI (Science for Extraterrestrial Intelligence) Institute. He marries his interest in science and science fiction with art history, to produce some revolutionary embroidery artworks. Primarily, his focus is on envisioning a radically different future world that is reminiscent of the science fiction tropes and resembles its setting. His work has been exhibited in museums, galleries, and fairs both in the US and abroad.
Kyungah Ham
Born in Seoul in 1966, Kyungah Ham uses traditional media as well as installation, video, and performance to tap into personal experience combined with her native country's recent history. Hidden behind a lyrical and luminous aesthetic, lie deep socio-political messages reflecting on conflict, propaganda, and identity.
Since 2008, she has been collaborating with North Korean craftsmen in the production of embroidery works featuring information available in South Korea, from images of Western abstract paintings to South Korean slang. The authorship of these works is shared between the artist and the embroiderers, as censorship occasionally forces them to alter the works.
Her work has been shown worldwide, including exhibitions at the British Museum, the Musee Palais de Tokyo, and the Kunstmuseum Bonn, and is held in prestigious public collections such as the Victoria & Albert Museum, the MMCA, Museum of Modern and Contemporary Art, Korea, and the Seoul Museum of Art.
Kazuhito Takadoi
Japanese-born Kazuhito Takadoi (b. 1972) studied at Hokkaido Agricultural and Horticultural College at Sapporo, before moving to the UK to further his studies at The Royal Horticultural Society in Wisley. After spending some time observing and studying garden design in the USA, he moved back to the UK once more to study Art and Garden Design. Since then, he has turned his attention to embroidery art. Takadoi takes his inspiration from woodland and nature, with much of his work featuring grass, leaves, twigs, and other vegetation. He uses the objects he finds to create his embroidery pieces: he dries, weaves, and stitches or ties the objects. He chooses to keep the works as organic as possible to reflect the natural form of the object he wishes to present.
Aurora Molina
Born in Cuba, multi-disciplinary artist Aurora Molina (b. 1984) focuses on a multitude of social and political themes in her work, such as the objectification of beauty, the anonymity of elderly people in modern society, immigration, and the mistreatment of indigenous communities. After emigrating to the United States at the age of 16, she pursued her art education in Miami, Florida, and later in Madrid, Spain. Her range of techniques includes sculpture, drawing, photography, video, and also embroidery as a way to honor the centuries-old legacy of women weavers and artisans. In some cases, she produces stuffed figures upon which she embroiders features by hand. In other cases, she works with line embroidery art whereby she uses a sewing machine to 'draw' the thread through the canvas.
Cecilia Charlton
Cecilia Charlton (b. 1995) is an American textile artist based in London. Mainly employing the bargello method – a needlework technique that results in distinctive patterns from rows of straight stitches, arranged in a zigzag line, and repeated in varying shades or colors. Her abstract, optical compositions touch upon themes such as feminism, history, and transcendence.
"Because my projects can go in many different conceptual directions, I often describe them as fiber-based investigations into abstraction, form and colour with a grounding in personal experience."

Cecilia Charlton