Articles and Features
10 Poignant Works of Street Art Around The World in Support of Ukraine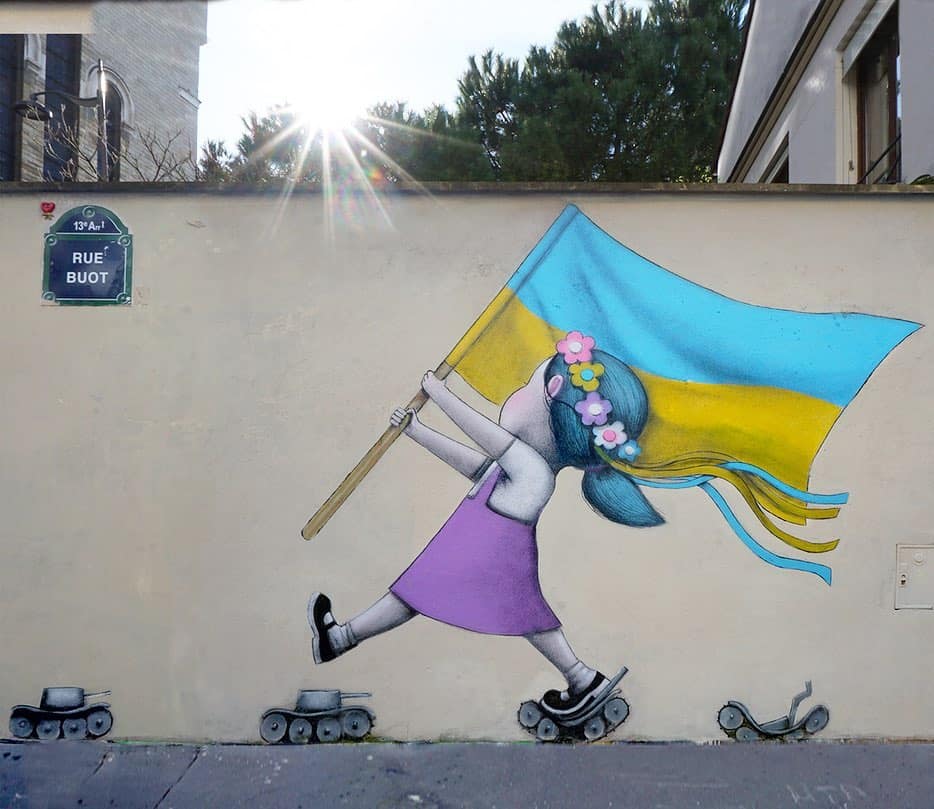 By Adam Hencz
Since Russia invaded Ukraine over two months ago, street artists have taken up their brushes and spray paints to produce a slew of anti-war murals and protest art across the globe. Street artists paint their resistance to the war in Ukraine and express their support of fundamental human rights and values.
Under the Public Eye: Selected Works Conveying Messages of Solidarity, Peace, and Dissent
We have collected the latest works of Street Art by artists who put their creative practice in support of peace in Ukraine and put out pieces that serve as reminders of the human cost of war. Coloring cities yellow and blue, these artists show solidarity against the war in Ukraine, often in concurrence with fundraising initiatives.
Christian Guemy
Christian Guemy, also known as C215, is a prominent French street artist who flew to Ukraine to paint images of serenity and innocence on the walls of Kyiv right after the war broke out. Following the Russian invasion, the former Banksy collaborator painted a massive mural of a girl in the colors of the Ukrainian flag on the side of a Paris apartment building. Despite the hazards, C215 felt he "had no choice" but to travel to Ukraine after meeting Ukrainians and pondering for several days about what else he could do to help. He has since then painted several murals across Kyiv, including a painting of a little girl wearing a flower headband that hangs close to a metro station that was severely damaged by a Russian strike.
Justus Becker
A giant dove of peace for Ukraine has been painted on the outside façade of a building in downtown Frankfurt by German artist Justus Becker. The dove is holding an olive branch in the national colors of Ukraine. The work of Street Art is offered as a statement of hope and solidarity with Ukraine. Becker spent three days painting the mural.
Sasha Korban
Sasha Korban created this mural in mid-April in Kyiv, at a time when battles for the liberation of Bucha and Irpin took place nearby. His works, characterized by a fusion of styles like photorealism and Pop Art, took a turn in recent years to give voice to the violent struggles for power. Korban's large-scale murals advocate peace across Ukraine, including a 2018 work titled Milana, located in Mariupol, the city suffering from a devastating humanitarian catastrophe. The invasion left 95% of the city destroyed and tens of thousands of trapped civilians fighting for survival.
Seth Globepainter
Julien Malland, widely known as Seth Globepainter, a muralist based in Paris, creates art that reflects local communities' cultural and socioeconomic peculiarities. The French artist has made his name by creating childhood-inspired Street Art around France and across the globe. His newest work appeared in the 13th arrondissement of Paris and blends his recurring theme of childhood play with gestures of war in the hope for a better future.
HIJACK
Street artist HIJACK also opposes Putin's war on Ukraine, giving voice to the children who suffer in the war-torn country or flee ruthless bombings. Born and raised in Los Angeles, the street artist's feline silhouette work titled War Child appeared on a building wall in Fairfax, Los Angeles. Like many fellow street artists, HIJACK released prints of his works to help families and children in Ukraine with the sale during this crisis.
1GoodHombre
The Ukrainian president, Volodymyr Zelenskyy, has risen as the symbol of his country's resistance. His character as a hero and righteous leader has appeared on the streets worldwide. In Los Angeles, street stencils by artist 1GoodHombre portray the Ukrainian President gripping submachine guns like in a Hollywood movie. The artist also created a mural on Melrose Avenue, recalling the infamous scene from the 2022 Oscar gala and depicting Will Smith slapping Putin. A QR code on the wall directs passersby to organizations they can donate to in support of Ukraine.
Corie Mattie and Juliano Trindade
As the situation in Ukraine has deteriorated, artists Corie Mattie and Juliano Trindade expressed their views and raised support for Ukraine by painting a collaborative work in the Arts District of Los Angeles. They did so with a common goal: to provide access to activism and raise money for the Ukrainian armed forces. When bombs started falling in Ukraine, Corie Mattie, a Los Angeles artist, was inspired to create her first mural. She worked along with tattoo artist Juliano Trindade to make a painting depicting Vladimir Putin's head being dragged away by doves.
Krišs Salmanis
The Museum of the History of Medicine in Riga, Latvia's capital, unveiled a large banner with a skull-shaped portrait of Vladimir Putin on the building's facade. The museum faces the Russian Embassy of Latvia and thus expresses a clear position against the war in Ukraine. The poster, realized by conceptual artist Krišs Salmanis, had been originally commissioned as the cover image of Ir magazine.
TUSE
On a wall outside the PKM Gdansk Jasien railway station, a mural portraying Putin, Hitler, and Stalin has appeared, with the slogan No More Time. It's the first of a series of anti-war Solidarity with Ukraine murals that have lately surfaced in Gdansk, and it's the work of Piotr Tuse Jaworski, better known as TUSE, one of Poland's most well-known street artists.
Pappas Pärlor
Johan Karlgren, popularly known as Pappas Pärlor, is a Swedish street artist that produces interactive street art that enhances the appreciation of mundane surroundings. Johan's work is influenced by his fondness for old-school video games, which is why all of his characters invading the streets are pixelated. With the same characteristic style, he put Putin behind bars in Motala, Sweden.
Discover and Buy Art for Sale