Articles and Features
Stories of Iconic Artworks: Vincent van Gogh's The Potato Eaters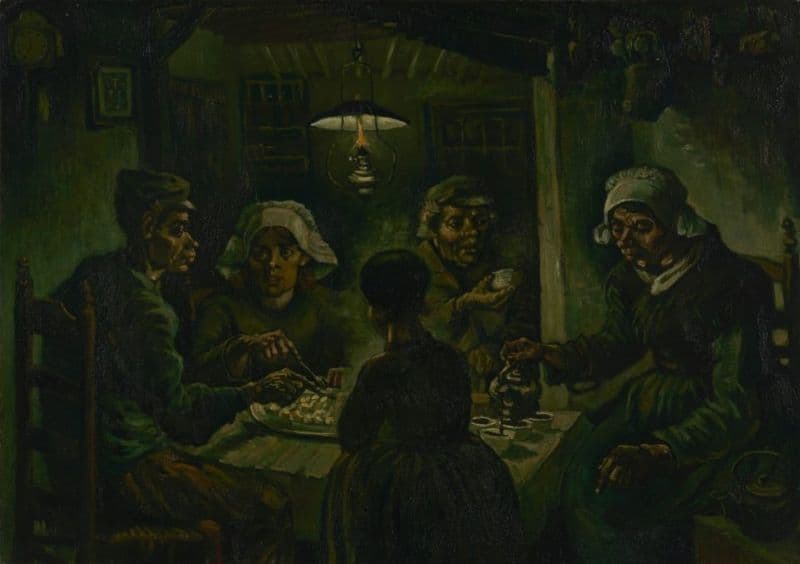 By Shira Wolfe
"There isn't – as far as I know – a single academy where one learns to draw and paint a digger, a sower, a woman hanging a pot over the fire, or a seamstress."


Vincent van Gogh
The Potato Eaters (1885) was Vincent Van Gogh's first masterpiece. His portrayal of a family sitting around a table sharing a simple meal of potatoes has become one of the most iconic artworks in history. With The Potato Eaters, Van Gogh wanted to establish himself as a painter of peasant life. A recent exhibition at the Van Gogh Museum in Amsterdam, The Potato Eaters. Mistake or Masterpiece? explored the story behind The Potato Eaters.
Capturing peasant life
Vincent van Gogh decided to become an artist when he was 27 years old. He taught himself the basics by studying the work of others. Artists he admired included French 19th-century peasant painters like Jean-François Millet, Charles Degroux, and Jules Breton. Van Gogh felt a strong urge to depict country life and to show the lives of the peasants who lived there, as he greatly admired their honest and simple lifestyle. In 1883, he moved back to his parents' house in the Brabant village Nuenen. This was the perfect environment for Van Gogh to develop as a painter of peasant life. "There isn't – as far as I know – a single academy where one learns to draw and paint a digger, a sower, a woman hanging a pot over the fire, or a seamstress," Van Gogh wrote during his time there. By spending time among these people, he could develop his skills and technique at his own desired pace. Van Gogh wanted to capture peasant life in all its raw honesty, instead of idealizing it. He searched for the "real types" among the peasants, people whose faces were marked by the life they lived.
The making of The Potato Eaters
Shortly after the death of his father in March 1885, Van Gogh moved out of his parents' home and into his studio in Nuenen, where he started work on The Potato Eaters. At the end of February 1885, his brother Theo van Gogh had asked him to produce a painting for the Salon exhibition in Paris that year. This is when the idea to create The Potato Eaters for the Salon developed.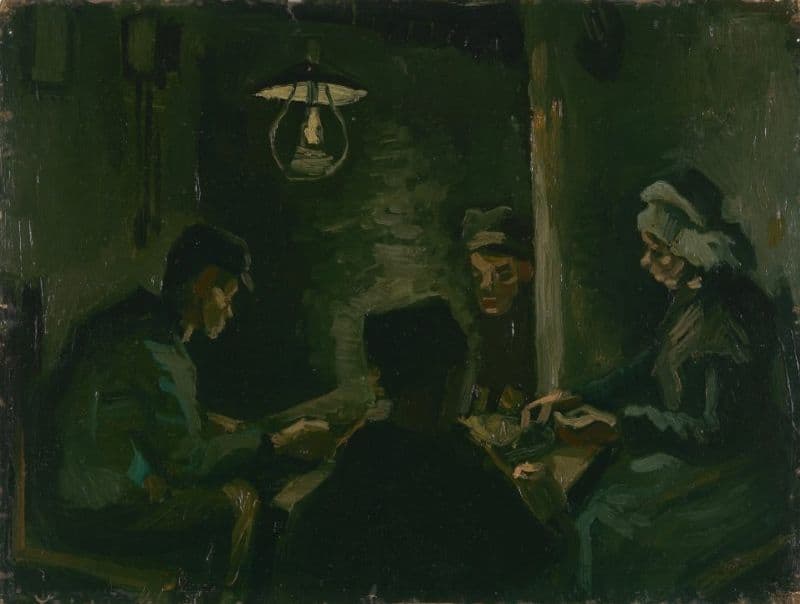 Colour theories, light and shade
When Van Gogh first arrived in Nuenen, he was still a novice painter. He practiced tirelessly to improve his technique, using textbooks to learn more about color, light, form, and composition. He started to work with mutually reinforcing complementary colors and applied these in still lifes. While working on The Potato Eaters, he also applied these color theories, mixing his colors in an attempt to paint "darkness that is still color." During this period of research, Van Gogh made the liberating discovery that he did not have to base himself on the actual color of a subject, but rather strive for chromatic harmony. If the effect of a specific color depends on those surrounding it, the painter becomes free to search for colors that together form a whole.
Light and shade were also important elements of his artistic exploration at the time. He explored backlighting, raking light, shadows, and chiaroscuro. To practice with light and shade, he painted figures sitting in front of a window with light shining in, creating a backlit effect with dark silhouettes, and parts of the body hidden in shadows.
"I plan to make a start this week on that thing with the peasants around a dish of potatoes in the evening."


Vincent van Gogh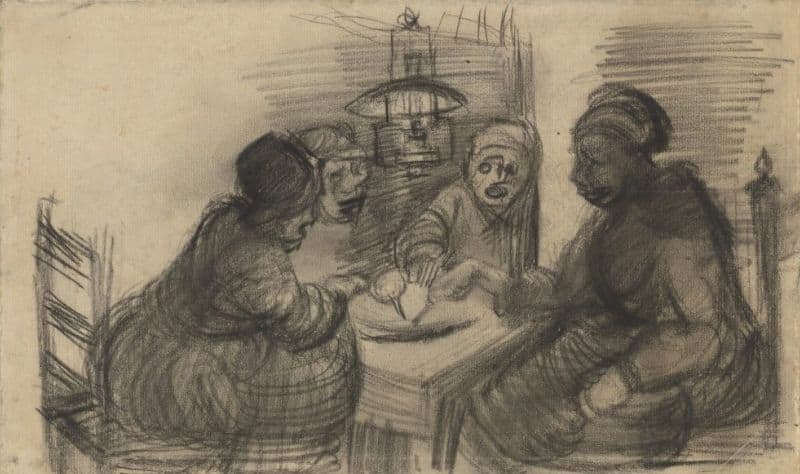 Studies leading up to The Potato Eaters
Van Gogh decided to paint the scene of The Potato Eaters in the evening, by lamplight. He practiced depicting light and shade, complicated techniques, in several earlier 1885 paintings, including Woman Sewing. This painting depicts a peasant woman sewing in front of a window. Her face and part of her body are obscured by the shadows, but the light from the window is cast on her hands, thereby creating a clearly formed figure.
In February 1885, Van Gogh had painted around 30 heads of peasants; by the end of March, he made his first sketches of figures sitting around a table. On 6 April 1885, he wrote: "I plan to make a start this week on that thing with the peasants around a dish of potatoes in the evening." He completed his first oil sketch of The Potato Eaters in early April, then started work on a second painted study in the cottage of the De Groot-van Rooij family, a local peasant family. In mid-April Van Gogh made a lithograph based on this second study, which he sent to his brother Theo so he could show it to art dealers in Paris. In the second half of April, he returned to the cottage to redraw sections of the interior on the spot.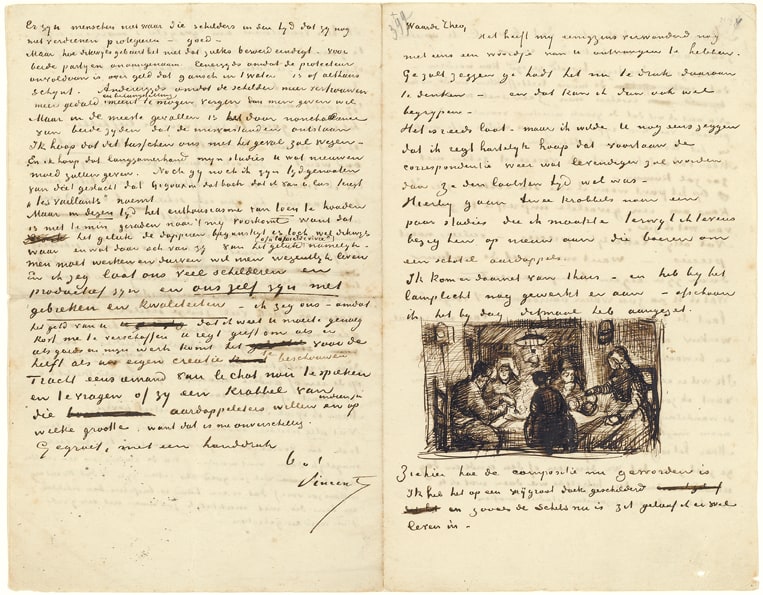 Finishing The Potato Eaters
Between 13 April and 5 May, Van Gogh worked on the final version of The Potato Eaters in his studio, largely from memory. On 6 May 1885, he shipped the finished oil painting to Theo in Paris. It had barely even dried.
The faces in The Potato Eaters were extremely important for Van Gogh and stand out in the painting. He had practiced painting faces all winter and spring leading up to his final masterpiece, often visiting peasants at home to paint them. He painted strong, characteristic "types", so one figure could symbolize a larger group. Therefore, some of the faces in The Potato Eaters are combinations of different people he painted, though several are clearly identifiable as people he painted in earlier studies. Van Gogh decided to only have one lamp above the table as a source of light, and in this spot of light he shows the steam rising up from the dish of potatoes, and coffee being poured into cups. He painted the peasants in a variety of earth tones to underscore their deep attachment to the land. "These folk, who are eating their potatoes by the light of their little lamp, have tilled the earth themselves with these hands they are putting in the dish, and so it speaks of manual labor and – that they have thus honestly earned their food," he wrote.
Responses to The Potato Eaters
Van Gogh's first masterpiece was not received well. In Paris, the dark painting was disliked and his artist friend Anthon van Rappard delivered harsh criticism. The negative responses to The Potato Eaters were disappointing, yet Van Gogh continued to consider the painting his first masterpiece, and would even later write that it was the best thing he had done. He felt he had succeeded in giving people something to feel, and something to think about. He strongly believed in the message behind the painting. This message is just as strong today as ever, and in light of the environmental crises we currently face, The Potato Eaters has even gained new messages. It could be a type of resistance painting, resistance to the loss of connection with the land around us, and a tribute to an honest, simple life where it is clear what is truly important.
At the end of his life, during his time in the mental institution in Saint-Rémy-de-Provence in 1889, Van Gogh returned to the subject of peasant painting. He painted some copies after other artists like the peasant painter Jean-François Millet and even wished at one point to recreate The Potato Eaters. He asked Theo and his mother to send him some of his drawings of peasants and started making sketches of peasants seated around a table, this time with his more developed drawing style, bold lines, and rounded contours. In the end, however, the new version of The Potato Eaters never came to be. He took his own life in 1890.
Relevant sources to learn more
'The Potato Eaters. Mistake or Masterpiece?' – Explore the exhibition at The Van Gogh Museum, Amsterdam
Discover how Jo van Gogh-Bonger, the widow of Vincent's brother Theo van Gogh, helped make Van Gogh the legend he is today.
Discover Van Gogh in the collection of the Kröller-Müller Museum in our article about the museum.
Discover & Buy Paintings for Sale