Articles & Features
Supporting The Protest. Street Artists Across the Globe Pay Tribute to George Floyd With Dazzling Murals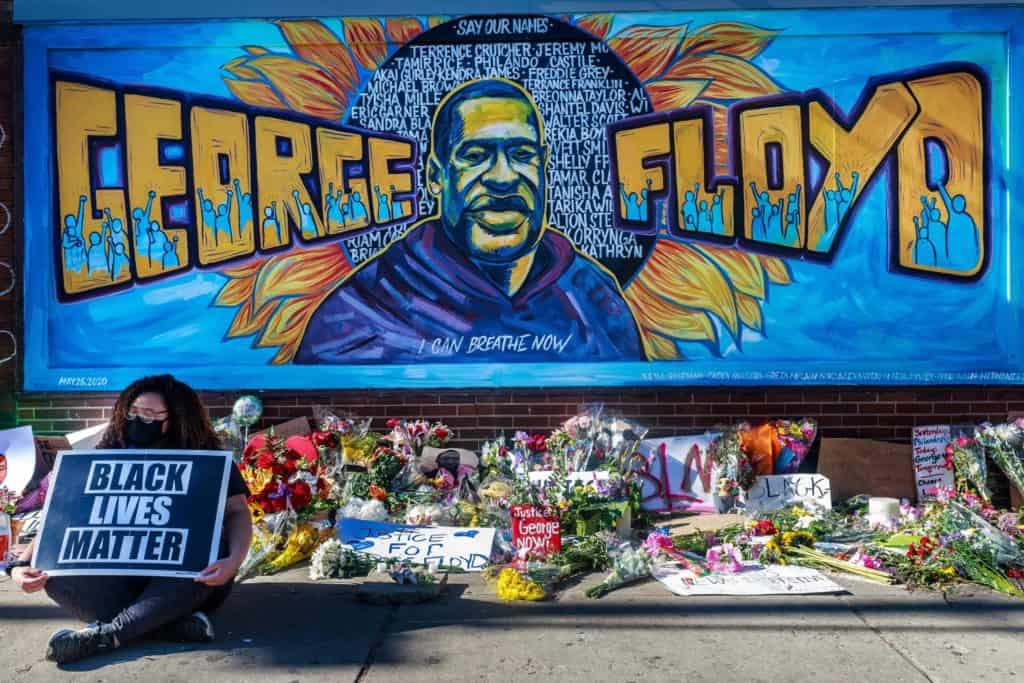 By Naomi Martin
"Art can be a powerful catalyst in bringing more people together to take action."

Shirien Damra
Protests have echoed around the world following the murder of George Floyd, a 46-year old African American man, at the hands Derek Chauvin, a white police officer. Initially charged with third-degree murder, Chauvin now faces a second-degree murder charge, while the other three officers involved have also been arrested. The shockwaves of wrath, disillusionment and sheer exhaustion in the face of racism and injustice towards people of colour have turned into a global movement, seeing large-scale demonstrations initially appear across the U.S, and now throughout the rest of the world.
Street artists have reacted swiftly to the appalling homicide, no outlier incident but emblematic of long standing and endemic oppression. More than simply reverberating the agonising and outraged calls for justice, they have amplified the resonance of the horrific occurrence through the creation of moving visual tributes. Where words can sometimes be insufficient and doomed to fail, the voice of art carries, across the globe, through powerful murals honouring George Floyd. They have strengthened and memorialised the narrative of empathy, resistance and determination to effect change, drawing attention to the larger, albeit sadly familiar, issues surrounding racism and police brutality.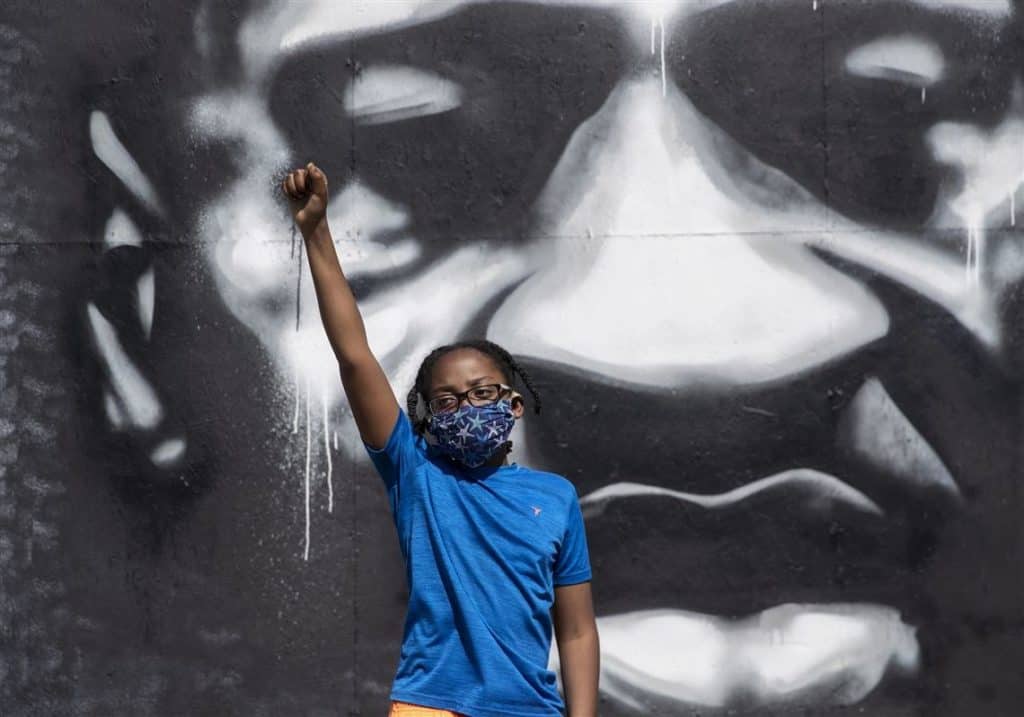 George Floyd lost his life on the corner of 38th Street and Chicago Avenue South in Minneapolis. Artists Xena Goldman, Cadex Herrera, Greta McLain, Niko Alexander and Pablo Hernandez quickly reacted and sought to offer the community a place to gather and process their pain by painting a striking mural which immediately became a commemorative site for people to visit – to mourn and commemorate their lost citizen. The mural depicts a portrait of Floyd surrounded by protestors, whilst behind him a sunflower bears the names of many other victims who lost their lives at the hand of police officers. Murals were also painted at the site of his death by anonymous artists, such as the striking black and white portrait above.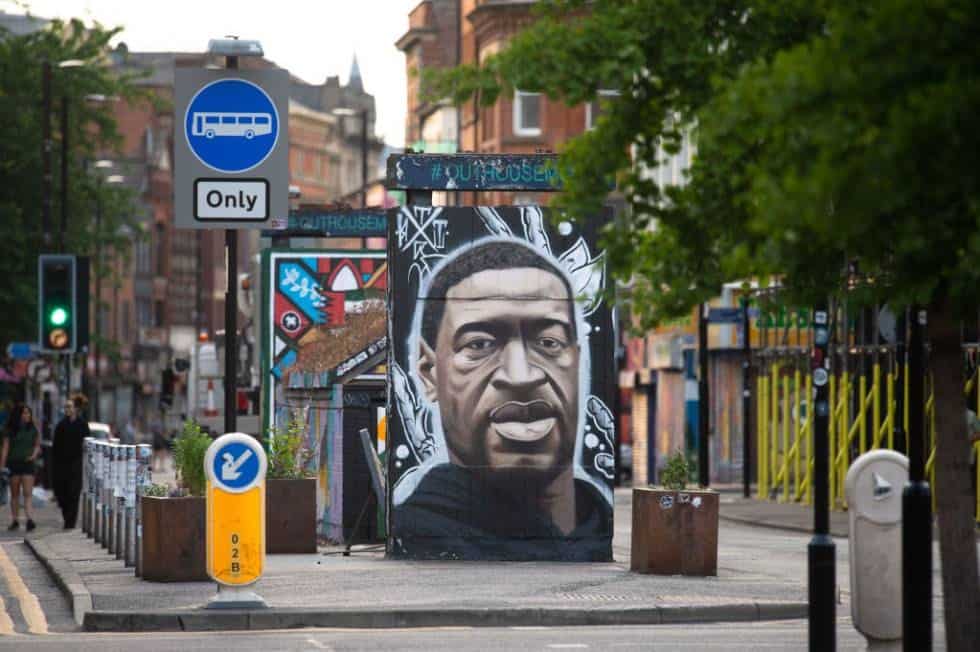 Street art as a vehicle to express the universal sentiment of suffering has become part of a global conversation. In the Northern Quarter of Manchester, street artist Akse paid tribute to Floyd by painting his portrait on a mural in Stevenson Square. In Rome, on the street of the United States of America, the artist Harry Greb stencilled Floyd as the Statue of Liberty, holding a sign affirming "Justice for George Floyd", and in his left hand the bill of rights.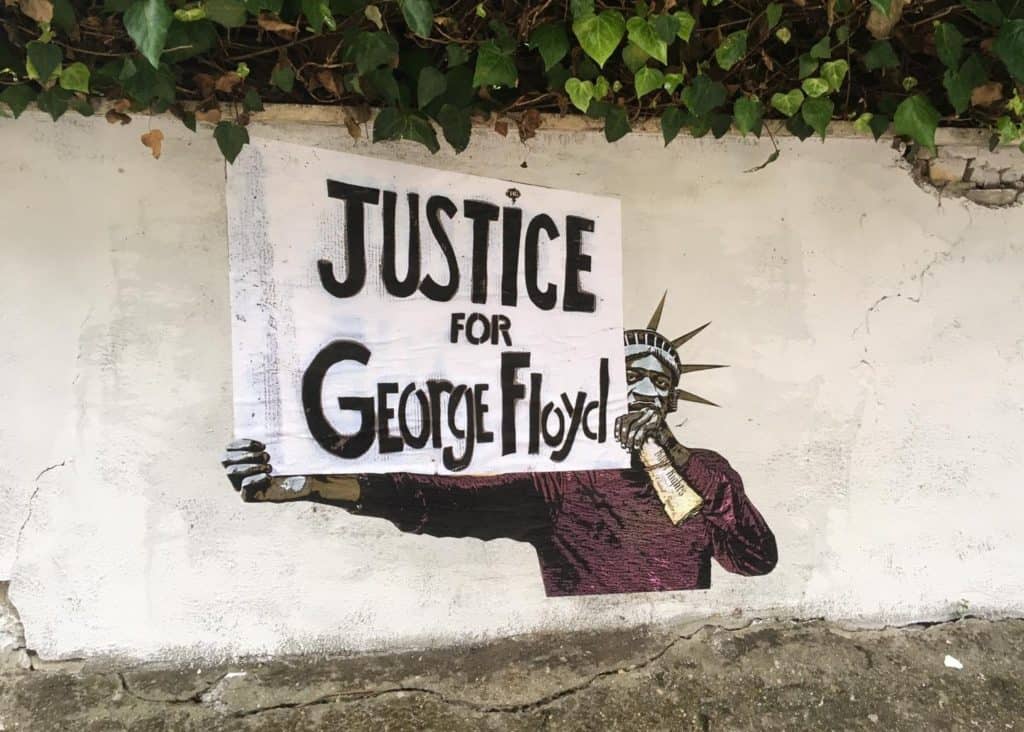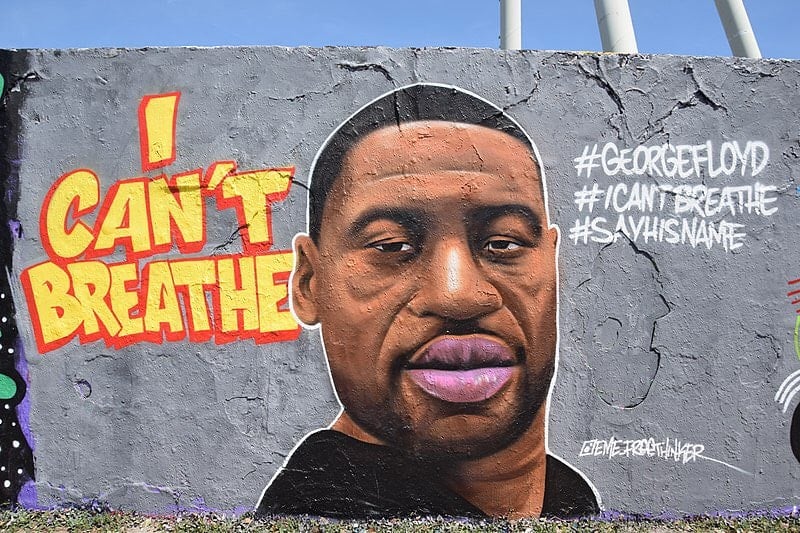 In Maeurpark, on a section of the former Berlin Wall, the artist Jesus Crùz Artilez, aka EME Freethinker, honoured Floyd with a mural depicting his portrait, flanked by his haunting and now immortalised last words: "I can't breathe". The French duo Éric et Lucas also paid tribute to Floyd with a mural in Nantes, reading "Laissez nous respirer" – Let us breathe. Although it was defaced within hours, the mural nonetheless became a monument in the city, where locals rallied in solidarity to support the protests taking place in the U.S.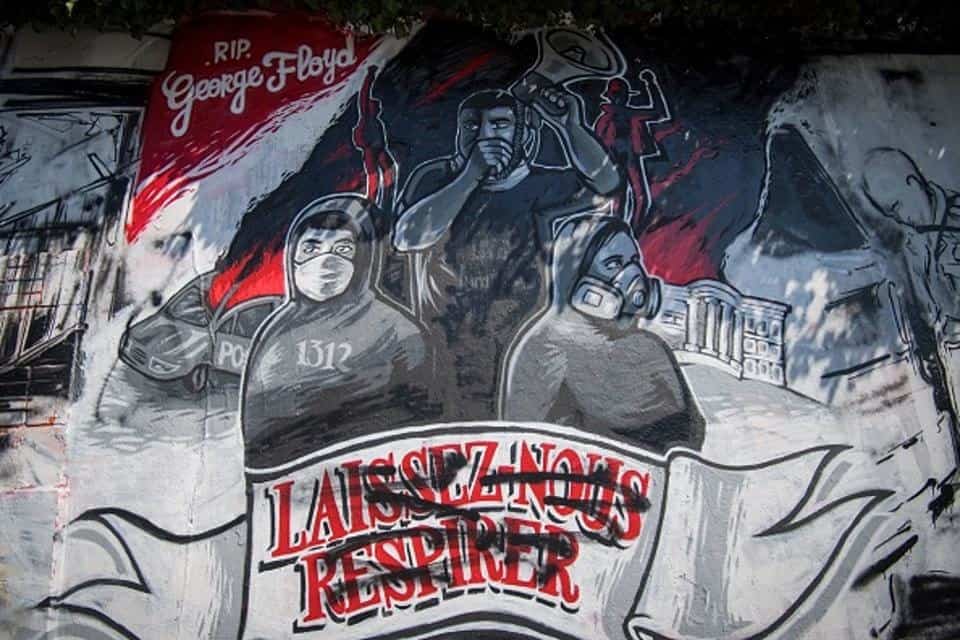 Floyd's heart-breaking call for help is also at the centre of Griffin Lounsbury and Chadillac Green's mural in Santa Barbara, on the walls of EOS Nightclub. The artists had been in contact with the owner of EOS for a project memorializing DJs, but after the events of the 25th of May, commemorating Floyd for them became essential – the mural received overwhelming positive feedback from Santa Barbara's residents.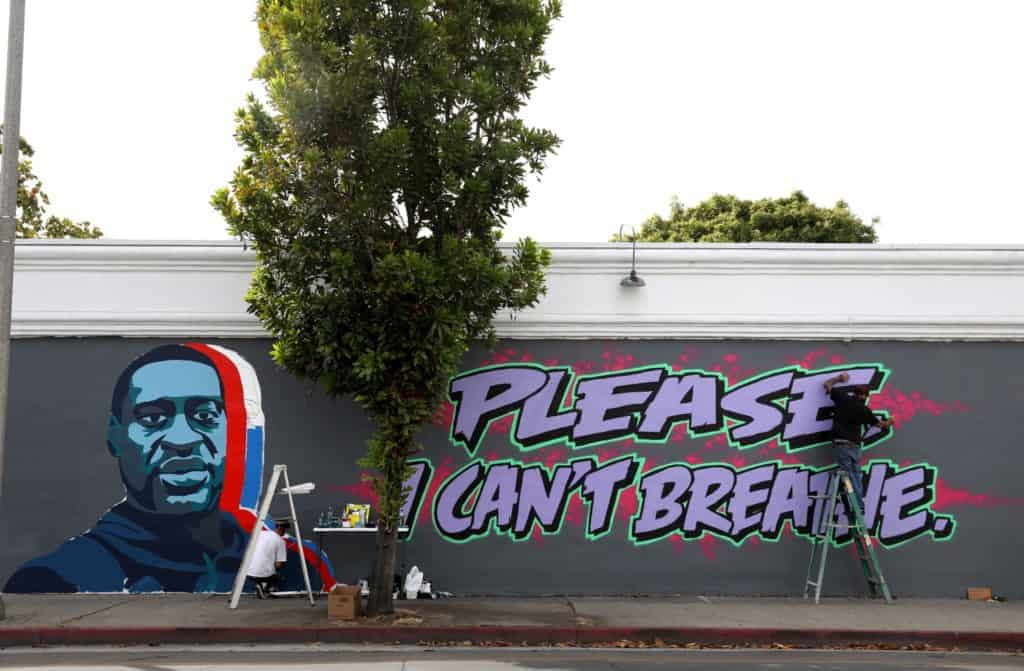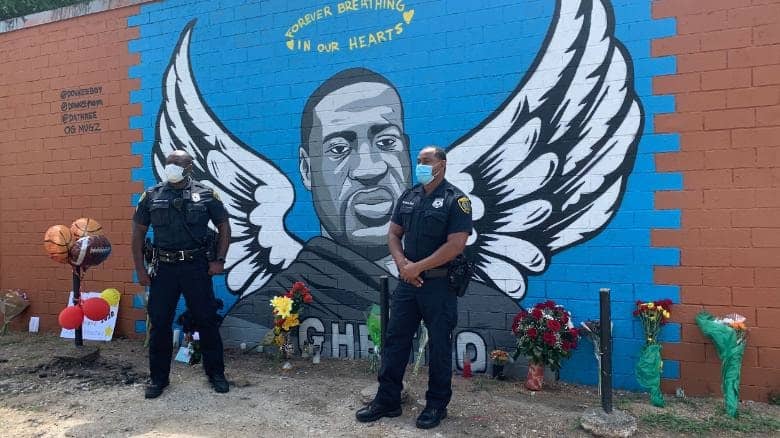 In Houston, street artists Donkeeboy and his mother, Donkeemom, paid a colourful tribute to Floyd, adorning him with angel wings and a halo reading "forever breathing in our hearts". The mural was painted only a few blocks away from Yates High Scool, where Floyd had been a student. On his Instagram account, Donkeeboy recalls the story behind the mural and his emotional encounter with Floyd's loved ones.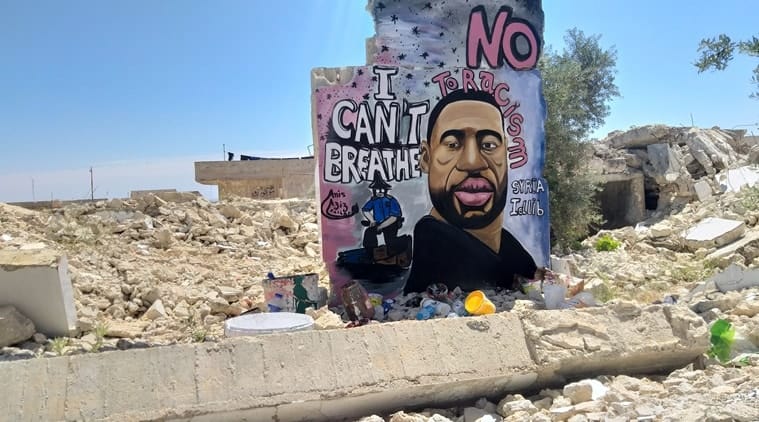 Amidst the rubble of Syria, artists Aziz Asmar and Anis Hamdoun also proclaimed their solidarity with the U.S oppressed, painting a mural featuring Floyd's portrait and his last words on the ruins of a bombed building. The artists gave an interview to Arab News, where they expressed how Floyd's death reminded them of the suffocation of Syrian civilians, and how they longed to "call for peace and love".
In Manette, Washington State, artist Jonathan Perry paid tribute to Floyd with a mural depicting his portrait, alongside the names of numerous other victims of police injustice.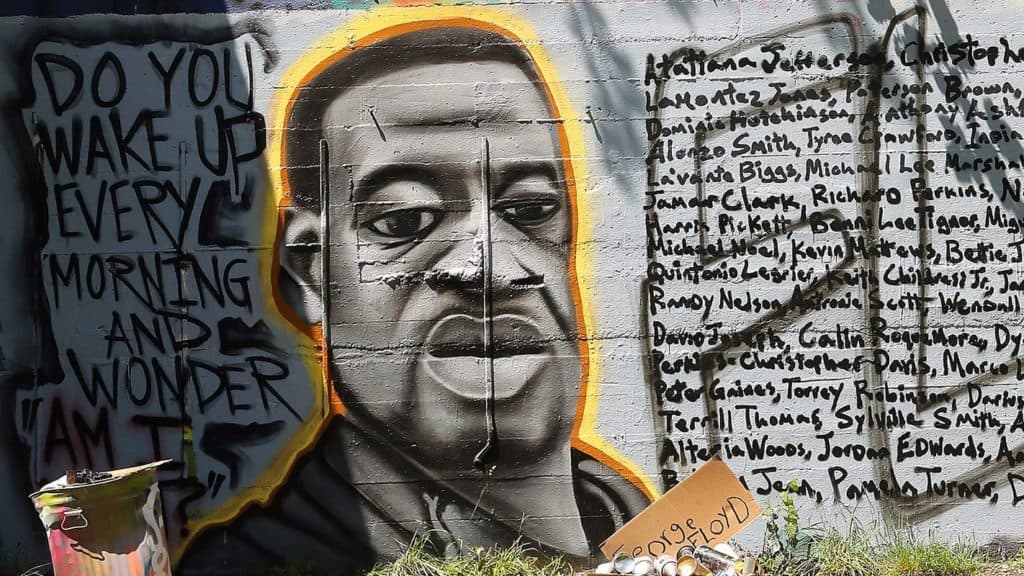 The abundant instances of street art memorializing George Floyd around the world not only powerfully reflect the sorrow and distress experienced by many, but also hold a potential for healing, as their echo bridges the gap between diverse and far flung countries and their various communities. In Barcelona, the tribute of Italian artist TVBoy can be seen on the walls of the Centre of Culture & Memory, while in downtown Los Angeles, the artist Celos' mural hauntingly depicts a gagged and weeping Floyd.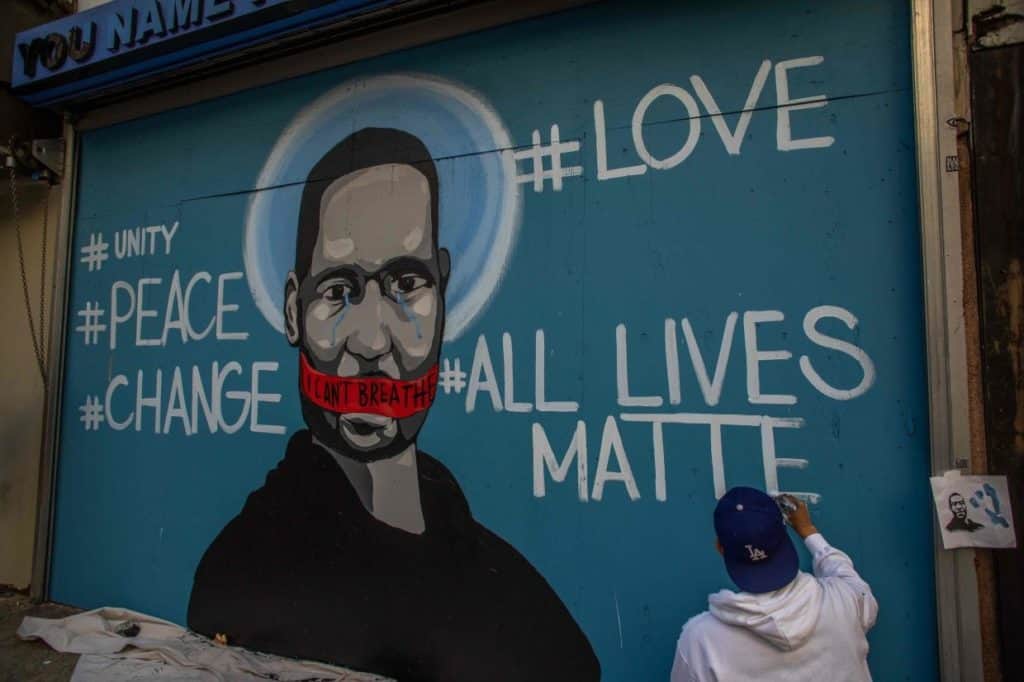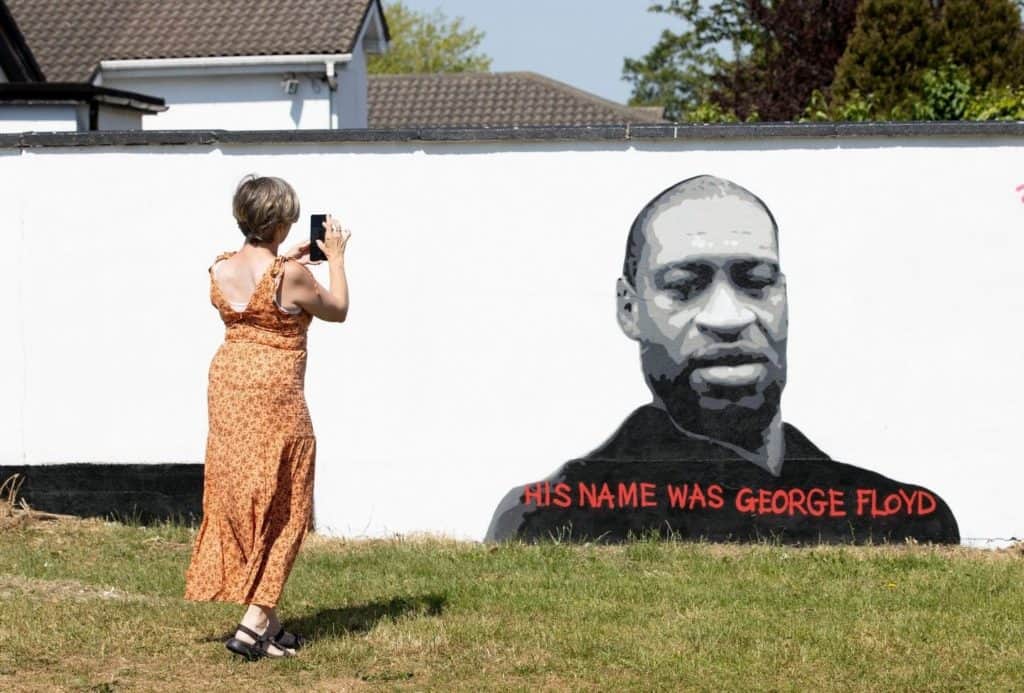 Dublin based artist Emmalene Blake, most commonly known for her humorous work lampooning celebrities, also turned her practice to an altogether more sombre piece.
In Pensacola, Florida, artist Brandon Vessels painted a portrait of Floyd which was defaced after a few hours, the next day Vessels restored the portrait and stated on his Instagram: "Can't shut me up with hate, I'll fight for what's right everyday".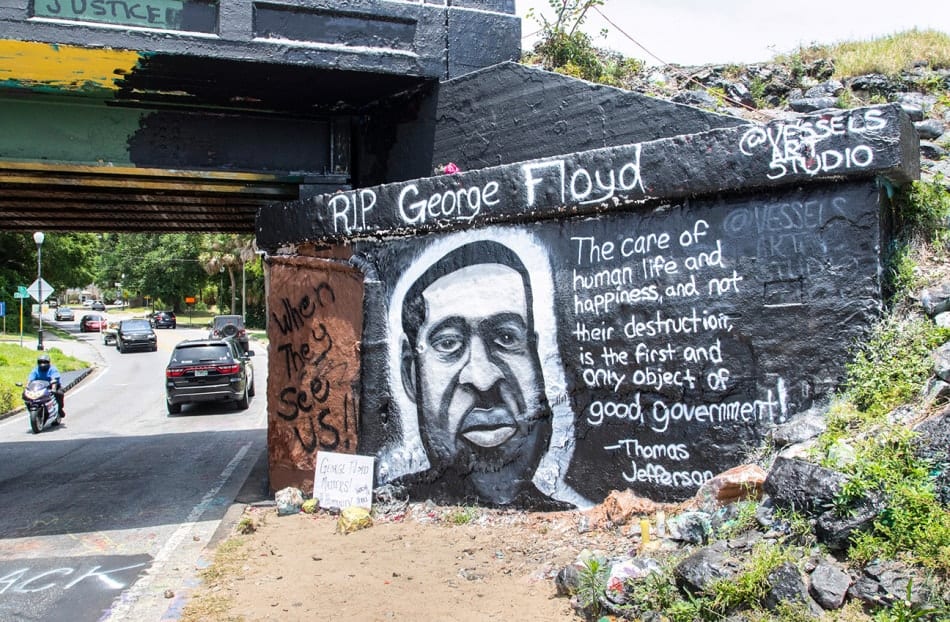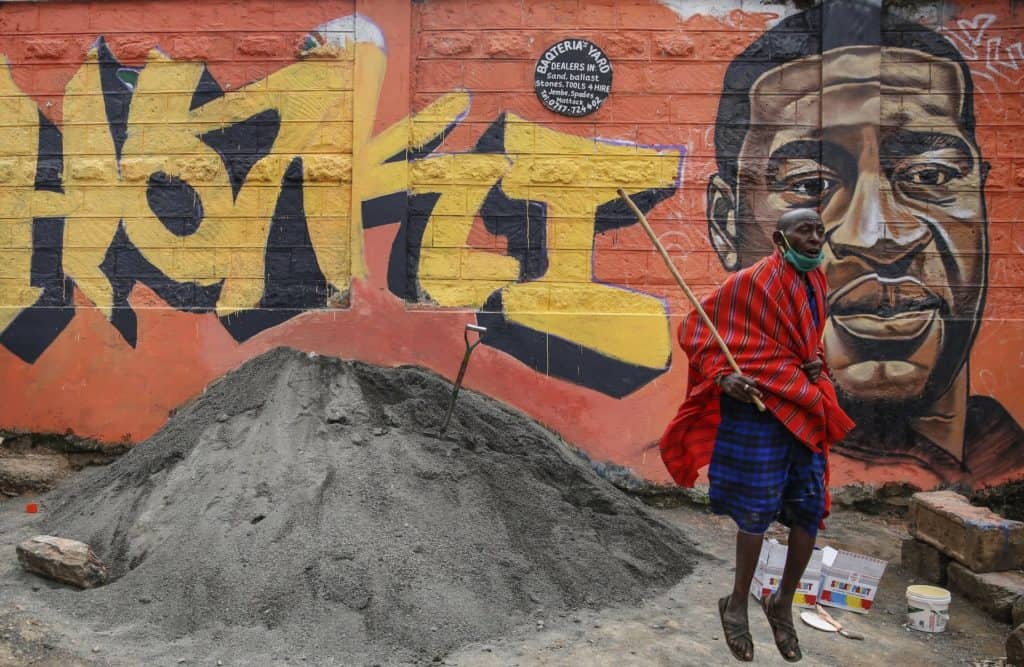 In Nairobi, Kenya, artists Mr Detail Seven and Bankslave united to depict Floyd's portrait alongside the word "Haki" – meaning Justice; while in Naples, Italy, Jorit Agoch painted a stunning mural featuring Floyd together with Lenin, Martin Luther King, Malcom X and Angela Davis. At the centre, Floyd is crying tears of blood, while the others bear the two red stripes on their cheek, characteristic of Agoch's work and referring to African healing rituals, marking one's entry into a tribe.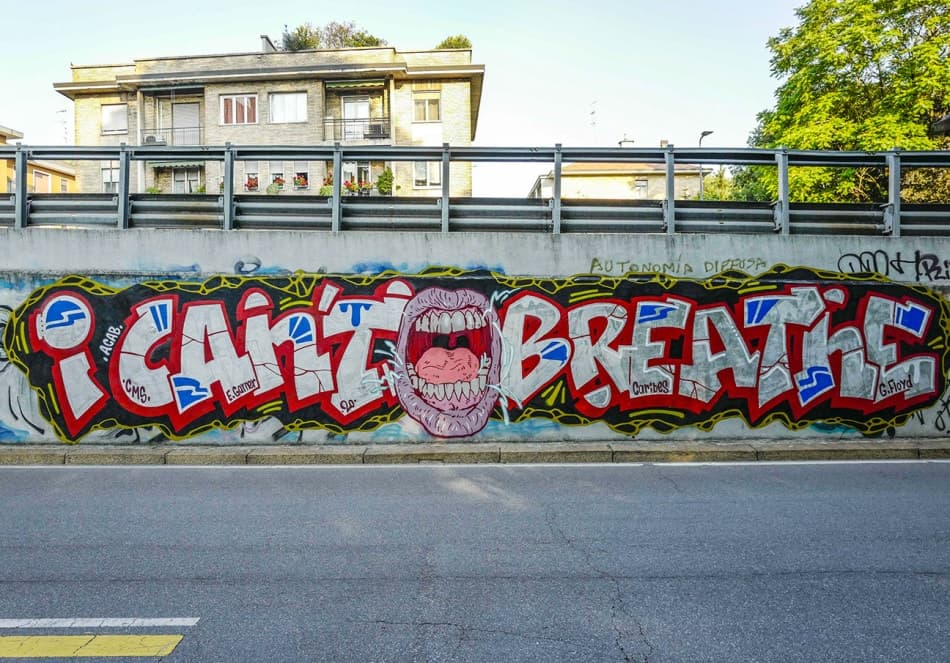 Countless Graffiti has proliferated globally, taking over bridges, barricaded shop windows, any available built surface, most often using Floyd's last words "I can't breathe" as a de facto slogan against injustice and police brutality. The creations are proving to be rallying points for communities, amplifying a message of revolt in the face of violence, and raising awareness, solidarity, and the visual provision for the world's disgust and mourning.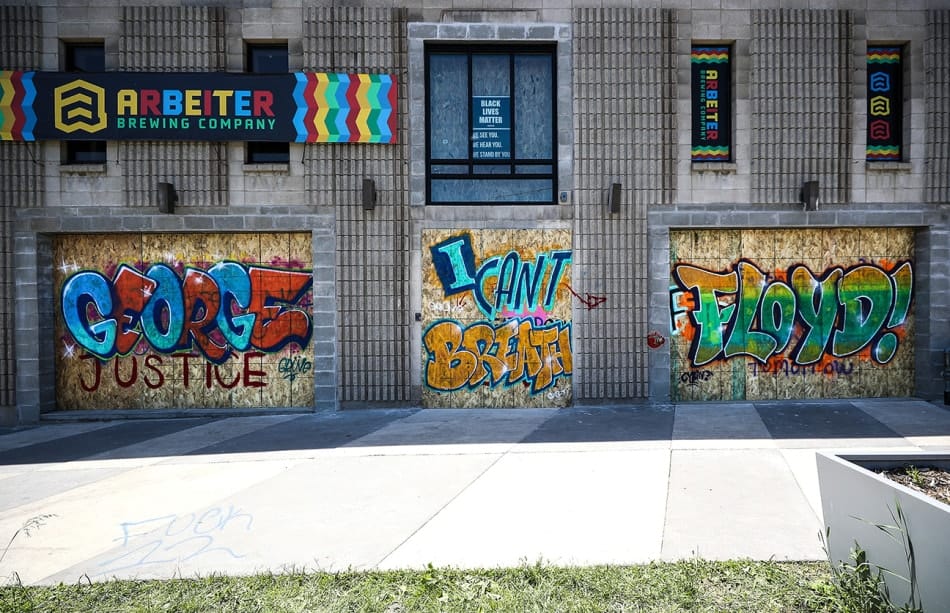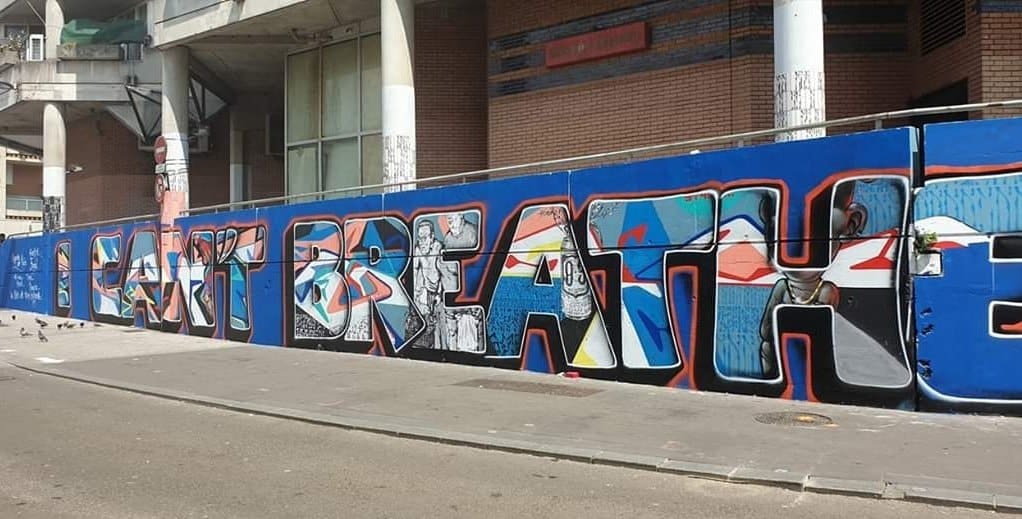 A number of artists, outside of the scope of street art, also chose to use their platforms to honour George Floyd and take their own stand in the battle against racism and inequality. Among them, Eric Yahnker, Nikkolas Smith and Láolú Senbanjo, who have all created stunning artworks in memory of George Floyd, using their social media channels as vessels to express their solidarity and sorrow.
"Today I will not draw joy… Today I draw Pain. Today I sketch Injustice."

Nikkolas Smith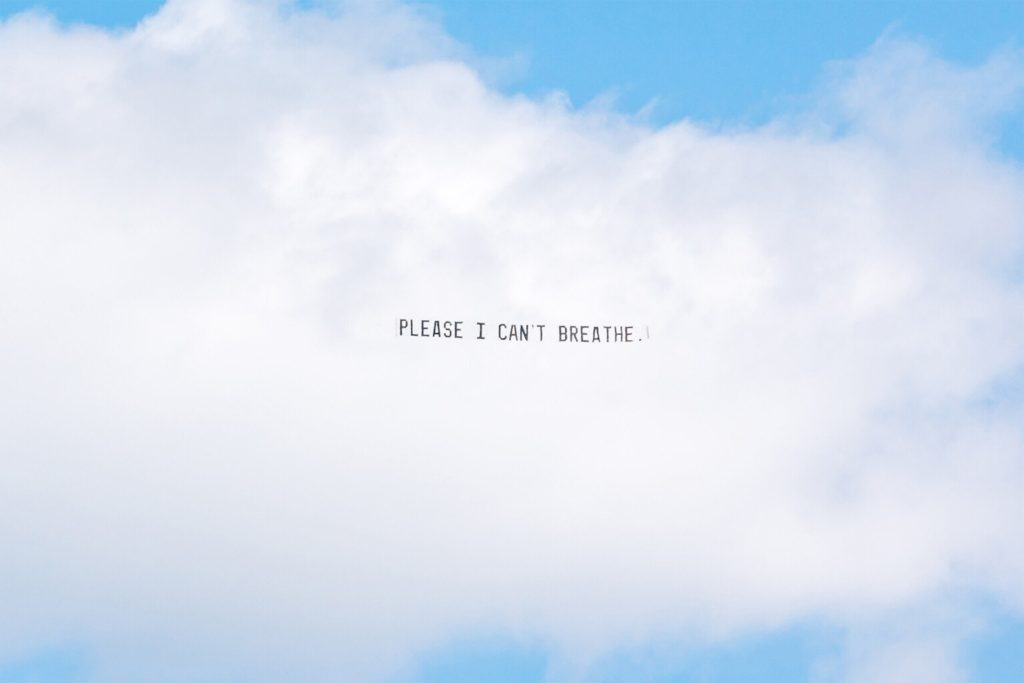 Dallas based artist Jammie Holmes decided to take action in the air rather than on the ground, using an aerial banner to honour Floyd, with the defiantly simple, and now familiar message. Floyd's last words have been trailed and read among the clouds in the skies above Los Angeles, Detroit, Miami, Dallas and New York. On his website, Holmes explains how he wanted to steer away from the noise of digital media and exercise free speech via a channel usually unavailable to the poorer and marginalized communities.
In the midst of these brutal recent events, artists have once again unveiled the power of their voices, and their ability to unite and strengthen ties through their works, regardless of frontiers or colours.
Relevant sources to learn more
Hyperallergic interviews the artists behind the Minneapolis mural
Read about Jammie Holme's demonstration
Discover street art inspired by the COVID-19 pandemic
Read about street art and social media
10 Poignant Works of Street Art Around The World in Support of Ukraine