Articles & Features
How Social Media Is Shaping Art – The Impact of an Instagram Obsessed Culture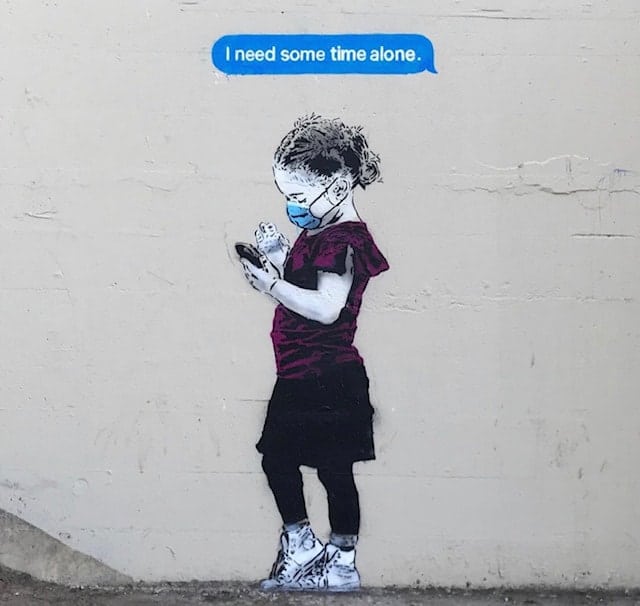 By Naomi Martin
Is this longing for the perfect Instagram post standing in the way of a genuine appreciation of the art, or is it a sign of engagement with the work?
The ubiquitous influence of social media
Almost every aspect of our lives is now being dictated by social media. We look to the omnipresent, all-seeing forces of Instagram, Facebook and Twitter to communicate, keep up with the world, schedule our events, satisfy our most materialistic needs or even quench our thirst for activism, the list goes on. It is therefore only natural for art, in its ceaseless ability to both reflect and influence its host cultures, to be entwined in the ever-growing web of social media. But the relationship between these two worlds is like any, enriching yet troublesome at times. While social media has the ability to liberate and foster art to a prodigious extent, it also raises queries of censorship, and blurs the distinction between art and those categories of creation or design that might aspire to that status.
The issue of the social sharing of art is also a pertinent one, with the rise of the art-selfie hovering between narcissism and promotion. When visiting a museum or exhibition it is now mundane to observe viewers walk past the artwork, phone in hand, ready to snap and promptly post with the appropriate hashtag – looking at the art itself through the window pane of their device rather than directly with their own eyes. But is this longing for the perfect Instagram post – or story – standing in the way of a candid experience and genuine appreciation of the art, or is it a sign of different kind of engagement with the work?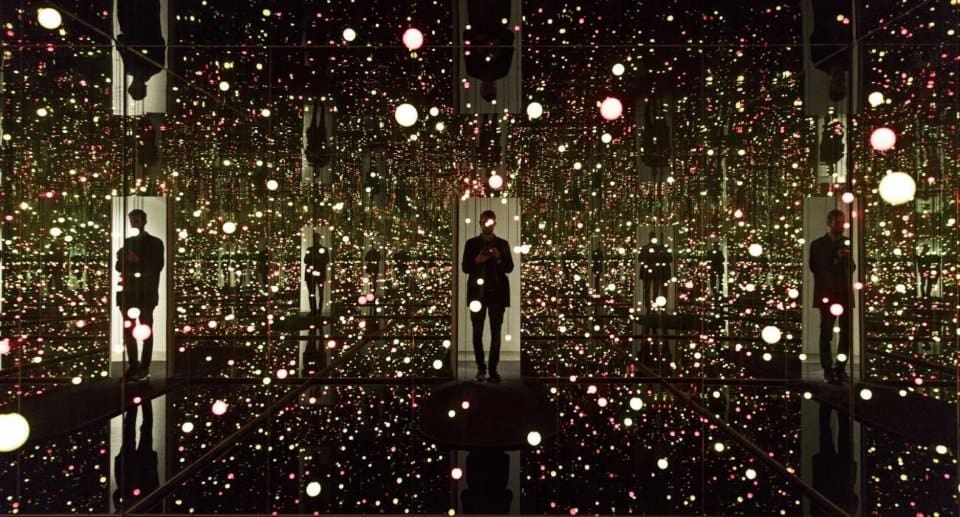 A superstar not only of the art world but also in the sphere of social media, Yayoi Kusama is without a doubt Instagram's favourite artist, with millions of people photographing themselves immersed in her whimsical mirrored Infinity Rooms, often having to queue for hours before entering the gleaming utopia for a mere minute, or under, just enough time to capture the perfect #yayoikusama selfie. Her installations are all over Instagram, leaving us to wonder if the experience is still about the art, or if it is just another way to cultivate the vanity of the spectator and their overwhelming desire to fit in to the practices cultivated and endorsed by social media. But as Kusama's exhibitions have taken over the Instagram feed of a new generation of art lovers, a more positive aspect includes the inclusion of idiosyncratic ideas and aesthetics like these within the mainstream.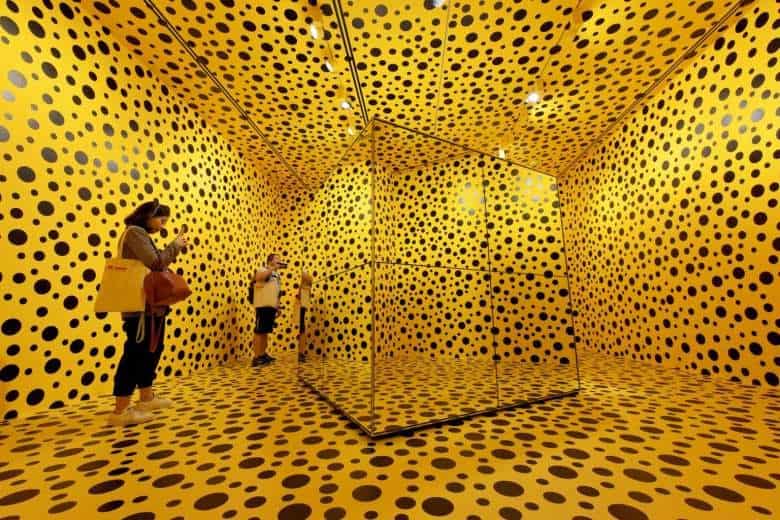 From Tagging to Hashtagging
As the entire world has been impacted by the effects of social media, street art has also adapted and evolved accordingly, embracing its influence. Instagram in particular has been rewriting the aesthetics and the consumption of street art and graffiti, as the first forms of street tagging have provided the digital architecture of hashtagging. The location sharing functions of social media have enabled street art to become globalised, a piece shared on Instagram with the right hashtags can become viral, inciting a virtual response across the globe. Experienced as a digital object, street art also has the opportunity to endure and reach a larger audience, it is no longer victim of its own location or ephemerality. The downside is the potential rise of ubiquity, as the supremacy of online trends take over causing diversity to become diminished and diluted.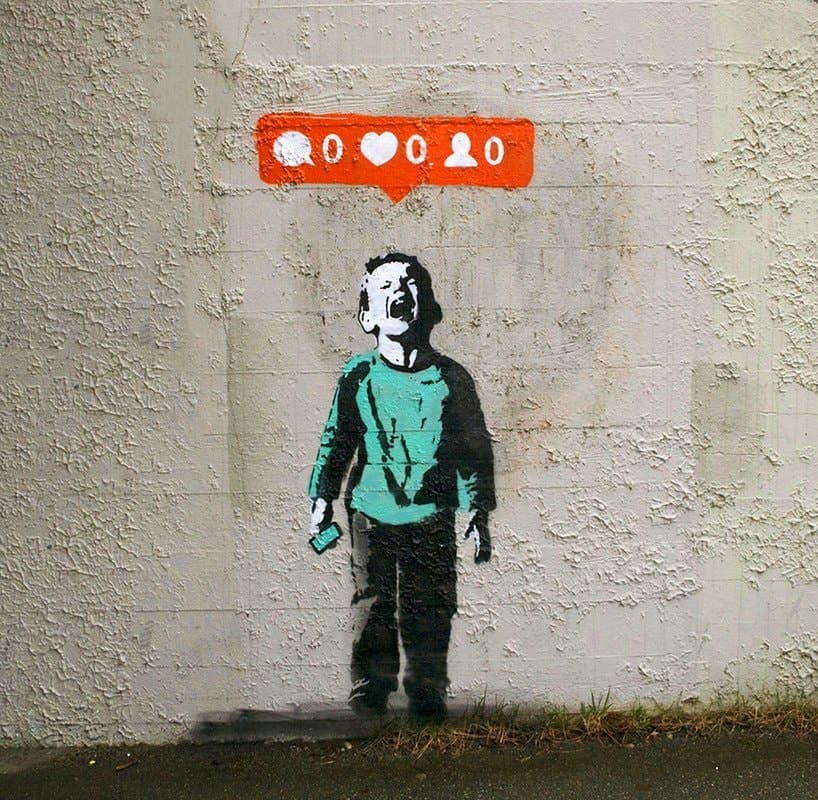 Many street artists have now fully embraced the interconnected practice of social media in their work, using it both as a way to document their artistic processes and share their work, but also as an abundant source of inspiration, using the tropes of SoMe and its distinguishing aesthetics to produce street art which incorporates repetitive references to the characteristic language of Instagram, or Facebook. The Vancouver based street artist iHeart in particular, has been creating graffiti stencils highlighting the rising influence of social media, with a focus on the younger demographic.
"I see people walking down streets barely glancing up from their devices. Digitally we're hyper-connected and yet so disconnected from each other"

iHeart
Reminiscent of Banksy's pieces, iHeart's stencils are unfolding the repercussions of a social media obsessed culture, even more startlingly so since he mainly features children, interacting with their smartphones, moaning about a lack Instagram likes or writing in hashtags. iHeart is also niftily using the concept of the wall both literally and figuratively, embracing the irony of a wall as a stand-in for a screen. His piece Nobody Likes Me gained worldwide recognition after Banksy himself shared it on his social media channels.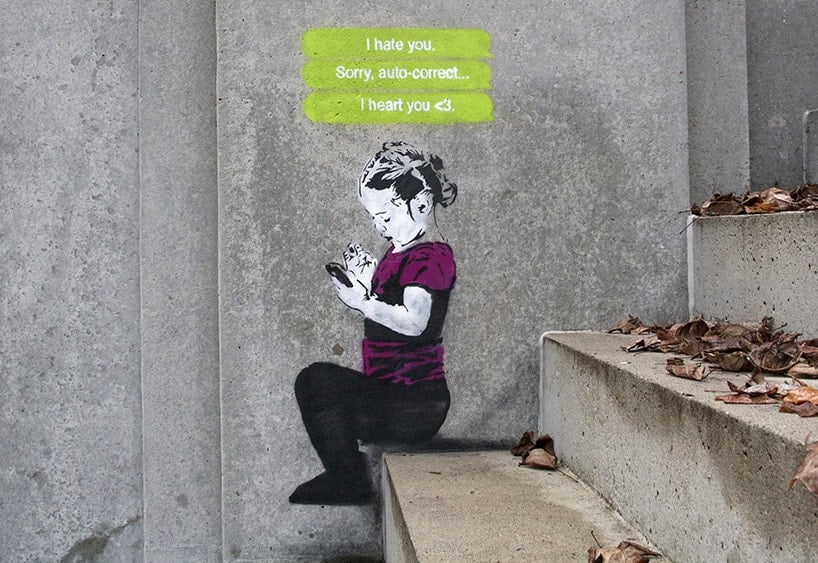 Is the relationship between art and social media about profit?
More than just reshaping the way we think about culture, social media is also, to an extent, transforming street art into advertisements for businesses, retailers, restaurateurs, or even gyms. Corporations are taking advantage of the selfie-taking demographic, luring them with virally geotagged murals – guerilla advertising that they will turn into profit. This "Instagram street art" is in no way representative of the political and social underlying intent inherent to street art, but simply taps its appeal for branding kudos, followers, likes, and, ultimately, revenue.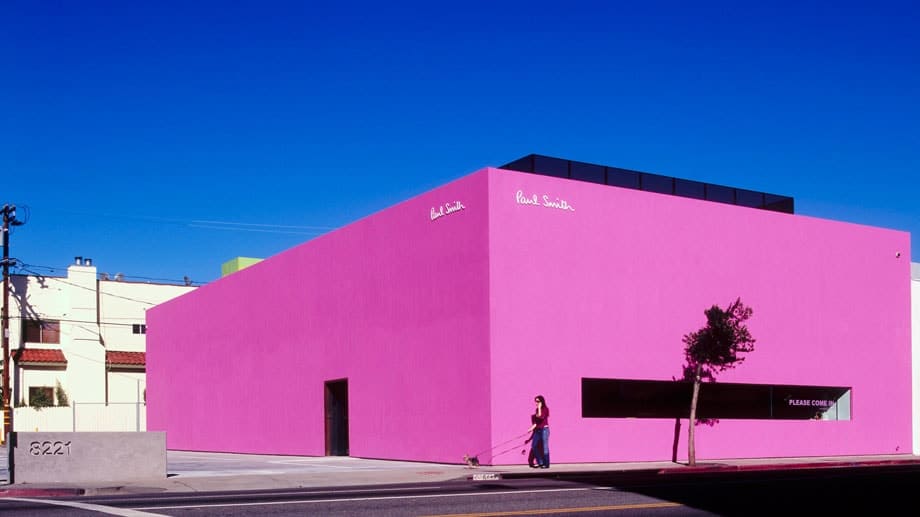 Retailer Paul Smith's iconic bubble-gum pink wall in L.A is a major illustration of this phenomenon, inspired by Mexican architect Luis Barragan's signature pink buildings. The wall became an Instagram landmark, with thousands of people, mainly tourists, visiting it daily to pose or snap a selfie. These visitors come to create self-content, unaware that they are becoming a part of a cleverly thought-of marketing campaign, benefitting the store as well as the coffee-shops and restaurants surrounding the area, ready to satiate the post-shooting hunger. The wall was sabotaged in 2018 by the street artist Thrasher, with the words "Fuck your selfie".
From marketing to narcissism, what these new habits of interaction with art are essentially exemplifying is the immeasurable impact that social media is having on every facet of our lives. Alarming or uplifting? Undeniably, there is more than one way to look at it. While some of the trends and money-driven approaches might be emphasizing the ruthless features of consumerism and, in the process, tarnishing the alternative innate value system cherished by the art world, social media can also bring about genuinely new connections and inspiring experiences.
Relevant sources to learn more
Read more about iHeart
The Fraught Business of Removing and Selling Street Art Murals
Artland interviews Morten Halborg-Møller of Bricks Gallery, Copenhagen
Discover and Buy Art for Sale