Articles and Features
Art Movement: Color Field Painting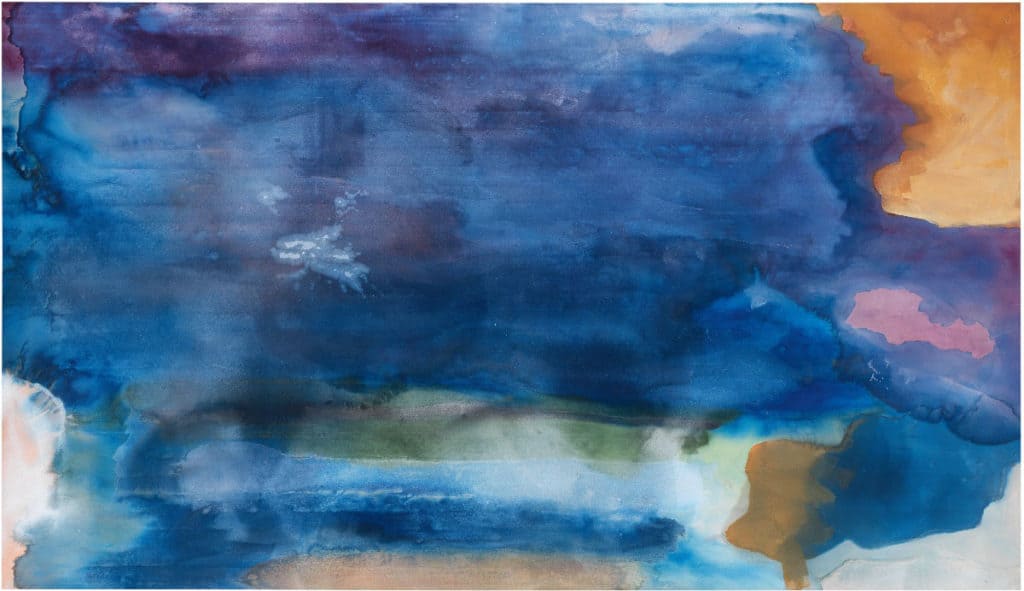 By Shira Wolfe
"The ultimate effect sought is one of an almost literal openness that embraces and absorbs colour in the act of being created by it." – Clement Greenberg
What is Color Field Painting?
Color Field painting is a term initially coined by art critic Clement Greenberg, and used to describe the works by Abstract Expressionist painters such as Mark Rothko and Barnett Newman. These artists composed their paintings with broad expanses of saturated color. In his essay on Color Field painting, Greenberg wrote:
"The ultimate effect sought is one of an almost literal openness that embraces and absorbs color in the act of being created by it. [The colored field] has to be uniform in hue, with only the subtlest variations of value if any at all, and spread over an absolutely, not merely relatively, large area. Size guarantees the purity as well as the intensity needed to suggest indeterminate space: more blue simply being bluer than less blue."
Key period: 1950s – 1960s
Key regions: United States, Great Britain
Key words: saturated, contemplative color, abstraction, flat space, large-scale canvases
Key artists: Mark Rothko, Barnett Newman, Clyfford Still, Helen Frankenthaler, Morris Louis, Kenneth Noland, Alma Thomas, Sam Gilliam, Robyn Denny, John Hoyland, Richard Smith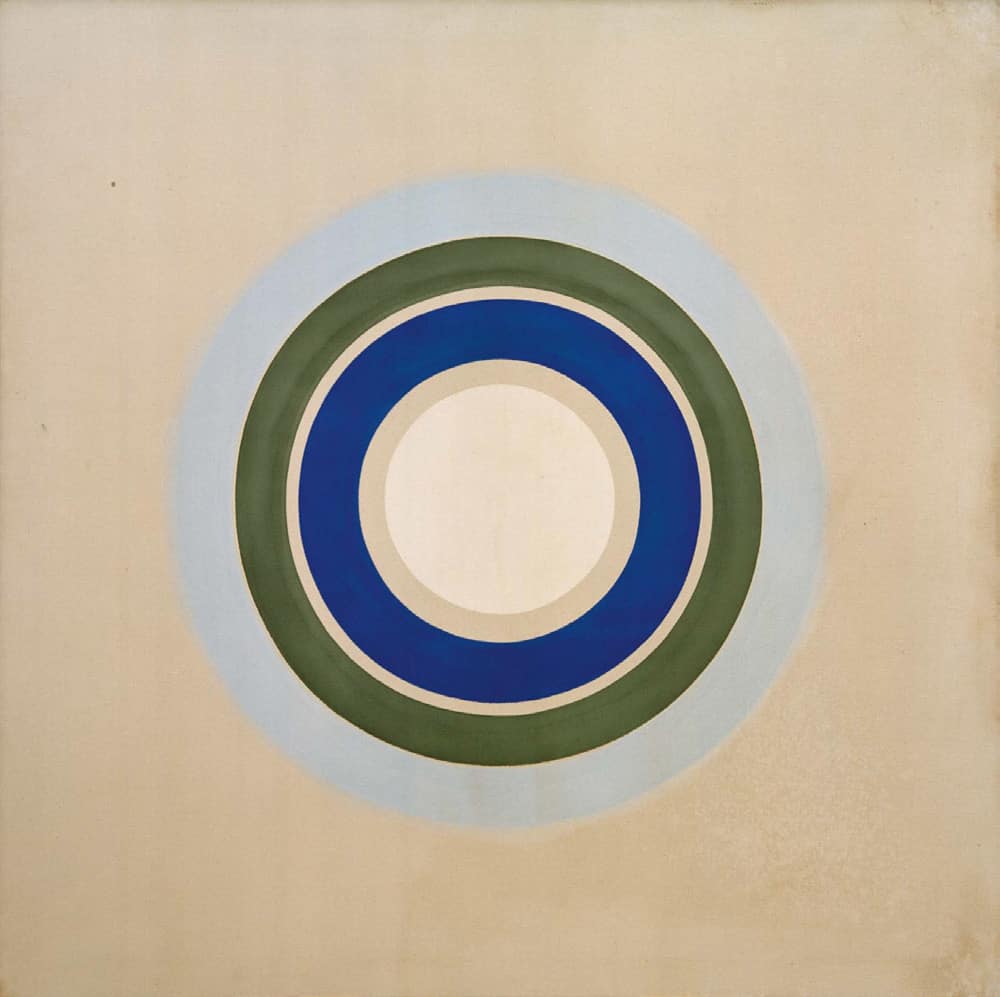 The Key Ideas
Color Field painting is often considered a subset within Abstract Expressionism. The Color Field painters were similarly interested in the use of pure abstraction, flat space and large-scale canvases. What sets Color Field painting apart is that Color Field painters rejected the active gesture which was often characteristic of Abstract Expressionism, and instead favoured large expanses of contemplative color.
Originally, the term was used in the 1950s to describe the work of three American abstract painters: Mark Rothko, Barnett Newman and Clyfford Still. Around 1960, a form of Color Field painting emerged that was more purely abstract, with artists like Helen Frankenthaler, Morris Louis, Kenneth Noland, Alma Thomas and Sam Gilliam leading the way. These artists moved away from the emotional, mythic or religious content and the personal and painterly application of the earlier movement. They focused on open compositions, limited painterly gestures, and drawing attention to the relationship between the canvas and the forms painted on it. Clement Greenberg organised an exhibition of 31 artists associated with this new development in 1964 at the Los Angeles County Museum of Art, and titled it Post-Painterly Abstraction. This term is also frequently used to describe the work of this 1960s generation of Color Field painters and those who followed them.
Color Field
In Britain, Color Field painting developed in the 1960s among artists like Robyn Denny, John Hoyland and Richard Smith.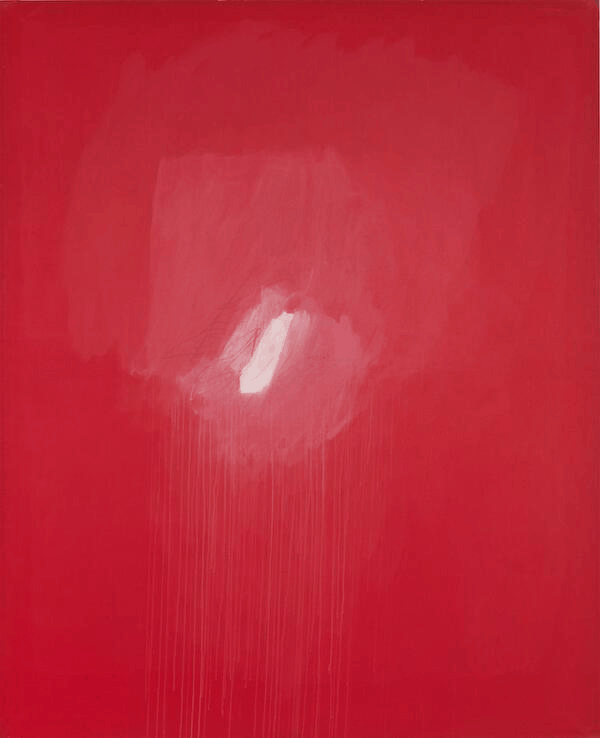 "We are creating images whose reality is self-evident and which are devoid of the props and crutches that evoke associations with outmoded images, both sublime and beautiful… The image we produce is the self-evident one of revelation, real and concrete, that can be understood by anyone who will look at it without the nostalgic glasses of history." – Barnett Newman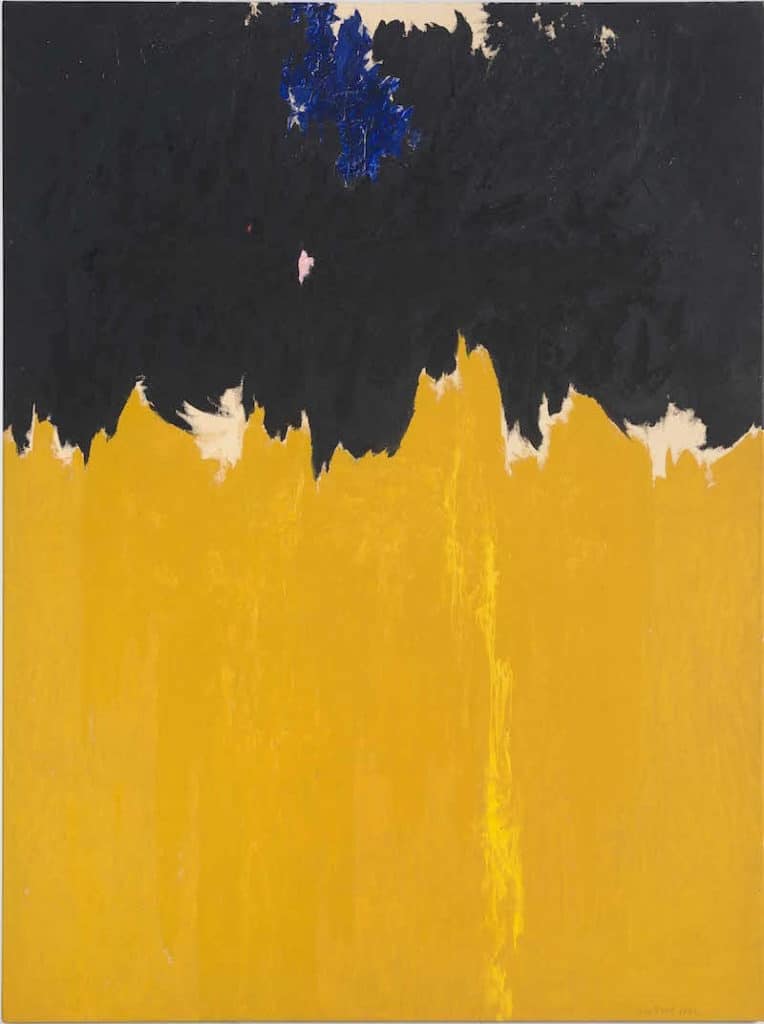 The Main Protagonists
Mark Rothko, Barnett Newman and Clyfford Still embarked on their journeys to find a more delicate painting style capable of expressing the sublime and transcendence around the same time. For Rothko, his search resulted in his large, rectangular compositions of deeply emotive color fields. Newman explored this in his purely colored works with vertical or horizontal stripes, and for Still, it resulted in his irregular and textured compositions, juxtaposing colors and surfaces. Each of them gravitated more towards monolithic imagery, flat color fields and unbroken surfaces.
In the second wave of Color Field painting, Helen Frankenthaler was one of the first artists who started using the stained painting technique, pouring her paint mixture directly onto the unprimed canvas and creating shapes through these stains. Morris Louis began soaking his canvases, and started completely eliminating brushes from his artistic practice by pouring lines of paint on his canvases to create rainbow effects. Both Louis and Kenneth Noland were influenced by Frankenthaler's work and the two artists worked together on the technique of staining with thinned paints. Noland's characteristic style presented pure, saturated color as part of the canvas, often in the form of concentric rings. Sam Gilliam's Color Field painting found its form in canvases freed from their support, creating beautiful large draped structures in vibrant hues. Alma Thomas believed that abstract art had the power to transcend political and historical issues, and focused on the power and potential of color through her use of different color fields and staccato brushstrokes.
In Britain, Robyn Denny became known for his monumental hard-edge paintings in the '60s, and in the '80s, he produced a series of large austere monochromes in blue or red, with a central knot of paint. John Hoyland's work was characterised by simple shapes, bold colors and a flat picture surface. Richard Smith, known for his semi-sculptural abstract works, also maintained an ongoing dialogue with Color Field painting, working directly on loose canvas and then rotating and stapling it onto stretchers.
Examples of Color Field Paintings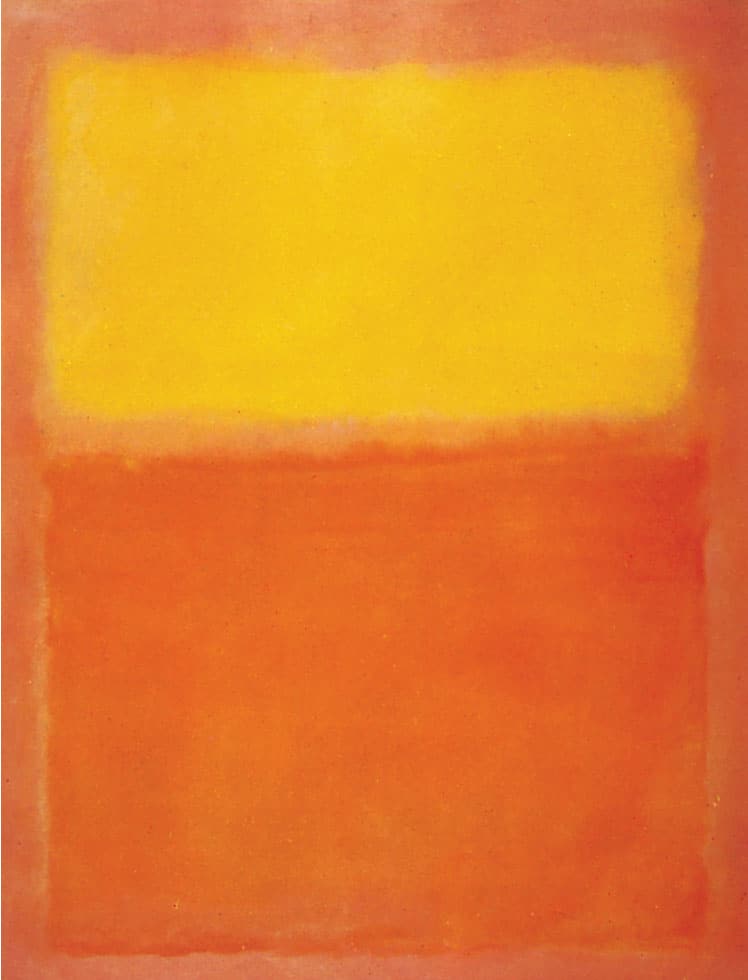 Mark Rothko, Untitled (1968)
This painting by Mark Rothko, with its glowing yellows and oranges, attests to the artist's sophisticated understanding of color and composition. It took Rothko hours to get his composition right, despite the seemingly simple outcome.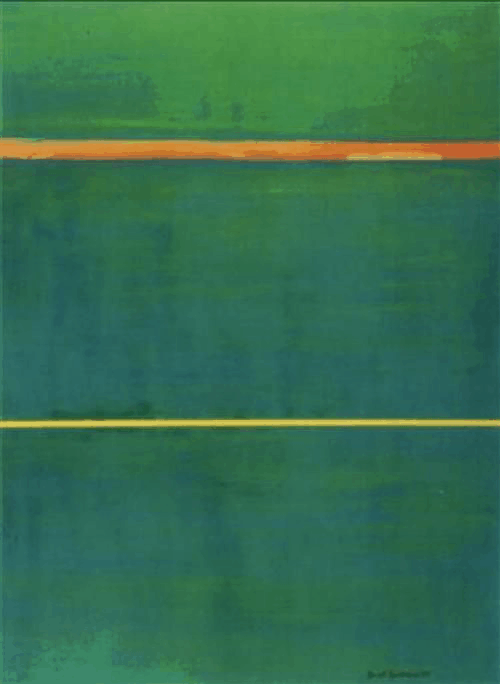 Barnett Newman, Dionysius (1949)
This is one of Newman's earlier works, consisting of a serene field of green and blue colors with horizontal lines of yellow and orange cutting through the field of color.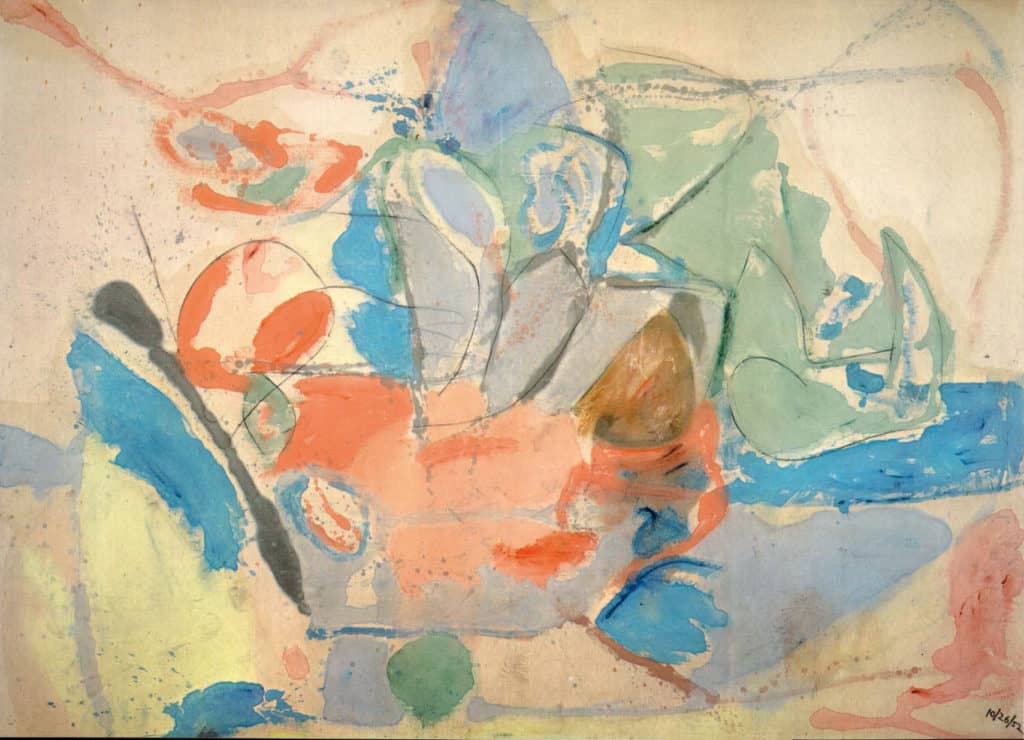 Helen Frankenthaler, Mountains and Sea (1952)
Frankenthaler's landmark work "Mountains and Sea" marked a departure from most Abstract Expressionist works. Frankenthaler worked directly on unprimed canvas, staining it with thin washes of color and creating a combination of paint and raw canvas.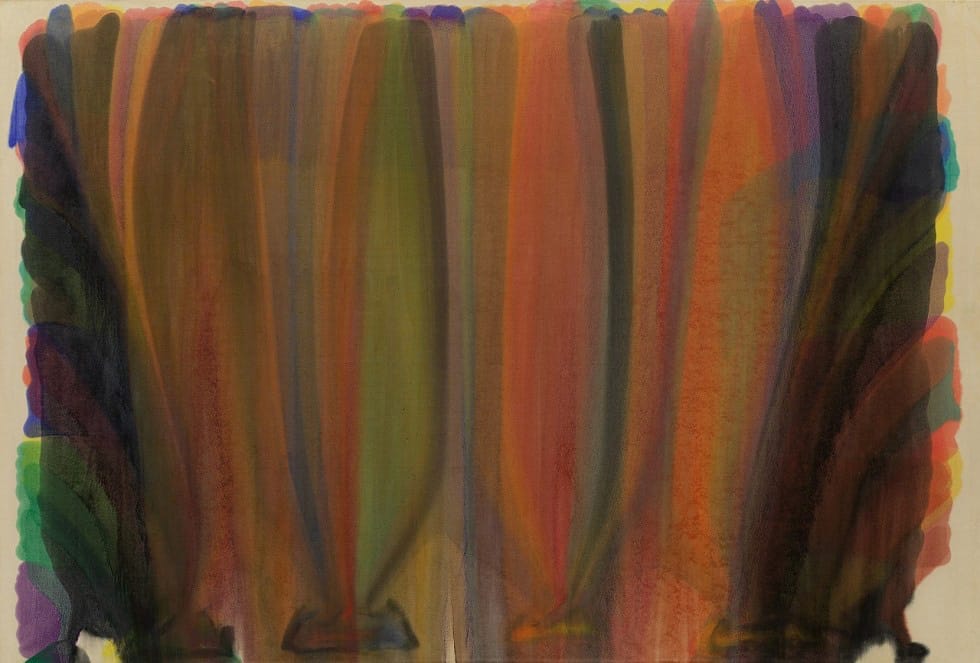 Morris Louis, Saraband (1959)
In 1953, Morris Louis visited the studio of Helen Frankenthaler and saw Mountains and Sea, her first signature soak-stain painting. Immediately inspired, Louis started working on a series of poured paintings which he referred to as Veils. To make Saraband, Louis poured paint from the top as well as from the sides of the canvas, creating these saturated bands of colors.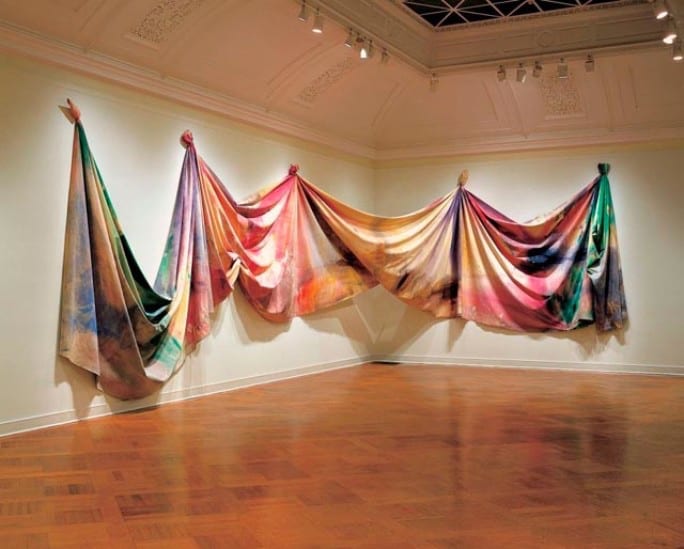 Sam Gilliam, Light Depth (1969)
"Light Depth" is one of Gilliam's most important Drape paintings. Abandoning the traditional stretcher, Gilliam draped his work with swirling, bleeding colors onto the wall.
Relevant sources to learn more
For more about Color Field painting, see
Take a look at our related articles here:
Lost (and Found) Artist Series: Alma Thomas
Stories of Iconic Artworks Series: Mark Rothko's Seagram Murals
Discover & Buy Paintings for Sale