Articles and Features
Lost (and Found) Artist Series: The Draped Canvases of Color Field Painter Sam Gilliam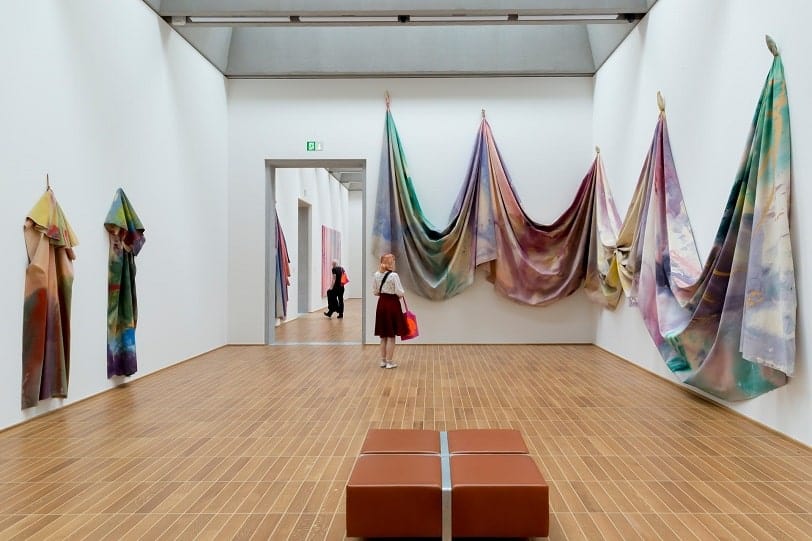 By Adam Hencz
Sam Gilliam, a Washington, D.C. painter, who helped redefine abstract painting with his brightly colored and unstretched monumental canvases cascading from stairwells, gallery ceilings, and through facades of art museums, passed away on June 28th, 2022 at the age of 88.
Throughout the course of his seven-decade career, Gilliam consistently challenged abstract sculpture and painting. Leading the way in the third wave of the Color Field movement, his unique draped canvases beautifully freed from their stretchers served as his entré to the art world and marked a crucial distinction in his career. His oeuvre has had a significant impact on numerous generations of artists after him, thanks to the diverse combinations of forms, textures, and materials he used to make his avant-garde works.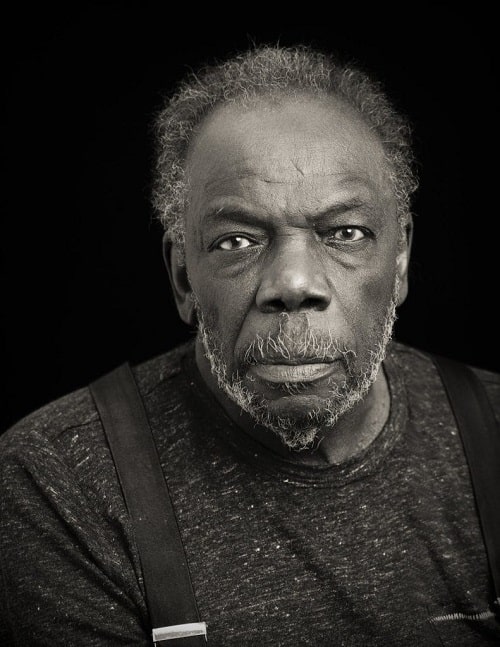 Short biography of Sam Gilliam
The seventh of eight children, Gilliam was born in Tupelo, Mississippi, in 1933. He earned both his bachelor's and master's degrees from the University of Louisville but in 1962 he moved to Washington, D.C. There, he would set up a studio and stay for the remainder of his life.
From the early contributions to the Color Field movement to international acclaim
He rose to prominence as a key figure in the 1950s movement known as the Washington Color School of abstract painting, which placed emphasis on expansive fields of color. In the 1960s, American sculpture was thriving as Minimalism gained traction, Performance Art was flourishing, and the Civil Rights Movement was electrifying people all over the country. Gilliam reflected on the turmoil and celebration of the decade and used his studio to combine all of this cacophony into his paintings masterfully.
Despite the early success in the 1960s – Gilliam was also the first Black artist to exhibit at the American Pavilion at the Venice Biennale in 1972 – his career mainly centered on Washington, somewhat overlooked by the upper levels of the mainstream art world.
It was only in recent years, when he was in his 80s, that Gilliam could ride a new wave of attention with top-notch gallery representation, major solo exhibitions, and record-breaking auction sales.
Abstract Art is Political | Artist Sam Gilliam | Louisiana Channel
The radical abstract art of Sam Gilliam
Gilliam's desire to liberate his paintings from the constraints of stretched canvases and frames was intense and resulted in a groundbreaking exploration of the structural and formal possibilities of traditional painting supports, making him a pioneer of the unstretched canvas cloth as shape.
Drape paintings
For his Drape paintings from the 1960s, he used unstretched canvases that were either hung from ceilings or pinned to walls, ripply pouring down like massive waterfalls. Partly paintings and partly sculptures, his artworks were never hung the same way twice when displayed in an exhibition.
He created Seahorses, one of his largest draped canvas installations, in 1975 for the Philadelphia Museum of Art. The huge bronze rings that surrounded the museum building recalled the rings of seahorses that were fastened to Neptune's temple in Greek mythology and held enormous canvases that extensively covered two exterior walls of the institution's facade.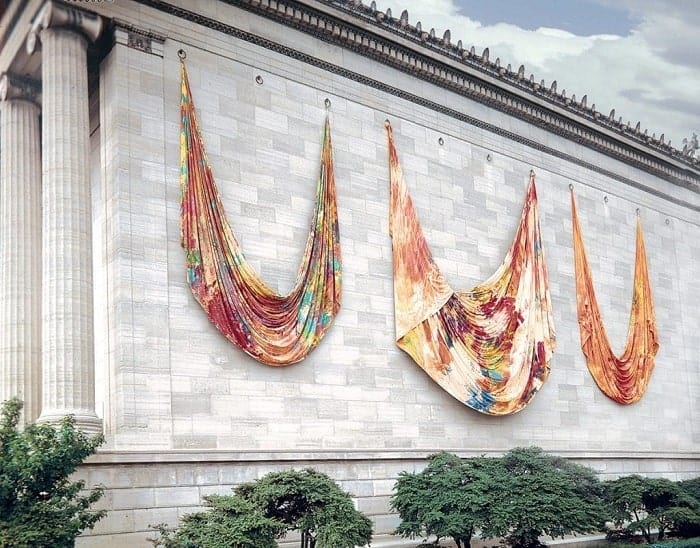 Quilt paintings
He transformed his style and created quilted paintings in the 1980s. His works from that period resonate with jazz improvisations as well as the visual culture of African American quilts, which he adored. His Quilt paintings were also canvases covered in several thick acrylic paint layers that were then cut into geometric shapes and rearranged into patterns.
Although Gilliam gained popularity during the Civil Rights Movement, his work remained firmly abstract, and he seldom addressed social or political concerns, which occasionally led to conflict in the larger artistic community. Although the artist rarely commented on political issues, works in his Martin Luther King and Jail Jungle series reflect the turmoil and debate of the unsettled times when they were created. As the artist stated:
"The expressive act of making a mark and hanging it in space is always political. My work is as political as it is formal."

Sam Gilliam
Latest work by Sam Gilliam
Large-scale paintings on paper and wood, as well as numerous site-specific public commissions, are among Gilliam's most recent works. These significant pieces includeYet Do I Marvel, a commission for the lobby of the National Museum of African American History and Culture, which opened in the artist's hometown in 2016, and Yves Klein Blue, a painting on nylon drape presented at the Giardini's main pavilion at the Venice Biennale in 2017.
Gilliam is represented by New York gallery Pace, as well as Los Angeles-based David Kordansky.
Relevant sources to learn more
Sam Gilliam's work at Pace Gallery New York
Sam Gilliam for David Kordansky Gallery Lost Angeles.
Related articles on Artland Magazine
Read about Color Field painter Alma Thomas
Stories of Iconic Artworks: Mark Rothko's Seagram Murals
Previous editions of the Lost (and Found) Artist Series:
Katarzyna Kobro
Ron Gorchov
Sophie Taeuber-Arp
María Izquierdo
Seydou Keïta
Judy Rifka
Tehching Hsieh

Wondering where to start?