Articles and Features
Lost (and Found) Artist Series: Judy Rifka
By Shira Wolfe
"Her Single Shapes on plywood are amongst the most important paintings of the decade. Every painter who saw them at the time recognized their influence."

Rene Ricard, The Radiant Child, Artforum 1981
Artland's Lost (and Found) Artist Series features artists who were originally omitted from the mainstream art world or largely invisible for most of their careers. At the start of the 1970s, Judy Rifka took the New York art world by storm with her single shapes on plywood paintings. She was a fixture of the New York art scene at the time, connected to figures such as Keith Haring and Ron Gorchov, and she received nothing but praise from major art critics and fellow artists throughout the '70s and '80s. However, she faded from the art world's attention by the early '90s. Today, Judy Rifka's work is finally returning to the light. With a major exhibition presenting her work from 1974 to today at Pulpo Gallery, which opens on 24 September and runs through 31 October, Judy Rifka is here to teach the art world a thing or two about pioneering in art and weathering the rapidly-changing times.
Judy Rifka and the Spirit of Art
Judy Rifka has been active in the New York art scene for 50 years. She was drawn to art early, scribbling on the wall of her crib and painting at an easel on the terrace. She studied art at Hunter College in New York, but took a break to hitchhike around Europe and take in as many paintings as she could. This trip eventually led her to London, where she found herself in the middle of a bustling cultural scene, among whom was the folk musician Donovan. Determined to stay in London, Rifka's plans changed suddenly when she was convinced by American protest singer Phil Ochs to return to the United States since there were exciting things happening in terms of the art scene and the civil rights movement. Back in New York, Rifka decided to study at the Studio School, an important move where she absorbed everything like a sponge. It was there that she met fellow artist David Reed, with whom she travelled to the Southwest and painted in the desert for several months. Abstract Expressionism was a great influence at the time, and during this period, inspired by the vast desert space, Rifka started to think about space, informed by Malevich.
Understanding Space
Rifka explains how Malevich was concerned with trying to understand space through painting. What Malevich was after, she later learned, was exploring the convex hull. This, in mathematics, is the shape as seen from above, created by where the boat's hull meets the water's surface. It is an irregular shape, created by a perimeter of shapes. Rifka started creating convex hulls blooming back and forth over each other, as such eliminating the space. Inspired by Malevich and Hans Hofmann, who spoke about space in terms of colour and the ideas of push, pull and relational space, she started investigating form and space. She was more interested in developing form than in relating spatial arrangements to four edges on a canvas. The focus was on understanding how to see space and how to draw through the image.
Her studies in dance also began to be important in her work. She was concerned with the idea of making a mark and deciding where and how to make the other mark, thereby making a decision to go somewhere. Rifka describes the process in an interview with Whitehot Magazine: "So I take the paint, go from one point to another, and then it becomes a body. It's the way a body creates itself or a pseudopod moves. So I create a form based on the space, that's why there's no space within that shape, because the space has turned to paint. Then I take these movements, which are generally two, sometimes three, and I have knotted them back and forth to create built-up space."
Single Shapes on Plywood
Rifka's initial spatial explorations took place in the late '70s when she began creating her celebrated single shapes on plywood. "Her single shapes on plywood are among the most important paintings of the decade," wrote Rene Ricard in his 1981 Artforum article The Radiant Child. These works show movement of lines building up into shape and morphing fields. Rifka used plywood because she felt it was like a floor for her shapes to dance on. As opposed to creating compositions focused on how the viewer would relate to the exterior rectangle, Rifka allowed her compositions to move forward, often creating shapes that ignore the exterior and forcefully emanate off the picture plane. The single shapes on plywood were first shown at Artists Space and the Whitney Museum.
From these abstract, formalist works of the '70s, Rifka developed towards more figurative work, adding people and subject. She also began discovering new materials, working for example with oil on linen, or green blackboard paint on canvas. A lot of her work was based on dance, so she started including her signature figures, defiant, bold and very much on the move.
"This art was not happening during the daytime. This art was happening at night, so we were taking it from the night into the day."

Judy Rifka
Video Art
Wanting to get out more and be a part of the bustling life that was going on in New York in the '80s, Rifka began showing her video art in nightclubs, bringing her art out into the vibrant New York scene. "This art was not happening during the daytime. This art was happening at night, so we were taking it from the night into the day," Rifka explains.
Working with video was a natural move from Rifka, as it was an excellent medium to create a dialogue with New York's nightlife, and also a way to make layers, arranging things in different ways within the one medium. She started out with photographs, then realised she wanted to use more than just a single photograph, that she was interested in movement. That's where video came in. With her video art, shot on Super-8 mm film, Rifka also collaborated with other artists. She provided images to animators and worked with musicians.
Rifka has also returned to her painting from earlier periods and used these forms in video works. The coloured forms from her early plywood paintings became a video, projected on a giant screen at her 2016 Jean-Paul Najar Foundation exhibition opening. Two dichotomous halves performed a ballet-like duet, the forms overlapping and the movement becoming grander in scale as the film progressed. As such, Rifka effortlessly connects her past and present artistic practice, paying attention to what shaped her and moving forwards with all that came before. As Kara L. Rooney put it in her text about Rifka's Najar Foundation exhibition: "This is a provocation, an evolution of the more formal earlier work, which Rifka describes as 'painting the trajectory, form in time in paint.' Having liberated the static image, the video allows the form to dance and interact in the same way that the artist's pioneering investigations into movement, painting, and dance resulted in a number of interdisciplinary performances and installations in the late 70s."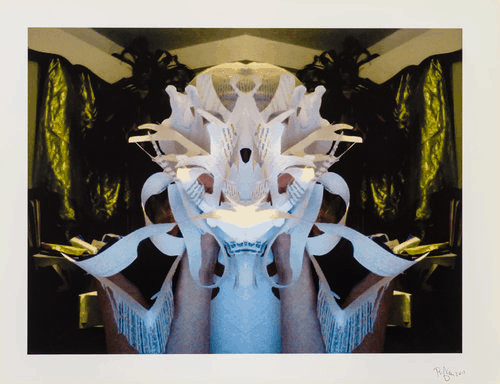 Art and the Internet
Rifka's art has effortlessly extended into the age of the Internet. Not one to fear change, she embraced the new technologies, in particular the possibilities of Facebook as a platform to share her art and to engage with her audience online. She refers again to Malevich, who talked about the concept of hyperspace. Rifka thinks he was in fact foreshadowing something like the Internet.
Facebook became an arts platform for Rifka, something that solved the problem of having her work remain unseen in her studio. She started out by posting works from her studio, and then began using the webcam to show her art process as it was happening. This led to ephemeral artworks, which she posts and people respond to. In this sense, Rifka became a performer as well, doing live art performances online. She often appears in her images as a dual being in a mirrored reflection, reminiscent of a Rorschach test. Mask-like paper creations hover before different backgrounds from her domestic environment. Rifka considers people's comments as a form of Greek Chorus – people agree, disagree, interpret and give insights. Through Facebook, she also collaborates with other artists such as artist and musician Daniel Dibble. They met over Facebook, never met in person, yet exchange work, create, and brainstorm together through the platform.
Art World Recognition
In the '80s and '90s, Rifka was represented by Brooke Alexander Gallery in New York, having solo shows every year between 1982 and 1989, and again in 1991. However, when the gallery shut down, the art world started to forget about her. In 2007, she was omitted from the High Times, Hard Times: New York Painting, 1967-1975 exhibition, an oversight that was immediately pointed out by a review in the New York Times. But with an art career that spans 50 years and numerous important shows, including the 1975 Whitney Biennial, the "Times Square Show" of 1980, Documenta 7 in Kassel, Germany in 1982, and another Whitney Biennial in 1983, Rifka never backed down or went away. She kept working throughout the many changes in the art world, and the art world appears to be catching up with her again. A 2016 exhibition at Amstel Gallery at The Yard in New York, curated by Gregory de la Haba, brought together Rifka's old and new work. De la Haba, an expert on Rifka's work, is also curating her upcoming show at Pulpo Gallery, located at the foothills of the Bavarian Alps. The show, running from 24 September – 31 October 2021, is titled Judy Rifka – A Glance through the Rearview Mirror. An Assessment of her Formidable Art from 1974 to Present. This overview offers European audiences a chance to encounter Rifka's vast oeuvre, and to find out what the tireless artist is up to at the moment.
Relevant sources to learn more
Pulpo Gallery
Judy Rifka Website
Lost (and Found) Artist Series: Ron Gorchov