Abstract Expressionism
Action, Colour Fields and Emotion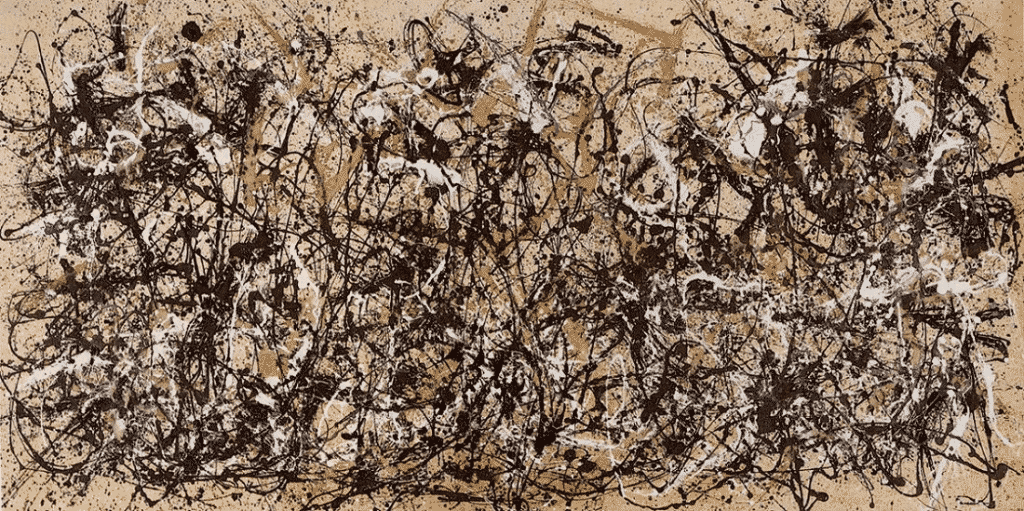 By Shira Wolfe
"We felt the moral crisis of a world in shambles, a world destroyed by a great depression and a fierce World War, and it was impossible at that time to paint the kind of paintings that we were doing—flowers, reclining nudes, and people playing the cello."

Barnett Newman
After a world war that is so vicious, so cruel, how can we simply continue with life, and art, in the same way as before? This is the question many artists were asking themselves after the Second World War. In 1940s and 1950s New York, a new art movement started emerging in which artists began exploring expression of emotions and feeling through abstract, gestural mark-making and imposing colour fields. These artists felt they could no longer continue to paint figures after the horrors of the war. They instead sought refuge in the abstract realm, encouraging meditation and introspection. These artists came to be known as the Abstract Expressionists.
Key dates: 1940s and 1950s
Key regions: New York
Key words: action painting, colour field painting, New York School, spirituality, emotional expression, spontaneity, gestural mark-making, sublime
Key artists: Jackson Pollock, Lee Krasner, Mark Rothko, Willem de Kooning, Elaine de Kooning, Barnett Newman, Clyfford Still, Franz Kline, Harold Shapinsky, Robert Motherwell, Helen Frankenthaler, Cy Twombly, Ann Ryan, Ad Reinhardt
The Emergence of Abstract Expressionism
In the years following World War II, a group of artists who rejected figuration in favour of abstraction emerged in the United States. They became known as the Abstract Expressionists.
The rise of fascism in 1930s Europe and the resulting war had brought a wave of immigrant artists over to the United States. These artists brought with them ideas and practices of European Modernism. Many artists trained at the Hans Hofmann School of Fine Arts, founded by the German painter Hans Hofmann, or at the experimental Black Mountain College in North Carolina, where Joseph Albers taught. The European influence taught artists about the formal innovations of Cubism, and the automatism and psychological underpinnings of Surrealism.
The Abstract Expressionists were deeply influenced by the idea of exploring the unconscious which reigned in Surrealism, and by the ideas of Swiss psychologist Carl Jung and his exploration of myths and archetypes. They also gravitated towards existentialist philosophers like Jean-Paul Sartre. The Abstract Expressionists expressed emotions and universal themes through their often monumental canvases in a style which fit with the post-war mood of trauma and anxiety.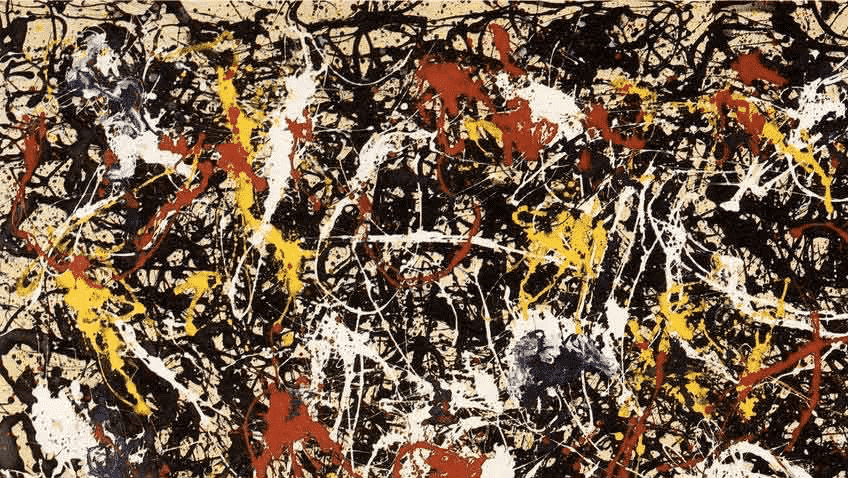 The Different Styles
Within Abstract Expressionism, we can differentiate between two tendencies: the action painters and the colour field painters.
Action Painting
The action painters were Abstract Expressionist artists whose approach to painting focused on the physical act of painting. Their working process involved splashing and dripping paint on the canvas, and they often used wild, course, gestural brushstrokes instead of carefully applying paint. The art critic Harold Rosenberg coined the term action painting in his article "The American Action Painters," which was published in ARTnews in December 1952. Arshile Gorky, Franz Kline, Willem de Kooning and Jackson Pollock were all considered action painters. Pollock, with his large drip paintings, is arguably the most well known action painter.
Colour Field Painting
The term colour field painting was first used in 1955 by Clement Greenberg to refer to the work of Mark Rothko, Barnett Newman and Clyfford Still. These artists were painting simple compositions with large areas of usually a single flat colour which were meant to produce a contemplative or meditative response. The colour field artists were searching for transcendence, and their expansive, emotive fields of colour were meant to engulf the viewer and inspire spiritual contemplation and intense feeling.
Iconic Artworks of Abstract Expressionism
Jackson Pollock's Number 1A (1948)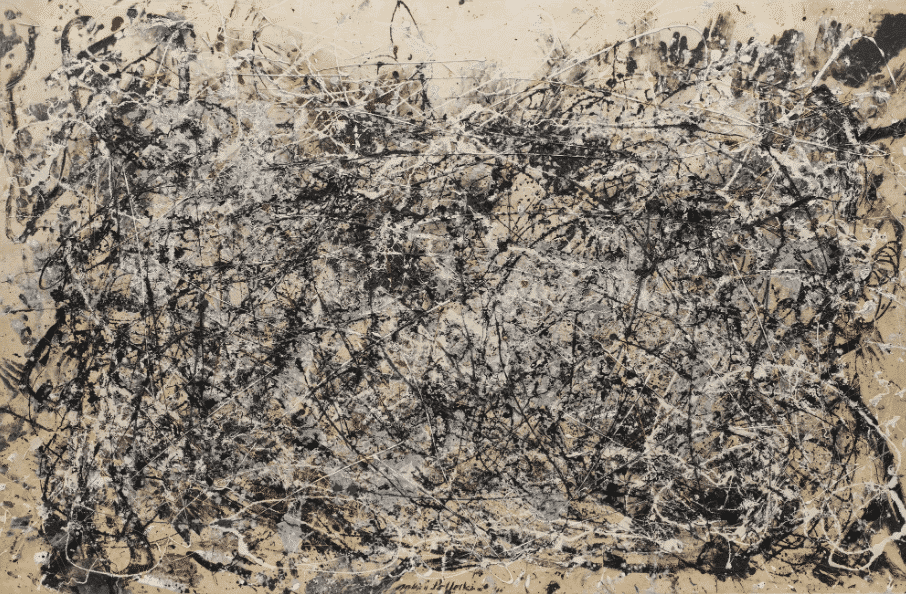 In 1947, Jackson Pollock discovered a new mode of painting. The method consisted of flinging and dripping paint onto an unstretched canvas, laid on the floor of his studio. The style became known as drip painting. Drip painting allowed Pollock to work with improvisation, spontaneity, movement and feeling. In his drip painting Number 1A, Pollock has added his handprints to the composition's upper right as an autograph. He moved away from traditional artist's oil paints and used commercial enamel paints for his drip paintings. Due to the fluidity of this paint, he was able to directly capture the movements of his body over the canvas. Pollock chose to no longer give his paintings evocative titles and began to number them instead, because numbers are neutral and would allow people to experience the pure painting.
Mark Rothko's Seagram Murals (1958-1960)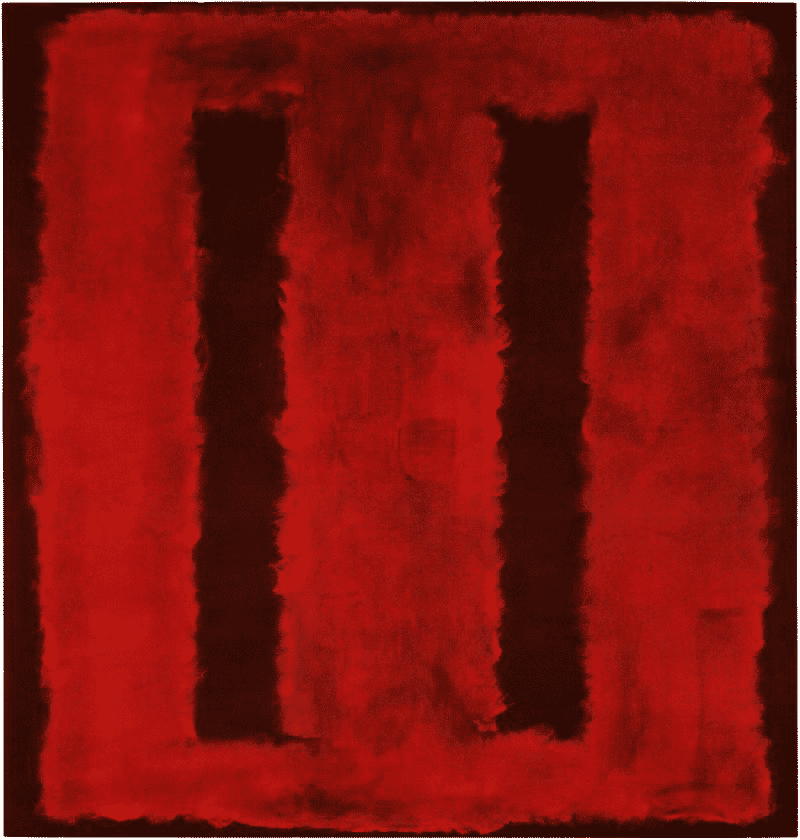 In 1958, Mark Rothko was commissioned to create a series of murals for the dining room at the Four Seasons Restaurant in New York's Seagram Building. He worked on the commission tirelessly for two years, creating a series of deeply moving colour field paintings in dark reds, maroons and blacks that came to be known as the Seagram Murals. Rothko stated that with his Seagram Murals, he had created a place. He eventually withdrew from the commission and donated most of the paintings to the Tate Gallery in London. The Seagram Murals exemplify the desire of the colour field painters to achieve spiritual transcendence and to convey intense emotional experience.
Willem De Kooning's Excavation (1950)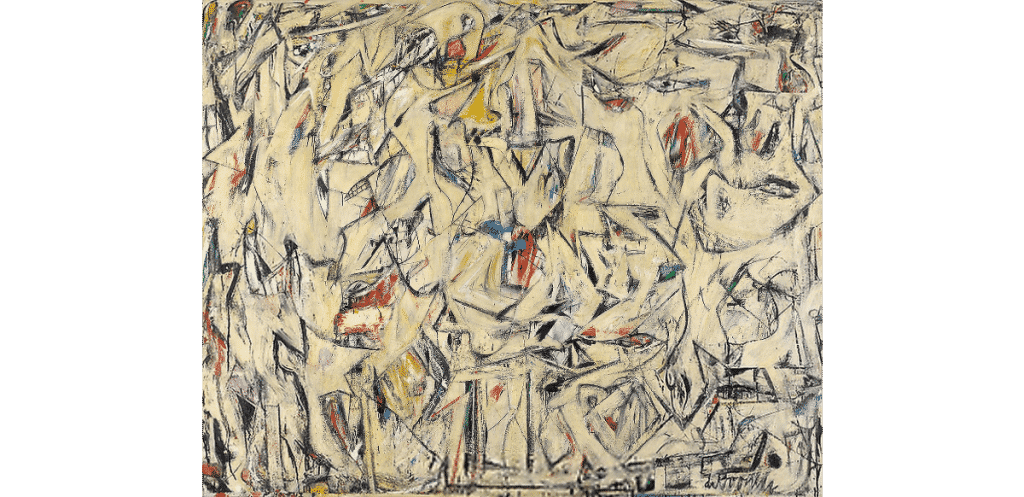 Willem de Kooning's Excavation was his largest painting up to that date, and exemplifies De Kooning's characteristic expressive brushwork and organisation of space into different sliding planes. The artist took inspiration by an image of women working in a rice field in the 1949 Neorealist film Riso Amaro by Giuseppe de Santis. The tension between abstraction and figuration is evident here, in the calligraphic lines which seem to define anatomical parts. De Kooning's intensive painting process included building up the surface and scraping down its paint layers for months on end until he achieved the desired effect.
Barnett Newman's Onement (I) (1948)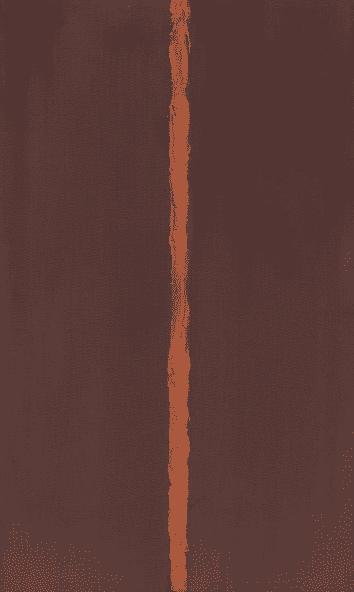 For Newman, Onement (I) was his artistic breakthrough. It was the first time for the artist to use a vertical band to define the spatial structure of his work. This vertical band, which Newman later started calling a "zip," was to become Newman's signature mark. The thick, irregular band both divides and unites the composition. Newman sought to paint from scratch, as though painting had never existed before. He saw his compositions as forms of thought and expressions of the experience of being alive.
"The modern artist is working with space and time, and expressing his feelings rather than illustrating."

Jackson Pollock
Abstract Expressionism Beyond New York
With Abstract Expressionism, New York became the new centre of the art world. Yet beyond New York, there were many art movements which were also moving away from representation in favour of abstraction. In Europe in the 1940s and 1950s, for example, there was Art Informel, which refers to different tendencies of abstract painting such as tachisme, matter painting and lyrical abstraction. Though mainly referring to European art, artists were also inspired by and embracing American Abstract Expressionism. Like the Abstract Expressionists, these artists took inspiration from Surrealism and its focus on the subconscious and automatist painting.
The Influence of Abstract Expressionism
Abstract Expressionism flourished in the 1940s and 1950s, and the paintings were seen all over the world in travelling exhibitions and publications. By the 1960s, Minimalism and Pop Art had started replacing Abstract Expressionism as the dominant art movement. The new generation of artists had tired of the serious, grand ambitions of the Abstract Expressionists and their desire to portray transcendence and the sublime in art. Yet the legacy of Abstract Expressionism remains considerable.
Take, for example, Frank Bowling, an artist who moved to New York in the mid-60s and was profoundly influenced by Abstract Expressionism there, continuing to paint in this style throughout his career, regardless of what the popular styles of the times were. Moreover, in recent years, female Abstract Expressionists like Lee Krasner, long overshadowed by their male contemporaries, are also receiving the attention they deserve. The Denver Art Museum's 2016 show "Women of Abstract Expressionism" celebrated the often unknown or underappreciated female artists of this groundbreaking art movement.
Relevant related articles:
Discover & Buy Paintings for Sale