Trending Lists
The Most Famous Van Gogh Paintings Everyone Should Know
"I am seeking. I am striving. I am in it with all my heart."

Vincent Van Gogh
Vincent Van Gogh's paintings are adored around the world. His unique post-impressionist technique, with swathing brushstrokes and striking colors, is instantly recognizable.
While alive, the artist's work was not so well received and he sold very few of his paintings. He became posthumously celebrated and now he is one of the most famous painters ever to have lived, with his original artworks selling for millions. Some of Van Gogh's most expensive paintings include the Portrait de l'artiste sans barbe (1889) which sold for $71.5 million in 1998 and Portrait du Docteur Gachet (1890) which sold for $82.5 million in 1990. While many original Van Gogh paintings are scattered around the world's greatest museums and private collections, many of them now sit in the Van Gogh Museum in Amsterdam.
The Most Famous Paintings by Vincent Van Gogh
An incredibly prolific artist – although much of his work was created in the last 10 years of his life – Van Gogh produced around 2000 artworks during his lifetime, and each carries with it a special part of the artist's legacy. Here is a selection of his most famous paintings.
Starry Night, 1889
Van Gogh's painting Starry Night (1889), is one of his most iconic. Leading up to this point, Van Gogh had been suffering from mental health issues, so much so that it led to him cutting off his left ear. After this incident, in 1888 he was admitted to the Saint-Paul-de-Mausole asylum in Saint-Rémy-de-Provence to recover. The view that we see in Starry Night is actually inspired by the view that Van Gogh saw from his bedroom in the asylum. The swirling blues of the moonlit night sky have become synonymous with the artist's style and the emotional quality of his use of color.
Sunflowers, 1889
During his time in Arles, South of France, in the years 1888-89, Van Gogh created five paintings of sunflowers in a vase, using only shades of yellow and a touch of green. He wrote that for him sunflowers represented "gratitude" and so hung one of them in his home. Later, his friend and fellow artist Paul Gaugin, while living with him for a short while, said that he very much liked the works and asked Van Gogh for one of the paintings, which he was given. Today, this copy sits in the Van Gogh Museum in Amsterdam.

Read more about Van Gogh's series of sunflowers
Self-Portrait, 1889
Van Gogh painted many self-portraits during the course of his career, no fewer than 35. The one displayed below, painted in 1889, is one of his most famous. Van Gogh depicted himself wearing what he used to work in – his blue jacket and shirt. In an attempt to be as true to himself as possible, he depicts his sharp features, the furrow in his brow, and the striking red tones of his hair and beard. This is one of the final self-portraits he painted before his death the following year.
The Potato Eaters, 1885
The Potato Eaters (1885) stands at a crucial point in the development of Van Gogh's style and technique. By depicting a family sharing a simple meal of potatoes, not only did he want to establish himself as a painter of peasant life, but also he challenged his artistic abilities to experiment with light and shadows, experimenting with raking light and the chiaroscuro technique to highlight the features of his subjects.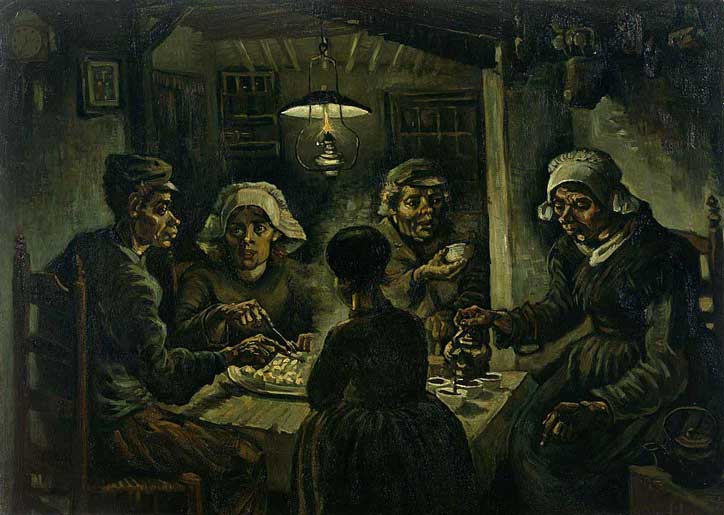 Wheatfield with Crows, 1890
Wheatfield with Crows was one of the artist's final paintings. It captures crows flying out of a wheat field and soaring into the deep blues of the majestic sky above. The artist chose to include a small path in the middle of the canvas leading through the wheat, creating a sense of loneliness and uncertainty. Many consider this painting as foreshadowing Van Gogh's suicide and representing the isolation he felt throughout the years. It is made even more poignant by the fact it was painted in the weeks leading up to his death.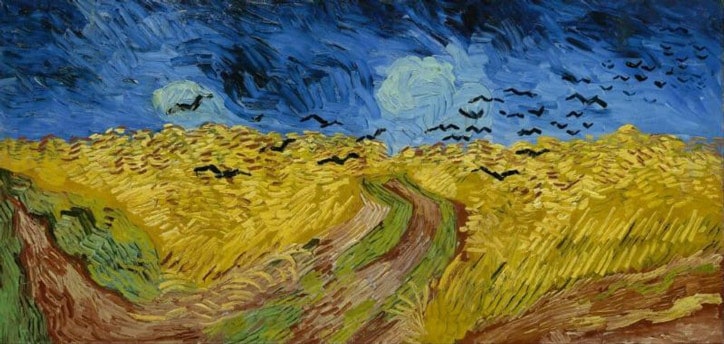 Irises, 1889
Irises is a series of Van Gogh's iris paintings that were done during his stay at the asylum in Provence. These flowers were in the asylum's garden, hence why they feature in so many of his paintings created during that stage of his life. The series is influenced by ukiyo-e Japanese prints which took flowers as the central focus and used interesting forms and colors to portray their soft and light nature.
The Bedroom in Arles, 1888
Another of Van Gogh's most famous paintings is The Bedroom in Arles (1888). Not surprisingly, the bedroom depicted is Van Gogh's. It shows his simple furniture, using contrasting colors – although scientific research shows that the colors we see today are the result of discoloration through time. The lack of perspective was intended by the artist as a means of flattening the volumes to resemble a Japanese print. Of this painting, Van Gogh wrote to his brother Theo saying, "In short, looking at the painting should rest the mind, or rather, the imagination."