Articles and Features
Boundary-Breaking Sculptors of the 20th Century:
Jean (Hans) Arp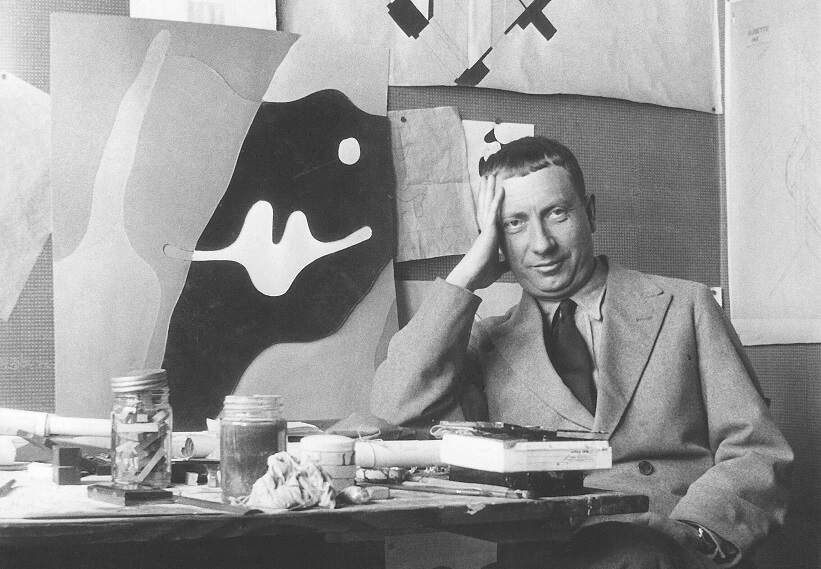 "Art is a fruit that grows in man like a fruit on a plant, or a child in its mother's womb."

Jean (Hans) Arp
The turn from the 19th to 20th century was a pivotal era for the Western art world. In this time of tumultuous political and societal changes brought about by major conflict and displacement events, Jean (Hans) Arp was born in 1886. In an era of borders being shifted, Arp refused to constrain himself to a single language and nationality, developing a hybrid cultural identity repelled by divisiveness that would be reflected in his artistic practice, ranging freely between art forms, movements, styles, and materials. At the forefront of Western Modernism, he was a pioneer of abstract art and a pivotal contributor to the shaping of Dadaism while also playing a crucial role in the development of Surrealism.
Biography of Jean Arp
Hans Peter Wilhelm Arp was born in 1886 to a French-speaking Alsatian mother and a German father in Strasbourg in the Alsace-Lorraine region. The area, today part of France, was under German control at the time as a consequence of the Franco-Prussian conflict. When Alsace returned to France in the aftermath of World War I, French law determined that Alsatian residents be given French names, and Hans Peter Wilhelm Arp became "Jean." However, he would continue to refer to himself as "Hans" when speaking German, at least until the outbreak of World War II, as a reaction against the regime.
Jean (Hans) Arp studied at the Kunst Schule in Weimar, then at the Académie Julian in Paris, ultimately moving to Munich in 1912. Mainly focused on paintings and swept into the growing modernism movement, he would become a founding member of Moderne Bund in Lucerne from 1911-1913.
The Birth of Dada
Early in his career, Jean Arp caught on with the pioneer of abstract art in the West and Russian father of expressionism, Wassily Kandinsky, and exhibited with Der Blaue Reiter in 1912. With the start of World War I, Arp fled to Switzerland to avoid being drafted into the German forces. He would claim to be mentally insane when called to the German consulate in Zurich by incorrectly attempting to solve an elaborate math equation using his date of birth on the drafting papers. His time in Switzerland brought him together with his long-time collaborator and first wife, Sophie Taeuber, and with poet Hugo Ball who had just founded the Dada movement at the legendary Cabaret Voltaire in Zurich along with Sally Hemmings. Arp wrote poems, produced collages and illustrations for books and Dada magazines, but also conceived an organically-inspired artistic language with his 'automatic drawings', woodcut, and abstract reliefs. According to the international inclination of the movement, together with Max Ernst and Alfred Grünwald, he would set up a Dada group in Cologne, contributing with his playful spirit to the movement set to incorporate chaos and randomness into the arts.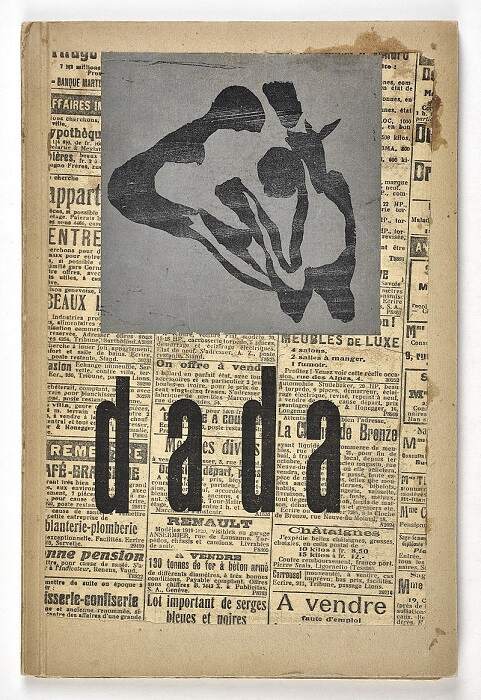 Contributions to Surrealism
Jean Arp would become a key member of another crucial avant-garde movement, Surrealism, participating in the very first surrealist exhibition, held at the Galerie Pierre in Paris in 1925, and pioneering the automatic writing and drawing techniques. When they obtained French citizenship, the Arps settled outside Paris, in Clamart, and Jean began to enjoy significant recognition and had his first solo exhibition at the Galerie Surréaliste in Paris.
The Aubette
The pair worked on large-scale projects and prestigious commissions, such as the redesign of the interior of the Aubette, a historic building on Strasbourg's main square that was to become a multipurpose leisure complex. With the collaboration of de Stijl-cofounder Theo van Doesburg, they designed the interior as a total work of art, with a series of immersive abstract environments where their ideas found realization in a new form of architectural abstraction. When the building opened in 1928, the decorations didn't match the tastes of the time, leading to major alterations and, ultimately, the destruction of this modernist landmark that later would be praised by historians as the "Sistine Chapel of abstract art." Although the work of Sophie Taeuber-Arp was always overshadowed by her husband's fame, the art world has gradually come to recognize the great importance of her work as a multi-disciplinary, independent artist. In the 1930s, the couple joined two newly founded international circles in support of abstract art: Cercle et Carré and Abstraction Création. In these years, Arp reached his full stature as a sculptor, but also continued his work in other mediums, especially collage and poetry.
Later Years
With the onset of World War II, the couple fled Paris for the South of France and then Switzerland. After the sudden loss of Sophie in a tragic accident in 1942, Jean took a long break from visual work before regaining his practice and using the later years of his life to promote the modernist ideal between the United States and Europe. He died in Basel on June 7th, 1966.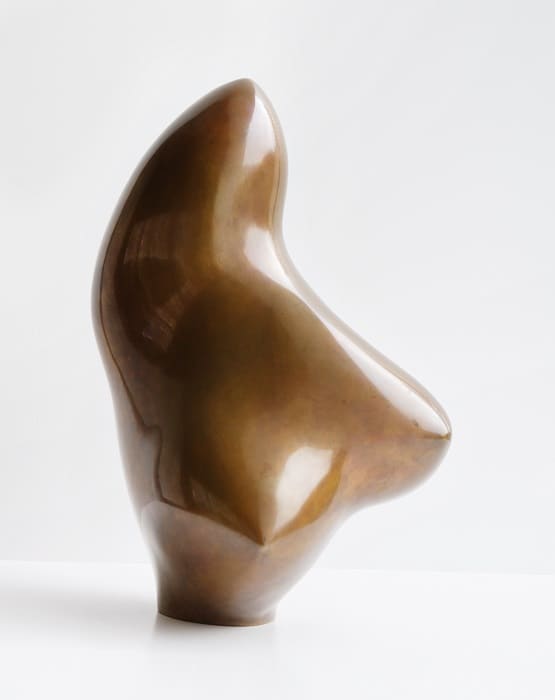 The Art Practice of Jean Arp
A pioneering force in multiple avant-garde art movements of the 20th century, Jean Arp's prolific body of work shifted fluidly between geometry and organic forms, between abstraction and representation, between two and three dimensions. Mainly known today as a sculptor, he was also a relief-maker, collage artist, poet, and painter. Influenced by the nomadic quality of his life, Arp's genuinely creative spirit brought him to develop a playful creative process, informed by chance and inspired by nature.
Sculpture
With great inspiration from his work with his wife Sophie, Jean Arp's sculptural works represent the most significant and numerous output of his oeuvre.
From the mid-1920s, Arp developed an object-based artistic language that, in the following decade, resulted in the creation of his celebrated biomorphic sculptures in materials such as marble and bronze, increasingly inspired by nature and the attempt to give form to natural forces. Directly working on the plaster casts, he was able to create gently curved, organic volumes in a metamorphosis of plastic elements. Arp's sculptural works have graced major modernist exhibitions, including Cubism and Abstract Art and Fantastic Art, Dada, Surrealism at MoMA in 1936-37. After the death of his wife, there would be a 10-year break for his sculptural practice, but then he returned to producing even more ethereal, lustrous works.
Collage
Embodying the nature of Dadaist principles, a breakdown of order leaving their final image to chance and overall hands-off randomness, Jean Arp's famous Papier Déchirés demonstrate his place as a founder in between movements of modernism. Each of his collage pieces is composed of bits of cut paper that depending on where they could land by being thrown about by change would define the final composition of the work.
Jean (Hans) Arp, Untitled (Collage with Squares Arranged According to the Laws of Chance), 1916-17
Paintings
Though not as renowned as his sculptural or collage work, Jean Arp's planar formal and visual language was initially defined in drawing and painting. In these works, Arp started to introduce strangely biomorphic but familiar shapes, often monochromatic or in a limited color palette, almost like silhouetted figures.
Legacy of Jean Arp
Jean Arp's later years were filled with recognition, including the Grand Prize for sculpture at the 27th Venice Biennale in 1954 and a major retrospective at the MoMA in 1958, followed by numerous solo exhibitions across the globe. The diversity of his work ripples through his legacy, with influences upon numerous movements within modernist art and design and their resulting contemporary practices, from Henry Moore to Barbara Hepworth. In Europe, the artist's legacy is held by Fondation Arp in Clamart, where Arp lived and worked for most of his life; Fondazione Marguerite Arp-Hagenbach in Locarno, Switzerland, founded by collector and Arp's second wife, Marguerite Arp-Hagenbach; Stiftung Arp e.V., which oversees a great part of the artistic estates of the Jean Arp and Sophie Taeuber-Arp; and the Arp Museum Bahnhof Rolandseck, outside of Bonn, boasting over 400 artworks by the artist duo.
Relevant sources to learn more
Read more on Artland Magazine
Learn more about other boundary-breaking sculptors of the 20th century:
Henry Moore's Modernist Sculptures
How Louise Nevelson Redefined The Materials of Sculpture
The Radically Reductive Sculptures of Brancusi

Other relevant sources:
The Arp Museum Bahnhof Rolandseck
Wondering where to start?