Articles and Features
Neri Oxman: Designing For A Nature-Centric Future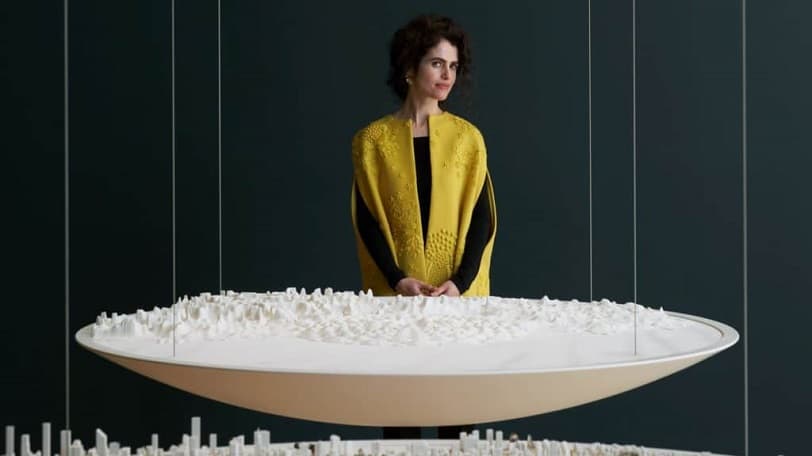 By Adam Hencz
What is the role of an architect in the age of climate change? How can we re-design building materials? How can architecture heal the rift between nature and humanity? Pioneer of sustainable architecture, acclaimed designer, and university professor Neri Oxman has spent the past two decades of her career thinking about these essential questions and developing new ways to live. The artist-researcher is known for her innovative projects that combine aesthetics, natural sciences, digital fabrication, and the future-forward genre of Biodesign. Her works have grown in size and ambition over time, giving the materials and organisms she works with—bees, silkworms, fungi, and bioengineered bacteria—more authority. Oxman is now working on the scale of the city.
Who is Neri Oxman?
Neri Oxman is an American-Israeli architect, scientist, engineer, and inventor who has pioneered the advancement of technological developments and scientific research with a focus on integrative design across domains and geographies. After serving in the Israeli Air Force as part of her military service, she attended the Hadassah Medical School for two years, ultimately switching her studies to architecture and obtaining her degree from the Architectural Association School of Architecture in London. In 2010, Oxman earn her Ph.D. in Design Computation from MIT and founded an interdisciplinary research group at the MIT Media lab: the Mediated Matter group. While working with generative design as part of her material ecology research project, she accepted a faculty position at the prestigious academic institution and was tenured in 2017. The concept of 'material ecology' (a term coined by Oxman) had developed to this day as a design philosophy that combines organic design, digital production, and biomaterials.
She founded and leads the OXMAN design company in New York City, which has one main goal: to shift the emphasis from material prosperity that asserts a claim to land as a property to a focus on the wellbeing of Earth and all of its various residents.
Oxman and her colleagues have increased their recognition at events like the World Economic Forum and have been praised on a global scale. The 2018 Cooper Hewitt National Design Award is among Oxman's numerous accolades.
Design philosophy of Neri Oxman
Neri Oxman has become one of today's most avant-garde designers and inventors working at the nexus of science, engineering, and art. Her work challenges the legacy of our built environment and envisions a fundamentally new era of life on Earth: a symbiosis between microbes, our bodies, our material products, and our built environment.
What is material ecology?
Material ecology is the study and design of objects and practices that combine biology and technology to develop designs that adhere to principles of ecological sustainability. Integrating ecologically conscious form-generation and algorithmic production is a fundamental tenet of the fields. Material ecology entails research with a focus on ecologically conscious digital design and production that resides at the crossroads of biology, materials science, bioengineering, and computer science.
"In our own practice—first with the Mediated Matter Group at MIT and now with my team at OXMAN—we've made it our intention to lace and intertwine the disciplines in ways that express synergy across physical, digital, and biological domains."

Neri Oxman
Throughout the process of ongoing research, Oxman and her colleagues carefully iterate to review findings periodically. To examine if a design proposal adheres to the fundamental design principle, they created the Turing test of biodesign. The test challenges the produced object's potential to behave intelligently and convincingly as living matter. The designed artifact is considered to have passed the test if the assessor is unable to distinguish consistently between the "grown" and the "manufactured." As activist designers, the team at OXMAN works with both the natural world and companies to produce designs that respect the set of fundamental values of material ecology, that are beneficial to both the environment and humankind as a whole.
Notable works and exhibitions by Neri Oxman
Nature is inseparable from Neri Oxman's design and production techniques. It defines her work in a variety of ways, acting as a source of inspiration with its forms and structures, from tree limbs to crustacean shells.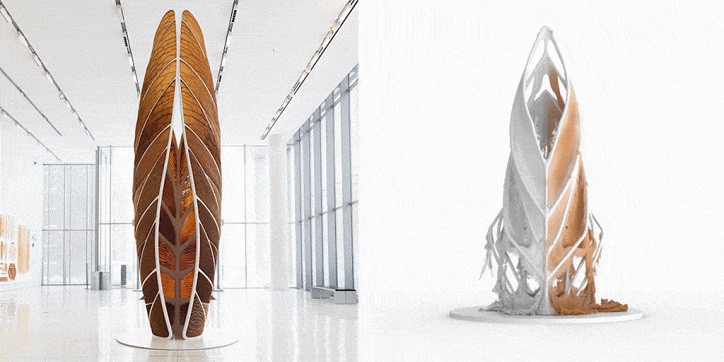 Silk Pavilion I & II
The Silk Pavilions investigates the connection between digital and biological construction while also putting forth strategies for combining biologically spun fiber with robotically woven fabric. Silk Pavilion I was created in 2013 and took the form of a three-meter wide dome that was built over the course of three weeks using a flock of 6,500 live silkworms with the help of a robotic arm. It was inspired by the silkworm's ability to create a three-dimensional cocoon out of a single silk thread. Each silkworm produced a single, 1 km-long filament of silk. Eventually, the silkworms worked together to create a dome-shaped thread that ran as long as the Silk Road. Based on the behavior of the silkworm, an algorithm stitched a single continuous silk thread across patches to create the pavilion's final shape.
Material Ecology at MoMA in 2020
The exhibition Neri Oxman: Material Ecology was a tribute to Oxman's two decades of work and her cooperation with Paola Antonelli, the show's curator. The show featured models of altered urban environments together with projects that make use of novel biomaterials and production methods including 3D printing. The exhibition raised intriguing new issues about what it means to live and construct sustainably in the twenty-first century. The show is currently a part of the museum's Virtual Views program, which provides unique access to interviews, the exhibition's booklet, audio tours, and photos.
Nature × Humanity at SFMOMA in 2022
Nature X Humanity presented the first large-scale exhibition of nearly forty visionary works, including radical proposals from the OXMAN studio and projects from The Mediated Matter Group. Presented at SFMOMA—which had already acquired Oxman's Aguahoja pavilion, a
large-scale structure robotically fabricated from a single biodegradable material—the exhibition spanned Oxman's career from 2007 to the present and encouraged visitors to rethink the human relationship with nature by exploring new ways that buildings can be made, inhabited, and preserved.
Learn more about sustainable design and architecture
Read more on Artland Magazine
Female Iconoclasts: Zaha Hadid
The Architect Shaping Africa's Future: Diébédo Francis Kéré
Other Relevant Sources:
TED Talk by Neri Oxman: Design at the Intersection of Technology and Biology
Wondering where to start?