Articles and Features
Digitized Memories and Machine Hallucinations – Refik Anadol's AI Data Paintings and Sculptures
By Adam Hencz
Turkish media artist and director Refik Anadol has established his name as a pioneer in the aesthetics of data and AI art, captivating audiences around the globe with his awe-inspiring installations. He works in the intersections of science, technology, and art and coined the term "AI Data Painting and Sculpture" in 2016 when he was Google's artist-in-residence. He currently runs the Los Angeles-based Refik Anadol Studio and RAS LAB, developing unique data narratives and combining cutting-edge machine intelligence with aesthetics, working across disciplinary boundaries.
[social_warfare ]
The AI and Data Sculptures of Refik Anadol
Refik Anadol predominantly works in the realm of site-specific public art, crafting meticulously collected data points into live visual performances and immersive installations. His works, in particular, examine the latent space between digital and physical things by combining AI, architecture, and multimedia.
The data that flows around us is the basic component of his pieces. He works with computerized neural networks as his collaborators, offers radical visualizations of digital imprints such as memories, and expands the possibilities of architecture and visual narratives. Anadol's data sculptures take numerous forms, urging us to reconsider our relationship with the physical world, its temporal and spatial dimensions, and the boundaries of human and machine creativity.
Refik Anadol was born in Istanbul, Turkey, in 1985 and now lives and works in Los Angeles. He is also a researcher in the Department of Design Media Arts at the University of California, Los Angeles, from which he obtained his second Master of Fine Arts.
WDCH (Walt Disney Concert Hall) Dreams
The Los Angeles Philharmonic has teamed together with Refik Anadol to honor our past while also looking to the future. Anadol and his team have devised a novel machine learning approach to the LA Phil digital archives of 45 terabytes of data. The result was magnificent visuals for WDCH Dreams (2018), a project that included a week-long public art projection on the building's stainless-steel facade as well as a season-long immersive display at the Ira Gershwin Gallery.
Frank Gehry's Walt Disney Concert Hall illuminates with dream-like visuals
Melting Memories
In another installation, Melting Memories (2018), Anadol turned brain scans into projected pictures for the walls of Istanbul's Pilevneli Gallery, which was motivated by his uncle's Alzheimer's diagnosis. Anadol's long-standing fascination with the images and history of space exploration was also reflected within the artwork.
Refik Anadol NFT series
Besides AI art and related technologies and practices, Anadol has also deeply engaged with the NFT community. He and his studio has released and auctioned off multiple series of tokenized collections as well as unique dynamic artworks linked to various blockchains.
Machine Hallucinations
One of Anadol's most well-known works is the Machine Hallucinations series, an ongoing project that explores data aesthetics based on collective visual memories of space, nature, and urban environments. The series includes immersive pieces along with generative data sculptures that were sold through major auction houses and NFT platforms, including Sotheby's, Christie's, and Nifty Gateway. Machine Hallucinations, Refik Anadol Studio's
Anadol and his team gathered millions of photographic memories from digital archives and public resources, then processed the data with machine learning classification models. A synesthetic reality experiment, this expanding data universe represents a latent cosmos in which hallucinative potential is the main channel of artistic creativity.
NYC
The first piece of the series Machine Hallucination: NYC was projected on every surface of a huge windowless chamber with numerous thin columns at ARTECHOUSE NYC. The installation enveloped viewers in a constant flow of visuals woven from depictions of urban recollections and interactions reinterpreted by a unique machine learning approach. The 30-minute looped composition was created using algorithms that infiltrated and changed a massive library of over 100 million New York City photographs obtained from social media networks, resulting in a novel form of synesthetic storytelling derived from the representation of urban memories as they are re-imagined by machine intelligence. Beyond mere amusement, the first piece of the Machine Hallucination series tried to investigate the revolutionary interaction between machine and human by examining the virtual reality's possible dimensions, which are restricted not only by existing technologies but also by our imagination.
Unsupervised — MoMA Dreams
Unsupervised reflects a type of machine learning approach within its title: Anadol and his team trained an AI model to generate new works based on images of artworks from the MoMA archive. The algorithm created a series of abstract images that reflect the generative process and constant metamorphosis of new aesthetics shaped by the machine's unsupervised learning of modern art through the Museum's collection archive.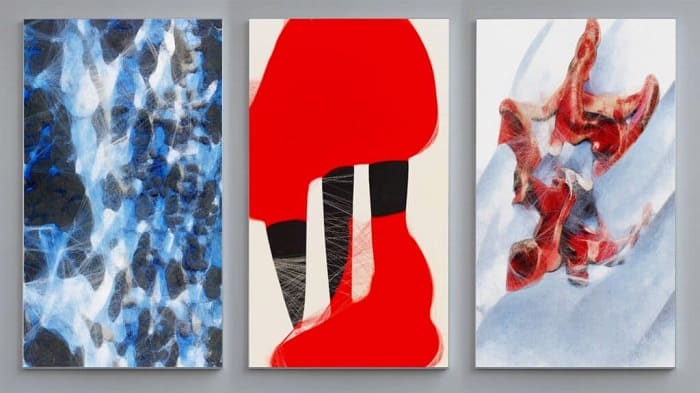 Space: Metaverse
Space: Metaverse was Refik Anadol Studio's first NFT collection to be auctioned by a major auction house. It features a variety of works inspired by the studio's early 2018 engagement with the Jet Propulsion Laboratory of NASA, as well as his long-term research into the photographic history of space exploration. The works are the first examples of immersive digital experiences minted onto the blockchain and transformed into NFTs.
Nature Dreams
For Nature Dreams, Anadol trained machines on a massive photographic library of nature. It is a series of three new aesthetic approaches created exclusively for Berlin's König Galerie. The exhibition was on display in late 2021, with pieces including a giant data sculpture displaying machine-generated, dynamic pigments based on real-time environmental data collected from the city, as well as a public art projection on the tower of St. Agnes.
Living Architecture: Casa Batlló
One of Anadol's most recent public art project gathered thousands of spectators in Barcelona to enjoy the mapping version of his piece Living Architecture: Casa Batlló projected on the façade of the iconic Art Nouveau landmark during the 2022 OFFF Festival. Living Architecture: Casa Batlló is a dynamic NFT inspired by the façade of the iconic building by Gaudi. The artwork, uses real-time environmental data gathered by sensors placed nearby the UNESCO World Heritage site. Christie's auctioned the work as a dynamic NFT for $1.38 million. The buyer could pay in cryptocurrency and receive a custom computer with software, a VR headset, and custom software that allows the work to change over time after the bidding.
Mapping 4K 2022 "Living Architecture: Casa Batlló" by Refik Anadol (Full Video)
Henessy and Refik Anadol
Refik Anadol has also expanded his immersive experimentations into the realm of taste and luxury with a collaboration with French cognac producer Hennesy. Anadol sought to visualize the sensory experience of the luxory spirit that had not been yet detected.
Th, described as an "immersive audio-visual installation". Through data mapping and 3D modeling, he translated the Tasting Committee's emotions into a 3D data sculpture called 'Sense of Heritage', but also into color, shapes, reliefs, and textures for a luxury packaging of the 2021 VSOP Privilège Limited Edition. A QR code on the bottle gives access to the experience of the immersive artwork.
Wondering where to start?