Articles and Features
Female Iconoclasts: Zaha Hadid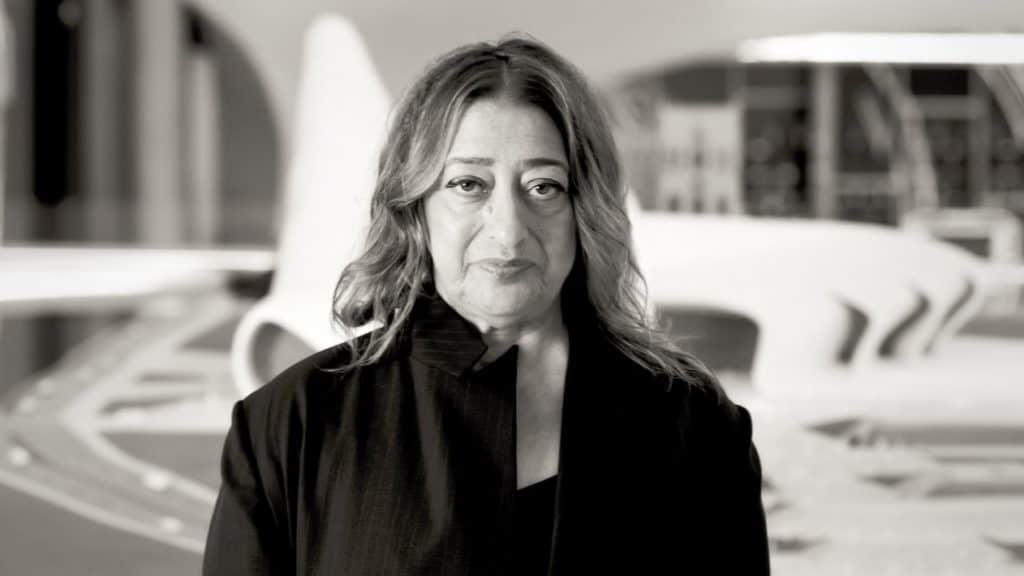 By Shira Wolfe
"From my first days studying architecture at the architectural association, I have always been interested in the concept of fragmentation and with ideas of abstraction and explosion, where we were deconstructing ideas of repetitiveness and mass production."

Zaha Hadid
Artland's "Female Iconoclasts" article series celebrates female artists who were among the most boundary-breaking iconoclasts of our time; women who defied social conventions in order to pursue their passion and contribute their unique vision to society. In this edition, we shed light on the "Queen of the Curve", architect Zaha Hadid, who passed away in 2016.
A Brief History of Zaha Hadid
Zaha Hadid was born in 1950 in Baghdad, studied mathematics at the American University in Beirut and then moved to London in 1972. As a student at the Architectural Association, she met Rem Koolhaas, who was to become her friend and mentor. Hadid attributed her beginnings in architecture and her incredible sense of determination to become an architect to an experience with her aunt when she was just a little girl. Her aunt was building a house in Mosul, in the north of Iraq, and she would often see the architect's models and drawings, which completely intrigued her.
Yet Hadid first received notoriety not for her buildings, but for a series of drawings, paintings and sketches. Her early works were deeply indebted to early Russian avant-garde artists, in particular the Constructivists and Suprematists. She was influenced by El Lissitzky, Laszlo Moholy-Nagy and Naum Gabo, but above all by Kasimir Malevich, whose work for her represented the modern avant-garde intersection between art and design. Through his abstract work, Malevich was able to achieve much greater levels of creativity, something which resonates strongly in the work of Zaha Hadid.
Following these positive responses to her drawings and paintings, Hadid established her practice in 1979. However, she struggled to get commissions. In an interview with Designboom, Hadid said: "From my first days studying architecture at the architectural association, I have always been interested in the concept of fragmentation and with ideas of abstraction and explosion, where we were de-constructing ideas of repetitiveness and mass production." This preference for the concepts of fragmentation, abstraction and explosion may have formed a unique philosophy of architecture, but it certainly made it difficult for Hadid to attract clients in the first stages of her career. Most people were simply afraid to take risks.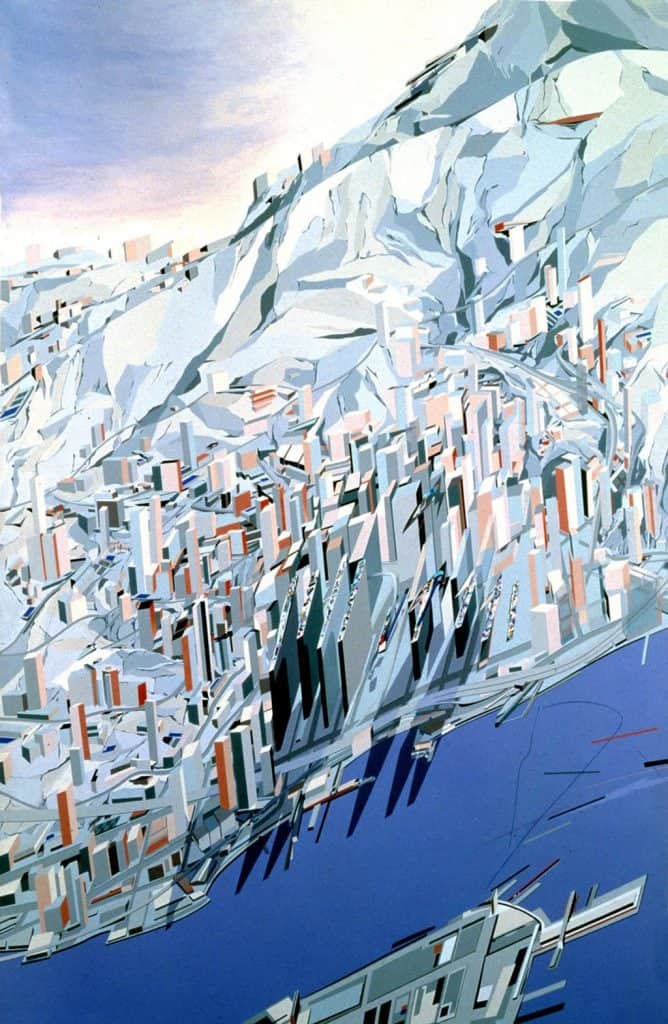 Unrealised Designs and the first Realised Commission
Over the years, Hadid started developing a reputation for unrealisable and unrealised projects. In 1982, she won a competition to design the Peak Leisure Club in Hong Kong. This was a pivotal moment when the architecture community really took note of Hadid.
According to Zaha Hadid Architects, her proposal involved creating a man-made polished granite mountain with excavated subterranean spaces, distinctive horizontal layers and floating voids. All this was to stand apart and rise above the crowded intensity of Hong Kong and would house the activities of the Peak Leisure Club in its unique spaces. However, in the end, the project was never realised, and it took another 10 years for the right project to come along.
This was to be Hadid's first official, first completed project. She was commissioned by Rolf Fehlbaum, the CEO of Vitra furniture company, to create a fire station near the German-Swiss border. Hadid's cutting-edge vision led to a building that her architecture firm describes as defining rather than occupying space. But the story goes that the firefighters felt uncomfortable working in the space, and it was deemed unfit for this purpose, and soon Hadid became known as a designer of 'unbuildable' buildings. But the bold radicality in her difficult-to-realise designs and her uncompromising vision ultimately created an interesting mixture of critique and fame that helped shape her status as one of the most influential architects of our time.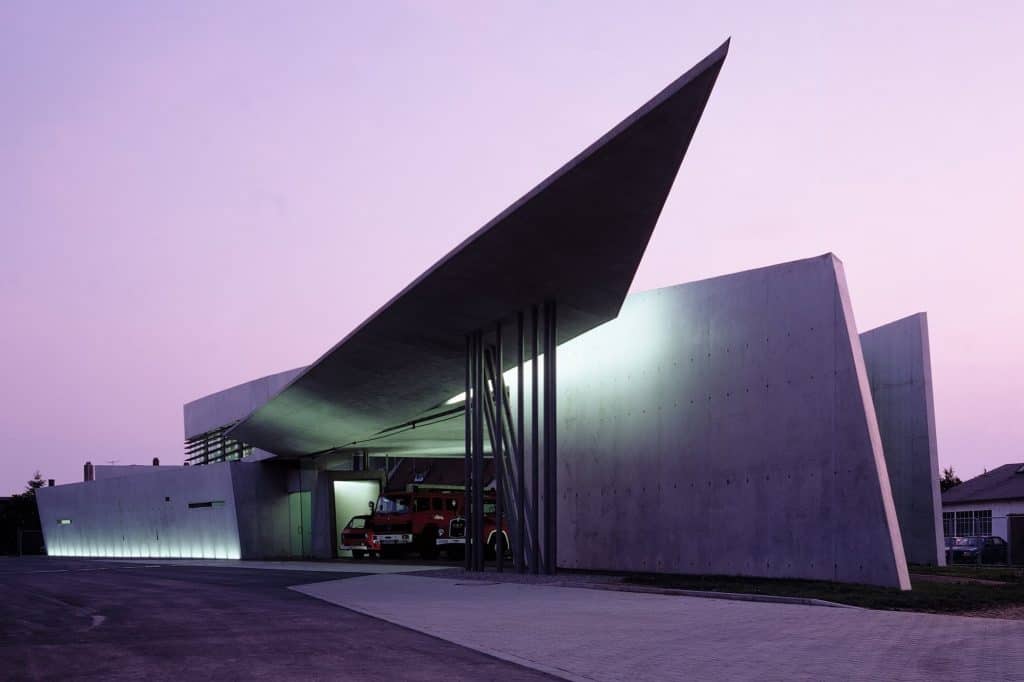 "I don't design nice buildings – I don't like them. I like architecture to have some raw, vital, earthy quality. You don't need to make concrete perfectly smooth or paint it or polish it."

Zaha Hadid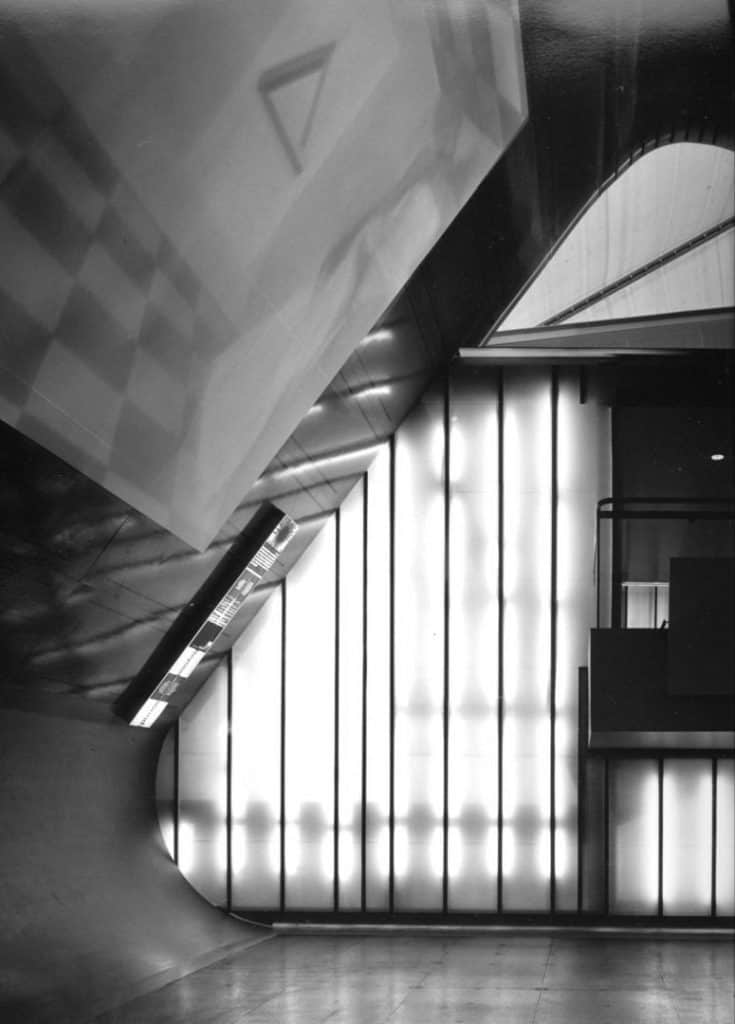 Zaha Hadid's Versatility – Mind Zone and More
Zaha Hadid was a queen of versatility. She once said in an interview that in terms of form, all projects interest her equally – no matter whether it is a building or an object. There is simply a big difference in the process, but all projects come from the same thing and are somehow connected. This explains why Hadid has excelled in so many fields and hasn't shied away from challenging projects that might be out of an average architect's comfort zone – from her Mind Zone Exhibition Pavilion in the UK Millennium Dome in 2000 to furniture design and set design for the Pet Shop Boys, she's done it all.
For the UK Millennium Dome, built in celebration of the 2000 millennium, Hadid designed the 2500 square metres Mind Zone Exhibition Pavilion. The exhibition took visitors on a journey through three aspects of the mind: input, process and output. Here, Hadid was inspired by the temporal nature of the exhibition, since it would only be open for a year. As stated by Zaha Hadid Architects: "Structurally the exhibit integrates the content with the usage of evolutionary materials. Its materiality is focused on the synthetic, the mind made materials of the present. The base steel structure is layered with translucent materials, which seek to create an ephemeral temporal quality befitting an exhibition with a design life of one year."
Hadid also forayed into the world of music and performance. Though she was initially meant to do the design for the Cardiff Bay Opera House, the commission was then cancelled by Welsh politicians in collusion with the Millennium Commission. But soon after, Hadid started working with the Pet Shop Boys. Funnily enough, this collaboration brought her to Cardiff after all, since she designed the set for the band's touring show which also visited Cardiff.
Then there are her furniture designs – curved into her signature fluid and sinuous lines, her final furniture collection for London's David Gill Gallery is made of walnut and leather, and references furniture design from the 50s and 60s.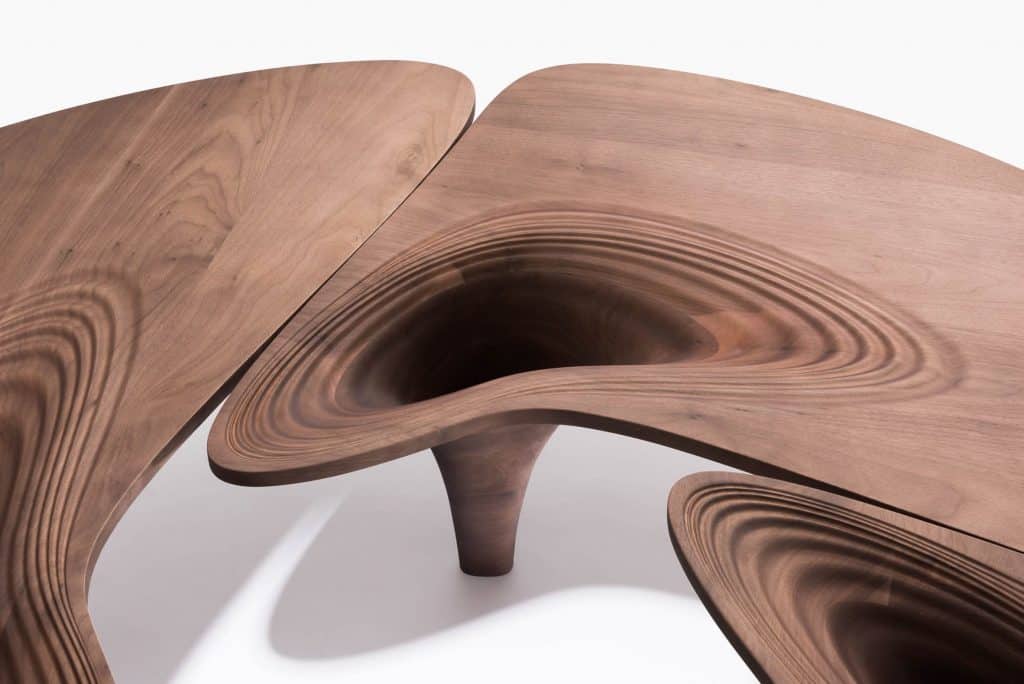 Capital Hill Residence – Floating Above the Trees
The only private residential home she designed was also one of her most challenging designs. When her friend, Russian businessman Vladislav Doronin, asked her to design a residence for him, he gave her the following brief: "floating above the treetops, overlooking the forest." The result was Capital Hill Residence, a daring structure that is in-between sculpture and house, in the middle of the Russian forest, towering over the 30 metre high treetops. Hadid had to fight the construction company on the exact execution of her design. They said it was impossible to have the upper level, 30 metres above the ground, built on such a narrow support beam. Hadid told them she would not compromise on this, and that they had to find a way. Of course, her vision ultimately prevailed.
A Peek into Zaha Hadid's Major Public Projects
Phaeno science centre, Wolfsburg (2005)
The Phaeno Science Centre in Wolfsburg, Germany is one of Hadid's most noteworthy public commissions and was also one of the most important ones for her. In the words of Hadid, it "condenses a lot of the things that have been in my work for a long, long time." Seen as an "architectural adventure playground", Phaeno was constructed in 2005 as a complex, dynamic and fluid space. In typical Hadid fashion, the building challenged formal conventions as well as the city's existing sites. Raised on concrete cones, the building consists of jagged angles, fractured planes, Hadid's signature curves, and bold protrusions seeming to hover in the air.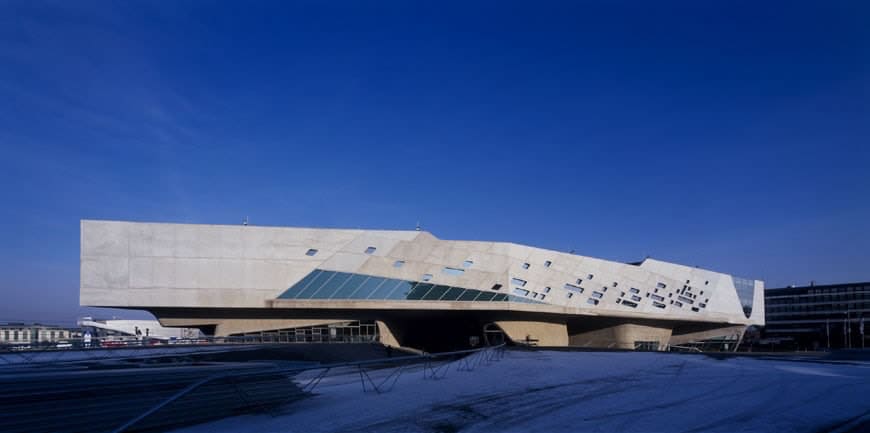 Guangzhou Opera House, Guangzhou (2010)
Hadid described her vision for the Guangzhou Opera House as follows: "Like pebbles in a stream smoothed by erosion." Designed to blend in seamlessly with its riverside setting, the opera house is widely regarded as one of the most beautiful opera houses ever built. Its flowing glass structure allows light to flood in, while the interior's fluid curves and starry ceiling lights evoke the mysterious nature of the surrounding river valley. Unfortunately, issues with the structure arose soon after its completion, when cracks appeared and several cladding panels fell off – issues attributed to Hadid's notoriously difficult-to-execute designs.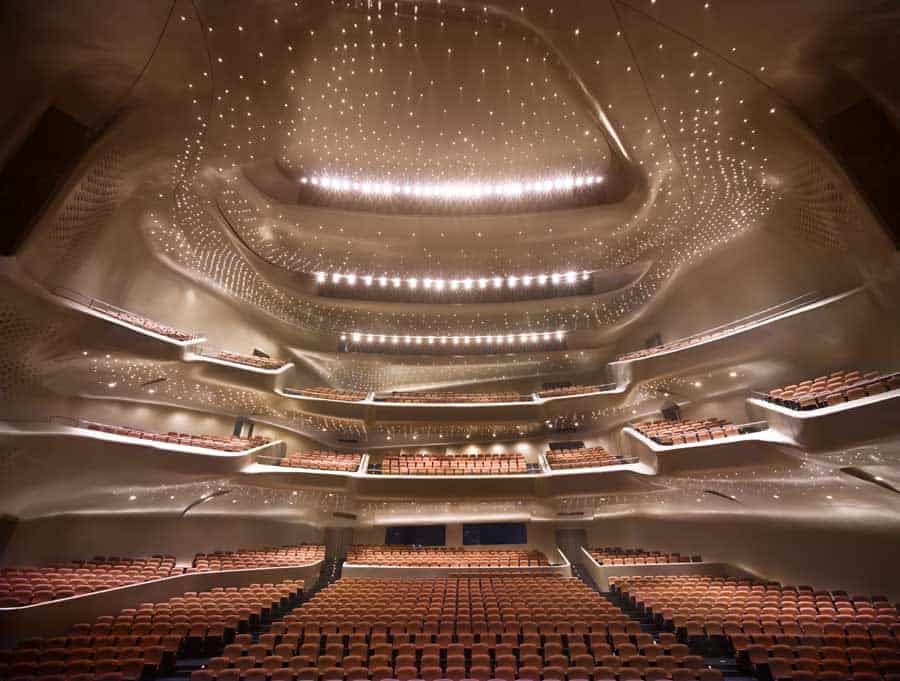 Prizes and Criticism
In 2004, Hadid became the first woman to win the prestigious Pritzker Architecture Prize, commonly seen as an equivalent to the Nobel Prize in the field of architecture. Aside from this award, she was also named a Dame Commander of the Order of the British Empire (DME) in 2012 and was the first woman to receive the Royal Institute of British Architects Gold Medal in 2015.
Despite her many accolades, Hadid, ever the divisive character, always continued to attract a great deal of criticism. Many found the $1bn commission for the new Iraqi Parliament Building highly inappropriate for a country in the midst of an economic recovery. Her stadium for Qatar's 2022 World Cup was criticised in relation to human rights abuses exposed in the construction phase. And in 2015, her plans for the 2020 Olympic Stadium in Tokyo were controversially scrapped. Construction costs had gone through the roof and she was kicked off the project after arguments about the spiralling costs.
But then, Zaha Hadid has always done exactly what she wanted to do. In an interview with the Guardian she said: "As a woman, I'm expected to want everything to be nice, and to be nice myself. A very English thing. I don't design nice buildings – I don't like them. I like architecture to have some raw, vital, earthy quality. You don't need to make concrete perfectly smooth or paint it or polish it."
Zaha Hadid knew what she wanted and made no compromises. Her works, both realised and unrealised, are a testament to that.
Relevant sources to learn more
Imagining New Worlds. Or How Architecture Has Dreamt Of Utopia
The Harmony of Form and Function: Frank Lloyd Wright's Organic Architecture
Le Corbusier: Between Modernity and Controversy
Master of Light: Tadao Ando