Articles and Features
Stories of Iconic Artworks: Sunflowers by Vincent van Gogh
By Adam Hencz
The sunflower pictures are among Vincent van Gogh's most appreciated paintings. He painted a total of twelve of these canvases, the most well-known of which are the seven he did in Arles between 1888 and 1889. He had painted the other five while living in Paris in 1887.
Following the recent buzz surrounding London's National Gallery's Sunflowers being the target of an environmental protest that involved tomato soup thrown over the painting by Just Stop Oil activists, we dive into the origin, interpretation, and preservation of the celebrated painting series.
The Sunflowers Series
In 1886, Van Gogh permanently relocated to France. He moved to Paris along with his art dealer brother Theo van Gogh after failing to attain success in his home country. While Van Gogh despised life in Paris, telling his brother that he was at risk of becoming "wholly numb" if he stayed, he found solace in sunflowers.
The Paris Paintings
During his time in Paris in 1887, Van Gogh painted four sunflower still lifes: two paintings simply titled Sunflowers, an oil painting study titled Sunflowers Gone to Seed, and Four Withered Sunflowers. Each painting features cut flowers on a floor or table, allowing Van Gogh to experiment with hue, color, and dynamic brushstrokes while showing delicate precision when painting the heads and stems.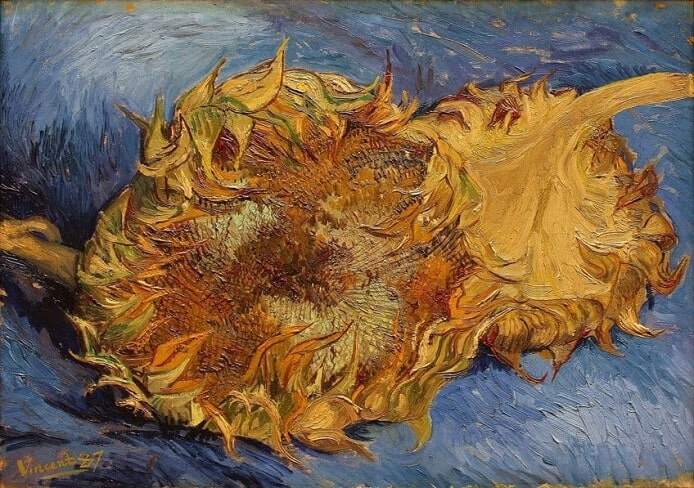 The Arles Paintings
Van Gogh painted four Sunflower still lifes in Arles, in the Yellow House. The 14 flowers on a turquoise backdrop (currently in Munich) and the 15 sunflowers on a yellow background (now in London) are the most well-known ones. The first two, on the other hand, are only known to experts. Three Sunflowers was the first painting in Van Gogh's series, which he painted with a turquoise background. It's always been kept secret in private collections. With the exception of the first two, all of the Arles Sunflowers are painted on size 30 canvas.
When in 1987 Van Gogh's own version of one of the originals currently at the National Gallery London was auctioned at Christie's, the price fetched £24million ($40million), around three times more than any artwork ever sold at auction at the time, also breaking the record of price ever paid for a modern artwork.
Meaning and Interpretations of the Sunflowers
While Van Gogh never explicitly explained why he favored sunflowers in particular, references to them appear in many of his writings, giving us some clarity. He mentions his friend Paul Gauguin coming to reside with him in his Yellow House in Arles in a letter to his sister from 1888. He put two sunflower paintings in the room of Gauguin, who had come to live and work with him for almost half a year. The sunflowers, which Gauguin said were "totally Vincent," wowed him. While staying at Arles as Van Gogh's guest, Gauguin painted his famous work, The Painter of Sunflowers, depicting his fellow painter working on one of his Arles Sunflowers.
Despite the fact that the Sunflower paintings are frequently grouped together, Van Gogh did not intend for them to be seen as a series. In fact, two of the Arles Sunflowers were part of a different series. This collection, along with La Berceuse, a portrait of Augustine Roulin (a regular sitter of Van Gogh), was to be part of a triptych. Van Gogh saw the triptych as a whole as a symbol of gratitude.
Color Experimentations
At Arles, Van Gogh painted the blossoms in many shades of yellow. He also created color variations of two Sunflower paintings, known as the Repetitions. These paintings keep the original compositions while displaying modest alterations in tone and brushstrokes.
Are Van Gogh's Sunflowers Fading Away?
Vincent van Gogh's magnificent series of yellow sunflower paintings are slowly beginning to fade, according to a recent study published by a group of Dutch and Belgian scientists. The experts found that the painting's dazzling yellow hues are gradually fading to an olive-brown color due to the artist's use of light-sensitive pigments. Van Gogh used two different types of chrome yellow paint, one of which is more likely to disintegrate under light, according to an arduous x-ray scan of the painting's canvas.
The shift is not yet evident to the naked eye, but it is expected that the painting will lose some of its vibrancy over time, particularly in the pale yellow background and the bright yellow flowers and stems of the sunflowers, where the sensitive pigment was blended to produce the appropriate green hue. While Van Gogh chose a less sensitive yellow paint with a lower sulfur level, the orange elements of the background to the flowers are unlikely to fade considerably.
FAQ about Van Gogh's Sunflowers
How many paintings of sunflowers did Van Gogh paint?
Sunflowers are depicted as the main subject in eleven of Van Gogh's artworks. Nevertheless, there are many more where they are featured. From what is known as the "Sunflowers" series, only five paintings are currently included in public museum collections.
Where did Van Gogh paint the Sunflowers?
Van Gogh painted four of his Sunflowers in Paris and seven in Arles.
Who painted the portrait of Van Gogh in the act of painting a vase of sunflowers?
The portrait of Van Gogh working on a painting depicting a vase of sunflowers was realized by Paul Gauguin. Titled The Painter of Sunflowers, the artwork was painted in Arles in 1888 and is currently exhibited at the Van Gogh Museum in Amsterdam.
Wondering where to start?