Articles and Features
Marina Abramović in Amsterdam: No Intermission & 7 Deaths of Maria Callas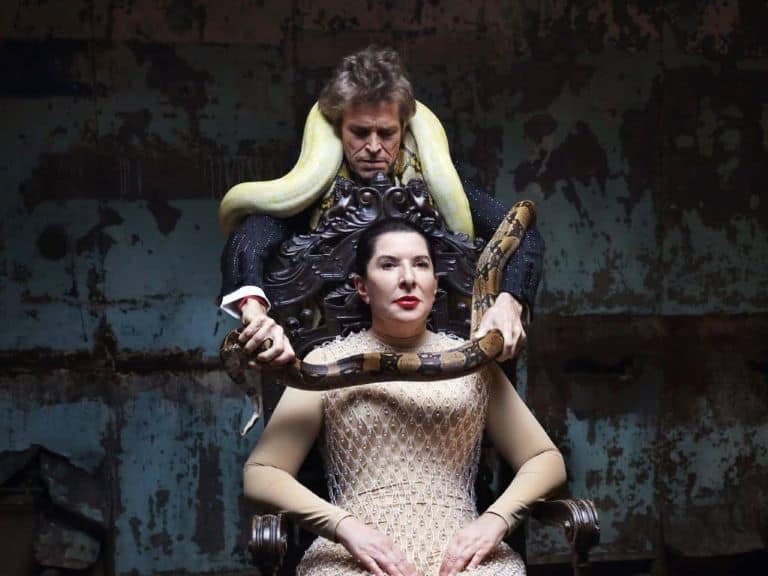 By Shira Wolfe
"There are so many different forms of art. Long durational performance is the most difficult, the most immaterial, and the most real."

Marina Abramović
In 2019, Marina Abramović returned to her birth town of Belgrade for the first time in years with her retrospective The Cleaner. It was a big homecoming, in which she also revisited her childhood home and gave a free lecture about her performance method to a festival-sized crowd, including several exercises from her method. Three years later, Abramović had another homecoming. This time, between 24 October and 6 November, she returned to Amsterdam, the city that she moved to in the '70s and where she met her long-time performance and life partner Ulay. It is here that she developed some of her most influential long durational performances. On 4 November, the opening night of her opera 7 Deaths of Maria Callas, she told the audience (while joking that you're actually not supposed to speak on opening night) how important it was for her to be back in Amsterdam, and how much she felt like she was coming home. Her Dutch homecoming was split into two sections, both attended by Artland: Marina Abramović's performance project No Intermission and her opera project 7 Deaths of Maria Callas at the Carré theatre in Amsterdam.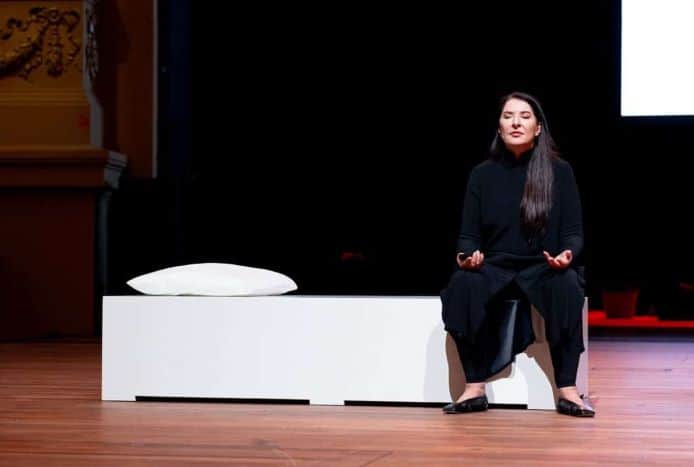 No Intermission
Marina Abramović's performance project No Intermission ran for a week all throughout Amsterdam's Carré theatre, which was celebrating its 135th anniversary and commissioned her to create a special series of events for the occasion. For this week, six hours a day, the entire theatre – stage, backstage, basement, foyer, corridors, restaurant, toilets – was open to the public and had been taken over by ten performance artists selected by Abramović herself. However, the strongest part of the experience was Abramović's own presence as she guided the audience through a series of performance methods during her introduction talk and quickly changed the whole atmosphere in the room to one where people were much more present and connected with each other.
From her first encounters with art as a young girl through to performers who have inspired her, such as Tehching Hsieh and his boundary-pushing five one-year performances, Abramović moved to the topic of long durational performance, interested in what happens when you go beyond boredom in a long-duration performance, and when the performance becomes life itself. With Ulay, she performed the Nightsea Crossing works 22 times between 1981 and 1987. These performances entailed that the two performance artists would sit motionless and without speaking, facing each other for hours on end in an act of intense meditation and physical and mental presence. With their 1988 performance The Lovers, Ulay and Abramović walked towards each other for three months from either end of the Great Wall of China to mark the ending of their relationship. When they finally met each other, they said goodbye. In 2010, Abramović famously sat in the MoMA for seven hours every day during her performance The Artist is Present, looking into the eyes of every visitor who came to sit facing her.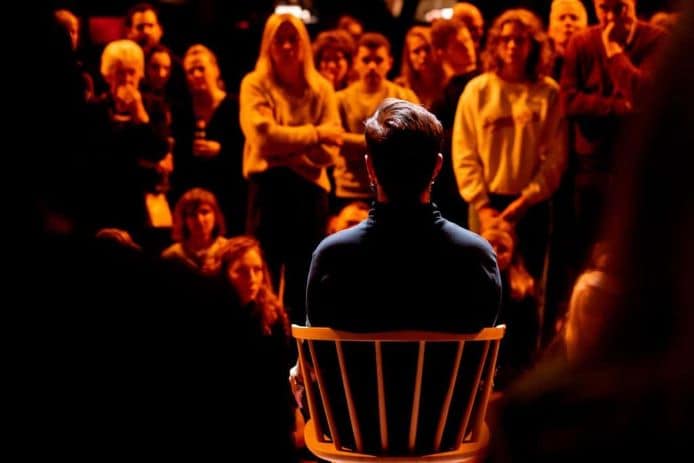 No Intermission, unfortunately, presented no chance for the performances to become part of life itself. During the six hours of wandering around the theatre filled with 10 different ongoing performances, hordes of audience members seemed rather occupied with their wine and food and having an exciting experience than preoccupied with long durational performance. The most powerful and thoughtful pieces were made by Spanish artist Abel Azcona and Montenegrin artist Dante Buu.
Abel Azcona
Abel Azcona makes heavy autobiographical work reflecting on his own mother who was a prostitute and addict. In response to these traumas, he has done performances in which he invites audience members to approach him naked on a bed and do as they please with him. They can choose to have sex with him, to caress him, to simply lie next to him. Like Abramović in Rhythm 0, her celebrated six-hour-long piece where she placed a selection of 72 objects on a table in the gallery space and simply stood there, inviting the audience members to use whichever object they chose and do whatever they wanted with her, Abel Azcona gives himself up to the choices and power of the audience and in this explores the darkest corners of human nature.
During No Intermission, Azcona showed video works in which he speaks about his family history and traumas, his drug addiction, his performance art, and also shows segments of some of his performances. Later in the evening, he took a large enough amount of opiates to pass out, having asked the audience members to then carry his unconscious body through the theatre and place him in another space, holding vigil with him until he would wake up again. This was a painful performance to witness, not only because of what Azcona was doing to his body, but also because the responses of some of the audience members felt exploitative, as though they were enjoying the drama and suffering of this person's life by becoming a part of it for an hour or two. All the audience's actions – lying next to the artist, stroking him, acting as though they were his caretakers – were extremely disturbing considering they would leave him behind forever after the night ended and that he had shared his traumas related to people using his mother's body and his. Still, these are exactly the questions and issues Azcona tries to raise with his work.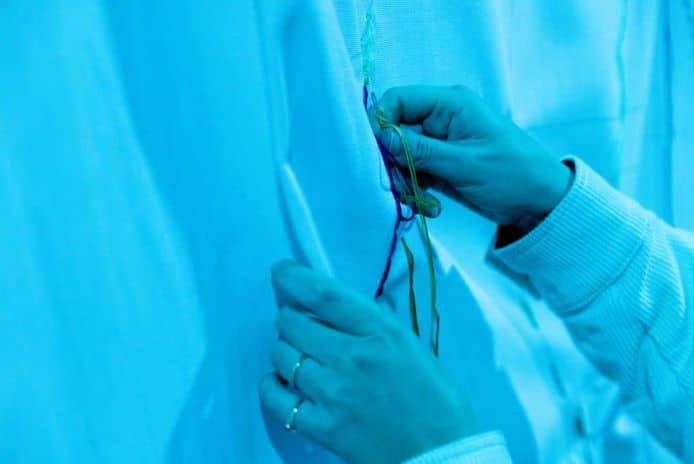 Dante Buu
Dante Buu's piece was in the Carré basement, where the artist had hung a series of large pieces of fabric with outlines of letters embroidered onto them, inspired by the name of a lover that came to him in a dream. The artist asked all the audience members passing through to take needles and thread and contribute to the filling out of the letters, thus becoming a part of his most intimate dreams and love life through the very practical act of sewing together. This simple gesture created quite a magical effect as people stood silently sewing – though more impressive would have been if people were asked to keep going for a longer time, actually turning the performance into life.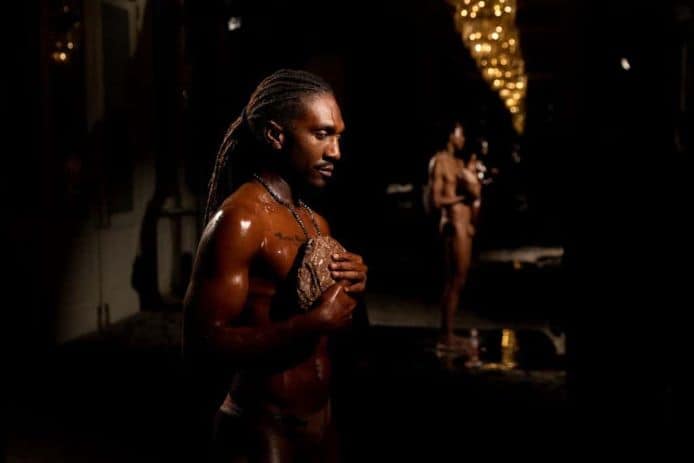 Other performances
For the rest, Ana Prvaćki gave a bizarre lecture about her love of bees and let honey drip from the ceiling, resulting in excited performance-goers rolling around on the ground and licking up the honey. Appealed by a few minutes of fame, people queued to participate in Carla Adra's work: from behind the coat check, she invited audience members to first listen to her instructions on headphones, then if they resonated with what she said, they were invited to tell her a personal story which she would then retell on a TikTok live stream.
Miles Greenberg's Landscape with Figures
Evoking scenes from the 2017 Ruben Östlund movie The Square, which heavily criticized the wealthy and snobby side of the contemporary art world, mocking its champagne-drinking crowds, Miles Greenberg's Landscape with Figures consisted of three nearly nude men standing as sculptures for hours beneath chandeliers in the ballroom filled with sand, fluid dripping on their muscular bodies. Greenberg forced the audience to take off their shoes and walk around the sculptural bodies, facing them, and staring at them like animals in the zoo. The effect was a gigantic and disturbing separation between the audience and performers, pushing people away yet pulling them back like magnets to stare at the performers. In the tribunes overlooking the stage, typewriters and papers were asking people to type their reflections on various ethical questions that artist Yiannis Pappas would then read out loud through a microphone, letting the messages get lost in the chaos.
Leaving Carré after this cacophony of performance art, what remained in my mind were the eyes of my partner during the exercise of looking into each other's eyes for minutes that seemed like forever during Abramović's introduction; the people beside me, strangers to one another, who had connected while doing this exercise together; the lifeless body of Abel Azcona, being ogled and held by yuppie Amsterdammers, and Abramović who came to check on Azcona herself to make sure everything was under control.
"Callas was my inspiration… I felt such a powerful identification with her. Like me, she was a Sagittarius; like me, she had a terrible mother. We bore a physical similarity to each other. And though I had survived heartbreak, she died from a broken heart. In most operas, at the end, the heroine dies from love."

Marina Abramović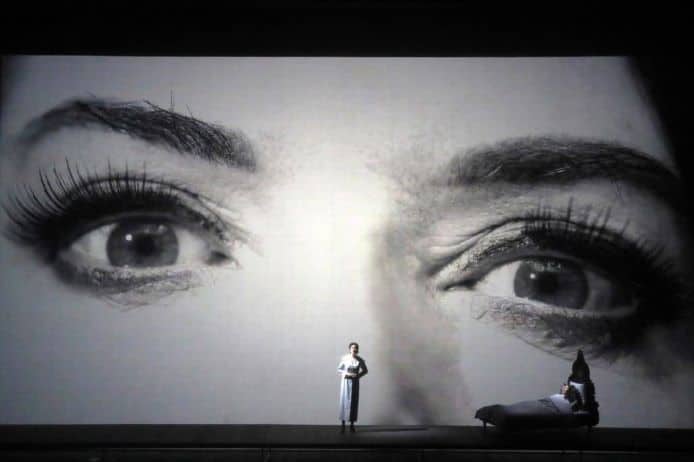 7 Deaths of Maria Callas by Marina Abramović
A week later at the same Carré theatre, Maria Callas died seven plus one times, channeled through the vision of Marina Abramović in her opera project 7 Deaths of Maria Callas. Merging opera with video art and performance, Marina Abramović created a multifaceted ode to her idol Maria Callas, a woman she identified with in so many ways.
Reviews of the opera were mixed, with both the journalists at The New York Times and the Dutch NRC Handelsblad complaining about the opera singers ending up as mere extras in the big Abramović show as well as the lack of more actual audio or video recordings of Maria Callas herself. Yet, as a total work created by an artist in honor of another artist, 7 Deaths of Maria Callas ended up pulling together in a moving way. Abramović chose seven different arias from Maria Callas' most iconic roles in opera, each sung by a different opera singer dressed as a hotel maid, each representing the tragic fate of the characters embodied by Maria Callas. Abramović herself was lying in a bed on stage, apparently dreaming, the entire time.
In the Amsterdam version of 7 Deaths, Violetta Valery from La traviata was played by Marie Smolka; Tosca's Floria Tosca was embodied by Eliza Boom; Nina Bernsteiner played Desdemona from Othello; Madama Butterfly's Cio-Cio-San was Olga Kulchynska; Nadezhda Karyazina sang Carmen from the eponymous opera; Nina Minasyan did an impressive rendition of Lucia Ashton's aria from Lucia di Lammermoor; and Norma from the opera Norma was taken on by Emily Pogorelc. The prologue and musical intermezzos in between the arias, tying the entire work together, were composed by Serbian composer Marko Nikodijević. Each aria in turn was accompanied by a video projection directed by Nabil Elderkin, showing Marina Abramović and Willem Dafoe in chemistry-filled scenes inspired by the operas (especially Dafoe's screen presence is undeniably striking, while Abramović is always most powerful in person, in real life).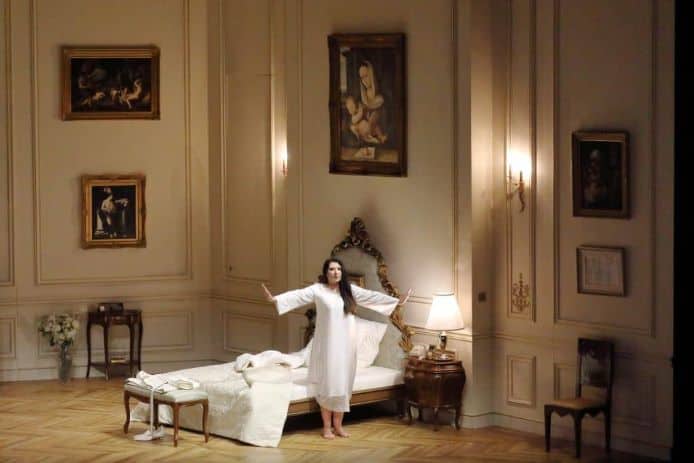 7 Deaths of Maria Callas, plus one
After the "7th death" – although not each aria was actually one in which the heroine died – the set changed to Maria Callas' Paris hotel room on the day of her death. On either side of the stage, a choir began singing to usher in this new scene. At last, Abramović rose from her bed, acting out the dying moments of Maria Callas while Abramović's own pre-recorded voice-over gave her stage directions and finally said "The rite is over." She walked out through an open door, symbolizing Callas' death. The maids played by the opera singers walked in and started cleaning the room and covering the furniture. One maid stayed behind, placing the needle of the record player in the room on a record, upon which the orchestra started playing like a broken record, ending the scene and marking the real death of opera's greatest diva.
Marina Abramović and Maria Callas meet
Those waiting for Maria Callas herself to appear finally got a glimpse of her after this final scene. Up until this moment, we were seeing and hearing the ghost of Callas through the vision of Abramović and the singing of other sopranos. This sometimes resulted in the whole performance feeling like more of a tribute to Marina Abramović than to Maria Callas. Now, Abramović appeared in a sparkling golden gown – that same gown worn by Willem Dafoe in the Norma film in which he and Abramović walk into a fire hand in hand, mirroring Norma and the Roman general at the end of Bellini's opera. Standing at the center of the stage, a projection appeared behind Abramović of Maria Callas herself singing in the famous recording of "Casta Diva" from Norma. Finally, Marina Abramović and Maria Callas met. Ending with the face and voice of Callas after all the different singers, arias, and scenes inspired by her but channeled through the bodies of others seems a creative choice worthy of "La Divina". In the end, the audience left with Callas' voice still ringing in their ears.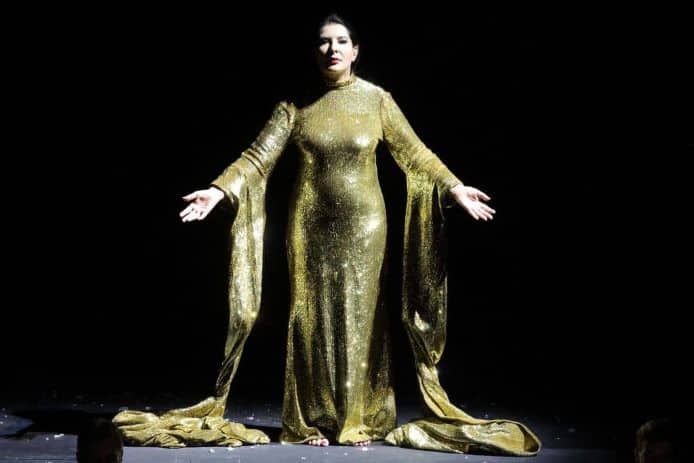 Relevant sources to learn more
Keep reading about Marina Abramović in the following Artland articles:
Female Iconoclasts: Marina Abramović
The House with the Ocean View
Marina Abramović – The Cleaner
Wondering where to start?