Ulay: An Artist Between Life and Performance
Articles and Features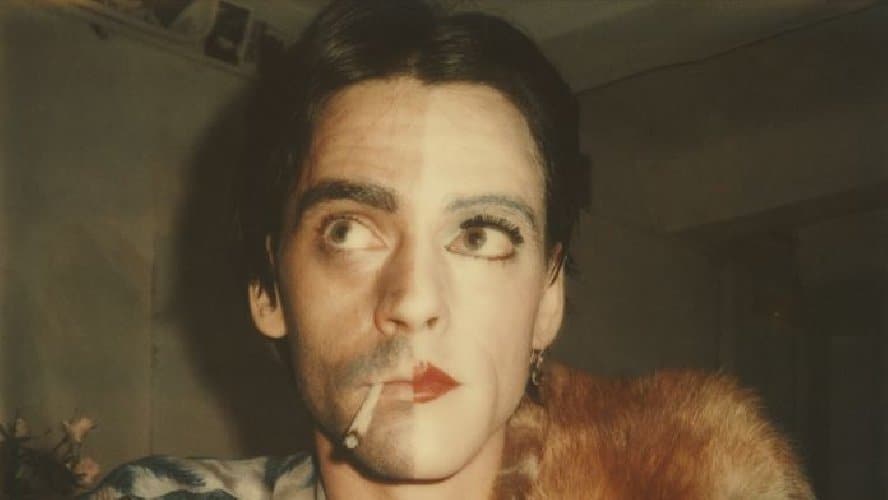 "It takes a long time, perhaps even a lifetime, to understand Ulay "

Marina Abramović
It's 1976, a wintry day like any other in Berlin, and a man nonchalantly enters the Neue Nationalgalerie, takes one of the displayed paintings off the wall and away he runs through the snow followed by security guards. A few hours later he will call the police from a phone booth and ask for the director of the museum to pick the painting up from its new setting: the living room of a Turkish family's apartment in Kreuzberg, a neighbourhood known for the massive presence of immigrants.
The thing is, it was not just any robbery, nor any thief, nor any painting.
Let's start with the last one. The stolen piece we are talking of is Carl Spitzweg's The Poor Poet (1837), Hitler's favourite painting and an icon of the Third Reich; the "thief" in question was the German artist Ulay (pseudonym of Frank Uwe Laysiepen) performing a documented artistic action, entitled There is a Criminal Touch to Art.
This demonstrative act, which lasted around thirty hours, expressed the artist's personal conflict with his German origins and, at the same time, raised awareness about the discrimination of foreign workers as well as the marginalization of art in post-war Germany because – as Ulay stated years later – "everyone should have art in their homes".
This is just one among the long list of pioneering and radical series of works which have led him to be remembered as a groundbreaking figure in the contemporary art scene.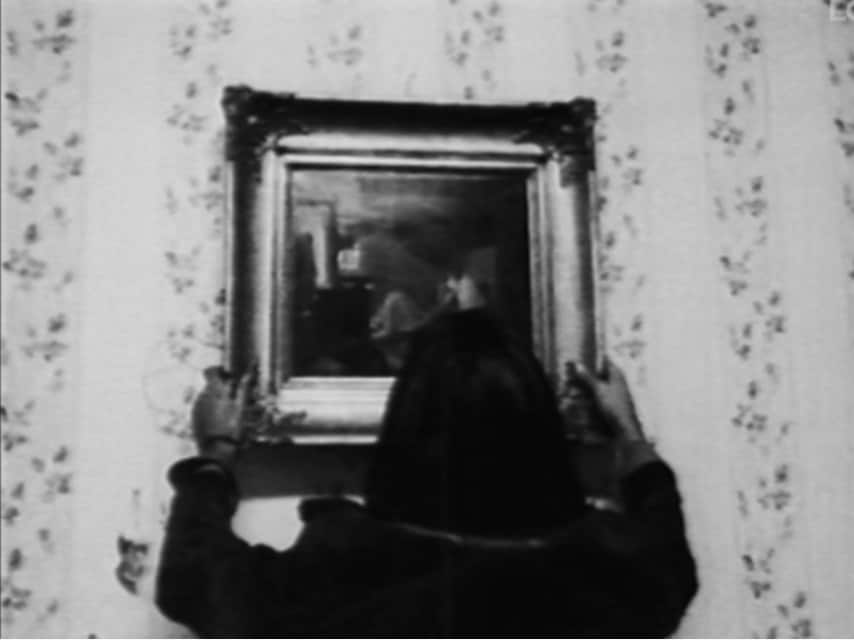 Last week, aged 76, Ulay passed away in Ljubljana. Despite being best known for his collaboration with Marina Abramović in the early years of her career, he played an influential role in the development of performance and profoundly influenced the generation of artists that followed him.
Described by his studio as "the gentlest soul, a giver. A pioneer, a provocateur, an activist, a mentor, a colleague, a friend, a father, a husband, family. A seeker of light. A lover of life. A traveller. A fighter. A brilliant thinker, who has been pushing limits and enduring pain. Selfless and fearless, ethical, elegant, witty", his oeuvre is due to be displayed in a solo retrospective at the Stedelijk Museum Amsterdam at the end of 2020.
"It's through art that people exchange interpretation and meaning and love. You can be without solid food for forty days, you can be without water for four days, you can be without air for four minutes, but you can be only four seconds without impressions… that's why art is so important."

Ulay
Early works
Ulay's career began in the early nineteen sixties, when, for the first time he took his camera and pointed it at himself. That gesture represented the very initial step of his quest for the notion of gender and identity, both personal and collective.
Initially by means of aphorisms and poetry, but then mostly through Polaroids, he fought against the idea of a fixed, socially acceptable identity and as the body, initially subject of his photographs, progressively became Ulay's favourite medium, his photographic approach shifted towards a performative tendency (Fototot, 1976).
It is exactly because of this thematic research and penchant for performance that, when in 1976 Ulay and Marina Abramović met in Amsterdam, the compatibility between them was perfect and complete; one of the most intense and complex relationships that the art world has ever known began.
Collaboration with Marina Abramović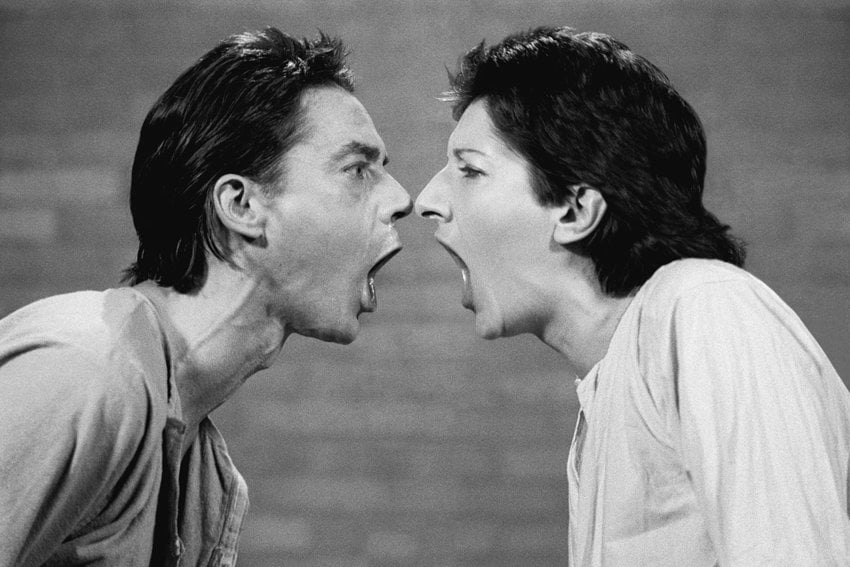 Speaking of themselves as a "two-headed body" and living in total symbiosis, the couple – both romantic and artistic – pushed the boundaries between art and life to the extreme, devising body performances that were both mentally and physically taxing.
With their celebrated fourteen Relation Works (1976-1988) the artists explored the theme of identity and duality, non-verbal communication, physical and psychic endurance and the relationship to architectural space, nullifying their individual selves into a single artistic mind.
Whether they would run into each other repeatedly for an hour (Relation in Space, 1976), alternately slapped each other's faces with increasing intensity (Light/Dark, 1977), or shouting at each other (AAA-AAA, 1977), they used their own bodies as a medium and shock as an artistic strategy.

In Imponderabilia (1977), which has later become one most iconic performance artworks of all time, Ulay and Marina stood naked in a narrow gallery doorway, forcing visitors to squeeze between them to pass and, in doing so, choose to confront either his nudity or hers.
Light/ Dark- Marina Abramovic & Ulay- performance art
After twelve years of passionate and strenuous collaboration, as abruptly as it was born, their relationship came to an end. Yet, given the total correspondence between their private and professional lives, their break-up also became the subject of a great three-month-long performance. In The Lovers (1988), Ulay and Marina's final work together, as a spiritual and symbolic journey, the artists started at opposite ends of the Great Wall of China walked towards each other to meet halfway and silently said goodbye.
For more than twenty years, the two of them kept to the decision not to meet again; but things changed in 2010 on the opening night of The Artist Is Present at MoMA, a piece in which Marina Abramović shared a few moments of silence with each stranger who sat in front of her. Unexpectedly among the crowd appeared Ulay who approached and took his own turn to sit directly opposite her; engaged her with same participation as all the other visitors, yet contributed to a touching frisson that had profound and moving consequences not only for each other, but for all who witnessed–an emotional scene that touched the world.
Recent works
After the break-up with Marina, Ulay returned to photography, yet never lost interest in the performative aspect of the medium, nor in the expressions of identity, as well as his engagement with social and political issues, focusing, in recent years, on the theme of water and its centrality to human life (Earth Water Catalogue, 2012).
He declared: "Recently I decided that whenever I meet someone, I should introduce myself as 'Water'. Think of it: our brains are about 90 percent water, our bodies about 68 percent. Not even Waterman, simply Water: it makes people curious, they say, 'pardon?' and I say again 'Water'. This immediately starts a conversation and creates an awareness about it. This new name conveys my deep concern about water".
In 2011 Ulay was diagnosed with lymphatic cancer, and after a life spent on the intersection between existence and art, he decided that his illness would be the subject of his ultimate performance (Project Cancer, 2013). In spite of this, he continued working until 2019 with remarkable exhibitions, including the retrospective survey at Richard Saltoun Gallery in London.
The legacy of his life and work will be upheld by the Ulay Foundation, opened last year in Ljubljana.
Relevant sources to learn more
Neue Nationalgalerie in Berlin
Ulay Exhibition at the Stedelijk Museum in Amsterdam 2020
MoMA
Ulay Foundation
The Story of Marina Abramović & Ulay
Ulay Interview: Under My Skin