Articles and Features
Female Iconoclasts: Marina Abramović
"The function of the artist in a disturbed society is to give awareness of the universe, to ask the right questions, and to elevate the mind."

Marina Abramović
Who is Marina Abramović?
Our "Female Iconoclasts" series highlights some of the most boundary-breaking works of our time, crafted by women who defied conventions in contemporary art and society in order to pursue their passion and contribute their unique vision to the world. In this edition, we focus on the trailblazing Serbian performance artist Marina Abramović, who became well known on the radical art scene in the 1970s, and whose thought-provoking displays continue to astonish viewers to the present day. Her physically and mentally demanding performances are often accompanied by sound, photography, sculptures, videos, and most importantly, the audience itself.
Abramović pushes the boundaries of human resistance through her art. Most would describe her performances as outrageous, scandalous, mesmerizing, and reckless. She relinquishes her pain into art and puts both her physical and mental endurance to the test, using spiritual preparation and self-control. She draws inspiration from Zen Buddhism, Christian teachings, legends, and folk tales. Understanding her performances and the stories behind her art, require more than merely observing them; viewers must also take a look into her roots, her core memories, and upbringing. Her major influences also include the relationship with her family and the connection to her home country.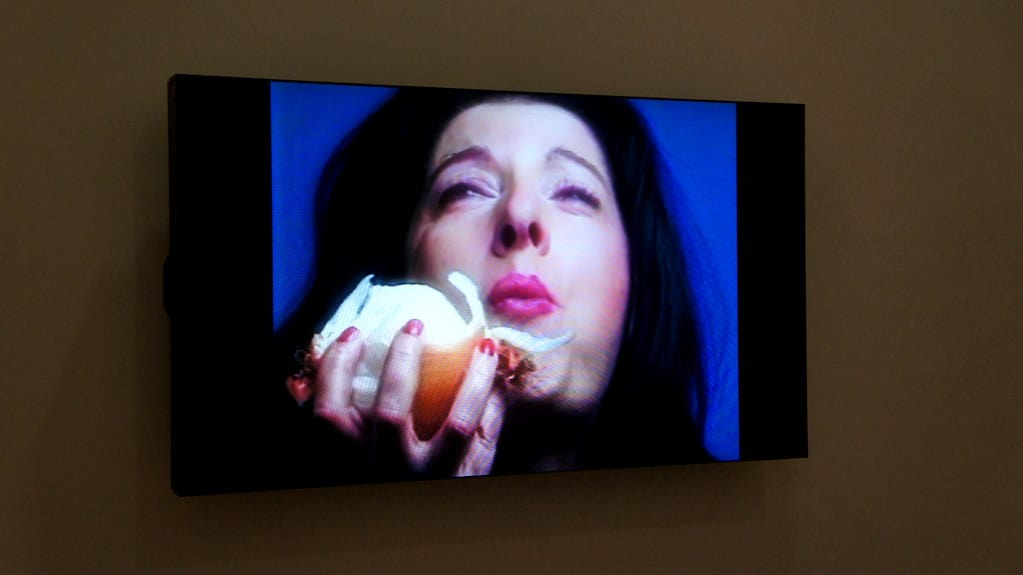 "I believe so much in the power of performance I don't want to convince people. I want them to experience it and come away convinced on their own."

Marina Abramović
Biography of Marina Abramović
Marina Abramović was born in Belgrade in 1946, to Yugoslav partisans, Vojin and Danica Abramović. The parents were heavily involved in the political sphere during WW2, within the communist party of General Tito. As a result of their political duties, Abramović was raised by her grandmother until the age of 6. The woman's strong Orthodox faith not only influenced Marina's early years but would also become a significant motif in her future artistic practice. Abramović's childhood was nothing sort of easy. As her father was largely absent, her matron of a mother put her through an emotionally cold and difficult upbringing, her controlling parentship fueled her life with compulsiveness and unnecessarily strict order. As a result of the lack of emotion in her family home, she sought other ways to demonstrate her feelings. Art, culture, and creativity became her primal form of expression and growing up, she would escape from the harsh reality by spending most of her time drawing and painting, even curating a studio at home at the early age of 12.
From 1960, she delved more into different forms of arts as her studies began. Initially dealing with figurative and classical still life expressions, when she started studying at the Academy of Fine Arts in Belgrade, her art developed into more abstract and unconventional, and clouds became a recurring motif for her. In 1970, as she continued her studies at the Academy of Fine Arts in Zagreb, she drifted away from drawing and painting and found her signature form of expression: the body was bound to become both her subject and medium. As a young adult, Abramović explored the art scene in Belgrade, getting to know fellow conceptual artists such as Raša Todosijević, Zoran Popović, and Neša Paripović. She ended up marrying the latter artist a year later, but the strict control from her family hadn't faded by this time: she still had to live with her parents at the age of 25, who kept her to a 10 pm curfew.
The Rhythm Series
In 1973, she performed her first big piece, Rhythm 10, which served as the beginning of a 5-piece series meant to explore the limits and connections between the body and the conscious mind. For the first piece, for example, she experimented with stabbing a knife at accelerating speed between her spread-out fingers. The following year, she upped the stakes: for her performance Rhythm 0, held in Naples, Abramović lay alongside a table of 72 dangerous objects, such as whips and chains, even a pistol, and let visitors voluntarily use any of these objects on her, ultimately proving the ruthlessness of human nature. Many of the participants' actions left her with permanent scars. Around this time she was also influenced by artists such as Joseph Beuys and Hermann Nitsch, with whom she also collaborated.
Collaboration with Ulay
The year 1975 was a memorable one for Abramović: it was the year when she met the iconic German artist Ulay, who would become not only her husband later on but also her artistic partner in crime. Upon fleeing from her restrictive family to Amsterdam and moving in with Ulay a year after meeting him, their artistic career was set out on a journey.
Living in total symbiosis, the duo pushed the boundaries between art and life to the extreme, devising body performances that were both mentally and physically taxing.
With their celebrated fourteen Relation Works (1976-1988) the artists explored the theme of identity and duality, non-verbal communication, physical and psychic endurance and the relationship to architectural space, nullifying their individual selves into a single artistic mind.
In Imponderabilia (1977), which has later become one of the most iconic performance artworks of all time, Ulay and Marina stood naked in a narrow gallery doorway, forcing visitors to squeeze between them to pass and, in doing so, choose to confront either his nudity or hers.
Balkan Baroque
After twelve years of passionate and strenuous collaboration, as abruptly as it was born, their relationship came to an end. In her later work Abramović has turned her focus on long-durational works exploring the themes of silence, presence, and the horrors of recent history. It was in fact her performance and installation Balkan Baroque, presented at the 1997 Venice Biennale, that earned her the Golden Lion award.
Initially invited to exhibit in the Yugoslav pavilion, her proposal was rejected because of the explicit references to the genocidal violence and ethnic conflicts of the Balcan Wars, forcing her to ultimately present the work in the central pavilion's international group show. For four days, Abramović vigorously scrubbed thousands of bloody cow bones in reference to the ethnic cleansing that had taken place in the Balkans during the 1990s.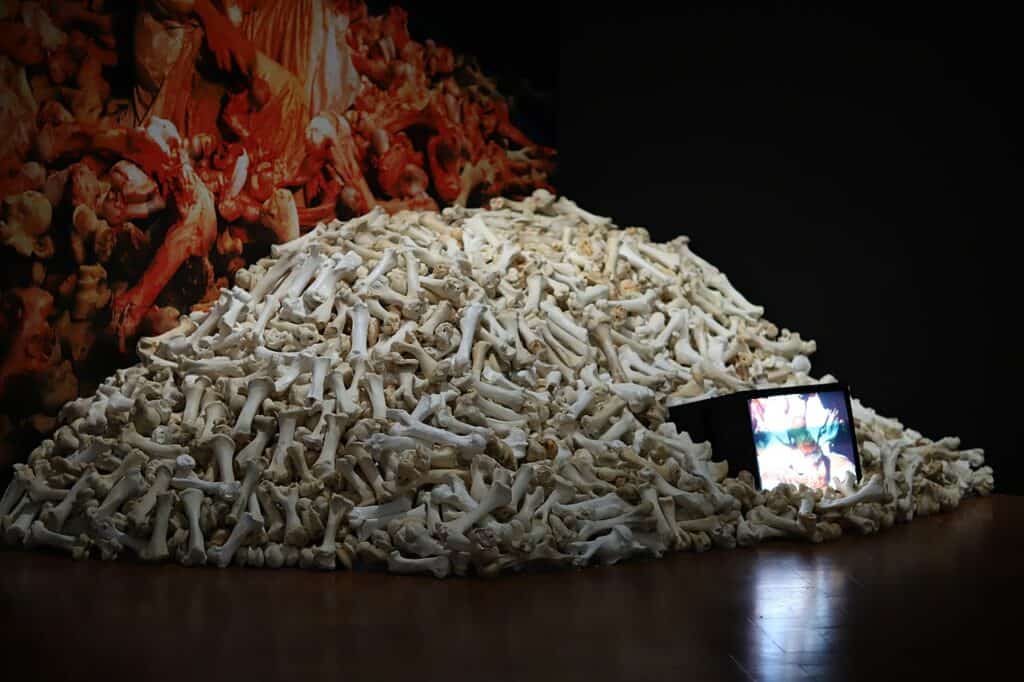 The House with the Ocean View
In The House with the Ocean View (2002), she inhabited a temporary space built at Sean Kelly Gallery in New York, exposing all of her actions to the public. For 12 days, she lived on a platform consisting of three units representing her house: a bathroom, a living room and a sleeping room. During the performance, the artist never left the gallery, did not eat any food and did not drink anything else but water. Conceived as a gift for post 9/11 New York City, Abramović sought to provide a safe space of attention, connection, rest and meditation – an escape from the overwhelming fear and confusion of the period. The House With The Ocean View was a statement of commitment, vulnerability and intimacy, where the artist succeeded in creating an atemporal space, about pure presence.
The Artist is Present
In 2010, her first major retrospective The Artist is Present was exhibited at The Museum of Modern Art in New York, pushing audiences to question their own emotions, as they sat in silence opposite the artist. On the opening night, unexpectedly among the crowd appeared Ulay who approached and took his own turn to sit directly opposite her. The two had not met each other in twenty years. The encounter had profound and moving consequences not only for the two participants but for all who witnessed – an emotional scene that touched the world.
The Cleaner
Her first European retrospective, The Cleaner, was presented at Moderna Museet in Stockholm, Sweden in 2017 and then travelled across European institutions The exhibition reviews all the phases of the artist's career, from her works of the early 1960s up to recent works. The tour symbolically ended at the Museum of Contemporary Art in Belgrade.
Where to find Marina Abramović's work?
Abramović's earliest performances were documented only by photographs and texts describing the essence of her work. Since 1976, she has utilized video technology to capture the ephemeral quality of her art. Documentation of her performances is currently part of major public and private institutions, including the Solomon R. Guggenheim Museum and Sean Kelly Gallery in New York, among others.
In 2017, the artist founded the Marina Abramovic Institute (MAI), an organization dedicated to expanding the accessibility of time-based work and creating participatory experiences using the Abramovic Method.
In 2023, Abramović will be the first female artist to host a major solo exhibition in the Main Galleries of the Royal Academy of Arts in London.
Relevant sources to learn more
Where Love and Creation Meet – 10 Striking Artist Couples
For previous editions of our "Female Iconoclasts" series, see:
Lousie Bourgeois
Sophie Calle
Marlene Dumas
Yayoi Kusama
Niki de Saint Phalle