Articles and Features
Female Iconoclasts: Frida Kahlo
By Shira Wolfe
"I never painted dreams. I painted my own reality. The only thing I know is that I paint because I need to, and I paint whatever passes through my head without any other consideration."

Frida Kahlo
Who is Frida Kahlo?
Our "Female Iconoclasts" series highlights some of the most boundary-breaking works of our time, crafted by women who defied conventions in contemporary art and society in order to pursue their passion and contribute their unique vision to the world. This week, we focus on Frida Kahlo, one of the greatest artistic icons ever to have lived, whose life has become just as iconic as her body of work. Her art was deeply personal and political, reflecting her own turbulent personal life, her physical ailments, her relationship with the great muralist Diego Rivera, and the Mexico she so loved and fought for.
Since the 1970s she has grown into a feminist icon and the past decade has seen her persona and art become co-opted by pop culture.
During her lifetime she was called a 'surrealist' by André Breton, and a 'realist' by her husband Diego Rivera. Kahlo, however, eschewed labels; in fact, one of the most famous quotes by the artist reads: "I paint my own reality. The only thing I know is that I paint because I need to, and I paint whatever passes through my head without any other consideration."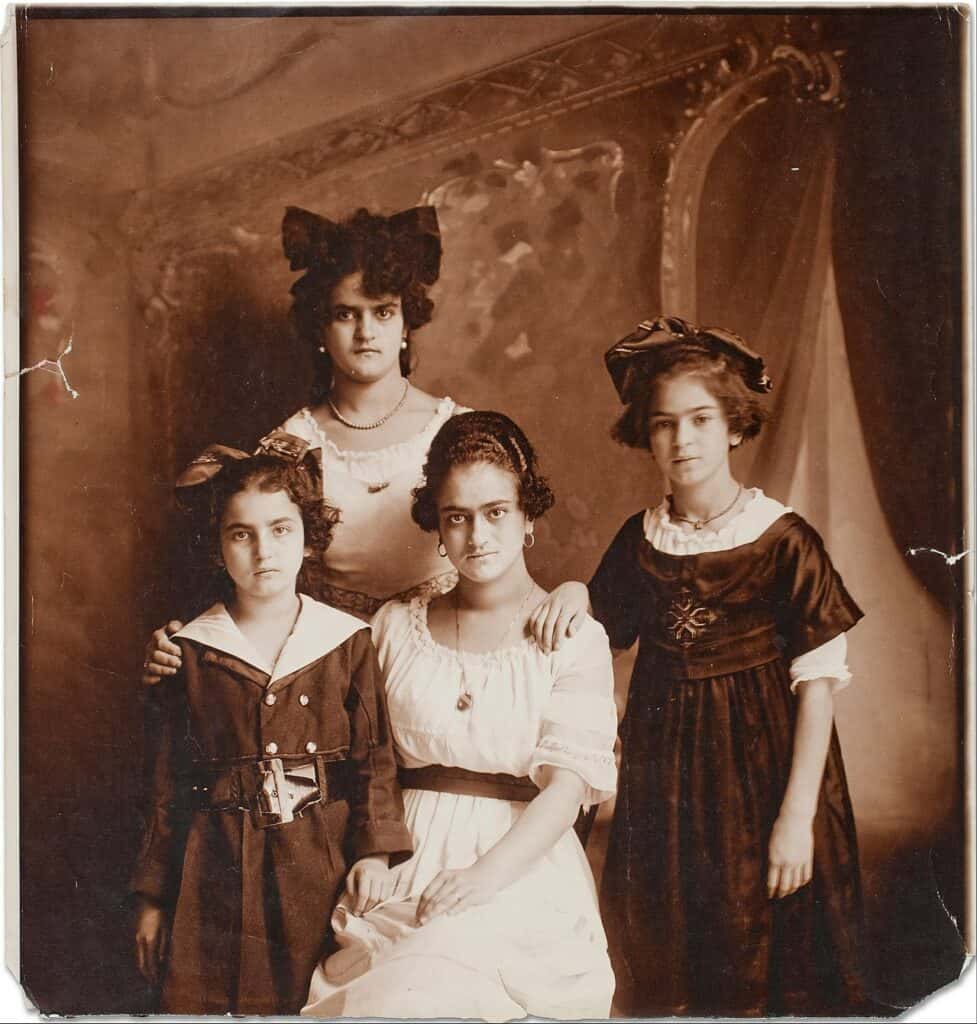 Biography of Frida Kahlo
Frida Kahlo was born as Magdalena Carmen Frida Kahlo Calderón on 6 July 1907 in the Casa Azul, her family home in the Mexico City municipality Coyoacán.
The Family of Frida Kahlo
Frida Kahlo's father, Wilhelm (Guillermo) Kahlo, was a photographer of German-Jewish descent who had immigrated to Mexico. Her mother was the Mexican Matilde Calderón. Frida had three sisters, Matilde, Adriana, and Cristina.
The Early Life of Frida Kahlo
Frida's early life was marked by severe health issues. At the age of 6, she contracted polio, causing her right leg to remain slightly shorter than the left one. At 18, she suffered a tragic accident that would haunt her for the rest of her life: a streetcar crashed into the bus she was travelling in, and she was terribly injured: she was impaled by the metal bannister, fractured many bones, suffered severe damage to her spinal cord, and dislocated her shoulder and foot. During the hard recuperation period, she lay practically immobilized in her bed and took up painting. Her mother had an easel built that allowed her to paint while lying in bed and mounted a mirror above her bed so she could paint herself.
For Frida, painting became a mode of survival and self-expression, which helped her to cope with her tortuous chronic pain, prolonged periods of bed rest and physical fragility that frustrated the enigmatic woman with such a lust for life. Throughout her life, Frida underwent several intense operations in order to attempt to improve the quality of her life following the accident. These operations were followed by long convalescences and had serious consequences, including having to wear corsets to correct her posture and suffering three miscarriages.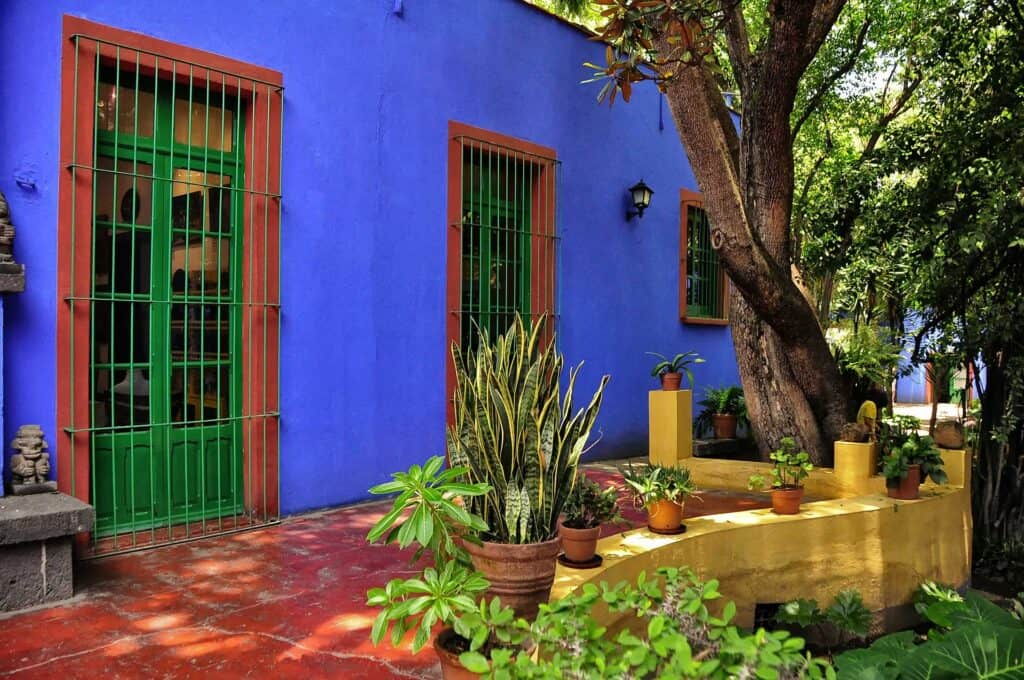 The Relationship with Diego Rivera
The other event that shook Frida's life to the core was her meeting and forming a relationship with renowned artist Diego Rivera. Diego was a huge supporter of her art and started frequenting the Casa Azul. The couple married in 1929, when Rivera was 43 years old, and Frida just 22. Their marriage was described by Frida's mother as "the wedding between an elephant and a dove." The love between Frida and Diego was strong and passionate, yet their relationship was also volatile and tumultuous, with many affairs on both sides shaking things up. On an artistic level, they supported each other unconditionally and each considered the other to be the greatest living Mexican painter. They also shared a passion for politics and the revolutionary ideals of the time. Both were affiliated with the Communist Party of Mexico, and they even took in the Russian dissident Leon Trotsky for two years, between 1937 and 1939, who was being persecuted by Stalin. The couple resided in different intervals at the Casa Azul, at Diego's studio in San Ángel, in Cuernavaca, and in various cities in the United States. Frida and Diego spent three years in the United States from 1930 to 1933, living in New York, Detroit and San Francisco.
Following deep emotional crises as a result of Diego's many infidelities, Frida divorced him in 1939, only to remarry him one year later with a mutual agreement that they would lead autonomous sex lives.
How Frida Kahlo Died
Toward the end of her life, Frida's health deteriorated and she was confined to the Hospital Inglés from 1950 to 1951. Her right leg was amputated in 1953, due to a threat of gangrene, and Frida died at the Casa Azul on 13 July 1954. The National Institute of Fine Arts was just in the process of preparing a retrospective exhibition as a national tribute to her. Following her wishes, the Casa Azul was turned into a museum several years after her death, and it remains one of the most important spaces in Mexico, filled with her being and her objects.
"I paint self-portraits because I am the person I know best. I paint my own reality. The only thing I know is that I paint because I need to and I paint whatever passes through my head without any consideration."

Frida Kahlo
Themes, styles and approach
Frida Kahlo found a way to express herself and survive the difficult episodes in her life through art. She was determined to paint her own reality, and two-thirds of her paintings are self-portraits, revealing her keen interest in exploring her own being and identity in depth. She once said: "I paint self-portraits because I am the person I know best. I paint my own reality. The only thing I know is that I paint because I need to and I paint whatever passes through my head without any consideration." Her self-portraits are beautiful and honest, showing images of herself with her signature moustache and unibrow, and in moments of suffering and pain, as such boldly defying conventional beauty norms.
At the same time, Frida was interested in reclaiming the roots of Mexican folk art and culture through her daily life and her art. She dressed in indigenous Mexican attire and avidly collected Mexican folk art. All these influences were reflected in her painting. Although the Surrealists tried to claim her as one of their own and Frida was interested in their work, she preferred to avoid any labels when it came to her art. For her, the surrealist images in her paintings were actually her reality. She never painted her dreams, but painted what was happening to her and passing through her mind at that very moment.
The Most Famous Art by Frida Kahlo
The Two Fridas
Frida painted The Two Fridas in 1939, the year she divorced Diego Rivera. The painting shows two Frida Kahlos sitting side by side. Both their hearts are revealed, and they are distinguished from one another through their clothing. The one on the left wears a traditional Tehuana costume and her heart is torn open; the one on the right wears a more modern outfit. The main artery leading from the torn open heart of the traditional Frida connects to the modern Frida's heart, wraps around her arm, and is cut off with a pair of scissors by the traditional Frida. The modern Frida holds a pendant with a portrait of a young Diego Rivera. This powerful painting shows two sides of Frida Kahlo, suffering from heartache while also remembering the good aspects of her love for Diego.
Diego on My Mind (Self-Portrait as a Tehuana)
Frida started painting Diego on My Mind (Self-Portrait as a Tehuana) in 1940 when the couple were still divorced, and finished it in 1943, at which point they had reconciled. The painting shows Frida wearing a traditional Tehuana costume, with the face of Diego as a third eye in her forehead. The painting shows how she cannot stop thinking about him, despite his betrayals and their separation.
The Broken Column
The Broken Column is a painting from 1944. It depicts Frida after spinal surgery, bound and constrained by a cage-like body brace. She is missing flesh, and a broken column is exposed where her spine should be. Metal nails pierce Frida's face, breasts, arms, torso and upper thigh, and tears are streaming down her face. This is one of her most brutally revealing self-portraits where she deals with her physical suffering.
The Wounded Deer
The Wounded Deer is a 1946 painting, which Frida painted following another spinal operation in New York that same year. We see Frida as a young deer in the forest, fatally wounded by several arrows. She had hoped that the New York surgery would free her from her severe physical pain, but it failed, and this painting expresses her disappointment following the procedure.
Where to Find Frida Kahlo's Work
During her lifetime, Frida held several exhibitions internationally: at the Julien Levy Gallery in New York, at the Renou et Colle Gallery in Paris, and at the Lola Álvarez Bravo Gallery in Mexico. She also participated in the Group Surrealist Show at the Mexican Art Gallery. In 1939, The Louvre acquired her painting The Frame (1938). Today, Frida Kahlo's paintings can be found in numerous private collections in Mexico, the United States, and Europe. A current exhibition at the Cobra Museum in Amstelveen, the Netherlands, brought together an impressive selection of works by Frida Kahlo, Diego Rivera and several other Mexican contemporaries of theirs. But by far the most moving experience is to experience the full essence of Frida Kahlo in her Casa Azul in Mexico City, which is still left almost exactly in the same condition as when Frida herself lived there. Several of her and Diego Rivera's paintings are on display there, as well as the Mexican folk art that they collected, and the many objects that were important to Frida.
Frequently Asked Questions

Where was Frida Kahlo born?
Frida Kahlo was born in Casa Azul, her family home in the Mexico City Coyoacán.

How old was Frida Kahlo when she died?
Frida Kahlo died at an age of 47.
Relevant sources to learn more
The excellent exhibition "Frida Kahlo and Diego Rivera: A Love Revolution" is on show at the Cobra Museum of Modern Art in Amstelveen, the Netherlands through 26 September 2021
Discover the art of María Izquierdo, a contemporary of Kahlo and Rivera who was far less known but also made an important contribution to Mexican art
Read more about Art Movements and Styles Throughout History here
You may also like: The Fantastic Women of Surrealism