Articles and Features
Exploring the Absurdity of Contemporaneity Through Mika Rottenberg's Surrealistic and Humorous Art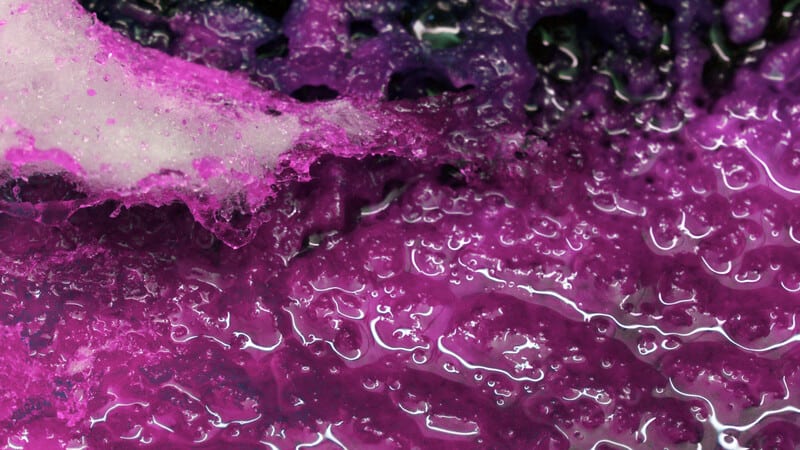 By Adam Hencz
"I definitely feel like there used to be more separation between fact and fiction in the world, and it seems like, more and more, truth is being distorted and facts are becoming entertainment."

Mika Rottenberg
Imagine a female Tuvan throat singer humming on the vast Siberian steppe, whose image is then replaced by a looping stream of multisensory footages of a surreal factory where marshmallow-like white substances are caramelized into vivid colors, and juicy rubbery tubes are gently sliced with overdubs of squelching, plopping and jiggling. This candy-ish material then melts to the floor of a laboratory chamber, forming a sizzling, bubbling puddle. A series of kindred scenarios then cut to the mechanical harvesting of a massive potato farm followed by documentary-style stills on the metal structures and overlapping wires of the Large Hadron Collider. Such absurd narratives and visually powerful sequences reminiscent of the atmospheres of Surrealism are at the core of Mika Rottenberg's video opus Spaghetti Blockchain.
Spaghetti Blockchain
Shown publicly for the first time at the New Museum in New York, the twentyone-minute video work, called Spaghetti Blockchain (2019) is one of the latest creations of Argentine-Israeli video artist Mika Rottenberg, one that gives viewers a glance into strange but fascinating clashes of seemingly irreconcilable worlds. From these collisions emerges the allegory of the global networks and microbiological mechanisms we are all unseeingly bound by. The film mashes up colorful ASMR-style scenarios with seductive sounds, where objects and material are in continuous motion, mechanically nudged from one place to another.
The works of Rottenberg blend the absurd and the visually satisfying and probe the depths of bodily sensations, overlapping the borders between fiction and reality. The banal visual worlds of the artist have already traveled all over the globe, and today many of her works from the past 15 years, including videos, installations, and a series of kinetic sculptures are on view at the Louisiana Museum of Modern Art in Denmark, while the artist is producing a new feature-length film set to premiere in March 2022.
Mika Rottenberg: personal escapes and expanding video
Mika Rottenberg is a truly global artist who lived and traveled around the world using her transnational identity as inspiration to dismantle cultural and social norms. Born in Buenos Aires in 1976, Rottenberg's grandparents originally lived in Poland, but escaped from the country just before World War II and arrived in Argentina. During the Dirty War (Guerra Sucia) in Argentina, the family fled again to Israel in the late 1970s in search of peace. Rottenberg spent her formative years in Tel Aviv, then in the late 1990s she moved to New York City where she studied visual and fine arts at the School of Visual Arts and Columbia.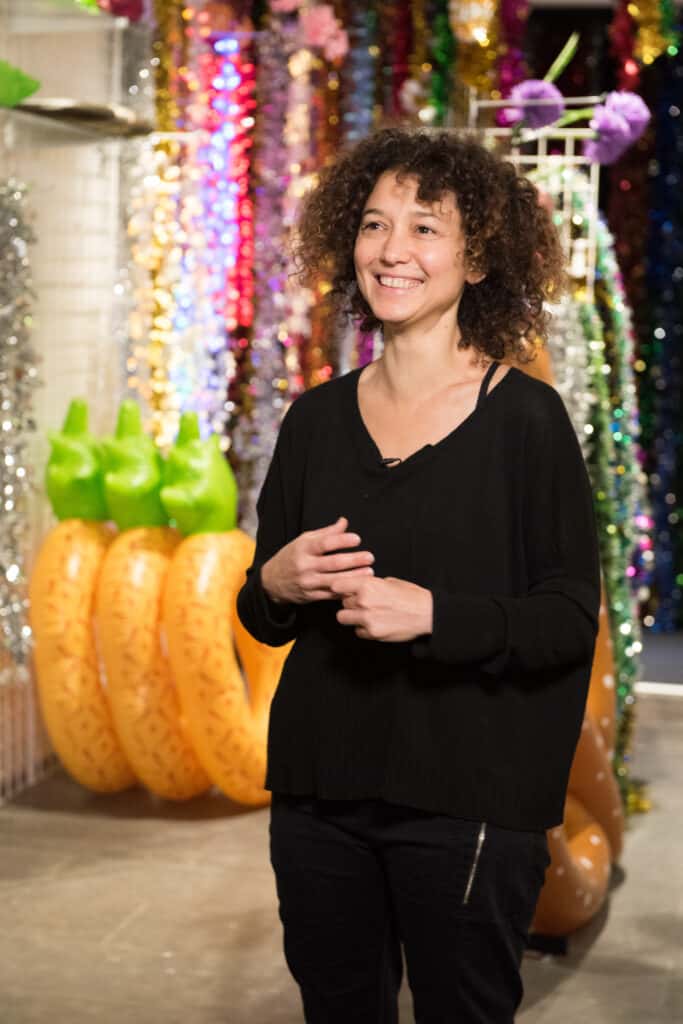 Rottenberg's artistic career just began to take off at the beginning of the commercialization of the Internet. After graduation, she found herself scouting for talents online, making virtual connections with people who were ready to rent out part of their bodies for the artist's early works like Tropical Breeze (2004) or Dough (2006). The characters that are cast in these films often inhabit an extraordinary body that they learned to gain confidence from and treat as a means of self-empowerment. A female bodybuilder or an unusually tall secretary were the first ones in a long list of atypical protagonists in Rottenberg's universe.
Combining documentary and fictional narratives became a recurring feature of the artist's films as well as her obsession with production processes and contemporary corporate supply chains. In Cheese (2008), the artist brings together these global concepts with the recreation of an inspirational story of seven long-haired sisters, who were the founders of a hair fertilizer company that made millions of dollars due to their unique appearance and marketing tours taking place two centuries ago. This historical story is eventually given a surreal angle, creating a film that depicts the sisters' lives on the farm where they make a fortune out of manufacturing cheese from the milk of their extremely long hair.
"Reality is so much more weird than any video I am going to make."

Mika Rottenberg
Social surrealism
Rottenberg's latest works seek to ignite new connections and connotations within the viewer's mind by the attempt of weaving seemingly disparate places, characters and motifs together, a genre the artist broadly defined as 'social surrealism'. The work Cosmic Generator (2017) is one of these explorations: shots of cheap disposable objects entangle with ornaments in a Chinese restaurant in America, near the US-Mexican border; a Chinese woman sits among flashing, blinking plastic plants and Christmas trees, working on a computer amid loud noises of clicking lights, static buzzing, and warbling phones. In another scene, we find ourselves on the side of Trump's border fence when suddenly a white food cart with an umbrella springs out of the ground tossing off green confetti, pushed around in the sand by a Mexican woman wearing a purple sweater and an apron. These scenes and connections question our notion of labor and economic value, evoking the idea that everyone is a link in a global production chain.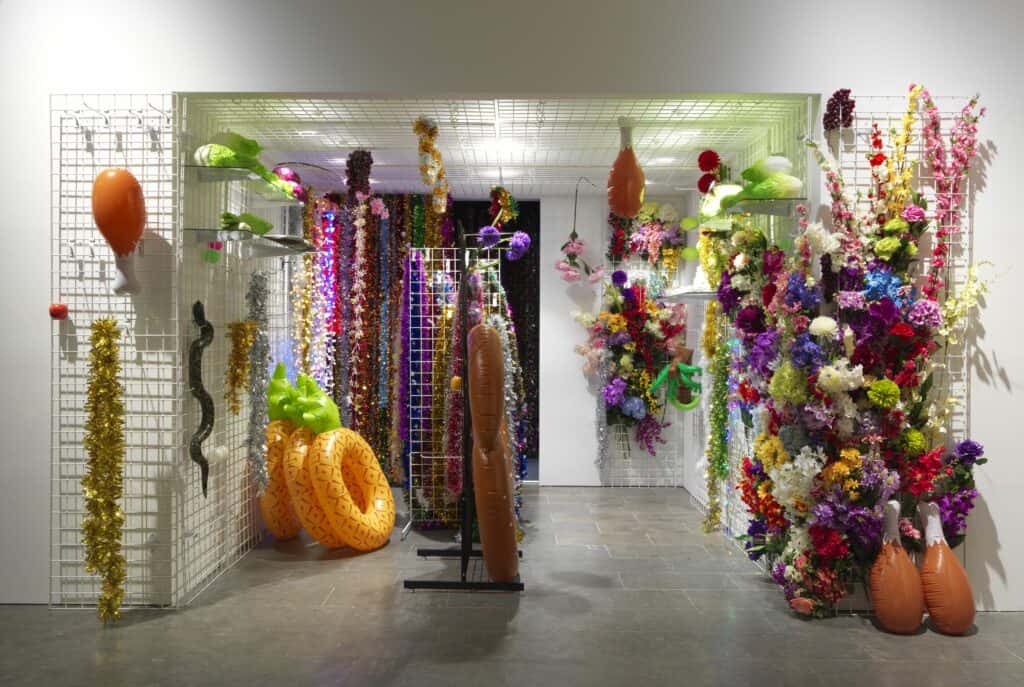 In No Nose Knows 2015, a piece featured in the Venice Biennale as part of an exhibition curated by Okwui Enwezor, plastic pearls are cultivated on an assembly line. On the other end of the conveyor, the pearls trigger an allergic reaction, whereupon a woman with a massive nose sneezes out steaming plates of noodles and pasta dishes. Different cultural references are mixed in the video, with the workers creating the plastic pearls as well as the noodles originating from China, but some depictions of the pasta dishes and the long nose from the Pinocchio fable are allusions to Italy. The artist warns us, however, that we do not need to elaborate on these overlapping cultural clues to be able to see connections. The surreal elements of the works are open for interpretation.
Bowls Balls Souls Holes
The title of the Louisiana Museum exhibition, Bowls Balls Souls Holes, is taken from one of Rottenberg's works and denotes the absurd transformations presented in her visual universe. Besides video works and installations, the exhibition presents three participatory kinetic sculptures by the artist as well as her new drawings made in the past year. The museum also supported the production of Rottenberg's 2017 film Cosmic Generator, which today is part of Louisiana's collection.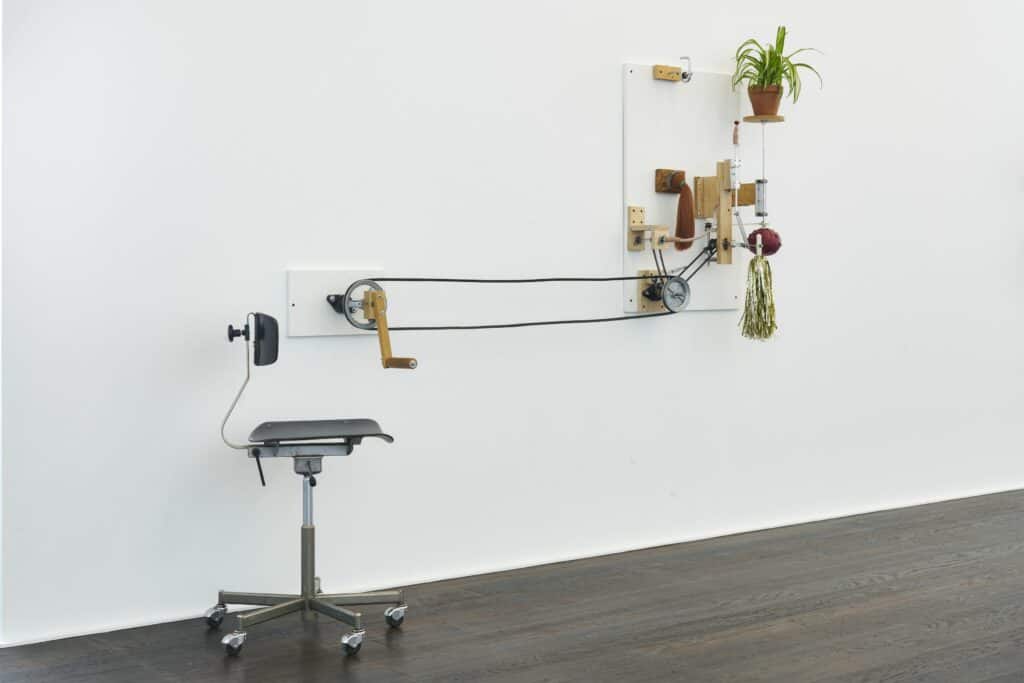 Since 2019, ​​Rottenberg is exclusively represented worldwide by the Swiss mega-gallery Hauser & Wirth. The same year the artist won the Kurt Schwitters Prize, a prominent biennial award that recognizes artists for making significant contributions to contemporary art. Besides the ongoing exhibition at the Louisiana Museum of Modern Art near Copenhagen in Denmark, Rottenberg listed further major solo exhibitions at renowned art museums and establishments around the world including:
Sprengel Museum in Hanover
Museum of Contemporary Art in Toronto
Tai Kwun Contemporary in Hong Kong
MCA in Chicago
The New Museum in New York
Relevant sources to learn more
Learn more about the story of video art:
Part I: The Conceptual Pioneers, from the 60s to the 80s
Part II: Stories Of And For Our Times
Browse exhibitions by Mika Rottenberg on Artland
Click HERE to learn more about Mika Rottenberg exhibition at Louisiana Museum
Wondering where to start?