Articles and Features
Lost (and Found) Artist Series: Sidney Nolan, Australia's (Almost) Forgotten Art Superstar
By Shira Wolfe
"I find the desire to paint the landscape involves a wish to hear more of the stories that take place in the landscape … which persist in the memory, to find expression in such household sayings as 'game as Ned Kelly'."

Sidney Nolan
Artland's Lost (and Found) Artist Series focuses on largely overlooked artists who are finally gaining momentum, or artists who became almost invisible after a successful career and are recently being rediscovered.
In today's edition, we feature Sidney Nolan. Once Australia's most famous artist, his Ned Kelly paintings became a symbol of the country. He was well known internationally in the '50s, to the extent that his works were included in the collections of major contemporary art institutions like the MoMA, but when he moved to England – where he would live and work until his death – he progressively disappeared from the mainstream art consciousness. In 2017, on the occasion of the centenary of his birth, many events and exhibitions secured his art a place in the canon once again. At the beginning of 2021, a previously unseen, mysterious series of portraits he made with spray paint in the '80s were exhibited at Michael Bugelli Gallery.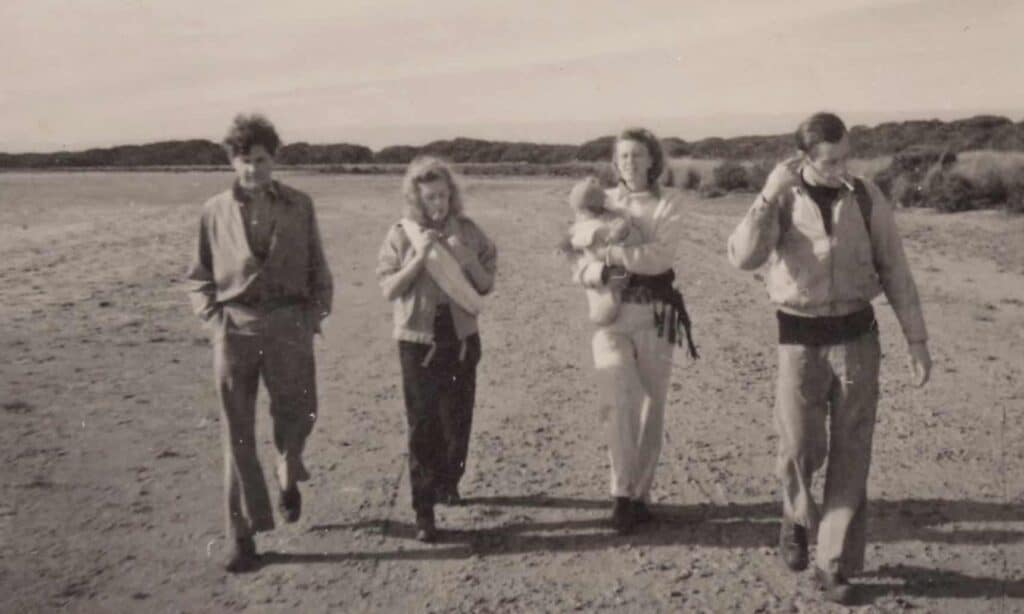 Who was Sidney Nolan?
Sidney Nolan (1917-1992) was one of Australia's leading 20th-century artists. He led a turbulent life as a young man, which involved desertion from the army during World War II and a 10-year living arrangement at the home of John and Sunday Reed, a high society couple who were also patrons of the arts. In his later years, Nolan chose to live a more quiet and remote life in the English countryside.
When Nolan met the Reeds at the age of 20, he was newly married and determined to pursue the arts, either as a painter or a poet. As his involvement with the Reeds carried on (and developed into a romantic and sexual entanglement with the couple), his marriage gradually fell apart. Nolan stayed on with the Reeds at their home called "Heide" outside Melbourne, before eventually marrying John Reed's sister Cynthia and distancing himself from the Reeds.
"They are part of Australia's national identity. They capture our sense of independence, our wry sense of humour, our sense of wilfulness, if you like, in a weird land. The imagery of these paintings is so strong."

Anne Gray of the National Gallery of Australia on Sidney Nolan's Ned Kelly paintings
Sidney Nolan's journey through art
During his passionate and inspiring time at Heide, Nolan developed artistically at a rapid speed. Sunday Reed encouraged him to paint, pointing him first towards landscape painting. At the time, this was an unfashionable notion for a modern artist, but Nolan's exploration of the landscape theme was important in developing his singular visual art style. Nolan deliberately used Ripolin house paint instead of oil paints, as he considered those old-fashioned and associated them with the vanished world of artists such as Rembrandt and Cézanne. He took a great interest in Australia's national identity, just as the war had raised a myriad of questions in this area.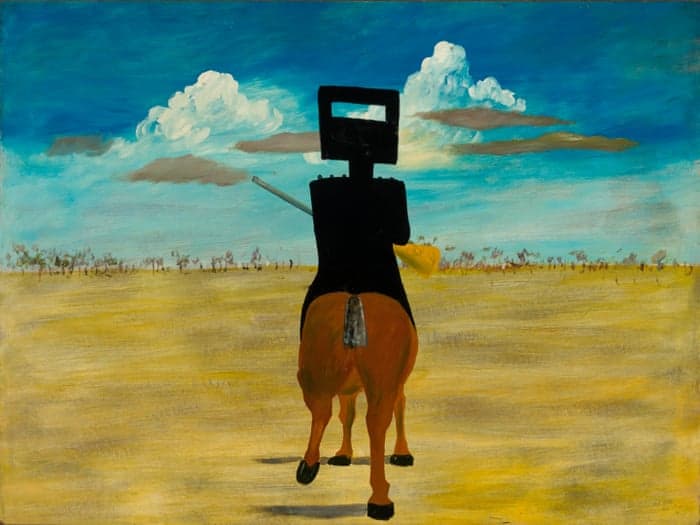 Ned Kelly paintings
During World War II, Nolan had spent some time in the army but deserted, unable to cope with the discipline of the army. He identified with the character of the 19th-century bushranger Ned Kelly, who was also a fugitive from the law, an outsider and rebel who defied rules and pre-made hierarchies.
When he returned to Heide after he deserted, Nolan started painting his Ned Kelly series (1946-47), encouraged by Sunday Reed. She was often by his side as he painted, and Nolan left his Ned Kelly paintings to her, writing to John Reed: "I do not even feel that the Kellys belong to anyone else other than Sun." In 1977, she donated the paintings to the National Gallery of Australia in Canberra. Nolan later said of the paintings that their main ingredients were 'Kelly's own words, and Rousseau, and sunlight.' As such, he merged Australian history, Australian landscapes, and European modern art.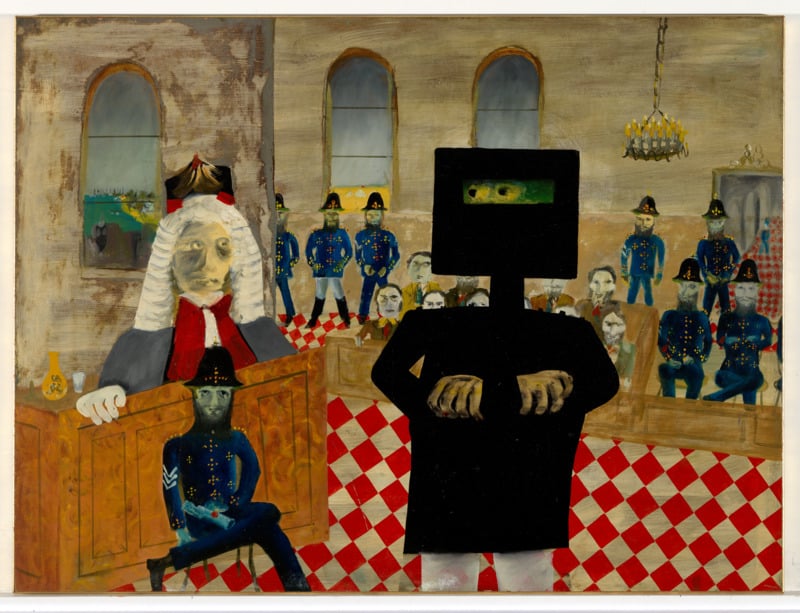 Nolan's surprisingly simplified and effective depiction of Ned Kelly in his homemade armor, a square helmet with a rectangular slot to see through, has become a truly iconic Australian image. These paintings helped solidify the importance of Australian modern art in the Western art canon, which had previously been largely overlooked.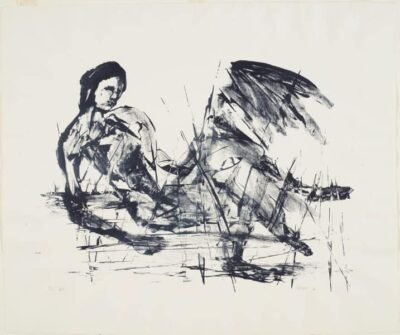 Leda and the Swan series
In 1958, Nolan received a scholarship which allowed him to stay in New York. Over the space of two years, he painted about 75 versions of Leda and the Swan. The story is drawn from Greek mythology, a myth in which Zeus visits Leda in the form of a swan, seduces and rapes her. Critics and close acquaintances of Nolan's did not think highly of the series, believing that he had become too repetitive. However, the series turned out to be a great commercial success.
There were various layers of association and context at play in these paintings: Nolan himself had an unpleasant childhood experience with swans. As a child, he was fascinated with the beauty of swans and was attacked by them while trying to steal some of their eggs. This juxtaposition between the seemingly gentle, beautiful swans and their violent side is what Nolan was getting at in his Leda and the Swan series.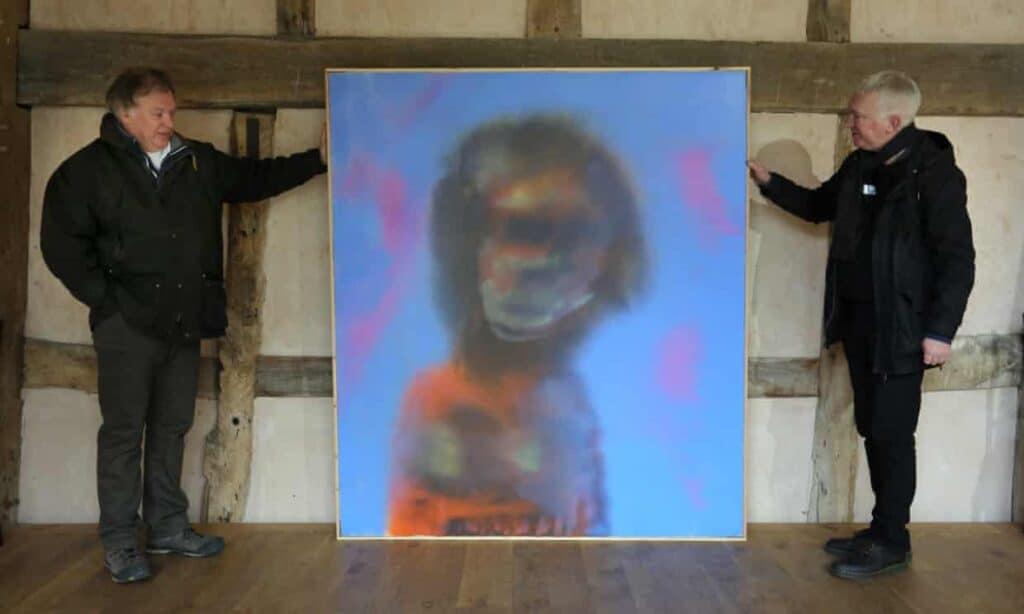 A late series: spray paintings
In 1983, Nolan and his third wife Mary (his second wife Cynthia had tragically committed suicide in 1976) acquired the Rodd, an Elizabethan manor house surrounded by 17th-century barns on the Wales-England border. He continued to work in an innovative fashion here until his death in 1992.
Nolan was always interested in working with new materials and in moving forward to the next phase of his artistic production, so then perhaps it isn't so surprising that he turned to spray paint in the '80s, a medium that was used by the young, bold street artists at the time. While many people considered Nolan to have been at his peak during the post-WWII period, he continued to rediscover himself and his art and even at old age was very much up to date with the times he was living in.
Realized at a time when the artist was looking back at his life and remembering the people he had known, Nolan's spray paintings are mysterious and haunting portraits of people. Even if we don't know the identity of his subjects, the blurry features are filled with emotion and sensitivity. While Nolan's most famous series, his Ned Kelly paintings, never show the face of the legendary character, in his spray works Nolan deliberately turned to the depiction of faces in an intimate manner.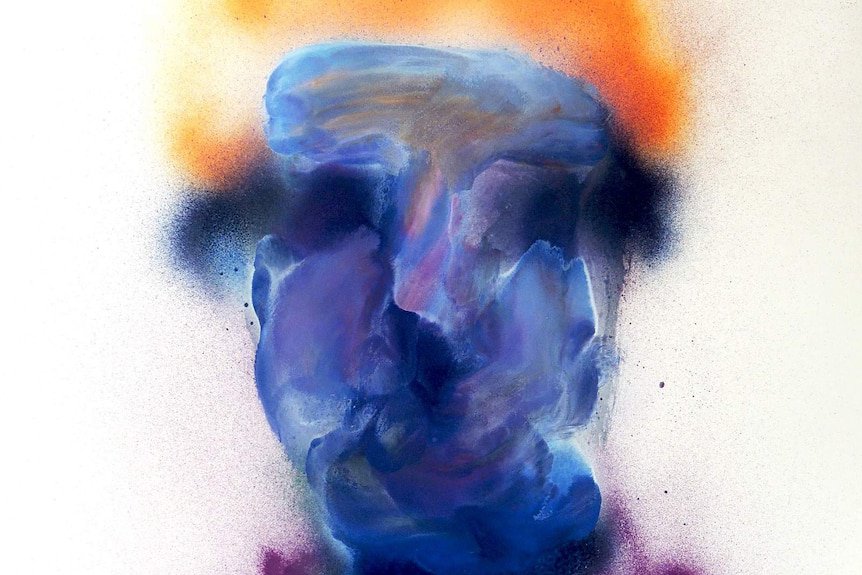 Rediscovery and recent exhibitions
Despite Nolan's constantly innovative spirit and powerful body of work, the art world and public seem to have forgotten about him during the last decades of his life. It took until 2017, on the occasion of the centenary of his birth, for several exhibitions of his works to be organized again, sparking renewed international attention. At the beginning of 2021, Nolan's never-before-exhibited series of spray paint portraits from the '80s were exhibited by Michael Bugelli Gallery as part of the Mona Foma arts festival in Hobart, Tasmania. The exhibition caused quite a stir in the art world as people all over were clamoring to buy these new Nolan discoveries, which were on sale for just under $10,000 (while Sidney Nolan paintings can go for up to $5 million).
More recently (between 10 August and 20 September 2021), Michael Bugelli Gallery hosted an online-only exhibition of Sidney Nolan's spray paintings. Nolan's legacy is here to stay – an exciting trajectory of art questioning and reexamining the identity of Australia, of mythology, and of individuals.
Relevant sources to learn more
For previous editions of our Lost (and Found) Artist Series, see:
Francesca Woodman
Hannah Ryggen
Maria Izquierdo
Sophie Taeuber-Arp
Michael Bugelli Gallery
Wondering where to start?