Articles and Features
Lost (and Found) Artist Series: The Haunting Self-Portraits of Francesca Woodman
By Adam Hencz
"It's a matter of convenience, I am always available."

Francesca Woodman
Artland's Lost (and Found) Artist Series focuses on artists who were originally omitted from the mainstream art canon or were largely invisible for most of their careers.
This week, we feature Francesca Stern Woodman, a prolific female photographer born in Denver, Colorado, in 1958. She is best known for her black and white self-portraits and her intriguing photographic depiction of the female figure featuring either herself or female models. Woodman had a sophisticated understanding of photography and extensively experimented with slow shutter speed, producing long exposures with blurry and ghost- or angel-like subjects, capturing the naked or sensitively-clothed female body merging with their surroundings. Throughout her short life, Francesca Woodman lived and worked in Boulder, Colorado; Providence, Rhode Island; Rome, Italy; and in New York City.
The tragic life and formidable career of Francesca Woodman
The young Francesca Woodman first started taking photographs in her early teens while at boarding school. She grew up in an artist family and living with art was a natural part of her life since early childhood. Her mother Betty was a ceramicist and sculptor, while her father George was a painter and also a photographer. The Woodman's home was often visited by great artists of the time like David Hockney and Richard Serra. At the age of 13 in 1972 Francesca began to take photography classes during high school at the Abbott Academy to nurture her already blooming interest in photography. Woodman attended the Rhode Island School of Design in 1975 for three years, which proved to be the most fruitful period of her life. After her graduation in 1978, she went to live in Rome for a whole year, as part of the School of Design's Rome Honors Program. In 1979 she moved to New York city, where first she dedicated her time to capture indoor photographs at her studio.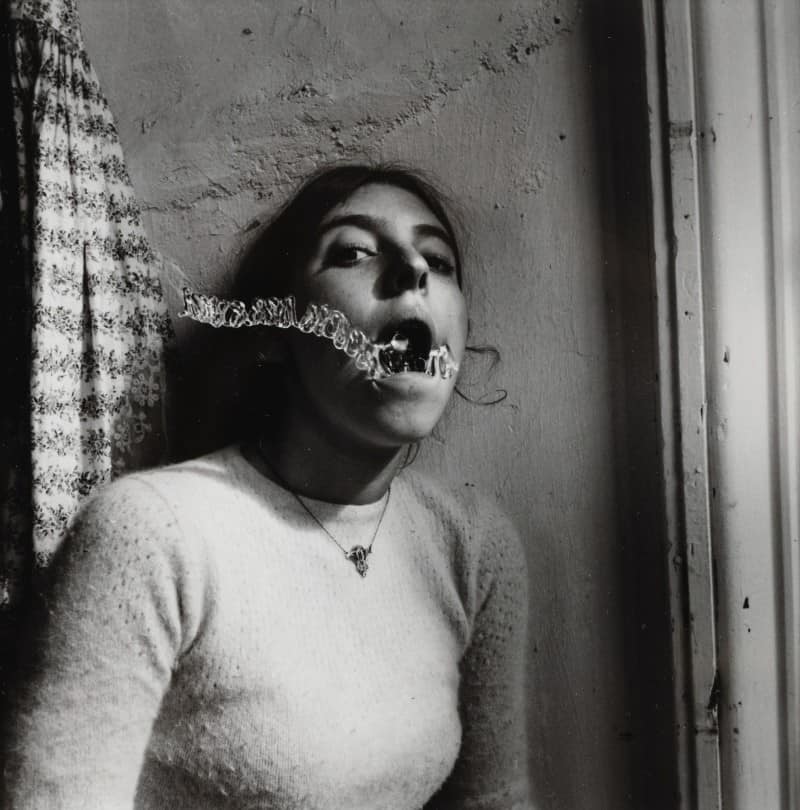 In New York she became interested in fashion photography, however, what appears as iconic in her aesthetics and composition nowadays, was mostly rejected at the time. Despite hardships to pursue a career as an artist and the competitive nature of the 1970s and 1980s New York art scene, she was invited for an artist residency at The MacDowell Colony in 1980. At the beginning of 1981, she witnessed the publication of one of her notebooks that she had been working on since 1976 in the form of a book entitled Some Disordered Interior Geometries. Her family and peers did not consider her to be depressed; however, the lack of attention to her work and unhappy romances left her troubled. Her unsuccessful portfolio submissions to fashion companies and a failed application for funding from the National Endowment for the Arts drove Woodman to commit suicide, jumping out of the Barbizon building, not far from her Manhattan apartment.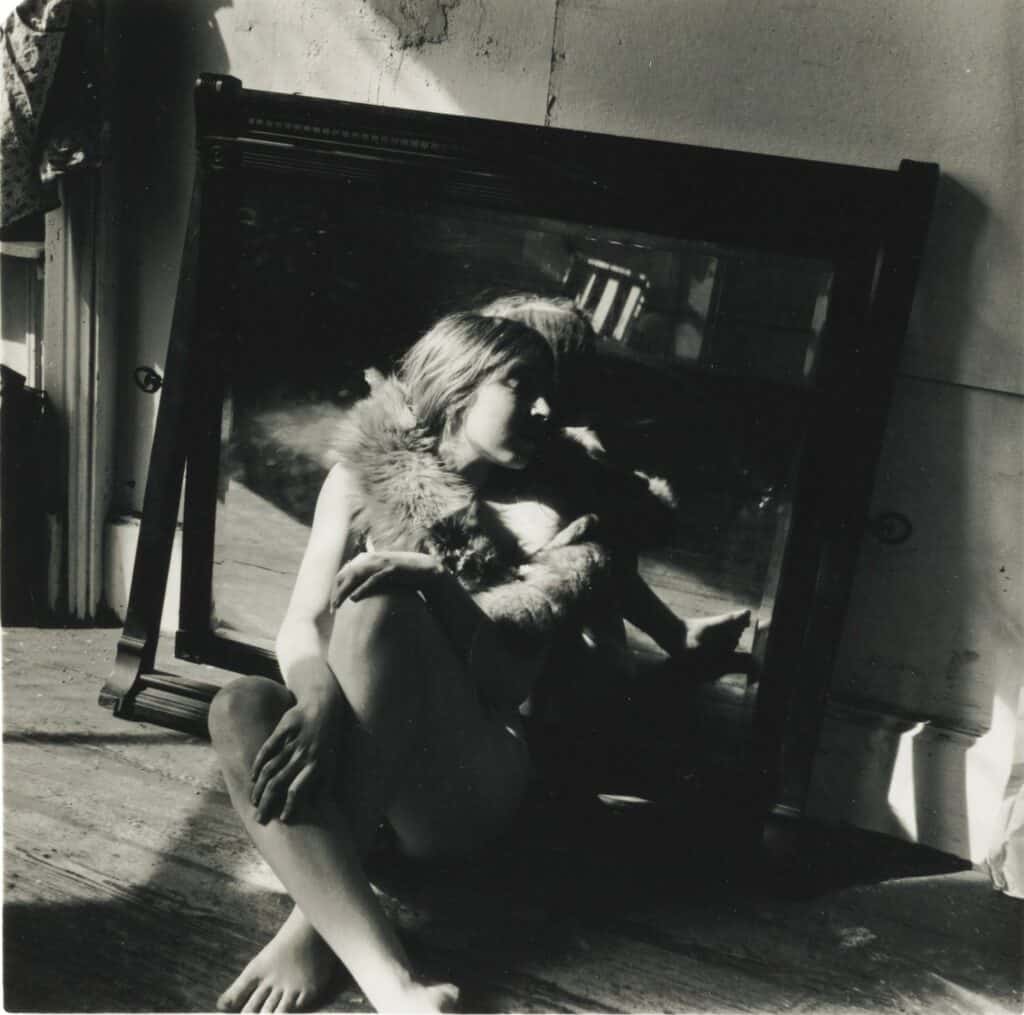 In spite of her tragically early death at the age of 22, she produced an impressive ten thousand negatives and created over 800 untitled prints as well as making numerous experimental videotapes before taking her own life. Her oeuvre has been shown in a number of major exhibitions in recent years and her tragic life story and struggle for fame in the art world is recounted in the biography Francesca Woodman by Chris Townsend as well as in the 2010 film documentary, The Woodmans. Today, the Woodman Family Foundation oversees her artistic legacy as well as stewards the estate of her parents, Betty and George Woodman.
"It's funny how while I was living in Italy the culture there didn't affect me that much and now I have all this fascination with [it]."

Francesca Woodman, New York City, 1980
Visual language of Woodman's photography
Three formative influences undoubtedly marked her opus: she took inspiration from Italian culture, architecture and art, as well as from fashion photography and Surrealism. As the family owned a farmhouse in Antella, she spent significant time in Italy where her life included attending second grade at a public school in Florence. Italian art profoundly affected her precise use of composition, which became even more sophisticated during her time in Rome. Classical Italian iconography made its mark on the aesthetics of one of her last projects as well, a complex diazotype series titled Temple Project (1980).
Key Themes
Woodman was immersed in fashion photography and idolized fashion photographers such as Guy Bourdin and Deborah Turbeville. She pursued and developed fashion shoots with an eye toward the commercial realm in the later years of her life, between 1978 and 1980 primarily while living and working in New York City.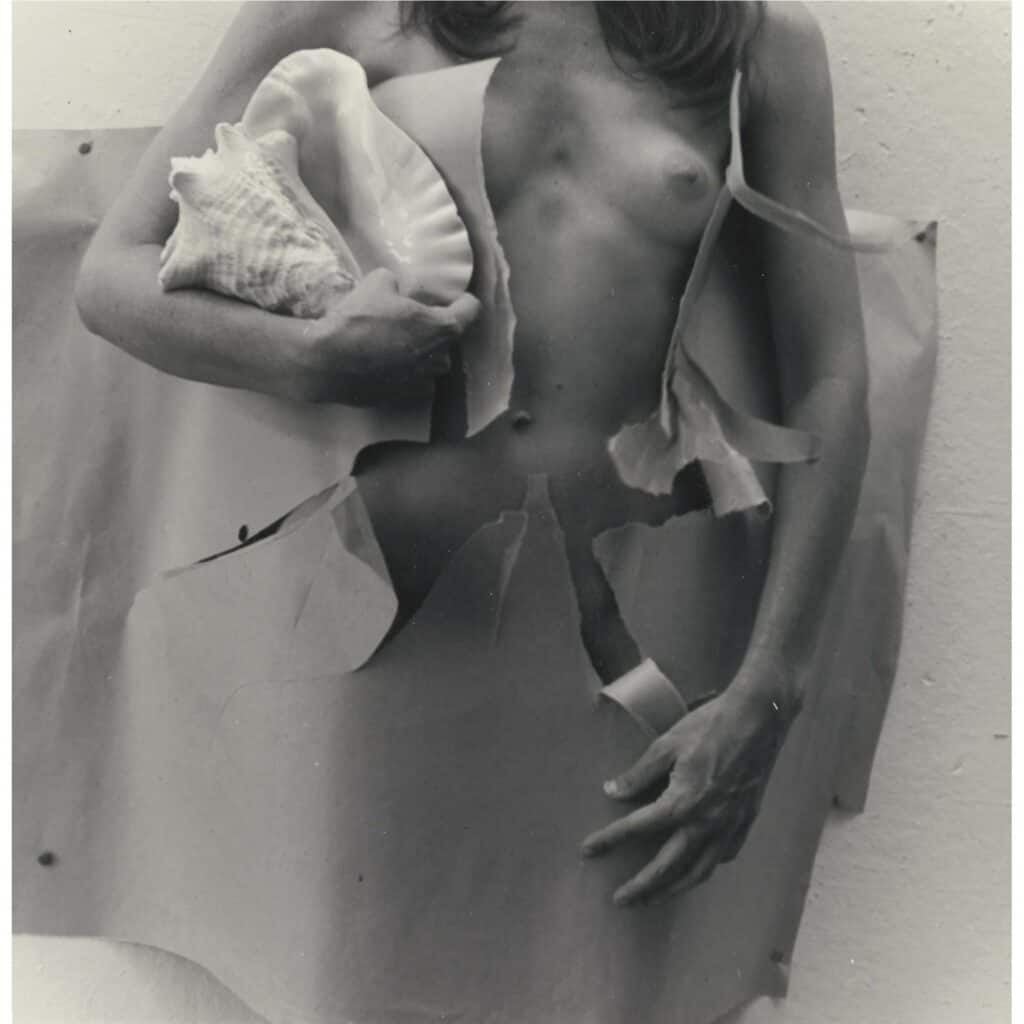 Woodman also innovatively merged elements of Surrealism and Abstract Expressionism into her self-portraits. She created claustrophobic moods and dreamlike environments inhabited by blurred figures, symbolic found objects, and Surrealist motifs like mirrors, forks, eels, masks, and gloves carefully arranged for the composition. Woodman has studied the surreal photographs of Duane Michals and openly acknowledged the influence of Michals' work on her images, which explore movement and transparency.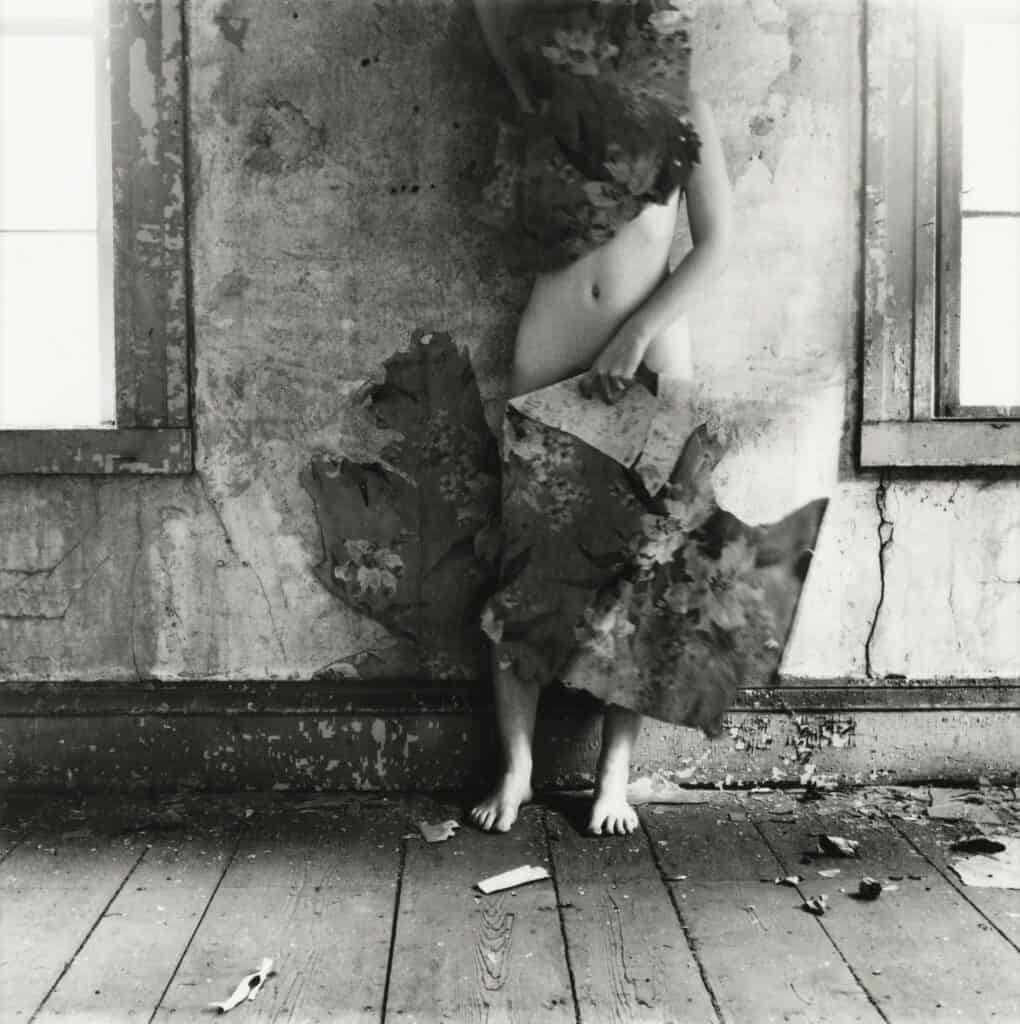 Key themes of Francesca Woodman's photos include a visual game with truth and fiction, a focus on the human body in space as well as the creation of a timeless and mysterious atmosphere, often with traces of urgency, movement, delicate gestures, and performative suggestions. Her earliest mature work is titled Self portrait at thirteen from 1972, taken during a stay in Antella, with a 6×6 Yashica camera that had been gifted to her by her father. Key elements of her work such as mystery, careful composition, and blur already play a central role in the image.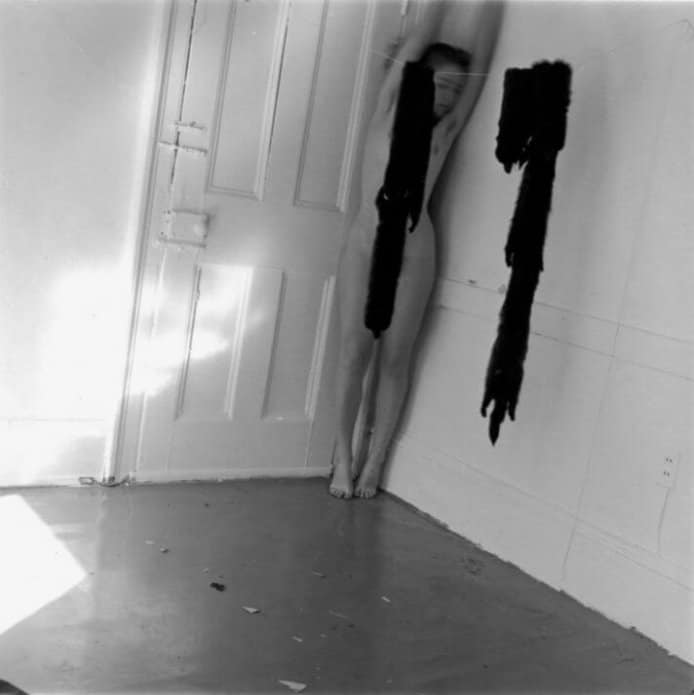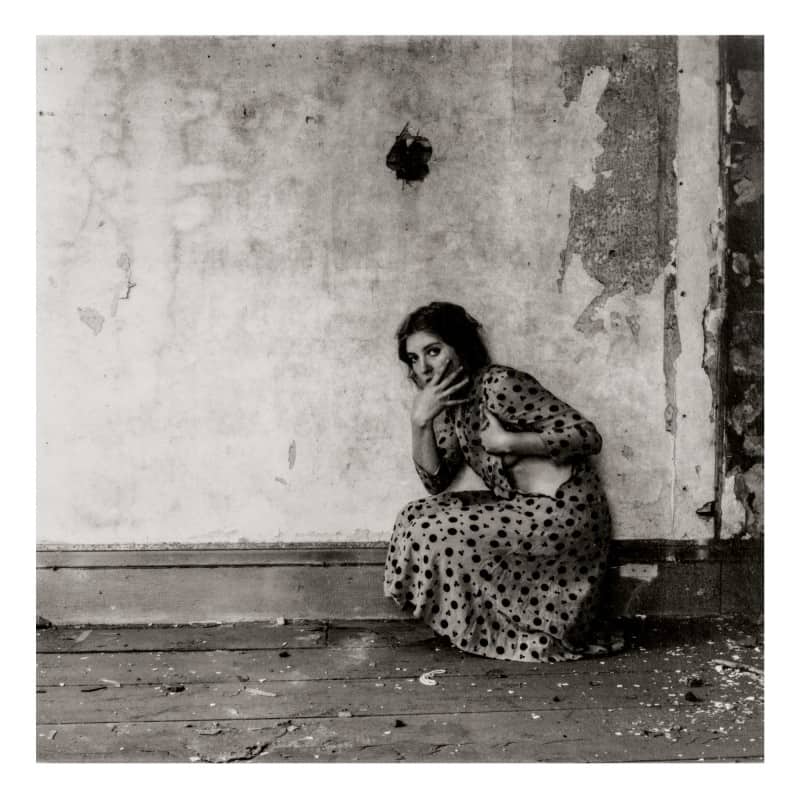 The vast majority of the works by Francesca Woodman were produced when she was a student at the Rhode Island School of Design in Providence between 1975-78. Her studio apartments often became a stage for performances that also required preparatory phases to construct the space and include props like mirrors, paint, or tapestry. She would often depict herself nude or wearing the polka-dot dress that has become a regular staple of works from this period. Lifetime prints of Woodman are very scarce, and the majority of them have already been offered at auction in the past decade.
Relevant sources to learn more
Read more on similar contemporary photographers:
Cindy Sherman
Diane Arbus
Vivian Maier
Man Ray
Margaret Watkins
Read more about Francesca Woodman on the website of The Woodman Family Foundation.
Wondering where to start?