Articles and Features
The Artist Self Portrait – A Moment of Introspection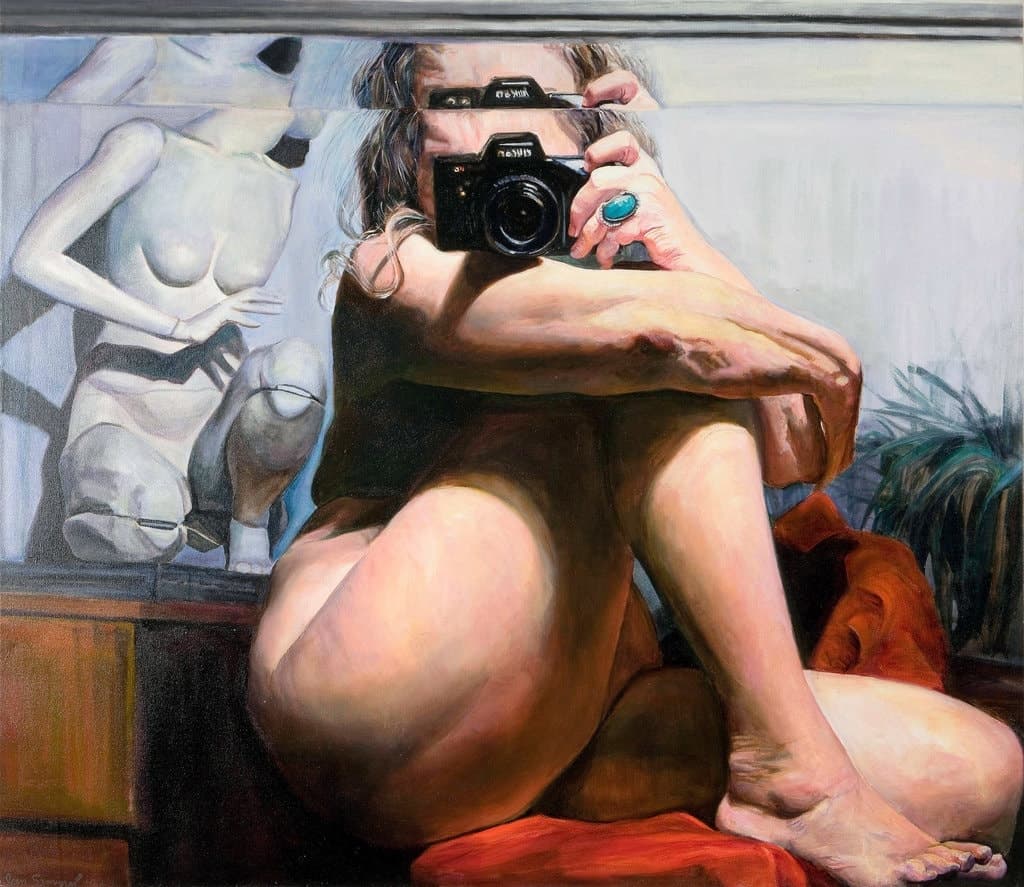 By Tori Campbell
In this strange moment in time for humanity, we collectively sit at home caught between external entertainment and internal contemplation. It is these moments of quiet, where we are able to reflect and internalize, that we begin to understand the impetus the artist feels when creating an artist self portrait. Whether the motivation comes from self love, self loathing, or just a simple desire to practice on a human subject, artists across time and geography have experimented with self portraiture.
Famous Examples of Artist Self Portrait
Visit a moment of introspection with us, and enjoy our list of some of the most famous artists in modern and contemporary art history experimenting with many styles of self portraiture .
Vincent van Gogh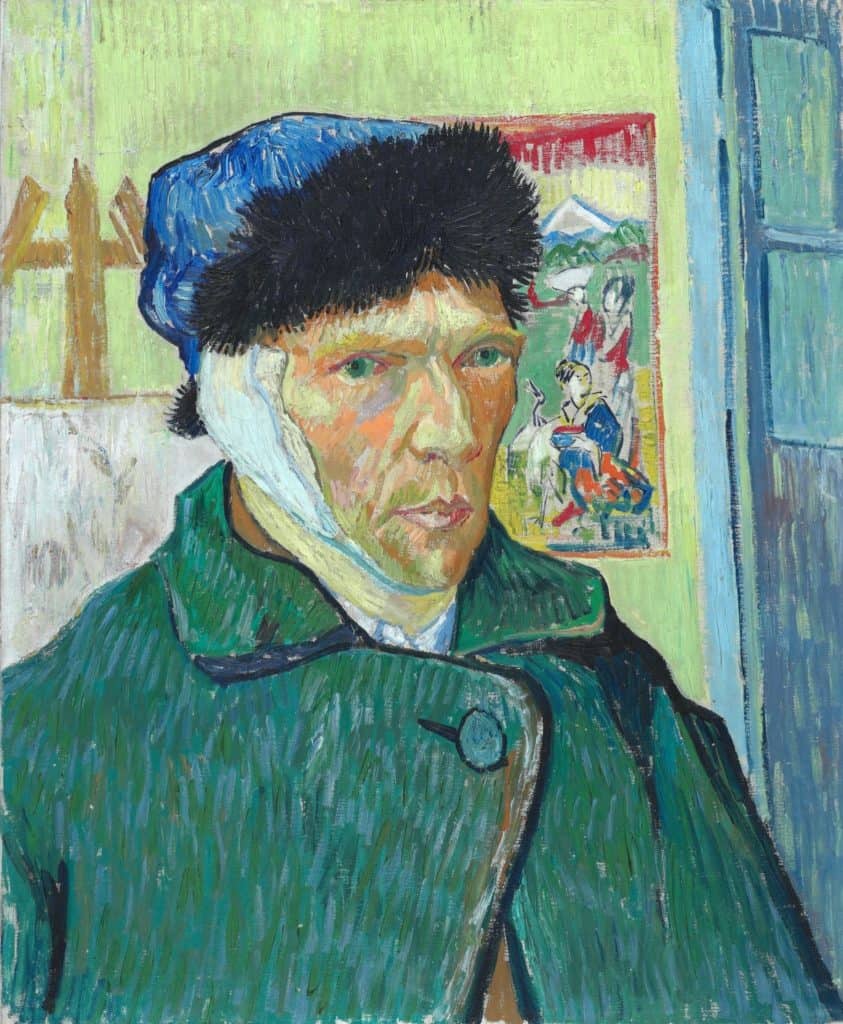 Vincent Van Gogh's many self portraits are among the most celebrated of all time. In his lifetime Van Gogh completed over 35 self portraits, the majority of which were realized while he was in Paris from 1886-1888. It has been theorized that during this time Van Gogh was struggling financially, but still wanted to practice and experiment on painting people, thus, he painted himself. The swirling brushstrokes of heavy paint show the artist's bold experimentation with color and form — often portraying his vibrant red hair in contrast to a complementary background though his appearance varies widely in accordance with his physical and mental health. These many portraits would go on to become iconic works, some of the best-known portraiture in the world, and stunning examples of the budding modern period in painting.
"They say—and I am willing to believe it—that it is difficult to know yourself—but it isn't easy to paint yourself either."

Vincent van Gogh in a letter to his brother Théo, September 1889
Pablo Picasso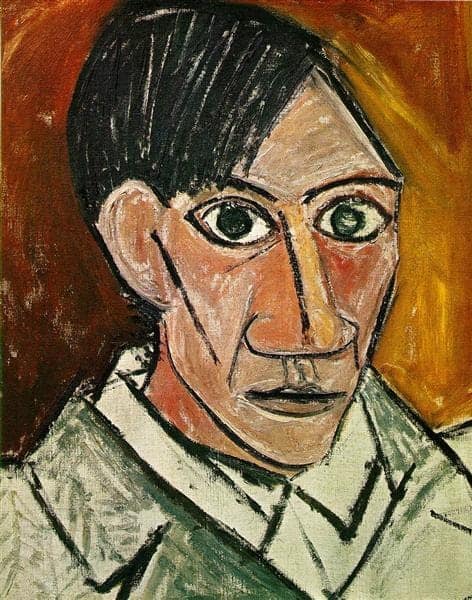 His self portraits, crafted continuously from the age of 15 up until 90, are the most revealing examples of Pablo Picasso's predilection for an ever-evolving aesthetic style. From painting and collage to sculpture and drawing, Picasso explored numerous styles and media throughout his artistic career, but he is perhaps best associated with the advent of cubism. Picasso's 1907 self portrait with its geometric and fractured forms, outlined in thick black paint shows the earliest example of Picasso's foray into cubism. Arguably the first expressionist self portrait in existence, the work is a massive departure from his previous portrait, painted in 1906. This portrait shows his face depicted in rounded forms, and a wash of warm color — reflective of the work of his Rose Period, that took place immediately prior to his innovative cubist creations.
Christian Schad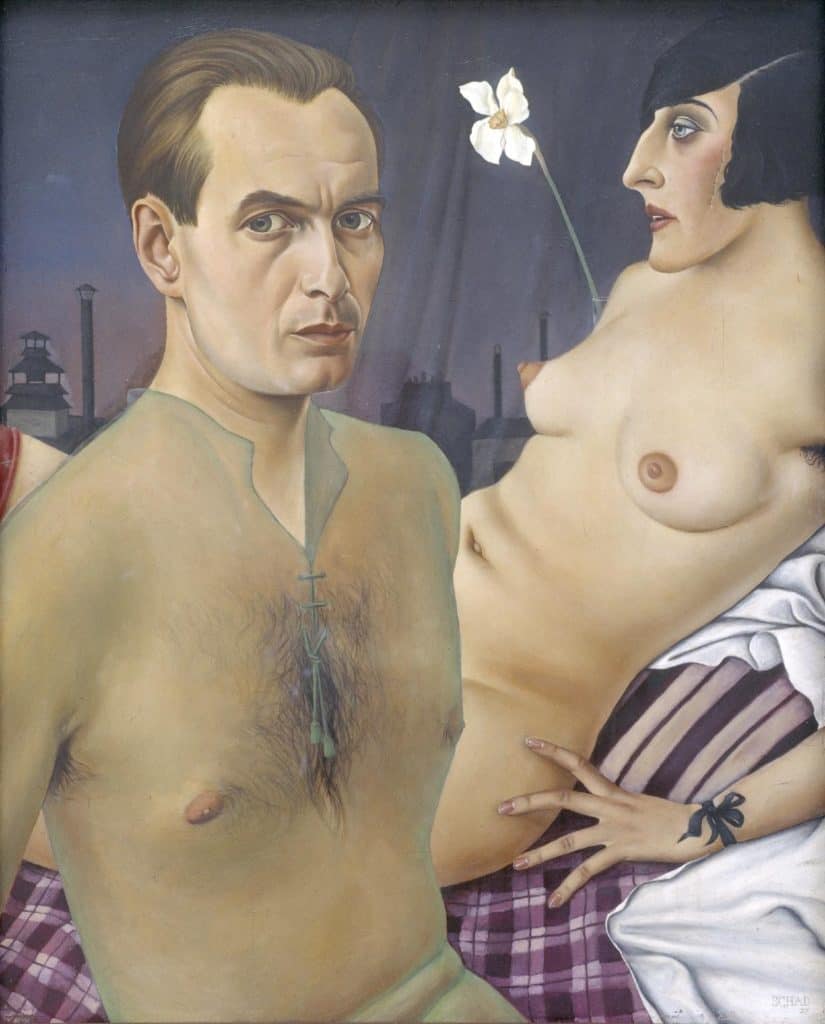 As the viewer gazes upon Christian Schad's works, they are often left with a disquieting feeling; put in a state of unease by the unwavering eye contact of the portraits' subjects. The Dada and New Objectivity artist's 1920s works were full of the postwar anxieties felt in his city of Vienna, and his 1927 self portrait is just one example of such a piece. Rife with symbolism, the artist sits in a domestic scene, clad in a sheer shirt in front of a naked lover. With a piercing gaze, he stares down his viewers while his companion shows the side of her face, marked with a scar — an allusion to the freggio scars he saw on women in Naples, a demarcation of possession from the women's lovers and a threat to potential rivals. Schad's transparent shirt and narcissus flower in the background of the painting are references to the artist's narcissism and shallowness, qualities he believed were nearly inescapable.
"No-one is entirely free from narcissism"

Christian Schad, date unkwown, quoted in Bond and Woodall 2005
Frida Kahlo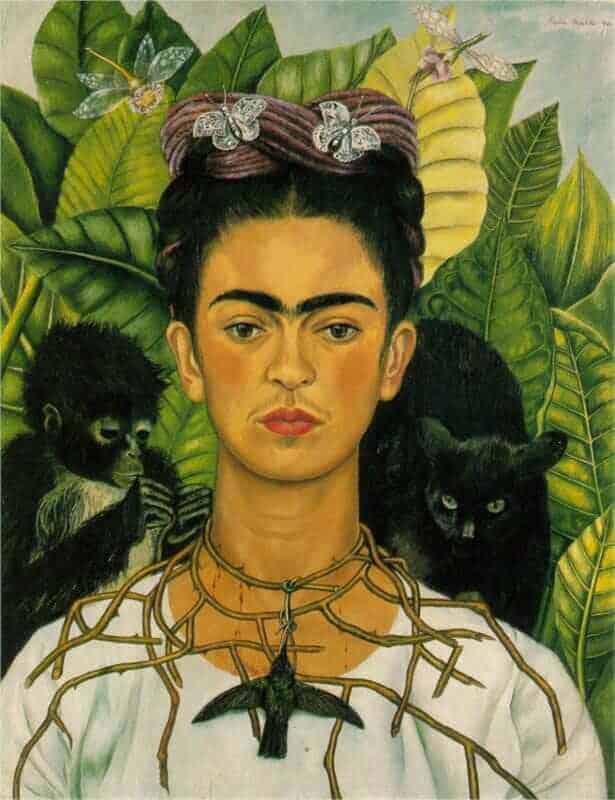 Painted in 1940, Frida Kahlo's Self-Portrait with Thorn Necklace and Hummingbird is one of her most popular pieces, despite her frequent output of self portraiture. The piece is materially small (at only 47 cm x 61 cm) but contains many iconic aspects of Kahlo's work, and is full of symbolic importance. Clad in a necklace of thorns which are held to the artist's neck by a black monkey, Kahlo is seen bleeding as she is pierced by the thorns. Despite the appearance of her blood, she is a stoic figure; quietly and calmly enduring her pain. At the center of her chest lies a blackened hummingbird, though usually colorful and lively creatures symbolic of freedom and life, this bird is tethered and lifeless. Likely to act as a representation for the physical and mental pain Kahlo felt throughout her life as a result of a bus accident in her youth, this work shows the artist patiently bearing her burden, condemned to a life of pain and medical intervention.
Francis Bacon

Francis Bacon's Three Studies for a Self-Portrait triptych was created from 1979-1980 when the artist was entering his seventies. The self portraits, each with a slightly different perspective, as if rotating slowly around the sitter, are solely focused on the subject's distorted and bulbous face. This omission of a background, a body, or anything but the face itself; forces the viewer to ruminate on the pain and deep psychological depths portrayed on the inky canvas. Created in the aftermath of the suicide of his lover George Dyer, the self-reflective pieces show the externality of a lifetime of pain and suffering. The man in the painting, though otherwise unrecognizable through the warping of perspective, is recognized as the artist through his irrevocable emotional scarring and depiction of the ravages of life and time.
"I loathe my own face. . . . I've done a lot of self-portraits, really because people have been dying around me like flies and I've nobody else left to paint but myself."

Francis Bacon to David Sylvester in 1975
Robert Mapplethorpe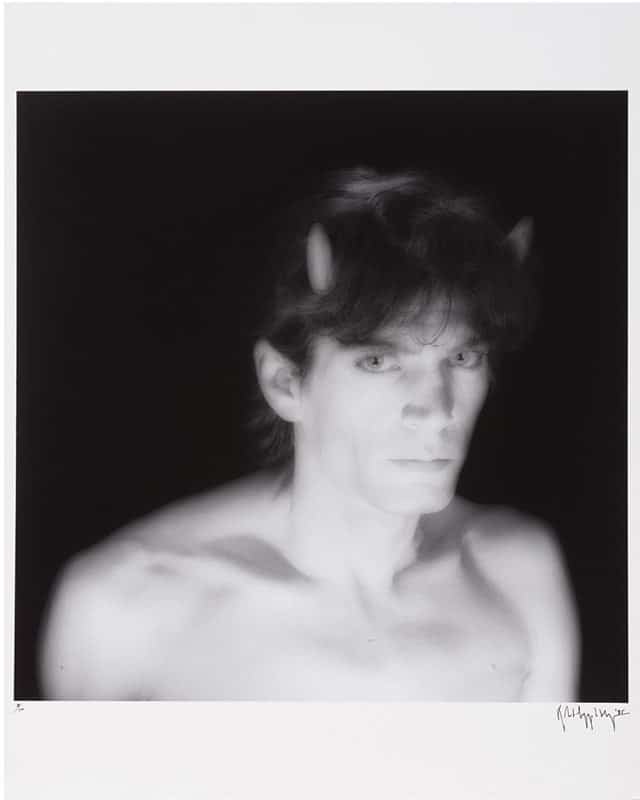 Best known for the controversy shrouding his work, Robert Mapplethorpe's overt portrayals of sexual extremism and gay liberation kickstarted the culture wars of the 1980s. His self portraits could be shockingly explicit, with his most famous photograph exhibiting the artist twisted around himself to confront the camera while displaying to his audience an anally-inserted bullwhip. Less explicit but perhaps no less controversial are his other self portraits; nude, in drag, or as is the case above, bedecked with horns. The horns invoke association with the devil, or the animalistic: that which is accustomed to partake in sexual indulgence. Nude and depicted like a neoclassical bust, he appears here like a satyr of classical mythology, begging his audience to reframe and reconsider his marginalized identity in a new way.
Francesca Woodman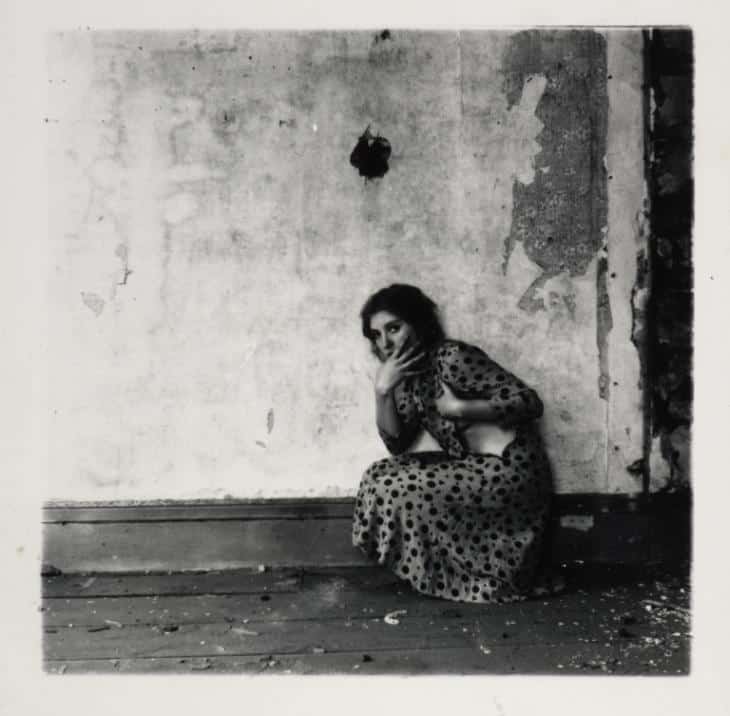 Redefining the typical self portrait, Francesca Woodman's photographic works often portrayed her in various states of undress, while slightly hidden, or blurred. Obscured by furniture or caught in a blur created by a slow exposure, she appears as a spectral presence that evokes a sense of transience and a fleeting feeling. Heavily influenced by surrealist art, particularly the photography of Man Ray and Claude Cahun; the styles and themes of these masters can be seen in her work. The unsettling ephemerality of Woodman's self portraits is made even more poignant by knowing more about the artist's biography, her short life cut off at the age of 22 due to suicide.
Joan Semmel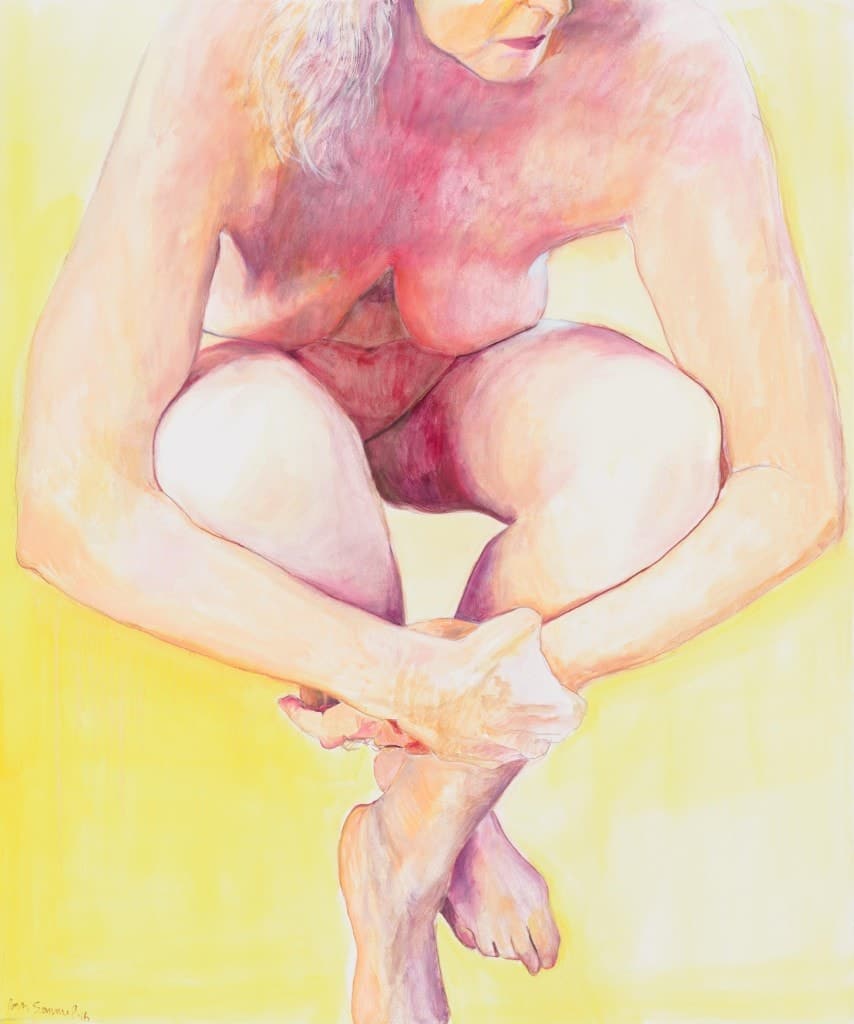 Feminist artist Joan Semmel has traditionally explored her artistic growth and transformation through series. After two forays into the erotic, depicting close-ups of the bodies of heterosexual couples intertwined, Semmel turned to self portraiture in the early 1970s. When she began to paint herself as the subject as she explained she was painting, "the idea of myself as I experience myself, my own view of myself." Semmel's portraiture was stylistically similar to her erotic series in that her self portraits are primarily focused on limbs and torsos, but she has branched out with paintings that appear as if they are photographic nude 'selfies' taken in a mirror. The very act of painting herself in a realistic way; with folds of flesh, wrinkles, and bulges that are normal for a woman's body, has been seen as radical as we are so conditioned to only seeing a nude woman through the sexualized eyes of a man, or through the idealized depictions prevalent in popular culture. Even more radical is her continuation of these artist self portraits over time, confronting the details of her aging female body head-on, with a tenderness yet the strength that affirms the beauty of age.
John Coplans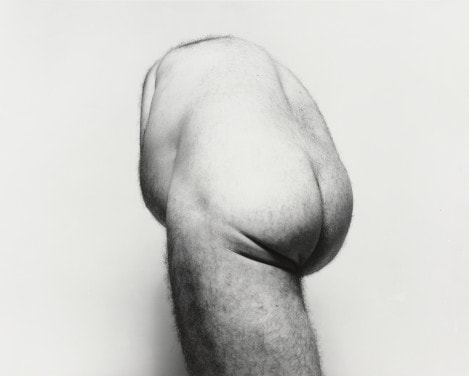 Trained painter turned art writer and museologist, John Coplans returned to creating art in 1979, when he picked up a camera and became a photographer at the age of 60. Since the mid-1980s Coplans' sole subject has been himself, working in self portraiture to display his aging body. By focusing his lens on particular parts of his body, and omitting his face, Coplans' portraits become abstractions not just of the human body, but of the form itself, highlighting texture and form more than the body as we commonly perceive it. Like the work of Joan Semmel, Coplans' nakedness is not sexualized but rather treated as a form to be documented; seeking to throw the shame of an aging patriarchal body aside in favor of candor. The omission of his face in his self portraits provides a universality to his work, infusing the photographs with an idea of our human collective unconscious — a shared genetic history of humanity.
Relevant sources to learn more
Enjoy the NYTimes review of Joan Semmel's Bronx Museum of Art exhibition
Learn more about John Coplans with MoMA Learning