Articles and Features
The Digital High Five
with
---
The Digital High Five is Artland's interview series which is published bi-weekly and features one of our partner galleries. We have created this series to connect with galleries, share insight, and shed light on initiatives that are taking place within our community.
This week we had the opportunity to speak with Mónica Reyes Founder and Director of Mónica Reyes Gallery located in Vancouver, Canada. Since 2013, Mónica Reyes Gallery has been backing the growth and development of emerging and mid-career artists. Serving the local and international art scene, Mónica Reyes Gallery champions artist initiatives invested in shaping the economies of art and culture. Located in the heart of Strathcona, the gallery is uniquely positioned to create dialogues with the artists and cultural engineers who call the neighborhood home.
---
Have there been certain initiatives that are taking place in the Vancouver art community that as a gallery you are excited to see develop and or be a part of?
There are many initiatives and festivals happening in Vancouver that seek to connect artists and audiences and that contribute to our vibrant arts and culture scene in the city and its surroundings. We enjoy collaborating with galleries, festivals and organizations and were delighted to be able to bring this year's gallery programming for the annual Capture Photo Festival online. Capture takes place every April, so this happened right when the pandemic first hit! We also believe it is important to contribute to local arts organizations and initiatives such as Arts Umbrella, a non-profit arts education centre, by being part of their annual auction. The auction proceeds benefit their programs and help to enhance the opportunities they can offer to children and young people throughout the year.
Since the pandemic the trajectory of galleries participating in external events has come to a pause or tragically they have been cancelled and are now going digital. How are you handling and approaching these new technological alternatives in the art world?
Despite the disappointing cancellations of countless exhibitions, long-established fairs, and other events vital to the artworld, various creative approaches and solutions have come out of this pandemic. My staff and I have been enjoying many of the talks, lectures, and discussions presented on zoom or via other channels, making programming, which was once confined to a physical space, more widely accessible. As a gallery we are increasing our effort to find ways to present a digital equivalent for both what we would have shown back in March and what we are currently showing. In collaboration with our artists and photographers we are producing videos and visual portrayals of our exhibitions and we are continuing to learn what works and what does not.
Experiencing art in person is pivotal. Our gallery is fortunate to have a sizable outdoor space where we can gather together — at least until the Vancouver rains set in. As physical attendance is limited right now, we aim to enable our audience to engage with us while respecting their personal preferences about social distancing. Digital platforms such as Artland have been a great option for us in this way and also to help foster connections with artists, curators, and collectors on the East Coast and elsewhere.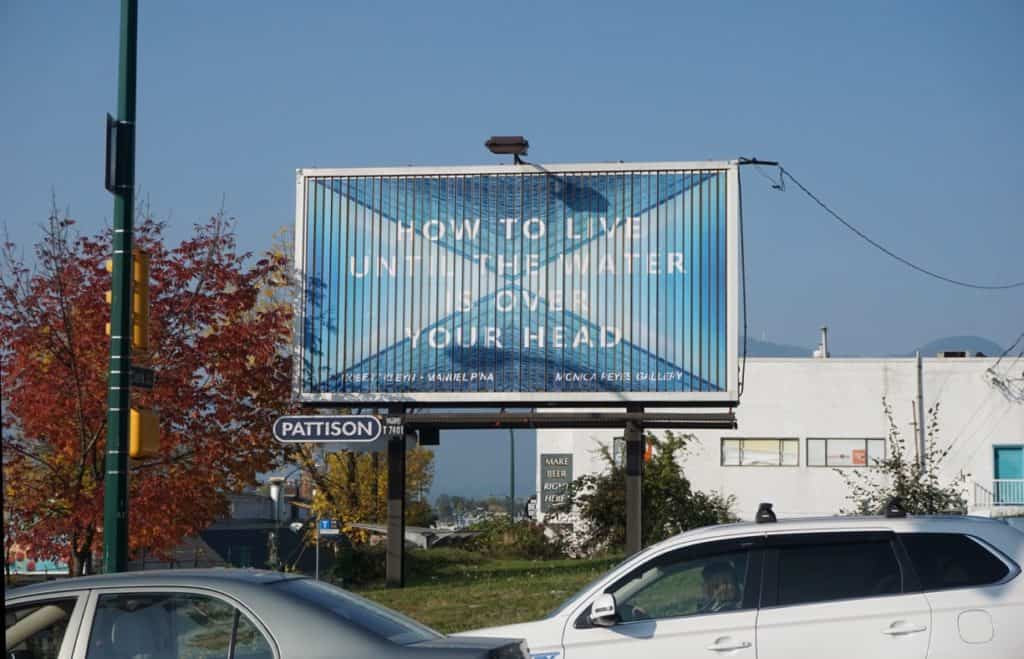 How has Covid-19 encouraged you to think outside the box in regards to; collaboration, exhibition design, curation and public art projects?
We see our gallery's role as one that enhances, engages, and encourages the various publics' experience with art. The pandemic has challenged us to think of new and different ways to fulfill this role and to further expand our reach to be able to widen our audience and community. At the very beginning of the outbreak, we switched our focus from exhibitions inside, to displaying works in our window, which is adjacent to a busy street in Vancouver's Strathcona neighborhood. We worked with Vancouver artist Robert Kleyn to produce an installation of language based posters, which rotated every two weeks and worked as an invitation to drive-by and walk-by audiences to pause and reflect on the current moment.
Building on the momentum of this project, we began commissioning gallery artists to create work for our ongoing Billboard Project. The first work, by Kathy Slade, launched in June. A second billboard by Robert Klein with Manuel Piña launched in September. The Billboard Project works to extend the public's access to local artists, providing viewers with an experience of contemporary art that is both approachable and thought-provoking. Alongside these projects, we are very fortunate to be able to continue our exhibition programming inside our physical space. However, we miss the vibrant surroundings of art fairs, which has led to our upcoming collaboration with three other spaces. Together with Wil Aballe Art Projects, Franc Gallery, and Unit 17 we will be presenting a small fair at North Vancouver's Griffin Art Projects, a space that is dedicated to the juxtaposition of prominent collections with residencies for young artists.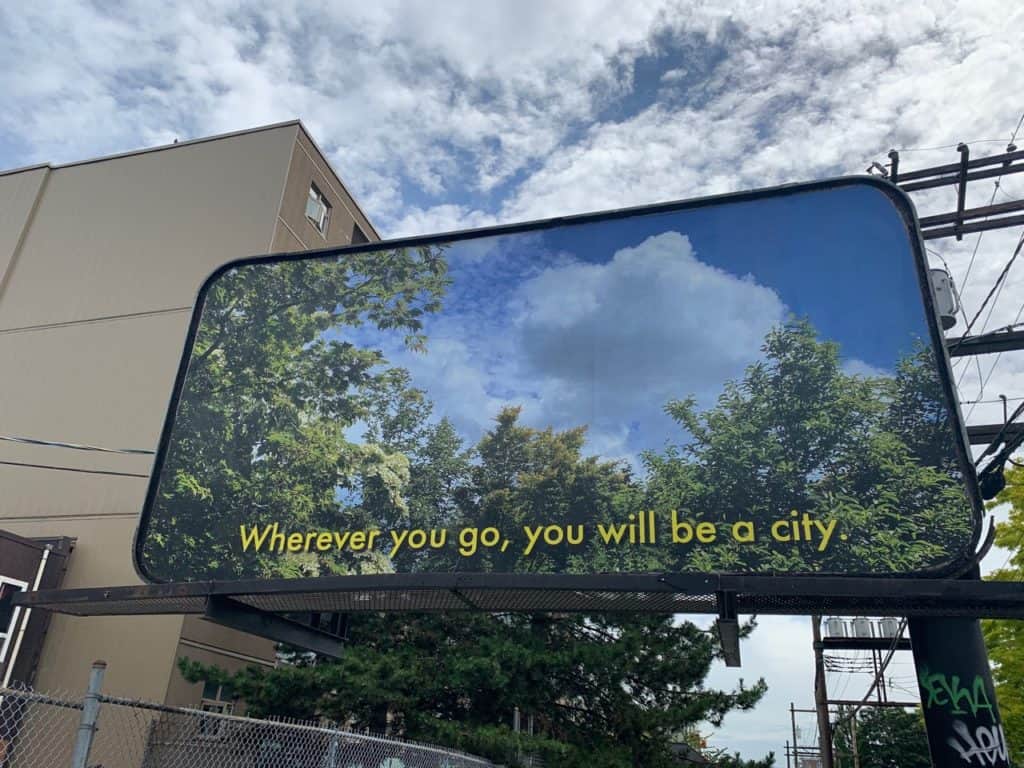 What excites you the most when it comes to the use of technology being used in your gallery? What is your biggest concern? Biggest surprise?
Most exciting to us is the accessibility to art that new technological tools and approaches provide, tools such as online viewing rooms and 3D exhibition renderings for example. Yet, there is also the risk of overburdening the viewer because there are just so many of these online spaces! We worry that the surplus of these digital presentations may lose their appeal. At the same time, however, we are positively surprised at the number of new collectors we were able to connect to through online platforms and our website. It seems that buying art online has become more widely accepted.
"Partner up with platforms that understand your philosophy, it is important to feel that you are being taken seriously and test fresh ideas, do not be afraid to try new methods. It's the only way to find out what works and what doesn't. Lastly, only work with people that are as passionate as you are about your work. " – Mónica Reyes
Targeting and generating audience engagement is at the forefront of most galleries' agendas. What tools or methods are you incorporating to reach and engage with your audience? Has there been a way that has been the most effective?
Artland is an exciting venue for us because of the fresh way it succeeds at connecting galleries with both young and seasoned collectors. Our mandate is to present the artwork of emerging and established artists and Artland offers a perfect fit in relation to what the Monica Reyes Gallery stands for, what we are about.
Managing an online digital presence can be overwhelming – what is some advice that you have for other galleries around the world who are looking to develop their digital strategy?
Partner up with platforms that understand your philosophy, its important to feel that you are being taken seriously and test fresh ideas, do not be afraid to try new methods. It's the only way to find out what works and what doesn't. Lastly, only work with people that are as passionate as you are about your work.
Over the last few months how as a gallery, have you encouraged growth amongst your artists and staff? As a gallerist, How have you personally been keeping motivated?
We are motivated primarily through continually working with artists on projects we care deeply about. We are up for the challenge of finding creative ways to present thought-provoking artwork for our community and beyond, and not least of all, to be able to place that work into collections. We are encouraged by the way the drive-by installations in our window and the Billboard Project has drawn new audiences to us and the way the public has interacted with them. We have received an overwhelmingly positive reaction to these works. Mostly we are inspired by the creativity and hard work of the artists we are fortunate to have the pleasure to work with.
To explore the Billboard Project and the current exhibition located in the gallery, bending water/fuzzy logic, featuring Bernadette Phan and Jayce Salloum click HERE.
By Meghan Corso