Art Fairs
Outsider Art Fair New York 2022:
5 Must-See Booths & Artist Highlights
By Adam Hencz
Outsider Art Fair – the only fair dedicated to showcasing self-taught art, art brut, and outsider art from around the world – has opened its 30th Anniversary New York Edition on March 3rd at the Metropolitan Pavilion and it's complemented by a unique online experience exclusively powered by Artland. The fair's both in-person and online editions run until March 6th and, besides a major presentation of psychedelic art and works from the collection of Michael Stipe, its offerings include 62 international exhibitors representing artists working beyond genres, on the borderlands between outsider and contemporary art. We have selected five of the exhibiting artists and gallery booths not to be missed at Outsider Art Fair New York 2022.

Explore the stunning Online Viewing Rooms of Outsider Art Fair New York 2022, exclusively on Artland.
Stellarhighway: Margaret Mousseau
Brooklyn-based Stellarhighway participates at Outsider Art Fair for the first time, showcasing works by two female artists: a series of ceramic masks by Margaret Mousseau and a selection of colored pencil drawings by Margaret Mousseau. The biographical and spiritual portraits and cutouts of Mousseau strongly reflect on the physical and mental hardships she has suffered since her teenage years. Drawing has become a refuge and a fruitful form of working through the traumas of putting her first, secret child up for adoption when she was only a teenager. In Mousseau's drawings, intense colors and patterns form figures and symbols that float, merge and assemble in a completely fluid fantasy world, where people, plants, and inanimate objects entangle.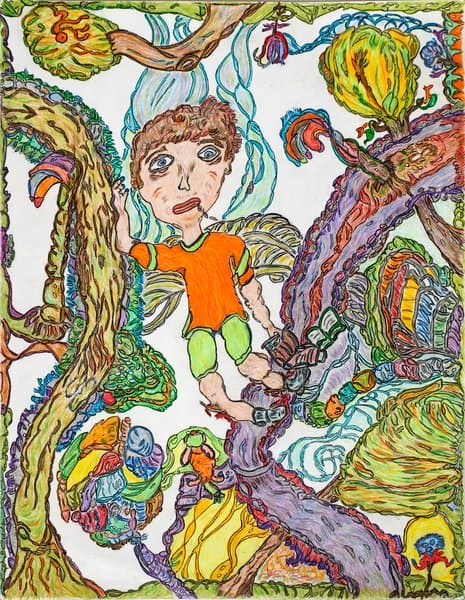 Shelter Gallery: Nicole Appel
With a particular focus on those who have been ignored or neglected by the art historical mainstream, Shelter Gallery has been a veteran at Outsider Art Fair. Known for her patchwork portraits, Nicole Appel gained an international audience through the gallery's regular presence at the fair. Each of her saturated pieces is an homage to important individuals in her life or significant memories from her past. Appel lives in Queens and works at Brooklyn's LAND Studio and Gallery, which she joined in 2016. Five of her signature drawing were recently purchased for the collection of renowned artist Kaws, continuing a years-long run of success in the art market.
SITUATIONS: Karlheinz Weinberger
Based in the Chinatown neighborhood of Manhattan, SITUATIONS promotes the work of both emerging and established artists like Swiss photographer Karlheinz Weinberger, whose work predominantly explores outsider cultures and rebellious male youth. A passionate amateur photographer over six decades, his work often focused on Swiss youth, which he documented with tenderness and a hint of irony. Weinberger has also published photos of male workers, sportsmen, and bikers in the gay magazine Der Kreis under the pseudonym of Jim.
ArTech Collective: Rayed Mohammed
First-time Outsider Art Fair exhibitor ArTech Collective is a studio program that provides opportunities for artists with intellectual disabilities to express themselves through inclusive approaches. Self–taught artist Rayed Mohammed works in the Collective's professional studio environment and creates drawings in solitude. Born in Yeman but currently based in Staten Island, Rayed Mohammed produces unique pieces are hyper-focused drawings that convey a complex visual language of repetition and meticulous details.
Hirschl & Adler Modern: Jeanne Brousseu
Hirschl & Adler Modern presents a curated selection of works by artists participating in the gallery's self-taught program, including never-before-seen pieces from Maine-based Jeanne Brousseau. The artist shares deeply private works with the public after keeping them secret for a very long time. They are vivid, strikingly imaginative drawings of both shape-shifting humans and beasts. Through these peculiar characters and forms, Brousseau tells the story of abuse she suffered as a child, a trauma she repressed until middle age when she turned to the act of drawing to heal and try to ultimately overcome the emotional pain she then suffered.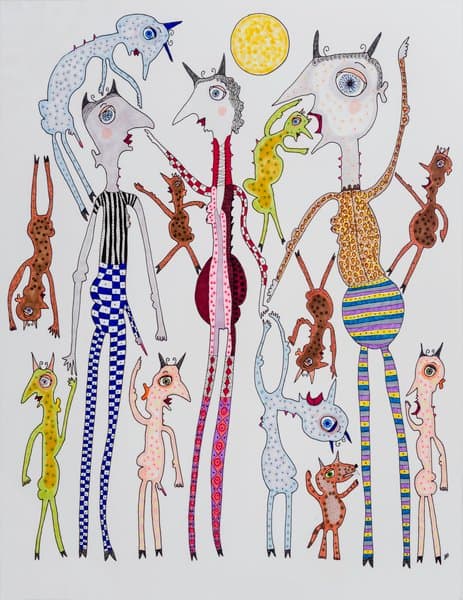 Wondering where to start?