Articles & Features
Portraits of America: Jasper Johns' Three Flags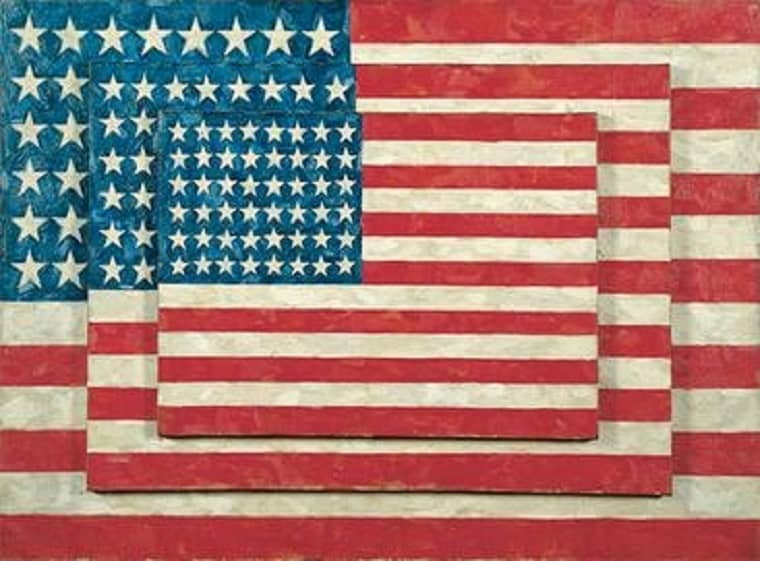 "Using the design of the American flag took care of a great deal for me because I didn't have to design it. So I went on to similar things like the targets—things the mind already knows. That gave me room to work on other levels".

Jasper Johns
As we move closer to the end of the full swing roller-coaster of election season, with candidates of both stripes seeking to convince the everyman, up and down and across the United States, that they are the best servers and custodians of the nation's interests, we look at some iconic Twentieth-Century artworks, considered, both at the time of their making and today, to be emblematic of American-ness. What that means depends largely on the work itself, and the manner in which the artist has chosen to represent their very own understanding of this notion. Sometimes satirical, often poignant, always compelling, Portraits of America shows us the many faces of a nation that, one way or another, is at the forefront of a global consciousness.
With the entire world waiting with bated breath for the results of the presidential race, this determining week we feature the iconic Three Flags by Jasper Johns – what could be more evocative than the American flag? However, as it happens for all symbols deeply embedded in the collective imagery, the flag holds an element of subjectivity: everyone ascribes a different meaning to it. Depending on one's background, nationality, and political tendencies, the painting may appear ironic, patriotic, or even subversive. Or is it instead a highly charged image drained of its significance to become a composition of colours and abstract shapes? It is in fact this ambiguity that makes Three Flags such an enthralling work.
The artist
The majority of mid-century art movements trace back to Jasper Johns' work – from Pop Art to Neo-Dada, to Minimalism to Concept Art – making him today, aged 90, one of the most celebrated living artists. Born and raised in South Carolina, in 1949 Johns moved to New York to attend the Parsons School of Design, although dropping out shortly after to work as a shipping clerk and then serving the U.S. Army for two years in the Korean War.
It was on his return to New York in 1953 that Johns met composer John Cage, and artist Robert Rauschenberg, two figures that would have a significant impact both on his private life and his career. Rauschenberg became Johns' romantic partner and introduced him to the vibrant intellectual life of New York surrounding Abstract Expressionists. It was also at Rauschenberg's encouragement that Johns picked up a paintbrush and began experimenting. Buckling the dominant trend, Abstract Expressionism, and the idea – typical of the movement – that artworks are the individual expressions of an artist's genius, the couple reintroduced fragments of reality into art through images and combinations of everyday objects, and, in doing so, they provided a critical departure from pure abstraction.
The story goes that in 1958, acclaimed art dealer and gallery owner Leo Castelli chanced upon Johns' work while visiting Rauschenberg's studio, "Just an incredible sight, something one could not imagine, new and out of the blue", he recalled.
From that moment on, Jasper Johns was catapulted in the art world: he had an acclaimed solo-show at Leo Castelli Gallery where his work caught the eye of MoMA director Alfred Barr to the point that he purchased four among Johns' works. Moreover, the artist's assemblage Target with Four Faces (1954) appeared on the cover of Artnews along with an article that coined the term 'Neo-Dada'.
Throughout his long career, Johns has worked in a variety of media – from painting to sculpture, but also lithography, etchings, and screenprints – although recurring concepts and imagery characterise his oeuvre, what he defined as "things the mind already knows": targets, maps, letters, numerals and, of course, flags – a plethora of signs and symbols that he turned into abstractions.
Jasper Johns'Three Flags
According to Jasper Johns' words, the idea of painting the American flag came to him in a dream: "One night I dreamed I painted a large American flag, and the next morning I got up and I went out and bought the materials to begin it. And I did. I worked on that painting a long time". Following the first Flag (1954), he would create more than 40 variations on the theme, experimenting with different colours and different materials, from the ghostly White Flag (1955) to the screen-printed Flags I (1973).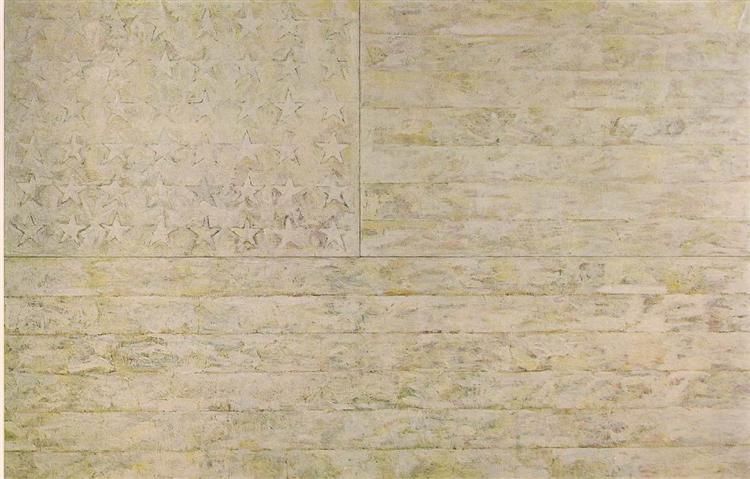 Some have argued that the American flag might have had a personal meaning to the artist, who was named after a Sergeant from the Revolutionary War – Sergeant William Jasper – who heroically died while raising the American flag over a fort. However, Johns deprived the icon of its emblematic quality and used it as an expedient to explore visual perception, and, ultimately, the meaning of art itself. This is particularly evident in Three Flags. The painting, realised in 1958, consists of three canvases of different sizes superimposed on one another. Each diminished in scale by about twenty-five percent, the smallest canvas projects outwards in a reverse perspective, giving the viewer the illusion of depth and the piece an object-like quality.
You must be wondering, if Jasper Johns has reproduced an already existing image, with its determined colours and composition, what is to be valued in his work?
The artist wanted to shift the visual emphasis of a familiar symbol from its meaning to its aesthetic qualities, in this case the American flag with its geometrical pattern of stars and stripes. He explained: "To me, the flag turned out to be something I had never observed before. I knew it was a flag and had used the word flag; yet I had never consciously seen it. I became interested in contemplating objects I had never before taken a really good look at. In my mind that is the significance of these objects".
Johns achieved his aim in two ways: firstly, by layering three canvases and using the entire flag as a repetitive pattern; secondly, by focusing the attention on the making process. In fact, he used encaustic painting, an ancient technique that involves mixing coloured pigments with warm wax. Rapid, energetic brushstrokes, reminiscent of Abstract Expressionism, congealed the moment they were applied, resulting in a heavily worked, almost sculptural texture.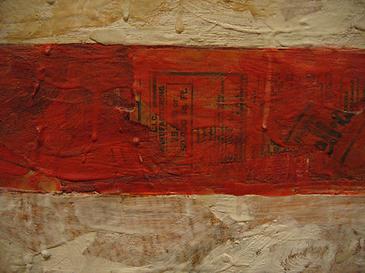 In 1980, the Whitney Museum of American Art acquired Three Flags for $1 million, then the highest price ever paid for the work by a living artist – a record that Johns would break multiple times during his career.
Significance and interpretations
With his Three Flags, Johns has transformed the most politically charged emblem into something more formal, so much so that he has always depicted the American flag with 48 stars, even though in 1959 Alaska and Hawaii became states, making it a total of 50. Clearly, he was interested rather in the aesthetics of the image than its meaning.
However, it is also worth considering the historical context of the painting, a Cold War America under McCarthyist repression, as well as the fact that Johns used to refer to his paintings as 'facts', therefore leaving them open to interpretations. In this light, Three Flags challenges our perception of the multiple meanings embedded in the American icon par excellence, especially in these days of political unrest.
Relevant sources to learn more
Whitney Museum of American Art
Recent exhibitions featuring works by Jasper Johns
For previous editions of our "Portraits of America" series, see:
Grant Wood's American Gothic
Cindy Sherman's Untitled Film Stills