Interviews
In Conversation with Sara Berner Bengtsson, Director and CEO of Market Art Fair
"The fair holds the special position of bringing people together, from wealthy collectors and powerful industry professionals to artists and general art lovers. We want to make the most of this platform by raising important voices and discussions."

Sara Berner Bengtsson
As we await for this year's iteration of Market Art Fair to open its doors, Artland had the pleasure to interview Sara Berner Bengtsson, Director and CEO of the fair.
Established in 2006 by galleries representing the Nordic countries, namely Denmark, Iceland, Finland, Norway, and Sweden, Market has become a trusted meeting point and marketplace in Stockholm, at the heart of the Nordic art industry. The 2023 edition will be held from May 12-14 at Liljevalchs Konsthall, with the addition of an ambitious new section at the nearby Spritmuseum.
Read on to learn more about this year's edition of the fair, its forward-looking program, and future developments.
How long have you been the Managing Director and CEO of Market Art Fair, and how would you best describe the fair's mission and goals? Have they changed or developed since the fair's foundation in 2006? If yes, how?
I've been the Director and CEO of Market since mid-pandemic 2020. Our first goal was basically to survive as the outlook didn't look very bright by then, a situation we shared with many event and arts organizations at that time. Now, (soon to be) three fairs later, we are welcoming a record number of galleries and collectors and are standing stronger than ever.
Since our founding by galleries from the Nordic countries, our aim has always been to strengthen the Nordic art scene. The way we do it has refined and evolved over the years, and now we are exclusively focusing on Nordic artists (by origin, residency, or artistic theme) but we welcome plenty of non-Nordic galleries, collectors, and industry professionals.
Market Art Fair presents and promotes contemporary Nordic artists represented by international art galleries. What are the fair's main criteria for selecting exhibitors? And what do the works they will be showcasing reveal about the character and current state of the Nordic art scene?
We are open to any gallery presenting Nordic artists, by origin, residency, or artistic theme, the gallery itself doesn't need to be Nordic. We love to welcome more non-Nordic galleries! We are also a bit special in the sense that our selection committee only consists of established art industry professionals operating in a completely independent way. The galleries are only selected based on the quality of the art they present and its Nordic relevance, not taking into account any position on the art scene or personal views. That means that the audience will meet ambitious and high-quality presentations at the fair.
That said, the commercial gallery scene is not a true and fair representation of the art scene. We still lag behind in regard to representation, both when it comes to non-white artists and artists from other historically marginalized groups such as Sápmi artists. We see more and more of this also at the fair, but we do have a responsibility to speed up the process.
Part of this year's rich program is Market Debut, an ambitious new section dedicated to up-and-coming talents. Can you tell us about the project, its objectives, and how it complements the fair's diverse program?
We wanted to expand the fair for a while now, as we have a surplus of great galleries interested in participating that we just don't have room for at Liljevalchs. When the opportunity of expanding to Spritmuseum occurred we wanted to do something that would benefit the art scene as a whole. Market Debut exclusively focuses on up-and-coming talent with seven young galleries that have never shown at the fair before.
The Nordic art scene is currently experiencing a new energy and impetus, with numerous galleries and artists making waves. Market Debut is our response to that dynamism and aims to ignite inspiring dialogues, connect, and build relationships between young galleries and Market Art Fair's strong network of collectors.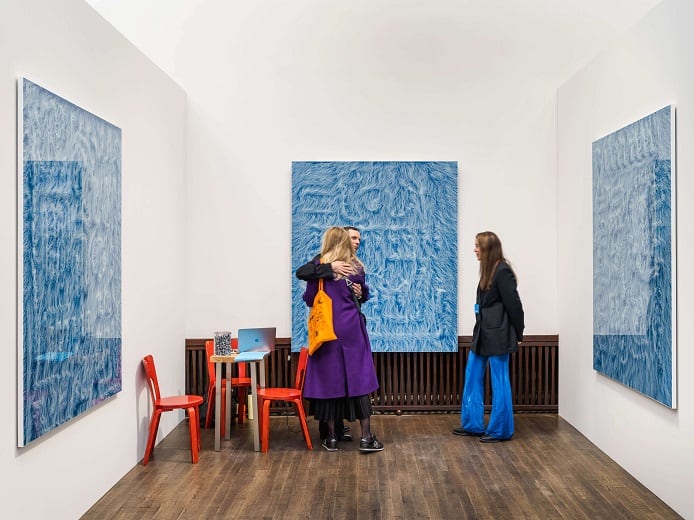 Another initiative seeking to engage your audience and gain insight through a global perspective is ART VOX at MARKET, a series of curated conversations with international industry insiders. Can you tell us a bit about it? And is there a dialogue or panel that you look particularly forward to?
Yes, that's something we are thrilled about. The fair holds the special position of bringing people together, from wealthy collectors and powerful industry professionals to artists and general art enthusiasts, and we want to make the most of this platform by raising important voices and discussions. I'm especially excited about having Dr. Thomas Girst, BMW Head of Culture give a talk. Although we are a Nordic fair, our standpoint is global and filled with wide-ranging insights and inspiration.
What do you see in the future of the art fair system, and how would you like Market Art Fair to grow and develop?
I think we are at a challenging time with the global recession, and here in Sweden we also have an extremist right-wing party with influence over cultural politics. Meeting places in the art world, both globally and regionally, will become more important – while we also must question the habit of flying all over the world.
For Market Art Fair, our space limitations are at the same time a blessing and a curse. While hosting the fair at Liljevalchs and Spritmuseum creates a unique and personal feeling, I sometimes toy with the idea of what Market Art Fair could be if we had the possibility of a global-fair setting like a huge tent or exhibition center and could double the number of
exhibitors. Maybe it's something we should do as a one-off event celebrating the fair's 20-year anniversary? Time will tell…
---
The digital iteration of Market Art Fair 2023 will run on Artland until May 28. Sign up here to get VIP access to the fair online and receive exclusive fair content.
Relevant sources to learn more
Other interviews you may like:
Why the Art World Needs Benchmarks for Online Performance – A New Tool for Industry Insiders and Insights From Pace
Private Art Collections in VR: Raphaël Isvy – Collector Interview
Other relevant sources
Visit Market Art Fair website here
Wondering where to start?