Exhibitions
Small-Town American Life Illuminated in the Photographs of Gregory Crewdson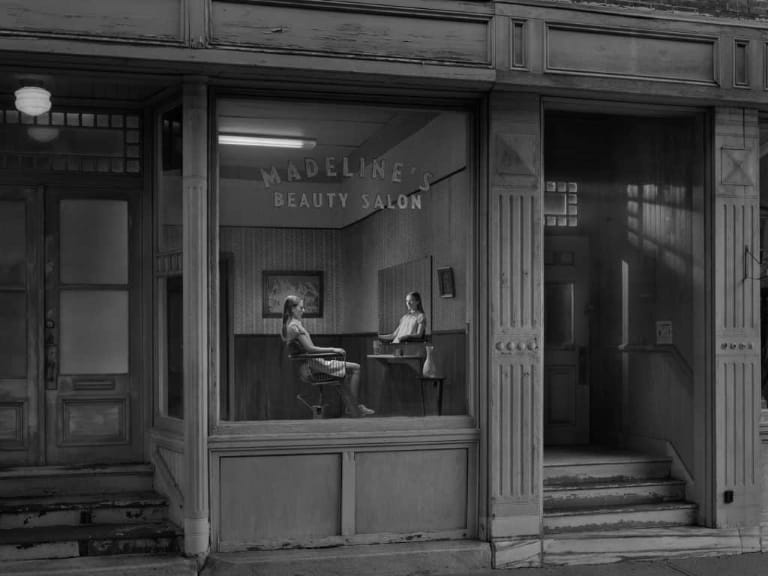 By Shira Wolfe
"…the result is a rich gothic atmosphere, evocative of film noir and classic cinema, but with the capabilities and clarity of the most current technology available in digital photography."

– Reflex Gallery
American photographer Gregory Crewdson may have been born in Brooklyn, NY, but rural Massachusetts is his chosen home. It is precisely in the small-town settings and forests of this part of the United States that he found his inspiration and direction as a photographer. Crewdson's career spans three decades, and his meticulously staged photographs capture lonesome figures in the streets, interiors, and surroundings of small-town America. His photography touches on the uncanny and is loaded with psychological drama hidden behind quiet, mundane, everyday scenes – important influences include the likes of David Lynch, Alfred Hitchcock, Edward Hopper, Diane Arbus, and Johannes Vermeer.
Crewdson's latest body of work, Eveningside (2021-2022), is currently on display at Reflex Gallery in Amsterdam. Simultaneously, Reflex Gallery's second gallery space, The Residence, is exhibiting a selection of Crewdson's earlier bodies of work: Beneath the Roses (2003-2008) and Cathedral of the Pines (2013-2014). The exhibitions are on view through May 6, 2023.
"It was deep in the forests of Becket, Massachusetts, that I finally felt darkness lift, experienced a reconnection with my artistic process, and moved into a period of renewal and intense creative productivity."

Gregory Crewdson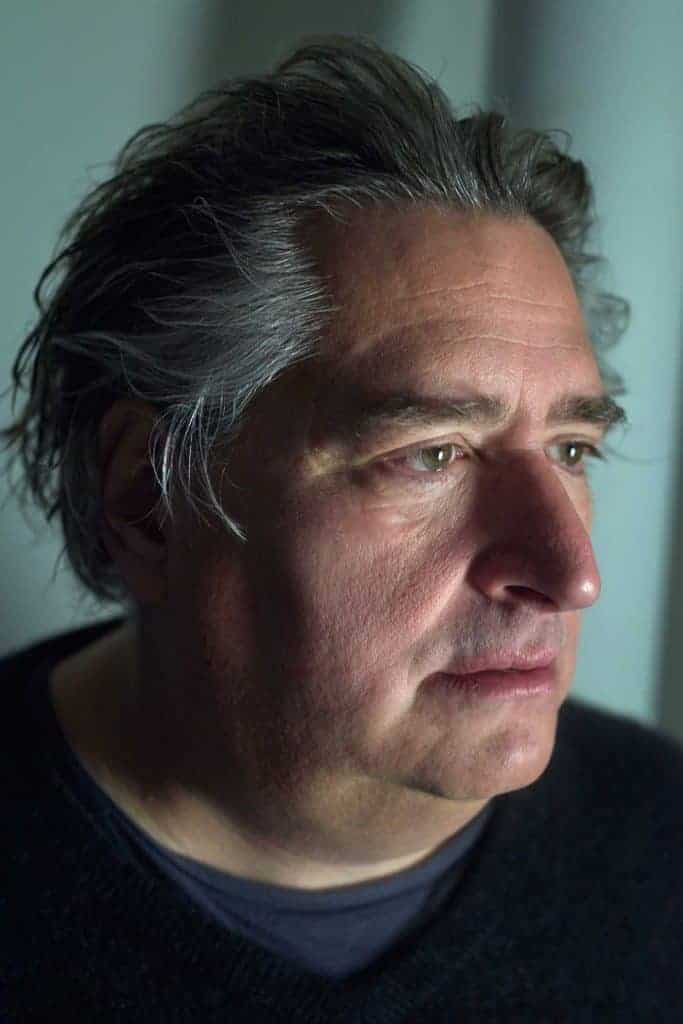 The Photography of Gregory Crewdson
Gregory Crewdson's photographs are always set in small towns that don't seem particularly special at first glance; small towns that one would usually just drive through quickly on the way to someplace else. Instead of driving on, Crewdson pauses here and asks us to look and reflect on these places. As someone who grew up in New York City and moved to a rural part of America, he is particularly attuned to finding the beauty, sadness, and realness of these parts. It's a particular kind of America that is so intriguing precisely because of its unpretentious, forgotten-about nature.
Working with analog photography in the past, and more recently focusing on digital photography, Crewdson uses elaborate lighting techniques and other effects to create his images, not to mention a film crew-sized team to help him realize his series. What is fascinating is the fact that Crewdson works with actual people from the towns he photographs, directing them in new roles he creates along the way to capture the perfect moment. In this way, the essence of everyday people's experiences and hardships is projected into the photographs, resulting in a set of images that we can consider both as an active call to pay attention to people living in the shadows of society, and an aesthetic whirlwind that can be as powerful as a feature film. We examine the three photo series on display at Reflex Gallery in Amsterdam, Beneath the Roses, Cathedral of the Pines, and Eveningside.
Beneath the Roses
Beneath the Roses took nearly ten years to complete. For this project, Crewdson worked with over a hundred people, a team worthy of the film industry. The 2012 documentary Gregory Crewdson: Brief Encounters, follows the photographer as he works on this expansive project. In it, we see how detailed Crewdson is in his work, and how precise he is about each object, each set, and each pose. In the documentary, he explains: "My pictures are about a search for a moment, a perfect moment." Through desolate townscapes and bleak quotidian interiors with no reference to any particular place or time, the atmospheric tableaux in this series reveal the psychology and drama of everyday life in small-town America.
Cathedral of the Pines
Between 2013-2014, Crewdson worked on his photo series Cathedral of the Pines, which was shot in and around the town of Becket, Massachusetts, where Crewdson found renewed inspiration and productivity, reconnecting with his artistic process. The characters in this series live in the surrounding forest area, and we are allowed seemingly sacred glimpses into their lives. What are the stories that are playing out between the man and woman in Pickup Truck, nude in a truck in the middle of the forest? And the person who is standing stock-still in the freezing snow, or the woman from Woman at Sink, pausing from her household duties as she contemplates her life?
While working on Cathedral of the Pines, Crewdson took inspiration from Johannes Vermeer and the depth of stories he invokes through his subtle, still and focused genre paintings of people in their intimate home spaces, or in the midst of carrying out some menial task. The current Vermeer exhibition at the Rijksmuseum in Amsterdam, not far from Reflex Gallery where Crewdson's photographs are being shown, offers an interesting counterpart to this exhibition, allowing for a deeper reading of Crewdson's work.
Eveningside
Gregory Crewdson's Eveningside series comprises his first full monochrome series of photography made using his full cinematic lighting team. The stillness, loneliness, and mystery lurking behind the mundane routines in rural America are conjured here – we see figures in their place of work, or taking a break underneath a railroad bridge in between their cleaning duties like the exhausted-looking women in 8 to 10 Cleaning Services. Crewdson plays with light and darkness and elements like fog, rain, smoke, and haze to create an atmosphere that is reminiscent of film noir and classic cinema, while using digital photography and a large production and lighting team to achieve his exact vision for each photograph.
Images like The Lounge and Pleasure St. show waitresses musing on solitary moments. In The Lounge, the character is in the middle of her shift but stands stock-still, staring out the window while a customer sits on his own with his back facing the viewer. It's a real Edward Hopper moment where these figures may occupy the same space, but seem totally absorbed in their own inner landscapes. In Pleasure St., the waitress sits outside the diner, taking a break, immediately conjuring up scenes from David Lynch's Twin Peaks and all the sad, intense, and incomprehensible human stories behind each character.
Madeline's Beauty Salon shows, through the window, a young woman all alone in a beauty parlor, joined only by her reflection in the mirror. The question arises of where she can go in this desolate town to feel young and beautiful. And what of the two men in The Ice Machine? One sits huddled on the back of a pick-up truck, as his companion stands stock-still in the middle of the street in front of an ice box outside a convenience store. He seems lifeless, instantly calling to mind scenes from John Carpenter's classic horror movie The Fog, in which a small American town is haunted by zombies who appear with the fog rolling in. Here, the character from Jim's House of Shoes also fits in well. The female shopkeeper stands in the display of a shoe store with a "help wanted" sign, all alone, a strange mannequin-type human staring at herself in a mirror like someone hovering between the living and the dead.
Crewdson prints his photographs in large formats, which amplifies the cinematic experience for the viewers who immerse themselves in his meticulously created worlds. It's both familiar and unsettling here – driving through the vast American midlands, it is likely one will come across such scenes, and at the same time, they feel like snapshots from a time past. That's exactly the power in Crewdson's photographs, the fact that he points the viewer to the fact that these American scenes have always been there, and still exist today, as soon as you move behind the big cities and venture deeper into the landscapes of this endlessly contradictory and contrasting country. 
Relevant sources to learn more
Staged Photography: Top 10 Artists
The Grainy Textures & Dreamy Atmospheres of Contemporary Impressionist Photography.
Architectural Photography: Top Photographers of Yesterday & Today
Five Photography Monographs Everyone Should Know
Other relevant sources:
Explore exhibitions and works for sale at Reflex Amsterdam
Wondering where to start?