Articles and Features
Female Iconoclasts: Shigeko Kubota, the Mother of Video Art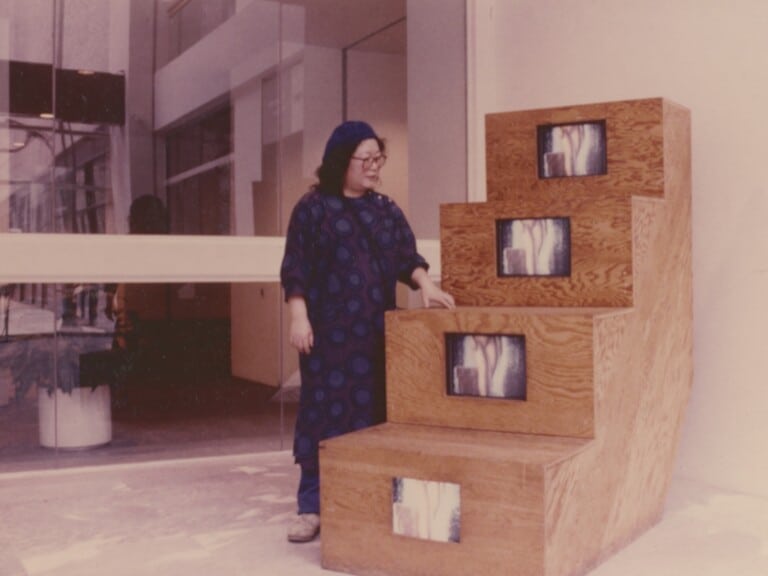 By Adam Hencz
"I'm a sculptor. I want to make video, but I also want to make objects. The video part is my mirror for my memory, or my life, but the object is creating my creation."

Shigeko Kubota in 1983
Shigeko Kubota, now frequently referred to as 'the mother of video art', was a New York-based visual artist, curator, and writer from Japan, as well as a key figure of the Fluxus movement in New York City. Best known for her Vagina Painting performance from the 1960s, her video sculptures and signature series Duchampania integrating video into three-dimensional structures have become icons of the development of the moving image throughout the twentieth century.
Biography of Shigeko Kubota
Kubota was born in 1937 in Niigata, Japan, to an artistic family. Her grandfather was a Nanga painter, her mother was a music teacher and her aunt was a dancer. Her family encouraged her to pursue her artistic interest from a young age to the extent that, by the end of high school, she had already been recognised for her painting skills with her Sunflowers (1954) being admitted at the Nika-kai exhibition. She attended Tokyo University of Education (now Tsukuba University) to study sculpture.
Living in Tokyo
In Tokyo, Shigeko Kubota pursued her interest in sculpture with several apprenticeships and started experimenting with abstraction, submitting her works to exhibitions around the city. Throughout that time, she lived with her aunt, the dancer Chiya Kuni, who introduced her to the Tokyo avant-garde community. Throughout the 1960s, Kubota attended a number of experimental performances and anti-establishment happenings at the Sogetsu Art Center in Tokyo, in collaboration with contemporary art groups such as Hi-Red Center and Group Ongaku. This is where she first saw John Cage perform, and came in contact with the New York avant-garde scene, and connected with some of the artists she would later work or live with. In particular, Kubota became friends with Yoko Ono, who would become her direct connection to the innovative American art scene.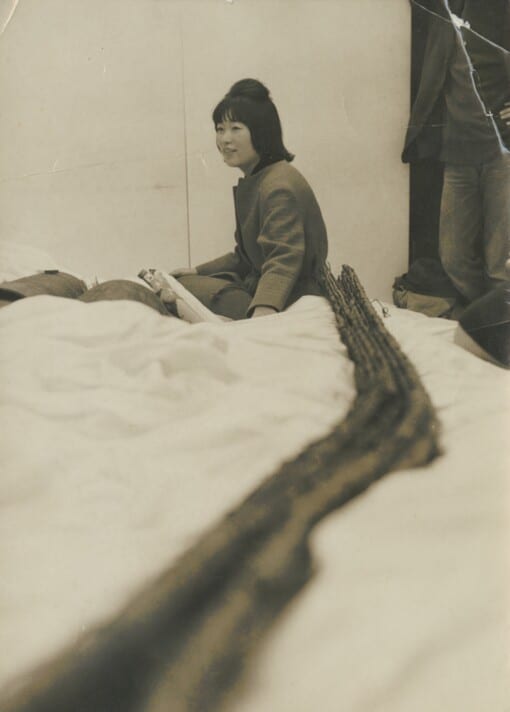 In December 1963, Kubota had her first solo exhibition titled 1st Love, 2nd Love…, a participatory installation and conceptual instruction work happening at Naiqua Gallery. A conspicuous venue, Naiqua was a kashi garō, a rental gallery that was part of the country-wide rental gallery system offering autonomy and support to artists in 1960s Tokyo. Disappointed and upset for the scarce interest of Japanese critics in most avant-garde art and the lack of reviews of her first solo show, in addition to the hardships to expand her career in Japan, Kubota decided to move to the epicenter of the Fluxus art scene and arrived in New York City in 1964.
Shigeko Kubota in New York: Fluxus and Performance
Kubota moved to New York with fellow artist Mieko Shiomi at the invitation of the founder of Fluxus, George Maciunas, to join the loosely organised, SoHo-based art group. Kubota was absorbed with the central ideas of the movement of blurring the lines of art and life and creating performance-based artworks that relied on elements of chance and – often – social critic. Around this time, she performed what is now her most notorious work, her ground-breaking Vagina Painting (1965). Her performance involved her attaching a paintbrush to her underwear, performing a painting piece on the ground. The strokes of pale red paint resembled menstrual-like stains, and the gestural painterly act also evoked the traditional geisha world and their performance, in which they drew calligraphy with a brush in their vaginas to entertain their guests. The performance was seen as a clear comment and feminist response to the tradition of the masculine action painting by figures of abstract expressionism like Jackson Pollock. Even though Vagina Painting was Kubota's most explicit work about gender in art, she expressed, that she does not characterize the work as "feminist", as she is of the opinion that art has no gender.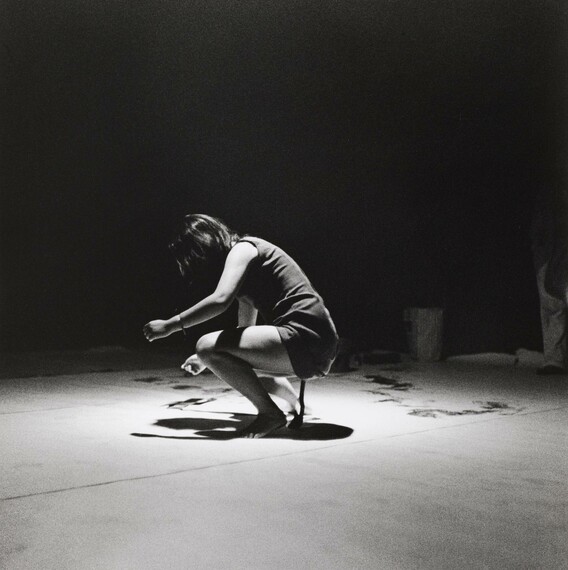 New technologies and video art
Kubota was captivated by the technologies that proliferated in modern life in the 1960s and 1970s. Besides being a key figure in connecting the American and Japanese art scene at the time, she was also writing about and covering exhibitions in New York City. During this time she wrote a review of the TV as a Creative Medium exhibition at Howard Wise Gallery in 1969, whereupon she took up video and started developing her own practice around the new medium. In 1972, Kubota co-founded the feminist video collective Red, White, Yellow & Black, and even though they only performed twice together, the experience helped Kubota solidify her interest in video.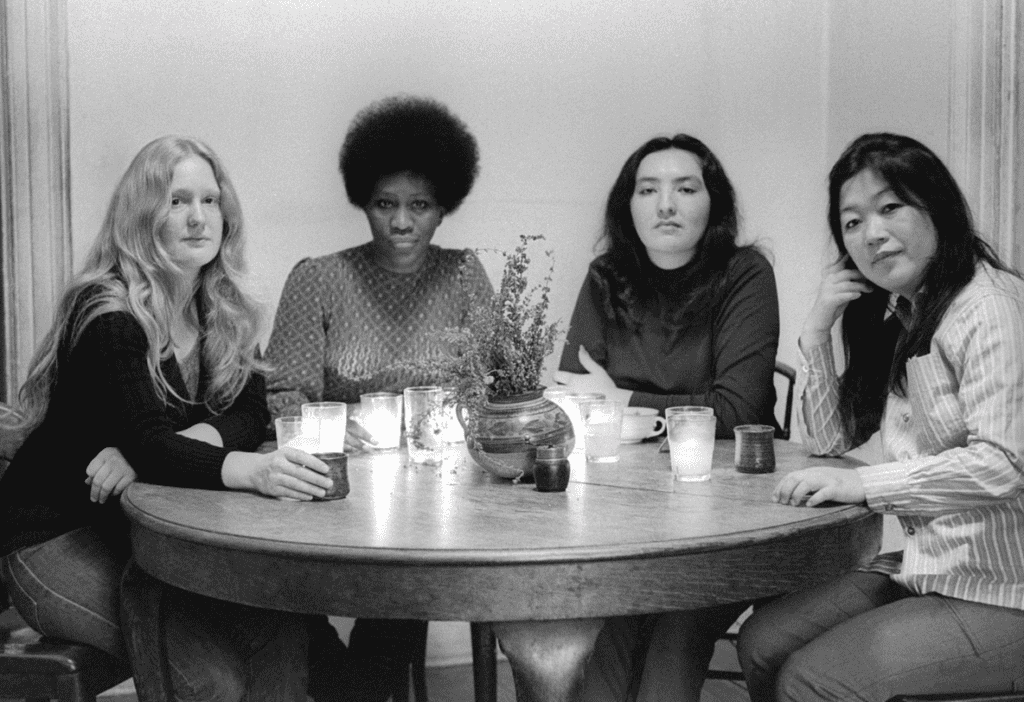 Video diaries
From the mid-1970s, Kubota separated her practice into two categories, namely video diaries and video sculptures. Her video diaries consist of both raw and edited footage from her personal life as well as scripted proposals for future edits. With the advent of the Sony Portapak portable camera, making moving pictures became cheap and easy, and artists around the world did not need the blessing of the narrow art world or movie industry to use the medium as a vehicle for articulating a diverse range of cross-disciplinary activities. Most importantly, video allowed artists like Kubota to document daily life and performances that are otherwise tied to a specific interval in space and time and are only limited to intimate circumstances and environments.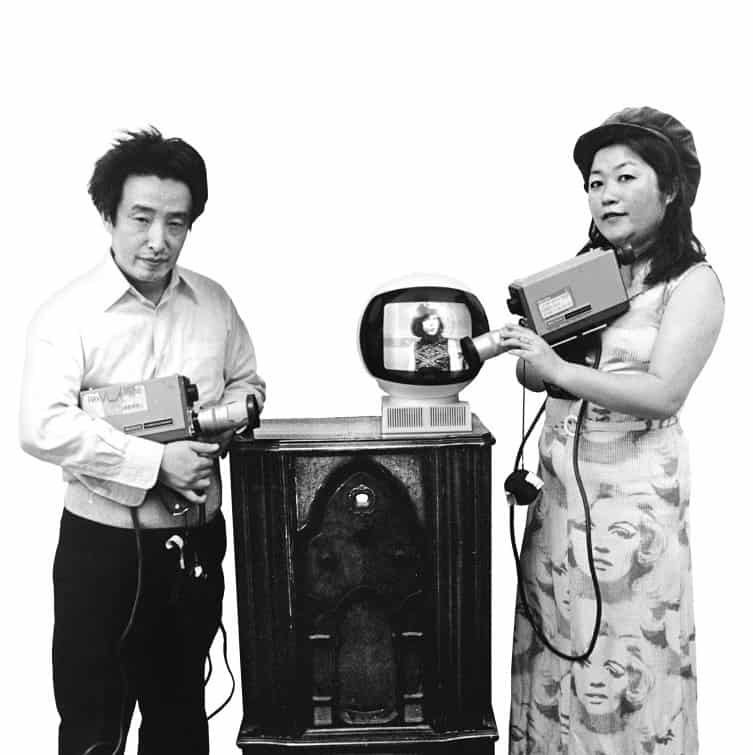 Video sculptures
Unafraid to use new technologies as raw materials reimagining and reengineering them into hybrid works bridging video, sculpture and performance, Kubota's video sculptures combined her new encounters with video with her formal training of sculpture. The artist's two formative encounters with Marcel Duchamp also propelled her to create her signature Duchampiana series, a homage to the Dada master. The series included the work Nude Descending a Staircase (1976), a subject of a crucial project exhibition in 1978 at MoMA, which subsequently led to the museum's acquisition of the work in 1981. This video sculpture, the first of its kind in the museum collection, had also eventually paved the way for the creation of the curatorial department and conservation at MoMA dedicated to multimedia and ultimately performance.
Video was an elastic tool in Kubota's hands, and along with prominent video artists like Joan Jonas, she also used the medium to consider and critique how women were represented in film and on TV, taking control of the means of production and distribution.
A fellowship in Berlin in 1979 initiated one of the most productive periods of Kubota's life, and she began building and exhibiting video sculptures across the United States, South America, Europe and Asia and had many major exhibitions of her work from the 1980s into the 1990s. An emblematic work she created in this period is Korean Grave (1993), a work dedicated to her husband. Kubota had been together with fellow video art pioneer Nam June Paik since the 1970s, supporting each other's dynamic lives until Nam June's passing in 2006. Kubota made tributes to her beloved partner through various video works and through a written memoir.
Shigeko Kubota: Liquid Reality
Already in her lifetime, a 1991 retrospective exhibition on Kubota's work was held at the American Museum of the Moving Image, which traveled both through Japan and Europe. Yet, the scope of her practice had been sidelined by mainstream art historical narratives until the past couple of years. In late 2021, both the MoMA and the Museum of Contemporary Art Tokyo arranged major surveys on the art and life of Kubota, the first ones in nearly three decades. The MoMA exhibition, Liquid Reality captures the relevance and elevation of Kubota's video sculptures while Viva Video! in Japan works from the archives, and displays many never-before-seen works of the artist. After her passing in 2015, the Shigeko Kubota Video Art Foundation was established at the artist's request, located in her historic home in SoHo, with a mission to preserve Kubota's legacy and to facilitate research on both her artistic and curatorial practice while also promoting wider histories of video art.
Wondering where to start?