Articles and Features
Sonia Delaunay: Pioneer of Abstract Art Between Fashion & Painting
"I love creation more than life, and I must express myself before disappearing. "

Sonia Delaunay
Sonia Delaunay was a multi-disciplinary pioneer of abstract art and a prominent figure in the avant-garde scene in Paris during the early 1900s. Not only did she work with painting, but she was also involved in Art Deco fashion design and textile creation amongst other media. Most notably, Sonia and her husband, Robert Delaunay, came together to pioneer the art movement Orphism and its strand Simultanism, in which they explored the uses and applications of color to create new dimensions within pieces. Read on to find out about Sonia Delaunay's abstract art, her influences, and life.
Who was Sonia Delaunay?
Sonia Delaunay was born Sarah Stern in 1885 in Odessa, Russian Empire, to Jewish parents. At a young age, she moved to St Petersburg with her family. While her parents worked, Sonia's uncle, Henri Terk, cared for her. Henri was a wealthy and successful lawyer and his wife Anna took an interest in Sarah to the extent that in 1890 the Terks decided to adopt Sarah with the aspiration of providing her with a better life. From this moment, she assumed the name Sonia Terk.
During her childhood, she spent summers in Finland and traveling across Europe. The Terks introduced her to many museums and galleries and ensured that she received a good education. At school in St Petersburg, she began developing her art skills early, and at her teacher's suggestion, she was sent to the Academy of Fine Arts in Karlsruhe, Germany at the age of 18. She studied there until the early 1900s when she made the decision to move and settle in Paris.
Pioneering abstract art
Upon arriving in Paris, she enrolled at the Académie de La Palette in Montparnasse. Yet, she took a dislike to the strict and rigid methods of teaching and decided to break away from traditional approaches to art. Instead, she started spending much of her time in small galleries around the city, mixing with local artists and developing her own, unique artistic style. It was at a gallery in Paris that she met Robert Delaunay. An avid art lover and a revolutionary artist himself, he would become her husband in 1910, establishing one of the most solid romantic and artistic partnerships in art history. Together they developed an artistic movement that would be synonymous with the pair well beyond their deaths – Orphism.
Influences in Sonia Delaunay's art
During her time in Paris, Sonia and her husband were influenced by artistic movements such as Cubism, Fauvism, and Futurism. They mixed these influences with their own singular flair to create truly unique artworks.
Painting
Sonia and Robert took great interest in the Cubist works that were appearing in Paris in the decade after they were married. They decided to follow this approach to painting but prioritizing color over form experimentations instead, and adding light and musical qualities to their art.
In 1913, as a result of continued exploration with this style, the Delaunays' friend, the poet, and art critic Guillaume Apollinaire attributed the term "Orphism" to describe their idiosyncratic version of Cubism, reminiscent of the ancient combination of art and music embodied in the mythological musician and poet Orpheus. Yet, Sonia continued to explore this artistic movement and branched out into 'Simultanism', a strand of Orphism. It was heavily inspired by bright, geometric paintings and prints and focused on the possibilities of different color combinations. These "simultaneous" images occur when one design is placed next to another and they intermingle on the canvas causing the viewer's eyes to mix the colors with one another.
Fashion
Although she had been interested in fashion and clothing from an early age, it wasn't until later during her time in Paris that she began working in this field. In 1917, her aunt cut off Sonia's financial help due to the Russian Revolution and its economic consequences for the family. As a result, she devoted herself to creating clothes as a means of making money. Tapping into Art Deco, not only did her designs become very popular, but also Sonia Delaunay's textiles became widely sought after. Although she made clothes for private clients and friends, in 1923 she created fifty fabric designs using geometrical shapes and bold colors, commissioned by a manufacturer from Lyon. This led to her opening a store in 1924, the Boutique Simultané in Paris. Following this, she designed costumes for sets and theatrical performances.
Later life
Sonia Delaunay remained in Paris, designing clothes and making art for the remainder of her life until she died in 1979, aged 94. To celebrate her work and life, Sonia became the first living female artist to be given a retrospective exhibition at the Louvre, in 1964. Her work was so well-regarded by members of the art world that it would later be shown at institutions including the Musée d'Art Moderne de Paris, the Musée des Arts Décoratifs, the Centre Pompidou, Tate Modern, and Cooper Hewitt, Smithsonian Design Museum.
Famous paintings by Sonia Delaunay
Exploring the relationships between colors, Sonia Delaunay has created deep and dynamic works often celebrated as an ode to modernity. We explore some of her most famous paintings.
Yellow Nude, 1908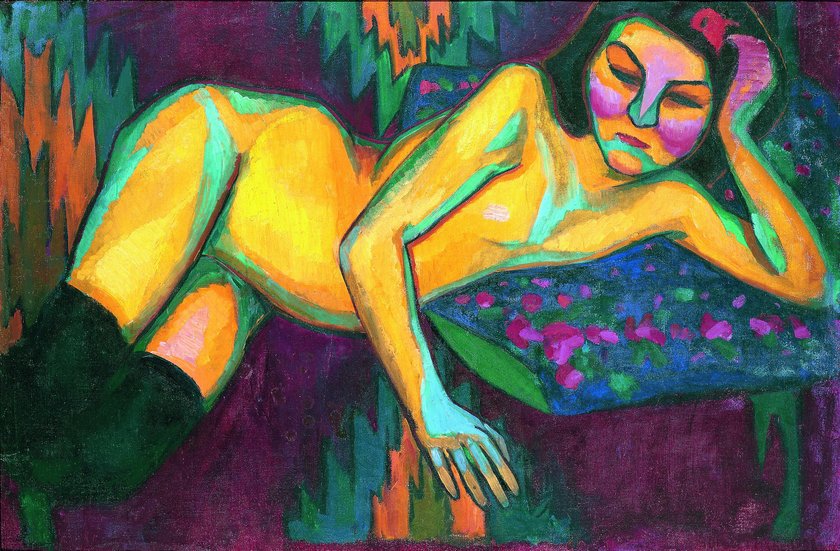 One of Delaunay's earliest works, Yellow Nude (1908) was shown at her very first art exhibition in Paris in 1909. The image presents a nude woman, whose skin is composed of warm yellow tones. Delaunay contrasted this warmth with the emerald tones surrounding her body. The woman's face is mask-like, with no visible effort to make her appear attractive, placing the painting within the realms of modern art.
Electric Prisms, 1914
Electric Prisms (1914) is one of Sonia Delaunay's paintings that most reflects her roots in abstract art. This piece was inspired by newly installed streetlamps that she and her husband saw when walking in Paris at night time. The painter tried to recreate the artificial glow from the light in this work. The geometric shapes and color are clear examples of her experimenting with the principles of Orphism.
Simultaneous Dresses (Three Women, Forms, Colours), 1925
Capturing Delaunay's love of fashion, textiles, and art, she created Simultaneous Dresses (1925) for her exhibition held at the Grand Palais in Paris in 1926. She began designing clothes in the 1910s and was a successful fashion designer. In this work, she transferred the result of her experiments on paper as a fashion designer to the canvas.
Rhythm Colour no. 1076, 1939
Rhythm Colour no. 1076 (1939) is another piece representing her interest in Simultanism and love of Abstractionism. By using color in a bold and exuberant way, as well as a series of geometric shapes, she was able to evoke different rhythms and depths on her canvases.
Relevant sources to learn more
Click here to read more about Sonia Delaunay on The Guardian.
Discover and Buy Art for Sale