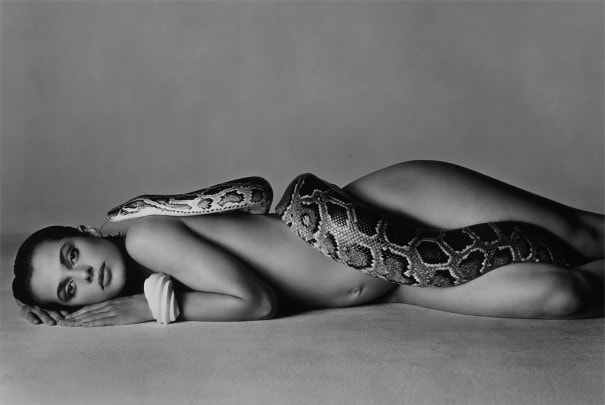 "Kinski was completely calm and in control and professional, even as she lay on cold concrete for hours with the snake hooked around her feet."


Sotheby's Head of Photographs, Brandei Estes
By Tori Campbell
Nastassja Kinski and the Serpent
All works of art carry innately personal stories about how they came to be. Artland's Stories of Iconic Artworks series investigates these stories, elucidating the anecdotal narratives and received histories associated with seminal, iconic or just famous works of art made by artists renowned for their innovative contributions to their chosen media. What were the conditions that contributed to the creation of the work, what were the human choices, interactions and stories that brought the piece into existence? In our last edition of our Stories of Iconic Artworks series we explored Frida Kahlo's The Two Fridas, while this time we uncover the backstory of one of the most reproduced photographs of all time: Richard Avedon's Nastassja Kinski & the Serpent.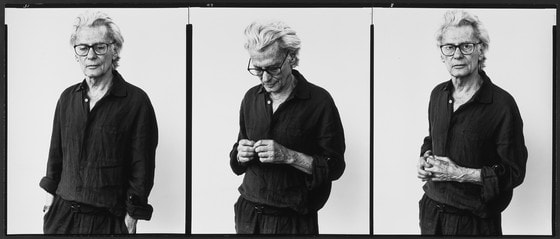 "I am always stimulated by people…almost never by ideas."

Richard Avedon
Richard Avedon
Richard Avedon (May 15, 1923 – October 1, 2004) was an acclaimed fashion photographer who pushed the boundaries of his medium to the limits, blending editorial images with innovative perspectives to create photographic works of fine art. Born in New York City to parents in the retail industry, Avedon was exposed to fashion and style from a young age, stepping into the world of photography at the age of 12 when he became a member of the Young Men's Hebrew Association Camera Club. Avedon's early career trajectory was not linear — after dropping out of a poetry degree at Columbia University he found himself working as a photographer for the Merchant Marines, largely responsible for providing identification photographs. He ventured forth with his photography education under the tutelage of Alexey Brodovitch, former director of Harper's Bazaar magazine, at the Design Laboratory at the New School for Social Research.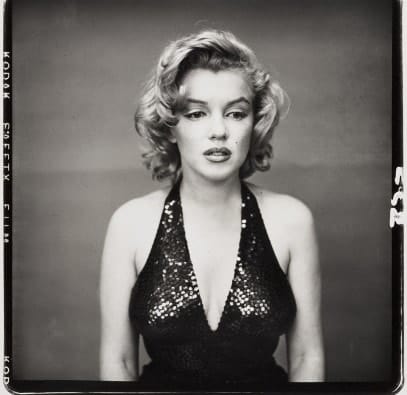 Avedon had made an impression on Brodovitch, whose endorsement enabled the young photographer to set up his own studio where he could provide prints for magazines like Vogue, Harper's Bazaar, and Life. Contrary to the predominant style at the time, Avedon's fashion photography featured models captured in lively poses, moving, smiling, and full of emotion. He also chose to explore lighting, set, angle, and photographic technique, bringing a fresh energy to his medium; and pushing the limits of what fashion photography could be. His approach of seeking to capture the personality and soul of his subjects elevated his work from mere editorial fashion images solely created to sell clothing, to fine art pieces — conveying and eliciting complex emotions. His talent and perspective led him to photograph noted personalities across more than five decades, including such diverse subjects as Marilyn Monroe and Hillary Clinton.
Nastassja Kinski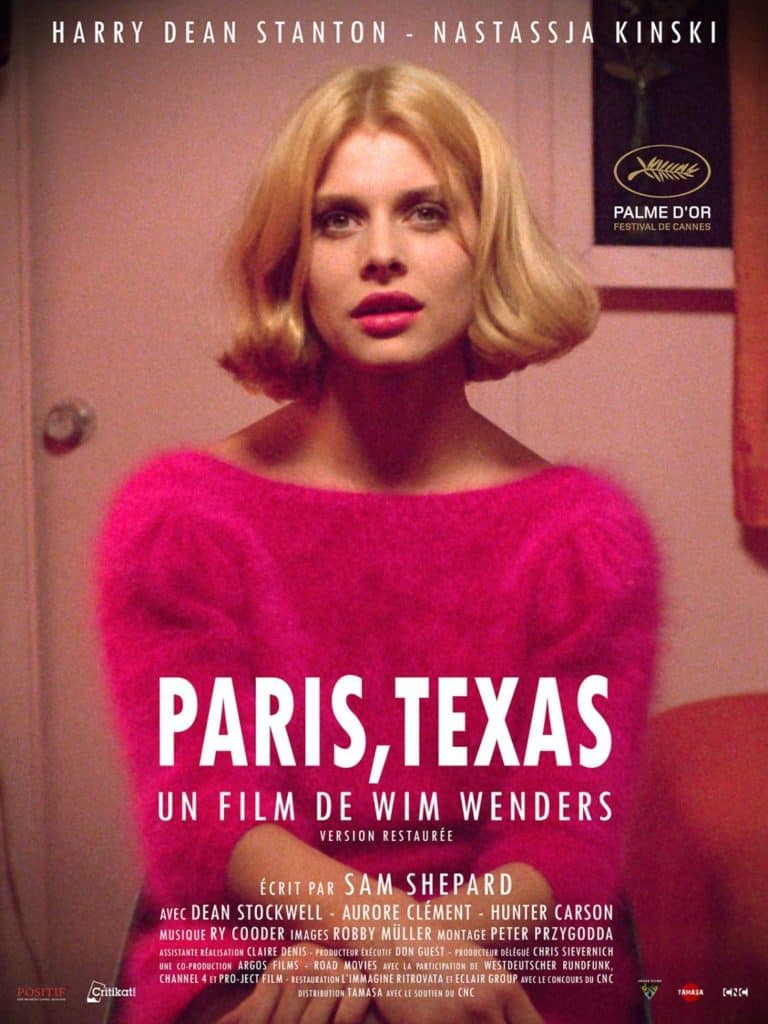 Nastassja Kinski (January 24, 1961- ) is a former model and actress that reached the peak of her fame in the 1980s — becoming one of the most famous actresses, muses and personalities in the world at that time. Born in West Berlin as Nastassja Aglaia Nakszynski, she began modelling as a teen and scored her first film role in Wim Wenders' The Wrong Move. In this film she appeared topless, something of a scandal at the time, while just two years later (in 1976) she had secured her first major roles, appearing fully nude in the British horror film To the Devil a Daughter. This same year Kinski met director Roman Polanski at a party, who encouraged her to study method acting in the United States. This education led to her award winning performance as the title character in Tess, directed by Polanski himself in 1979.
Allegedly, Polanski and Kinski entered a romantic relationship in 1976, when Nastassja Kinski was 15 years old (Polanski was 45 at the time). Both have denied this speculation. However, Kinski has since reflected on the nude scenes she was involved in during her early career, explaining that she felt exploited by the industry while young and vulnerable. Despite this discomfort, Kinski flourished in her modelling and acting career — appearing in over 60 different films around the world including Wim Wenders' critically-acclaimed hit Paris, Texas . Nastassja Kinski ultimately became a sex symbol and came to embrace this role, actively and independently taking part in the eroticism and sexualization of her form. Her role as sex symbol reached its climax when she and famed photographer Richard Avedon met for the photoshoot that resulted in the iconic image that came to be titled Nastassja Kinski and the Serpent.
Nastassja Kinski and the Serpent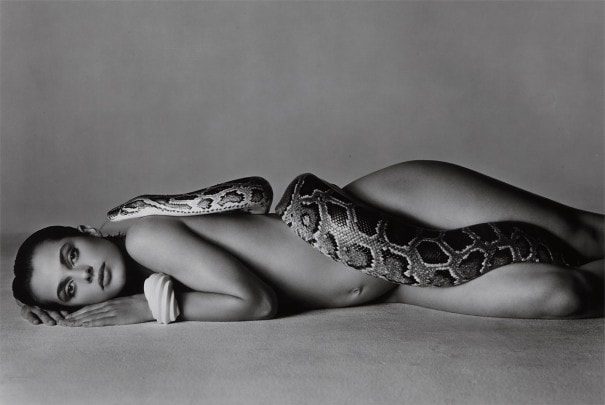 With both Nastassja Kinski and Richard Avedon at the height of their careers, their two-hour long photoshoot created an iconic image that would stand the test of time. The two united in 1981 for a fashion editorial photoshoot commissioned by US Vogue, with the grand dame of fashion herself, Diana Vreeland, recruiting one of the world's most renowned photographers to capture the celebrity woman du jour. After a relatively humdrum opening with somewhat conventional fashion pictures resulting, the on-shoot mood was less than inspired. According to Vogue stylist Polly Mellen who worked on the shoot, it was Kinski herself who suggested that the addition of a snake would provide an extra punch to the images. This observation came to be something of an understatement, as a huge boa constrictor was brought to the set to lay upon the naked 21-year-old starlet. Reportedly, after hours of attempting to coax the snake into the ideal positions it finally snaked its way up the young actress' body with Avedon patiently on hand to capture the split-second perfection of the serpent flicking its tongue into Kinski's remarkably poised ear. The timeless sensuality of the image, alluding to the centuries-old story of Eve and the snake, is immortalised by Avedon; pushing past the photographer's comfort zone and into the erotic. And while Kinski is sexualised it is evident that she herself holds this power — stoic and in control, both in front of and behind the lens.
Though originally created as an editorial image, the only fashion artefact present in the image is the Patricia von Musulin bracelet on Kinski's wrist, a detail that the Vogue editor at the time came to regret. However, the jewelry did not detract meaningful attention from Kinski, as when Condé Nast quickly put this image into production as a poster, after it had first graced the cover of US Vogue, it became one of the most reproduced posters in history, becoming a staple for hormonally inflected college dorms and high school boys' bedrooms the world over. It also became one of the most referenced fashion images of all time, recreated most recently for Vanity Fair with actress Jennifer Lawrence in front of the camera, and famed lensman Patrick Demarchelier behind it.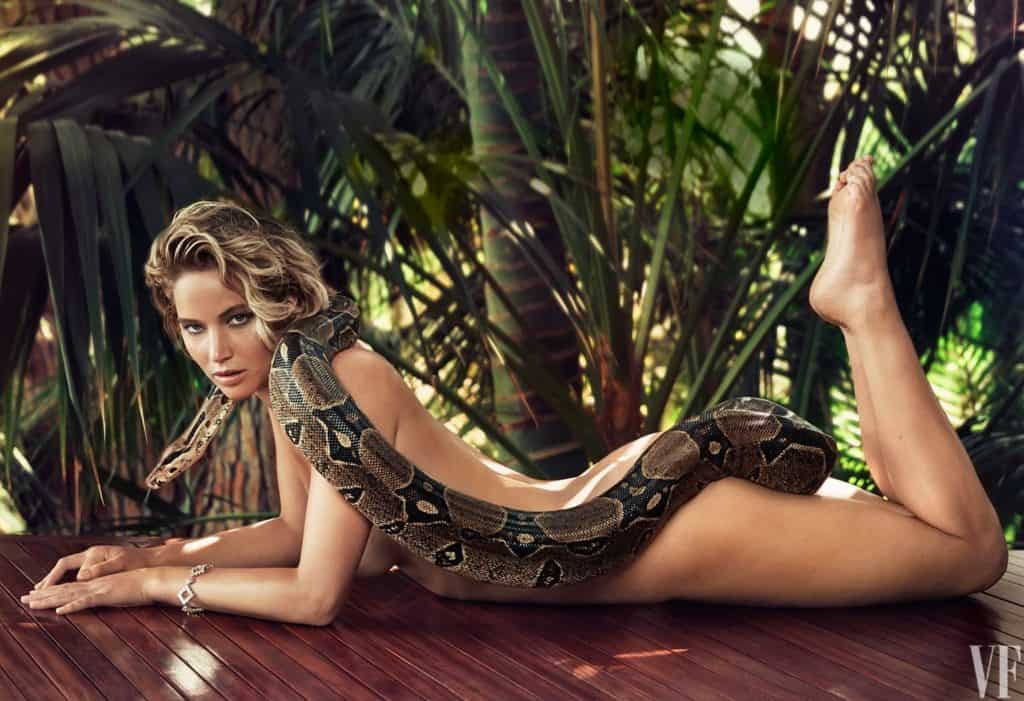 Nastassja Kinski and the Serpent has been capturing the attention of generations. While the photograph may depict one of the most famous actresses of the time, shot by a renowned photographer, its true power and eroticism lies within its subtlety, reference to historical allegory, and miniscule details. As Mellen explains, "It was magical, completely magical when the snake kissed her and the tongue went into her ear, that was it. The shoot was over."
Relevant sources to learn more
Purchase this work on Artland's marketplace
Learn more about Avedon's work with the NYTimes