Articles and Features
The Digital High Five: DIE GALERIE, Frankfurt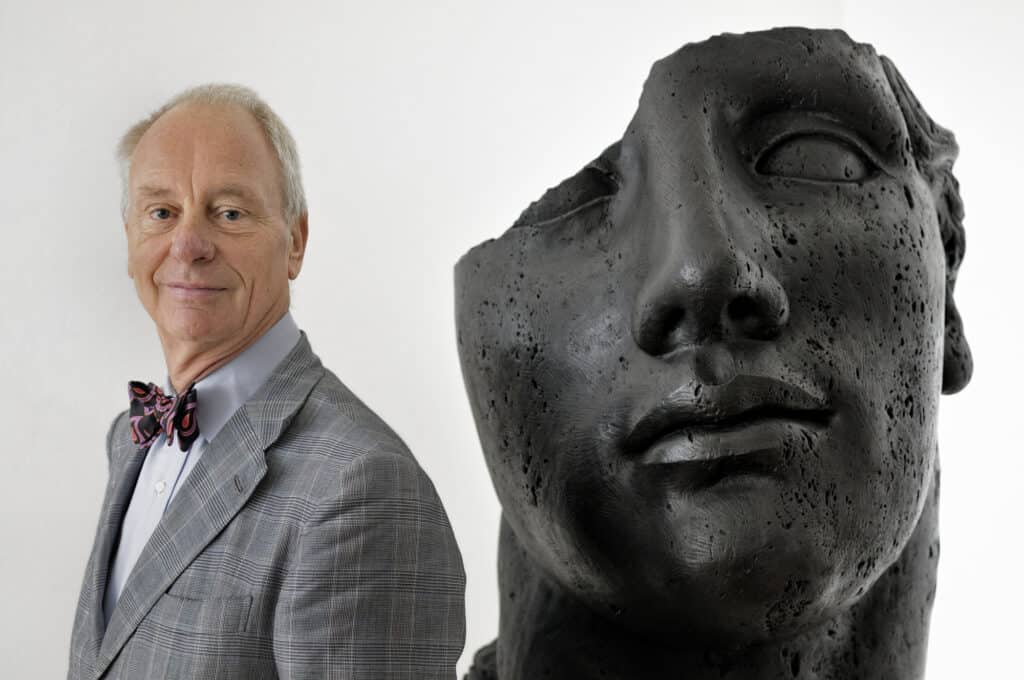 The Digital High Five is Artland's bi-weekly interview series featuring one of our partner galleries. We have created this series to connect with galleries, share insight, and shed light on initiatives that are taking place within our community.
This week we have the pleasure to feature DIE GALERIE and speak with gallery owner Peter Femfert to talk about the gallery programme, art and tech crossovers, and much more.
Founded in 1979 by Mr Femfert himself, and located in Frankfurt am Main in Germany, DIE GALERIE hosts about five exhibitions per year – both solo and group shows – with a focus on the most notable 20th-century artistic movements, especially Surrealism, CoBrA, and contemporary figurative art. Over the last 43 years, the gallery has built a strong network, connecting with prestigious players in the field, and regularly collaborates with other cultural institutions in the conception and realisation of art exhibitions in addition to those held at the gallery venue.
---
Have there been certain initiatives that are taking place in the German art community (or, more specifically, Frankfurt) that as a gallery you are excited to see develop and or be a part of?
We see many interesting new ways of communicating art in all areas of the art scene, be it regional, national or international. All involved in the cultural sector are in the same boat, therefore the contacts between them have become even closer. As a gallery, we have always cooperated with colleagues, but the new situation has raised even more the awareness that cooperation is needed and can be mutually beneficial.
How has the pandemic encouraged you to think outside the box in regards to collaborations, exhibition design, and curation?
We faced the pandemic as a challenge to break new ground in our gallery work.
Many habits that we have used for years have become questionable: is only a vernissage with many people a successful one? Do we really need to attend so many fairs in order to keep in touch with our international customers?
We still hold physical exhibitions here on our premises, and our customers actually want to see them, at the same time, they are glad to have alternative ways of enjoying art through our new digital contents and to have a very personal and individual dialogue with us.
At the beginning of the Pandemic in March 2020 we were just about to have one of our most important exhibitions dedicated to the drawings and prints of Pablo Picasso. Once we realized that we were not able to open the exhibition in our showrooms with guests, as usual, we reacted very quickly. We recorded an online opening-film as well as a 3D presentation of the exhibition and even started a whole podcast series, providing our customers with additional information about several exhibits and the artist's life. All of our digital contents can still be found on our website, so this is a great opportunity for our clients to relive past exhibitions.
The past year has massively transformed the way cultural institutions approach digital resources and technologies. Do you think digital platforms and tools can prove to be an enabling opportunity to galleries? What considerations should galleries undertake in such art and tech crossovers?
Apart from the current global situation, digital exhibition formats, virtual showrooms, and other presentations offer a wonderful new field for galleries to showcase their art outside their own premises, outside the country, worldwide, and in this regard, they undoubtedly constitute a tremendous opportunity for galleries. It is likewise a chance for them to reach a new and young generation of collectors. But to us, it is also fascinating to see that our "old" clients are curious and open to digital options as an alternative way of experiencing art. It was a truly delightful surprise and showed us that art and technology can go hand in hand, thus shaping the future of cultural institutions on a global level.
Recently, your gallery has presented two virtual reality exhibition, Line, Shape, Figure
and CORNEILLE. What excites you the most when it comes to the use of VR technology?
The technical resources have developed rapidly and certainly received an enormous boost from the pandemic; to use them either in order to curate and conceive virtual exhibitions or to make our physical shows accessible in a new way is intriguing and keeps pushing us towards new possibilities.
Have you approached the conception and mounting of VR exhibitions any differently compared to the ones in real life? If yes, how do the two processes differ from one another?
The conception of our VR exhibitions follows more or less the principles of our "real" exhibitions: we do curate one-artist-shows or group show with a certain subject; we attach great importance to an aesthetically pleasing, inviting presentation, which has a positive and stimulating effect on the viewer. We try to create a presentation that is as close to reality as possible so that the viewer can easily imagine seeing the artworks in their own rooms. An optimal and perfect presentation of the artworks requires as much time and care from the curator as a "real" exhibition.
Targeting and generating audience engagement is at the forefront of most galleries' agendas. What tools or methods are you incorporating to reach and engage with your audience? Has there been a way that has been the most effective?
Despite the obvious relevance of finding a broad, interested audience, a very personal and individual approach to the customer is still of the utmost importance. To move from the anonymity of the Internet to a direct and personal encounter is a crucial matter to us, because this is the only way to develop sustainable business relationships.
Over the last few months how as a gallery, have you encouraged growth amongst your roster of artists and staff? As a gallerist, how have you personally been keeping motivated?
I have not ceased to be enthusiastic about the art we represent; because my conviction is that art helps us to make the world a little better, to save it. Over the past year I've been constantly repeating that "art will save the world" and it kind of became my motto, my personal truth. We have responded to slumps in sales by devoting more of our energy to developing imaginative ideas, to breaking new ground. I have encouraged my colleagues to do this and was fascinated by their creativity.
Looking ahead, what are your main objectives and expectations?
From my point of view, communicating art and collecting art remains an important task for the entire gallery world, both today and in the future. Our overall goals have remained the same; they belong to the few things that this pandemic has been unable to alter despite its destructive force.
What is the gallery programme for the rest of the year? How will it take into account the current global crisis?
We have a whole series of exhibitions planned, but we adapt them to the respective circumstances at short notice. What will certainly be very well received this summer are outdoor exhibitions. Art in the open air is inspiring and can be enjoyed in every respect. Here in Frankfurt, we are planning a large sculpture exhibition in collaboration with Goethe University and are participating in such initiatives by colleagues and museums through many loans. At the same time, we are planning to have additional virtual exhibitions within our VRoom to complement the actual ones in our showrooms. Likewise, there will continue to be films of the openings as well as 3D presentations of our physical exhibitions. This way we will be able to cover the whole range, physical and virtual. It is fascinating how all our virtual activities do widen our reach into new or far away markets, without travelling or participating at art fairs in USA, Asia or Europe.