Articles and Features
Lost (and Found) Artist Series: Sonia Gomes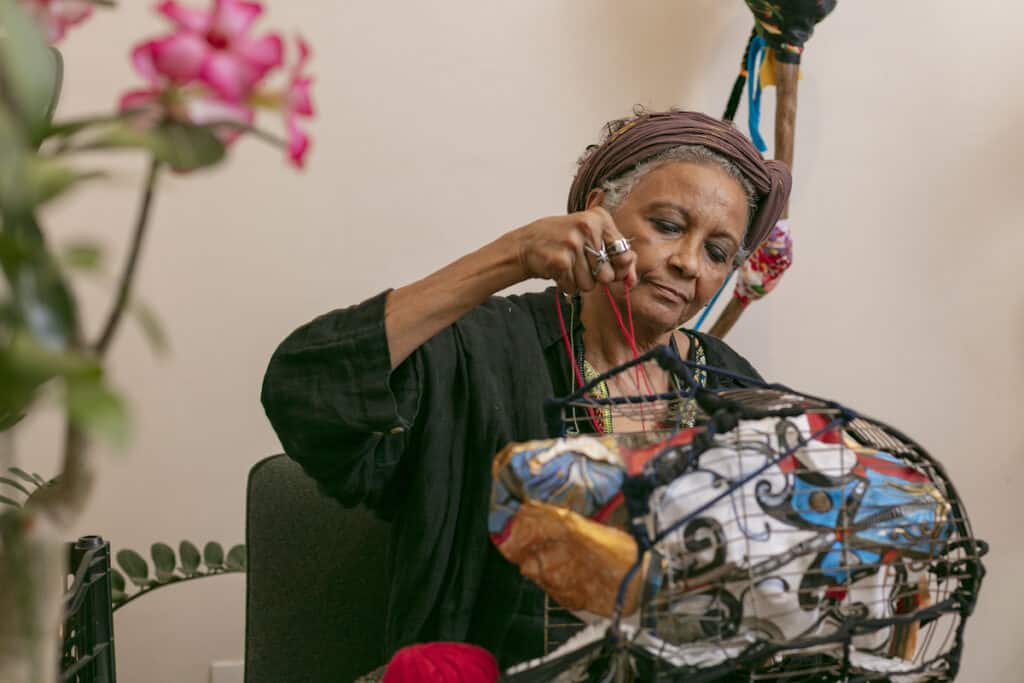 By Shira Wolfe
"My work is black, it is feminine, and it is marginal. I am a rebel. I never worried about masking or stifling anything that might or might not fit standards of what is called art."

Sonia Gomes
Artland's Lost (and Found) Artist Series focuses on artists who were originally omitted from the mainstream art canon or largely invisible for most of their careers. Sonia Gomes is a Brazilian artist whose reputation for her genre-defying sculptural work has been growing since 2015, when the late Nigerian curator Okwui Enwezor invited her to be part of his Venice Biennale exhibition.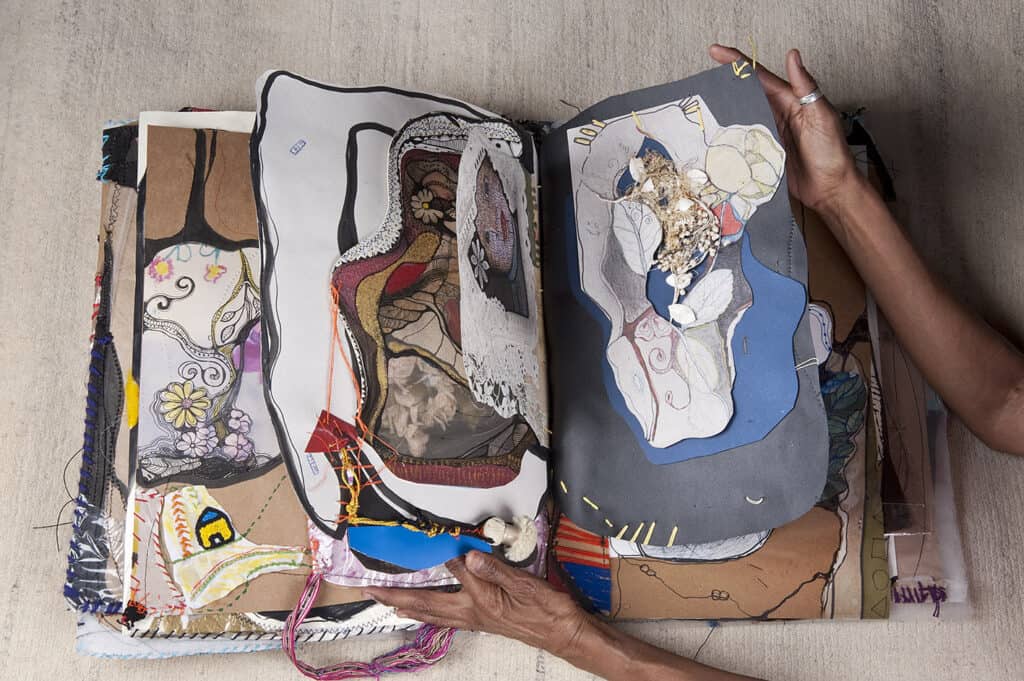 Sonia Gomes Moves Towards Art
Sonia Gomes is a 73-year-old Afro-Brazilian artist who lives and works in São Paulo, Brazil. She is best known for her freestanding and hanging sculptures which she makes from found and gifted fabric, thread, and wire. Born to a black mother and white father in 1948 in Caetenópolis, a centre for the Brazilian textile industry, Gomes initially pursued careers in education and law. During this period, she found a creative outlet in drawing and customizing clothes. Her art career came later in life, however, when she started taking classes at the Guignard School of Art in Belo Horizonte. At the age of 45, in 1994, Gomes had her first solo show of abstract paintings in the Casa de Cultura de Sete Lagoas. However, it would take another decade before she would exhibit her sculptural works, the ones she has become famous for, often made from found or gifted fabrics.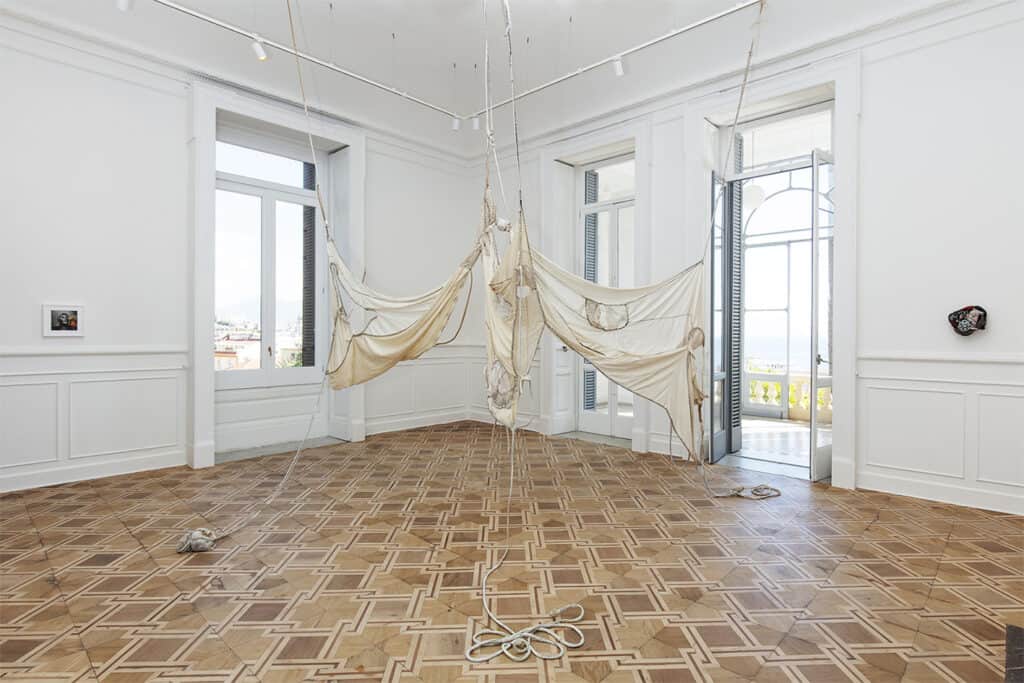 Sonia Gomes and her sculptural works
Perhaps it is no surprise that Gomes, who was born in one of Brazil's important manufacturing centres for textiles, felt naturally drawn to working with textiles. She combines everyday materials like driftwood, furniture, and wire, with secondhand textiles to create abstract sculptural works. With these pieces, she reclaims Afro-Brazilian traditions and feminized crafts. The narratives of long-marginalised women and people of colour are tied to Brazil's historical trajectory through her assemblage works. "My work is black, it is feminine, and it is marginal. I am a rebel," says Gomes.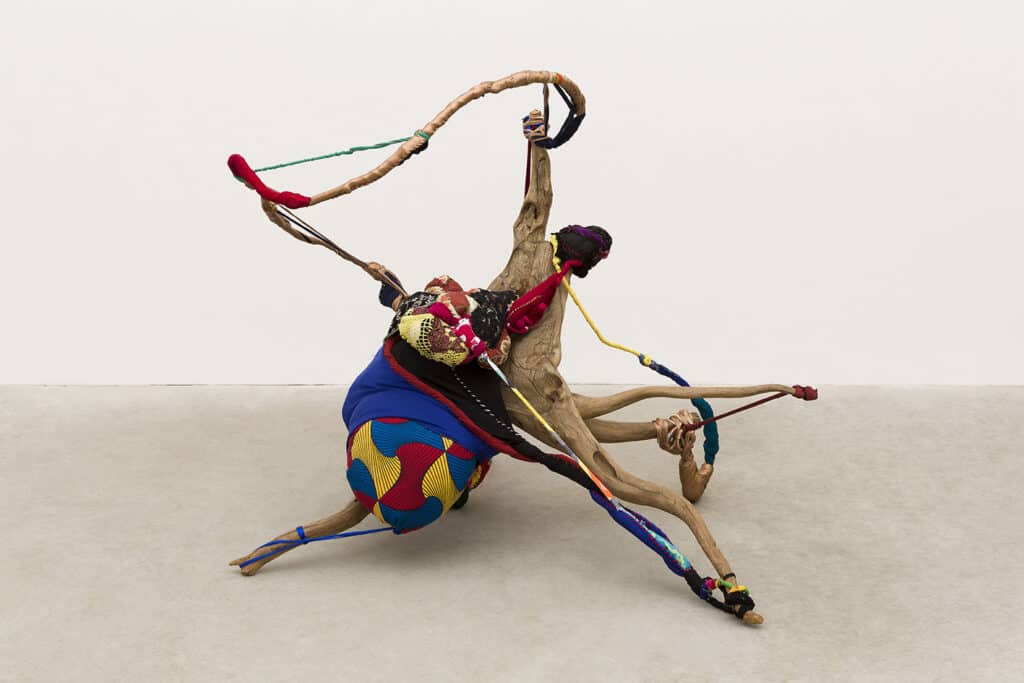 There is a sense of the sacred in Gomes's works, leading back to the sacred objects used in the spiritual practices of the African diaspora in Brazil. Her grandmother was a shaman, and as a child, she witnessed her performing rites. Then there is a dynamism and movement in the works which she attributes to Brazilian dance.
Always fascinated with the drawings of internal organs in science and biology books, and her work has a lot to do with her interior, with the hidden parts of the body, reflecting the tissues, vertebrae, cartilages and muscles.
For Gomes, the fabrics she receives carry with them the history of the people they belonged to. She then adds a new significance to them as she incorporates them in her assemblages. She explains: "When I construct each work—for example, a sculpture, specifically Maria dos Anjos, that's made of a wedding dress, so this work only exists because this wedding dress arrived. It already came with that appeal. It doesn't let that story end. The work only exists in function of the material that comes to me. I didn't look for it to make a particular work. They arrive. And sometimes there's such a responsibility to that, that the material is stored for a long time."
"My work is life, it is life's movement. Since the beginning, I looked for movement and possibilities, but also memory. We can't live without those things."

Sonia Gomes
Intuition, Movement and Freedom
The work of Sonia Gomes is extremely intuitive, and always preoccupied with movement. There is movement in every work. While creating the works, she makes the movements with her entire body, more than just her hands. She describes her process as a very organic one. She begins with one step, then thinks about it, letting the work naturally unfold.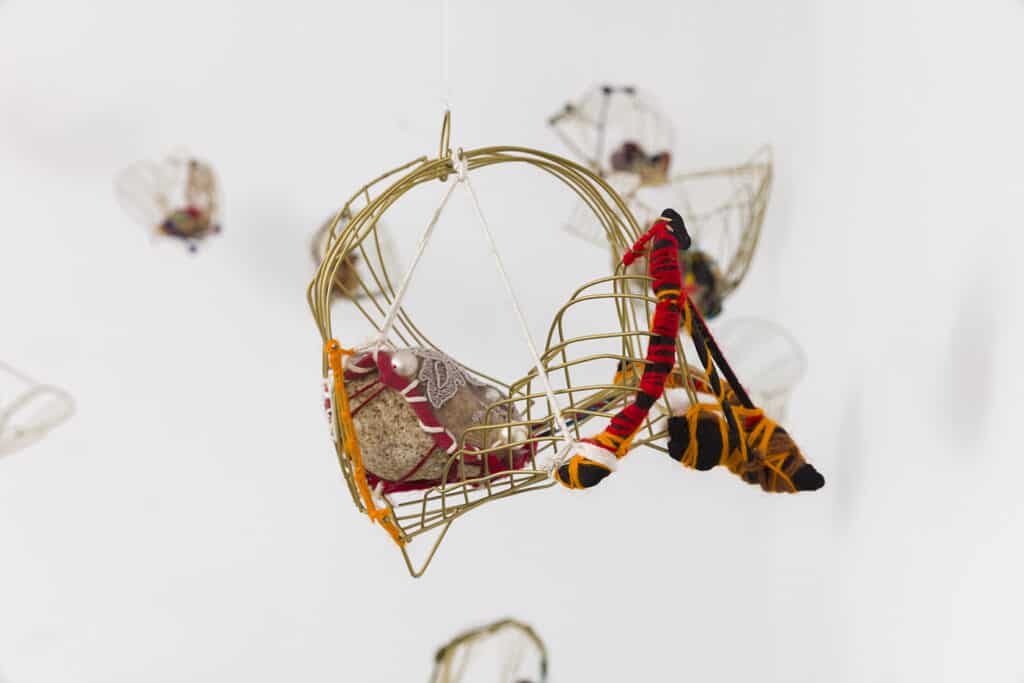 Gomes's artistic language is about the freedom to destruct and reconstruct objects and fabrics, honouring her materials' stories and histories and creating a new life and new meaning for them. In a recent series of works from 2020, Gomes worked with broken birdcages and stones. A pendant stone hangs in each cage, wrapped with fabric, poetically creating a stark juxtaposition alluding to imprisonment and freedom. And for Gomes, the act of making art is the ultimate freedom, as well as her way of adding to the struggle for emancipation from oppressive structures and stereotypes.
International Recognition
Gomes has been represented by Mendes Wood in São Paulo since 2011, and her works are now also shown at Mendes Wood New York and Brussels. She also recently joined the artist roster at Pace Gallery. But it was in 2015, when the late curator Okwui Enwezor asked her to be part of the Venice Biennale he was organising, that Gomes really gained more widespread international recognition. Since then, she became the first Afro-Brazilian woman to have a solo show at the Museu de Arte de São Paulo in 2018. Her first institutional solo show in Europe was held at the Museum Frieder Burda in Baden-Baden, Germany, in 2019. She has participated in group shows at institutions such as the National Museum of Women in the Arts in Washington, D.C., the Rubell Family Collection in Miami, and the Kunstmuseum Wolfsburg.
Gomes's delicate yet powerful sculptural works bring magic, stories and life into any space they enter. She never once tried to make herself fit into the art world. Her strength lies in the fact that she did exactly what she wanted and believed in, and this is what she is now being recognised for. In her words, "I never worried about masking or stifling anything that might or might not fit standards of what is called art." She simply developed her art and kept going, no looking back.
Relevant sources to learn more
Mendes Wood Gallery
Pace Gallery
National Museum of Women in the Arts
Blum & Poe