Articles and Features
The World in Pictures: Stunning Images from the 2021 World Press Photo Contest
By Adam Hencz
Last week, the World Press Photo Foundation announced the results of the 64th annual photo contest and the 11th Digital Storytelling Contest during an online Awards Show.
Often defined as the "Oscars" of photojournalism, from year to year the World Press Photo Contest recognises the best visual journalism of the past year, rewarding images and stories in eight categories including Contemporary Issues, Environment, General News, Long-Term Projects, Nature, Portraits, Sports, and Spot News. Take a look with us at some of the outstanding winning images.
Predictably, the top prize has been awarded to a powerful image capturing the most impactful event of recent times: the Covid-19 pandemic. The independent jury of the 2021 Photo Contest, in fact, selected Danish photographer Mads Nissen's The First Embrace as the World Press Photo of the Year. The moving winning image shows a resident of a care home, 85-years-old Rosa Luzia Lunardi, embraced by nurse Adriana Silva da Costa Souza, at Viva Bem care home in São Paulo, Brazil. The World Press Photo Story of the Year has been awarded to Italian documentary photographer Antonio Faccilongo, who works for Getty Reportage, for a series titled Habibi about Palestinian detainees in Israeli prisons who smuggle their semen out of detention facilities in the hopes of raising a family.
World Press Photo of the Year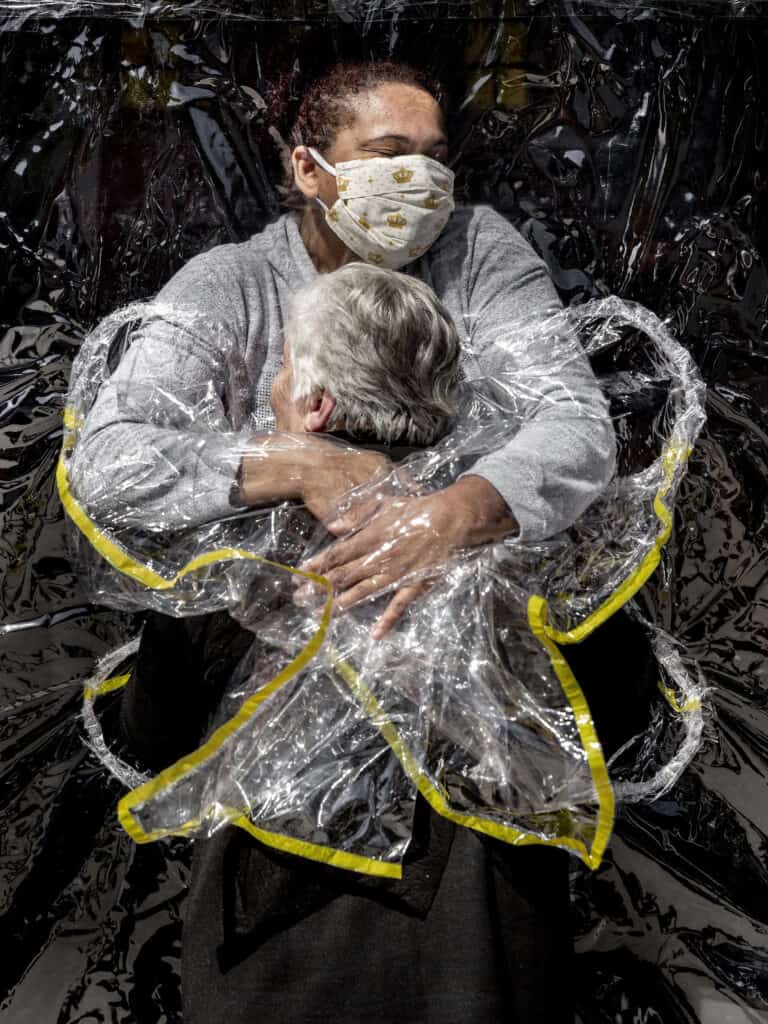 When in March 2020, care homes across the world closed their doors to all visitors following the pandemic outbreak, preventing millions of people from visiting their elderly relatives, Brazilian carers were ordered to keep physical contact with the vulnerable to an absolute minimum. However, at Viva Bem, a simple invention – the so-called 'Hug Curtain' – allowed people to hug each other once again. Mads Nissen, a Danish photographer based in Copenhagen, who since 2014 has worked as a staff photographer at the Danish daily Politiken, was able to capture Rosa Luzia Lunardi while clasped by one of the nurses. It was the first hug Rosa had received in five months.
Nissen said about the shot: "To me, this is a story about hope and love in the most difficult times. When I learned about the crisis that was unfolding in Brazil and the poor leadership of president Bolsonaro who has been neglecting this virus from the very beginning, who's been calling it 'a small flu,' I really felt an urge to do something about it."
World Press Photo Story of the Year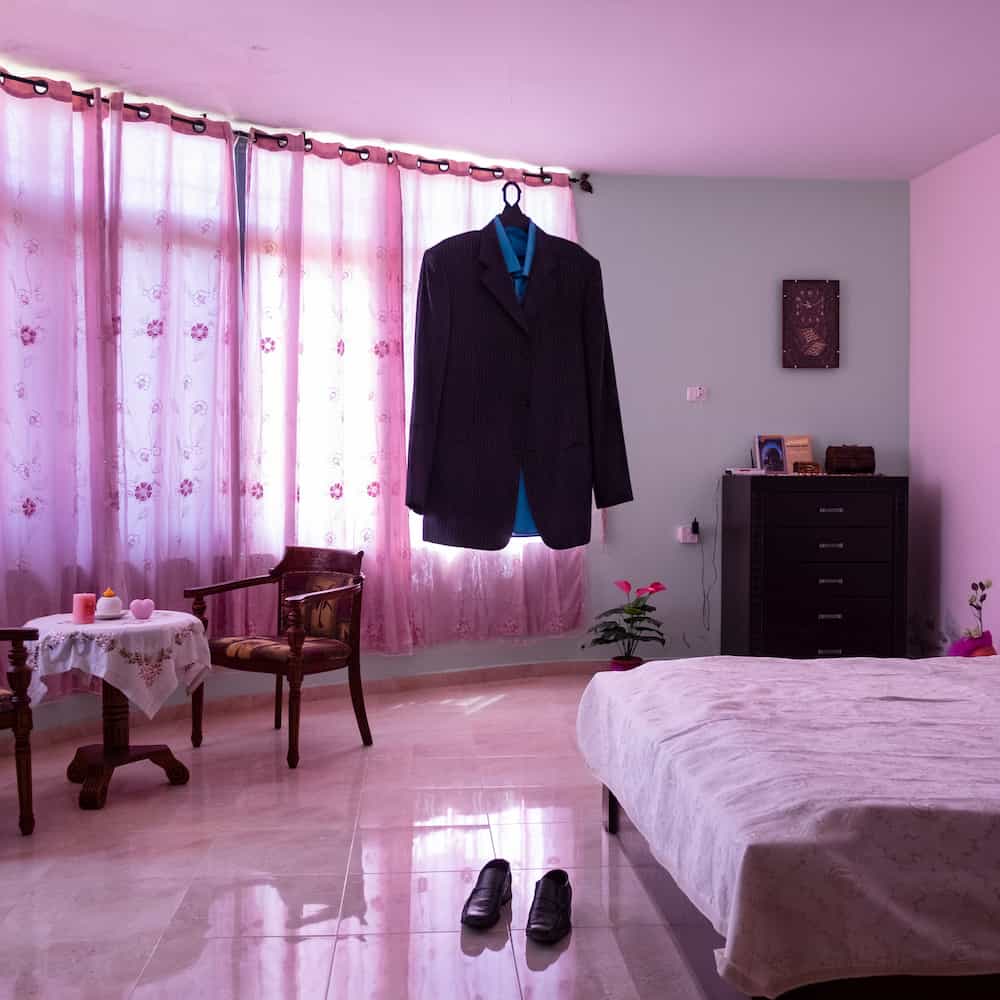 The jury chose Habibi by Antonio Faccilongo as the World Press Photo Story of the Year. Habibi, which means 'my love' in Arabic, chronicles love stories set against the backdrop of one of the longest and most complicated contemporary conflicts, the Israeli-Palestinian war. The story shows the impact of the conflict on Palestinian families, and the difficulties they face in preserving their reproductive rights and human dignity. To visit a Palestinian prisoner in an Israeli jail, visitors have to overcome a number of different limitations resulting from border laws, prison regulations, and restrictions set by the Israel Security Agency (ISA). Visitors are usually allowed to see prisoners only through a transparent partition, and talk to them via a telephone receiver. Conjugal visits are denied and physical contact is forbidden, except for children under the age of ten, who are allowed ten minutes at the end of each visit to embrace their fathers. Since the early 2000s, long-term Palestinian detainees hoping to raise families have been smuggling semen out of prison, hidden in gifts to their children. The photographer chooses not to focus on war, military action, and weapons, but on people's refusal to surrender to imprisonment, and on their courage and perseverance to survive in a conflict zone. In February 2021, Middle East Monitor reported that the 96th Palestinian baby had been born using sperm smuggled from Israeli prison.
Faccilongo says about the winning story: "My work has the ambition to be a cultural bridge to bring people together." Antonio Faccilongo is an Italian documentary photographer represented by Getty Reportage. In his work documenting the aftermath of the Palestinian-Israeli conflict in the West Bank and the Gaza Strip, he sought to unveil and highlight the humanitarian issues related to one of the world's most reported conflicts, often shown only as a place of war and conflict.
Selected Category Winners
Contemporary Issues – First Prize, Singles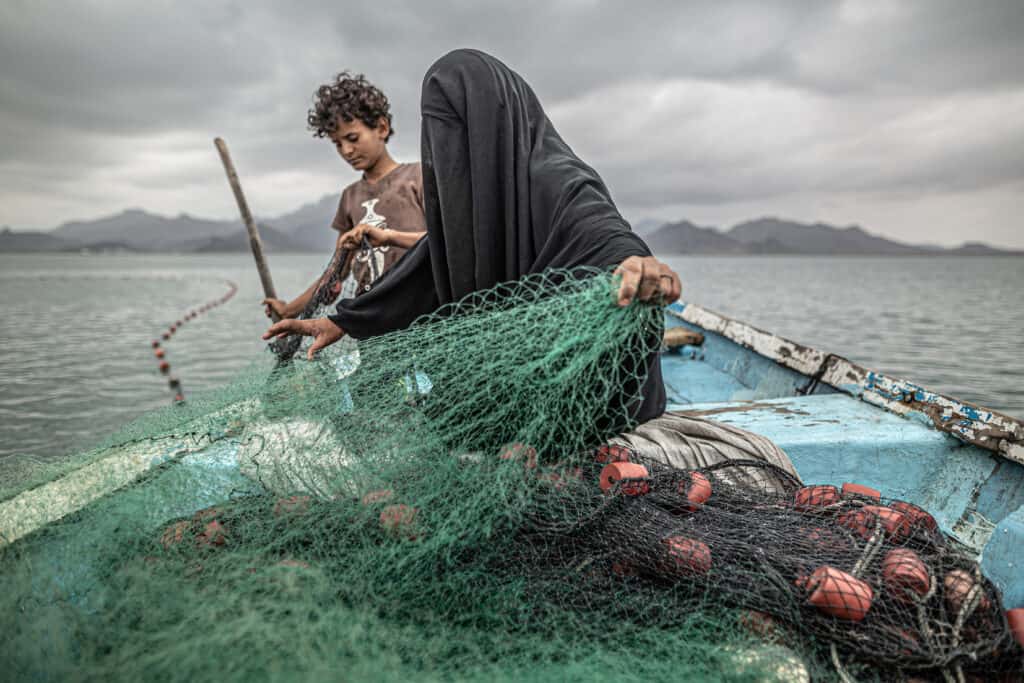 Fatima has nine children. In order to provide for them, she makes a living off fishing. Although her village was devastated by armed conflict in Yemen, Fatima returned to resume her livelihood, buying a boat with money she earned from selling fish.
The conflict—between Houthi Shia Muslim rebels and a Sunni Arab coalition led by Saudi Arabia—dates from 2014, and has led to what UNICEF has termed the world's largest humanitarian crisis.
Contemporary Issues – Second Prize, Singles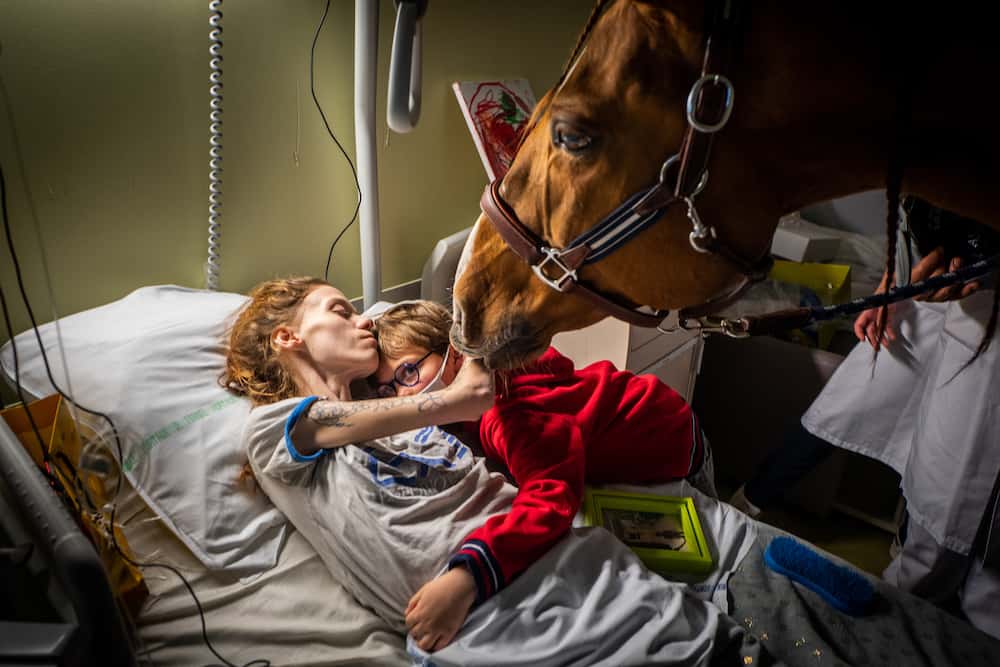 Animal-assisted therapy, also known as pet therapy, is used in many clinical environments, especially in psychological therapy and palliative care. Horses seem particularly suited for palliative care as they are especially in tune with their surroundings. Peyo works with his trainer Hassen Bouchakou at Les Sabots du Coeur, an organization devoted to animal-assisted therapy, and to scientific research into the subject. He supports around 20 patients each month, and scientists are now studying his instinctive ability to detect cancers and tumours.
Contemporary Issues – First Prize, Stories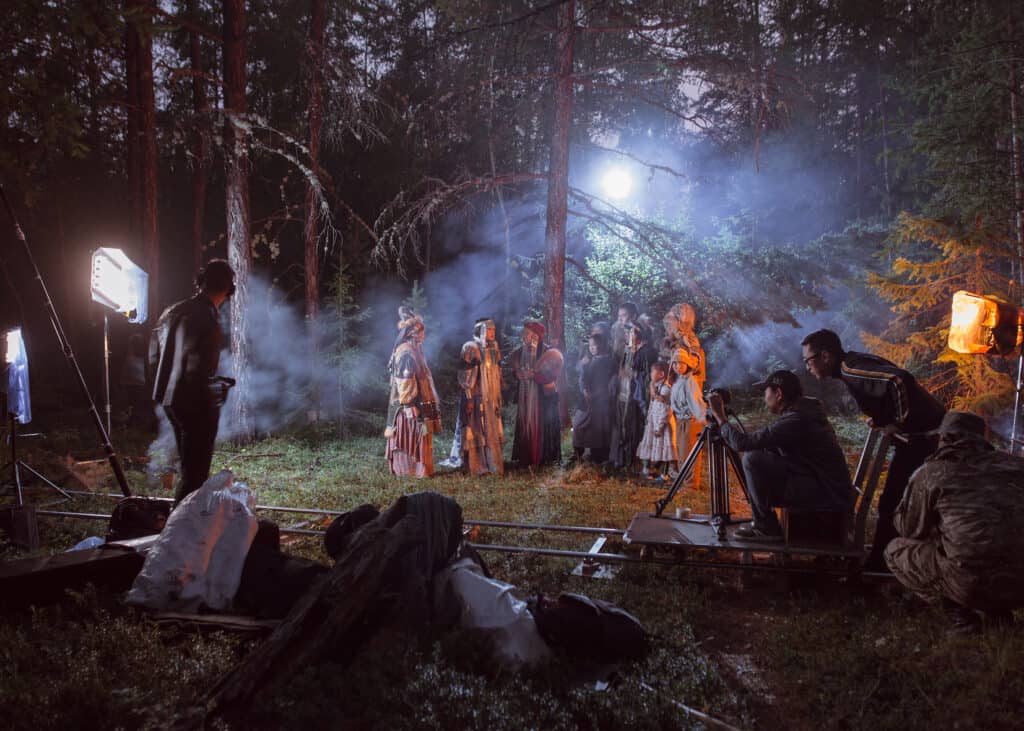 The people of Sakha, a republic in the far northeast of the Russian Federation, live in a remote area with extreme weather conditions: temperatures can drop as low as -50°C in winter. Although Sakha, which is also known as Yakutia, extends over more than three million square kilometres, its population numbers barely 950,000 people, around 50 percent of which are ethnic Sakha (or Yakuts). Art has become a way of showcasing and preserving Sakha culture, traditions, and stories. Cinema has flourished there since the 1990s. Around seven to ten feature films are shot a year, by a local movie industry lightheartedly dubbed 'Sakhawood'.
Environment – Third Prize, Singles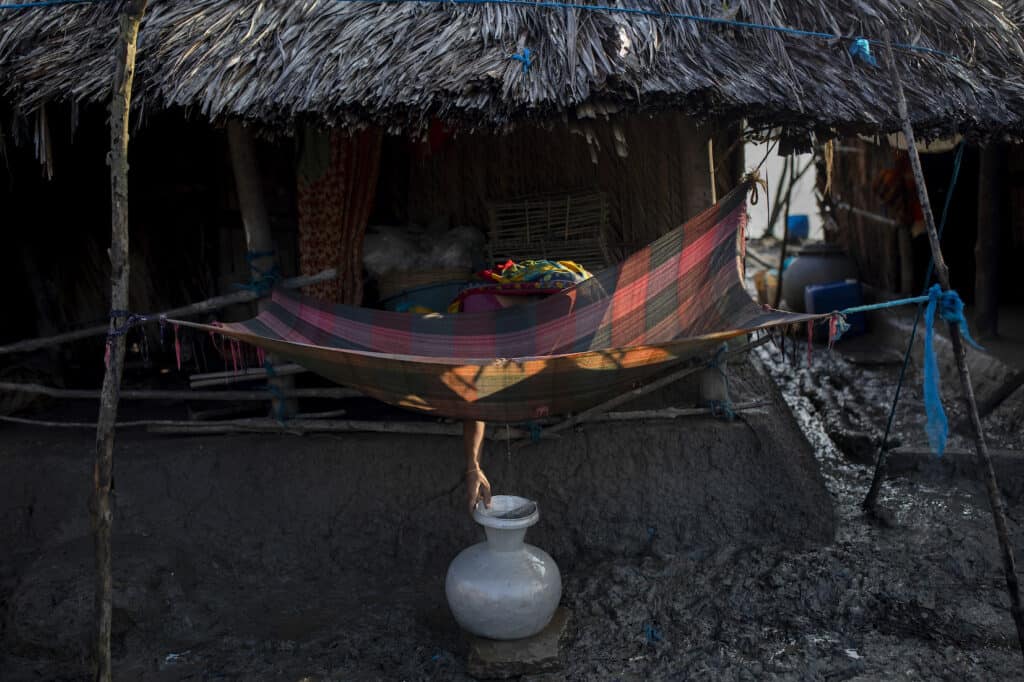 People living in Kalabogi and the Sundarbans region suffer from a water shortage in the dry season as a result of increasing salinity in the groundwater, and of the river Satkhira, caused by rising sea levels. Houses in villages like Kalabogi are raised on poles to avoid frequent tidal flooding. A 2016 World Bank report states that the climate crisis poses a number of threats to the Sundarbans, including rising sea levels and the frequency and intensity of storms. More than half of the coastal areas are impacted by salinity, which reduces soil productivity and vegetation growth, degrading the environment and impacting people's lives and livelihoods.
General News – Second Prize, Singles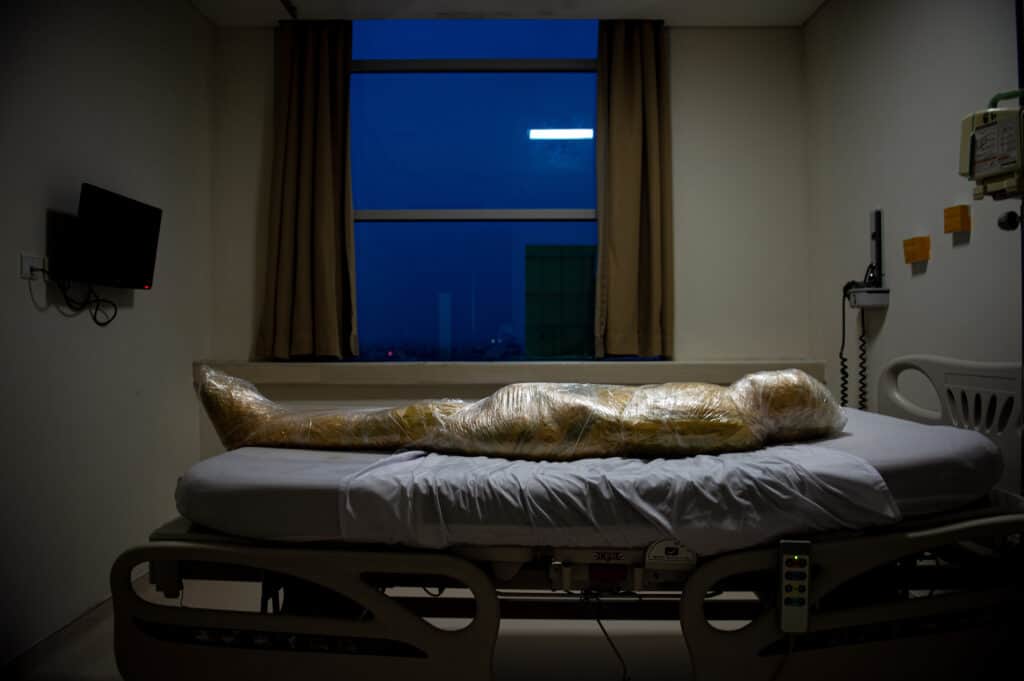 In Indonesia, nurses wound plastic around the body and sprayed it with disinfectant, in accordance with government protocols that required COVID-19 victims to be wrapped in plastic and buried quickly to prevent the virus from spreading. This meant grieving relatives were unable to follow Muslim funeral practices, which include personally washing the dead and wrapping the corpse in a seamless cloth. The World Health Organisation advised against the use of disinfectant and recommended wrapping bodies in cloth. The potential risk of transmission related to the handling of bodies of COVID-19 victims is considered low, provided that it is carried out by trained medical staff wearing appropriate personal protective equipment (PPE). Around the world, COVID-19 matters were aggravated by misinformation and inadequate reporting.
General News – First Prize, Stories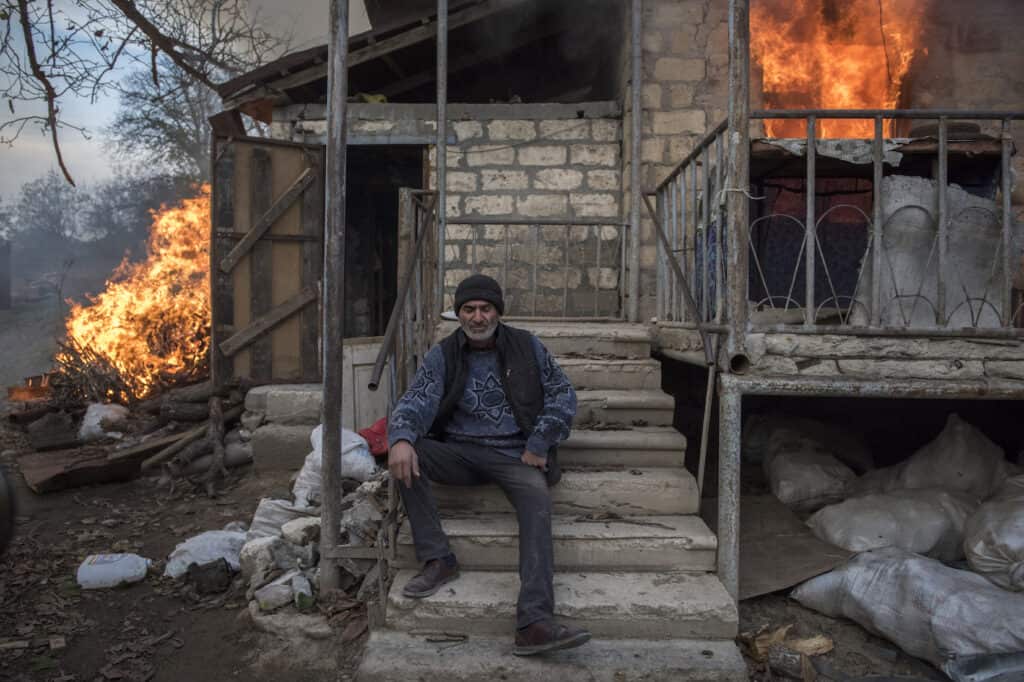 The conflict between Azerbaijan and Armenia over the disputed region of Nagorno-Karabakh resumed in September, after a lull of 30 years. When the Soviet Union was crumbling at the end of the 1980s, ethnic Armenians in Nagorno-Karabakh, part of Azerbaijan, took advantage of the power vacuum and voted to join Armenia. Fighting intensified after the Soviet Union finally dissolved in 1991 and continued until a ceasefire in 1994. More than 20,000 people died and a million people, both Armenian and Azerbaijani, had to leave their homes. Victorious Armenians declared an independent state. In the intervening 30 years, little has been done to resolve the status of Nagorno-Karabakh and there have been periodic military clashes between the two sides. A 2020 border clash triggered massive protests in Azerbaijan's capital, Baku, with thousands of demonstrators calling for the country to go to war with Armenia. Renewed hostilities, which each side blames the other for starting, began on 27 September in what became known as the Second Nagorno-Karabakh War. Conflict continued until 9 November, the worst fighting the area had seen since the 1990s. In a settlement brokered by Russia, Azerbaijan regained possession of territory lost in the 1990s, but the regional capital, Stepanakert, was left under Armenian control. Although fighting is over, reconciliation will prove difficult both to Armenians who feel they have lost their homeland and are now displaced and to Azerbaijanis returning to a region ravaged by war.
Nature – Second Prize, Singles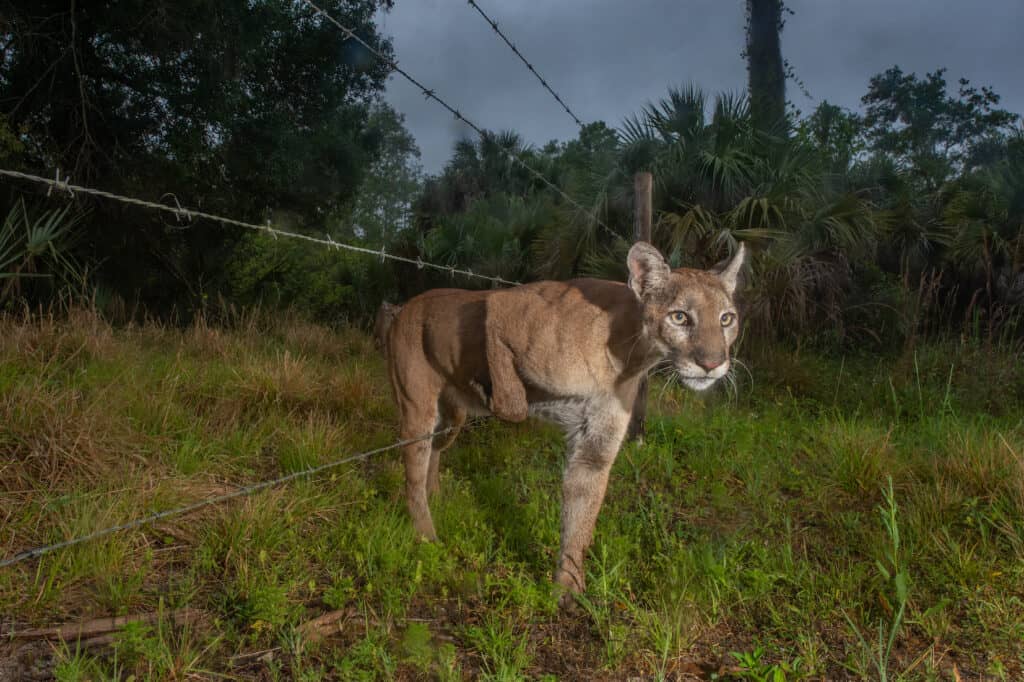 The Florida panther is a subspecies of Puma concolor (also known as mountain lion, cougar, or puma) and, according to the US Fish and Wildlife Service, represents the only known breeding population of puma in the eastern United States. Listed as an endangered species in 1967, Florida panthers are gradually making a comeback, growing from fewer than 20 panthers in the 1970s, to more than 200 today. Ranches are vital to panthers because few public lands are big enough to support even one adult male panther, which may require up to 500 square kilometres of territory in which to roam and hunt. Audubon's Corkscrew Swamp Sanctuary is too small to supply the full territory needs of one panther, yet serves as part of the home range for several. The panthers are caught in a race between the need for territory, and increasing land development as a result of Florida's rapidly growing population, with some 400 square kilometres of their habitat being lost each year.
Nature – Second Prize, Stories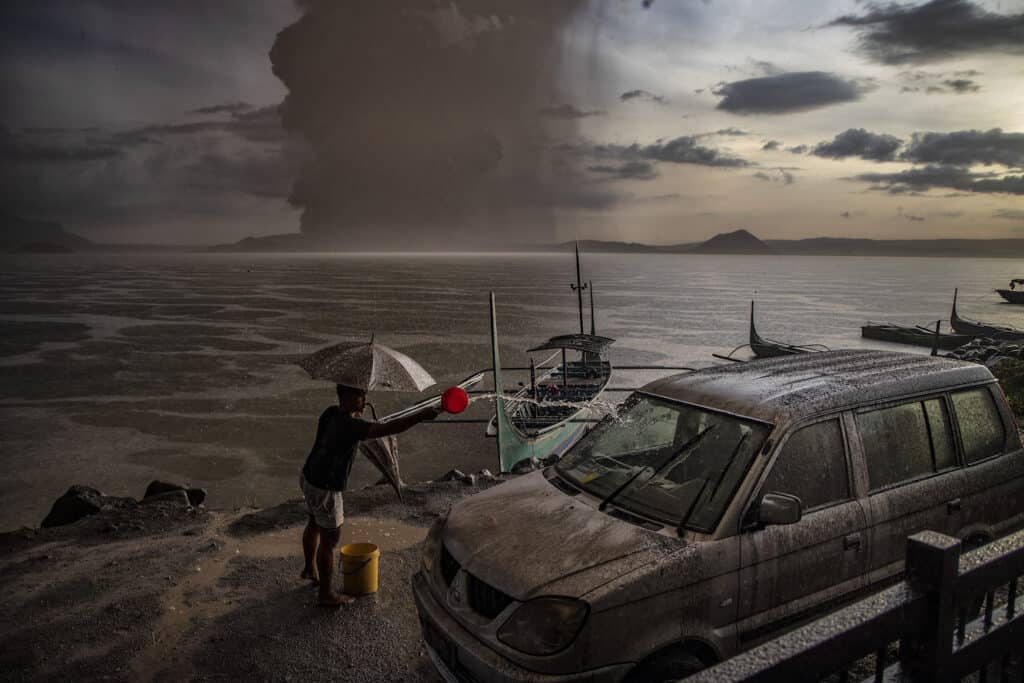 Taal volcano, in Batangas province, on the island of Luzon in the Philippines, began erupting on 12 January, spewing ash up to 14 kilometres into the air. The volcano generated ashfalls and volcanic thunderstorms, forcing evacuations from the surrounding area. The eruption progressed into a magmatic eruption, characterized by a lava fountain with thunder and lightning. According to the Department of Social Welfare and Development, a total of 212,908 families, nearly 750,000 people, were affected by the eruption. Damage caused to infrastructure and livelihoods, such as farming, fishing and tourism, was put at around US$70 million.
Portraits – First Prize, Singles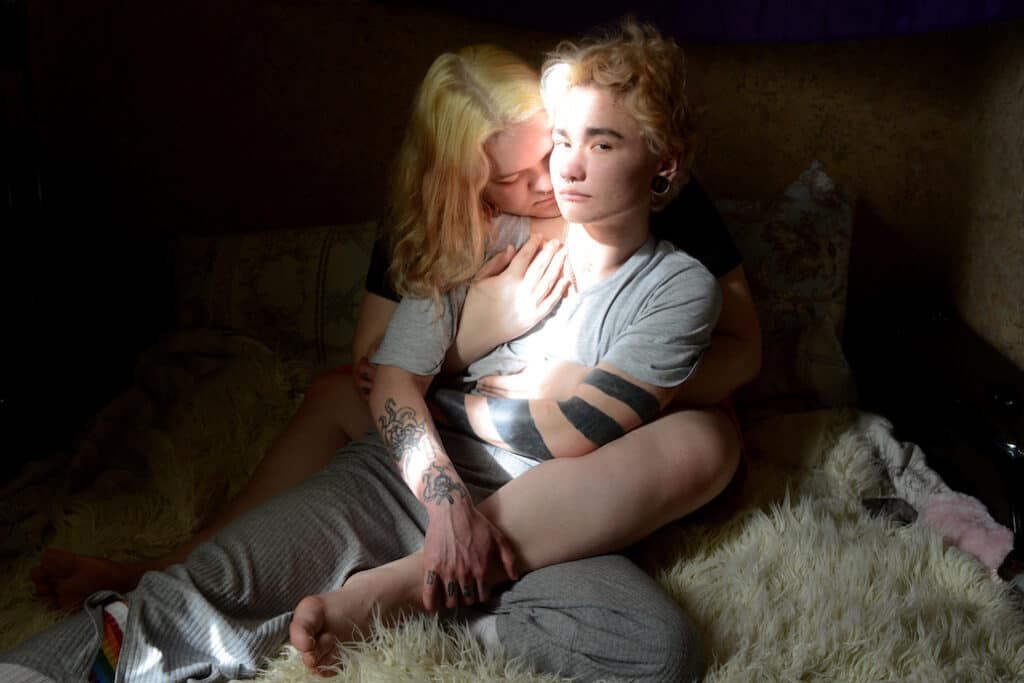 Ignat was bullied throughout his school years, and confronted by the school psychologist following rumors that he spoke about himself using the masculine gender. Ignat opened up to the psychologist about his gender identity—the first stranger to whom he had told everything—but asked to keep it a secret. The whole school found out, and the insults and humiliations became permanent. Many LGBTQ+ people in Russia keep low profiles because of stigmatization against nontraditional sexuality. An amendment to the Russian constitution, made in July 2020, stipulates that marriage is a union between a man and a woman, with no other options possible. Although an attempt was made to make a further amendment preventing transgender people from changing their status on legal documents, it was not passed.
Portraits – First Prize, Stories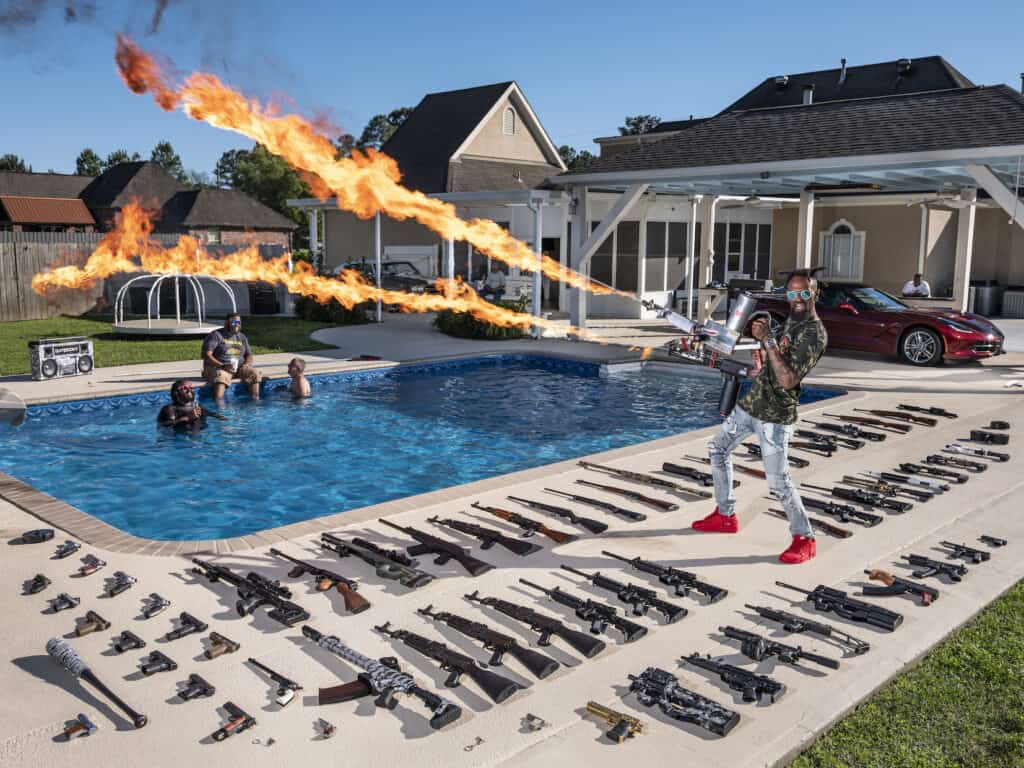 According to the Small Arms Survey– an independent global research project based in Geneva, Switzerland–half of all the firearms owned by private citizens in the world, for non-military purposes, are in the USA. The survey states that the number of firearms exceeds the country's population: 393 million guns to 328 million people. Gun ownership is guaranteed by the Second Amendment of the US Constitution, which dates from 1791 and has long been a controversial issue in American legal, political, and social discourse. According to the independent Gun Violence Archive (GVA), the US has had more mass shootings than any country on the planet, with 633 mass shootings in 2020 alone.
Sports – First Prize, Singles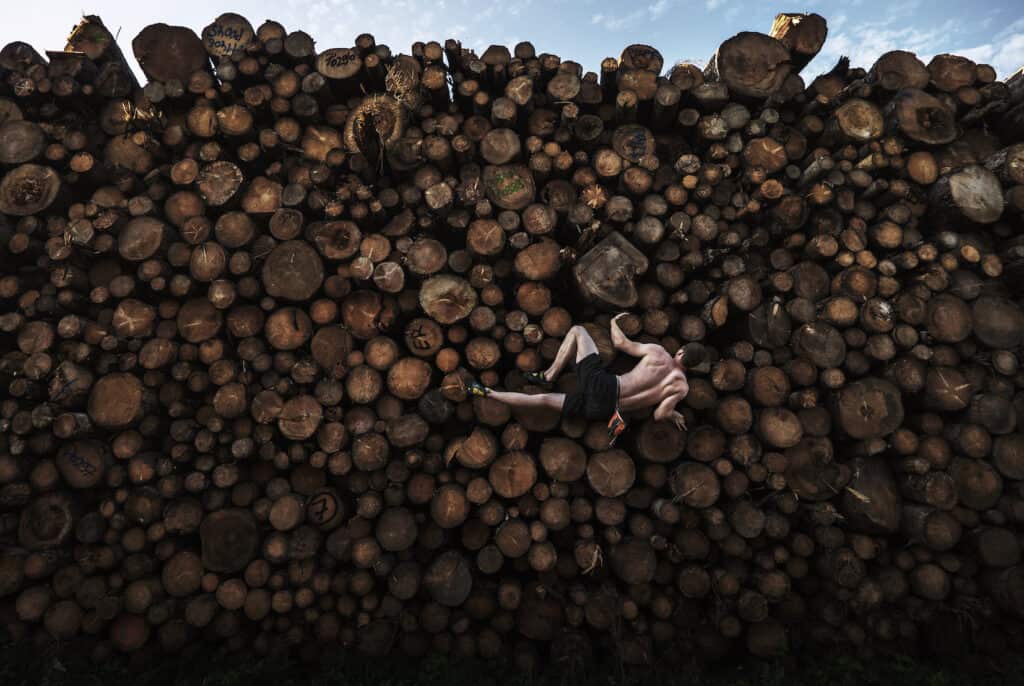 Bouldering entails climbing on small rock formations and boulders of usually no more than six meters in height, without ropes or harnesses. Historically, it began as a training activity for more ambitious climbing and mountaineering pursuits but has evolved into a sport in its own right. Rock-climbing gyms and sports facilities in Munich were closed as a result of the ongoing COVID-19 pandemic, so athletes had become creative in their training methods.
Spot News – First Prize, Stories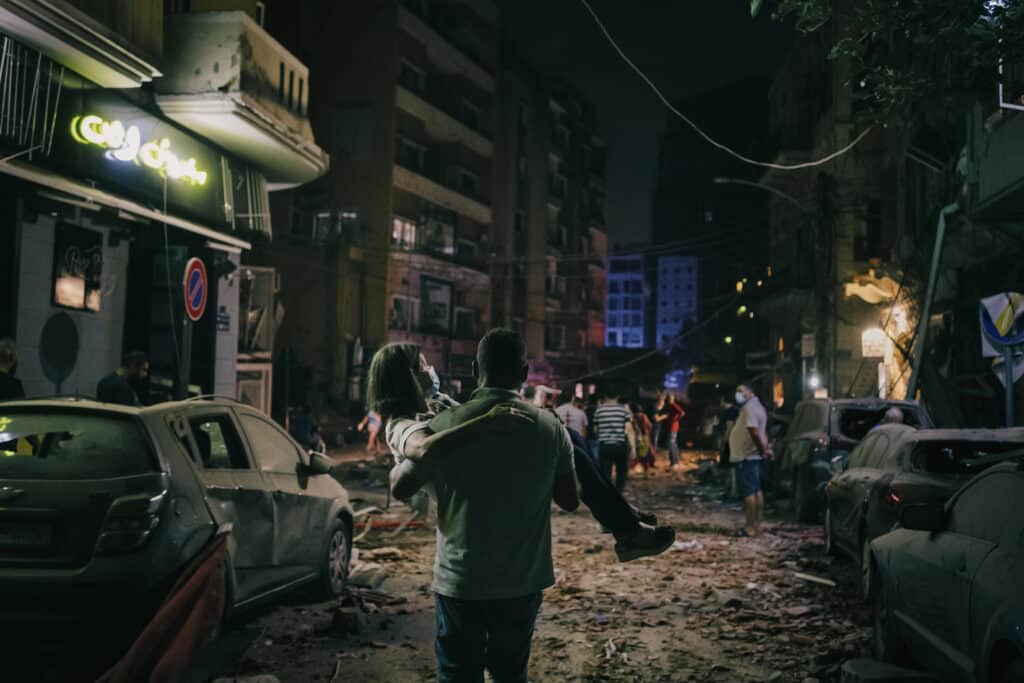 At around 6pm on 4 August, a massive explosion, caused by more than 2,750 tons of high density ammonium nitrate, shook Lebanon's capital Beirut. The explosive compound was being stored in a warehouse in the port. Some 100,000 people lived within a kilometer of the warehouse. The explosion, which measured 3.3 on the Richter scale, damaged or destroyed around 6,000 buildings, killed at least 190 people, injured a further 6,000, and displaced as many as 300,000. Many citizens saw the incident as symptomatic of the ongoing problems the country is facing, namely governmental failure, mishandling and corruption. In the days after the blast, tens of thousands of demonstrators filled the streets of central Beirut, some clashing with security forces and taking over government buildings, in protest against a political system they saw as unwilling to fix the country's problems.
Spot News – Third Prize, Stories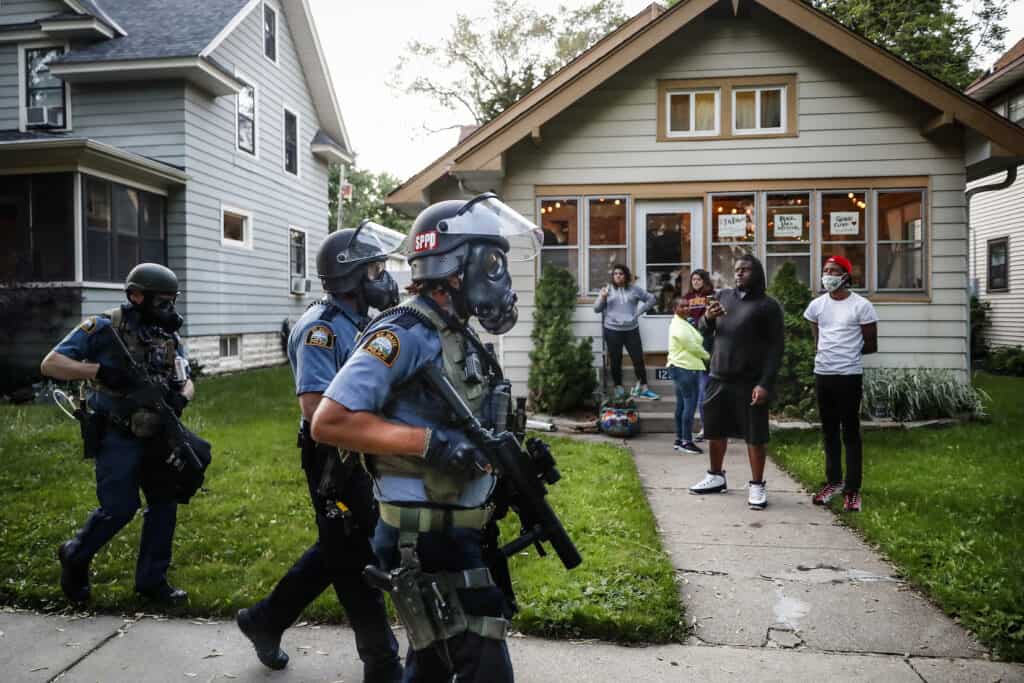 On 25 May, George Floyd, a 46-year-old Black man, died while being arrested by Minneapolis police in Minnesota, Minneapolis, USA. Four days later, Derek Chauvin, the police officer who had been filmed kneeling on Floyd's neck for more than eight minutes, was charged with murder. A bystander video of the encounter went viral, setting off protests first in Minneapolis and then around the rest of the country. Thousands of people gathered at a makeshift memorial the day after Floyd's death, where organizers of the rally emphasized keeping the protest peaceful. Although daytime rallies throughout the metropolitan area were mostly peaceful events, nighttime demonstrations escalated into more extreme action, including looting and arson, in which people who were not part of the protest became involved. On 28 May the National Guard was activated. To many, the violence was an understandable response to years of injustice at the hands of the police. In the months that followed, large protests were held in more than 150 American cities, a nationwide call for racial justice not seen since the civil rights protests of the 1960s. Polls taken in June by four different agencies indicate that between 15 million and 26 million people across the US participated in the protests, making it the largest movement in US history. Protests in support of the Black Lives Matter (BLM) movement spread to more than 2,000 cities in some 60 countries worldwide.