Articles and Features
Female Iconoclasts: Shirin Neshat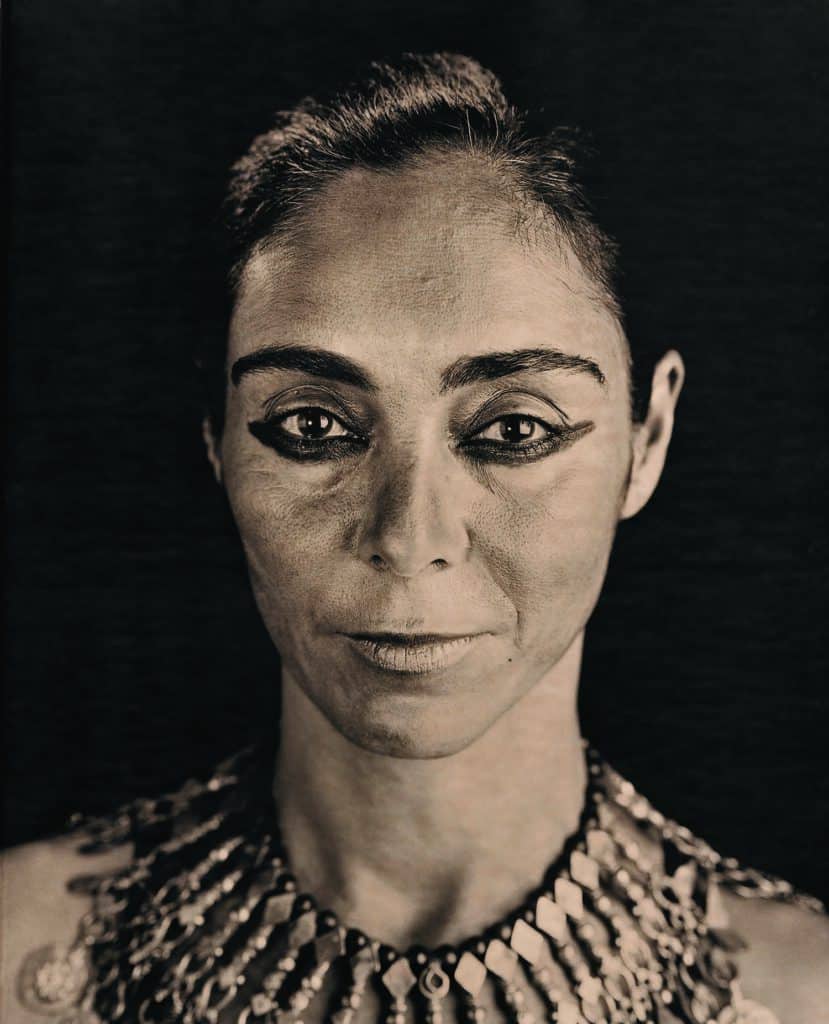 By Shira Wolfe
"I was born with this idea: I want to be an artist. So my return to art was an urge on my part to reconnect to Iran and my lost culture. Art became a tool. Everything that I do, every subject, every narrative that I embrace, has a personal lens."

Shirin Neshat
Artland's "Female Iconoclasts" article series celebrates female artists who were among the most boundary-breaking iconoclasts of our time; women who defied social conventions in order to pursue their passion and contribute their unique vision to society. This week, we explore the art of Iranian artist Shirin Neshat. Neshat's art deals with the cultural and socio-political concerns in her country of birth, which resonates far beyond Iran on a universal level. Born in Iran but living and working in New York, Neshat's work speaks in a powerful and deep way about the notion of displacement and immigration, as well as the complex nature of women in Iran and their relationship to the cultural value systems of Islam.
From Iran to California
Shirin Neshat was born in 1957 in Qazvin, Iran. Raised in an upper-middle-class family, her father had a passion for literature and travel, inspiring Neshat from a young age to think about the world beyond her small town. Visual art was not something that she had access to in her surroundings, but something inside of her naturally started pushing her toward making art. At the age of 17, Neshat left Iran and moved to California. She left the country just as many of her close friends were becoming activists and the Iranian Revolution of 1979 broke out. This was a dramatic change in her life, as she found herself alone in a new country, separated from family and friends at a time when Iran was going through this great rupture and change.
Shirin Neshat first started studying at a college in northern California, and later attended UC Berkeley, where she earned her MFA. During the 10 years after completing her MFA, she barely produced any artwork. She was living in New York, co-running the Storefront for Art and Architecture, a nonprofit experimental space with her husband at the time, Kyong Park. When she travelled to Iran in the early 1990s, for the first since she left her home country, her artistic drive and need to create became deeply stirred.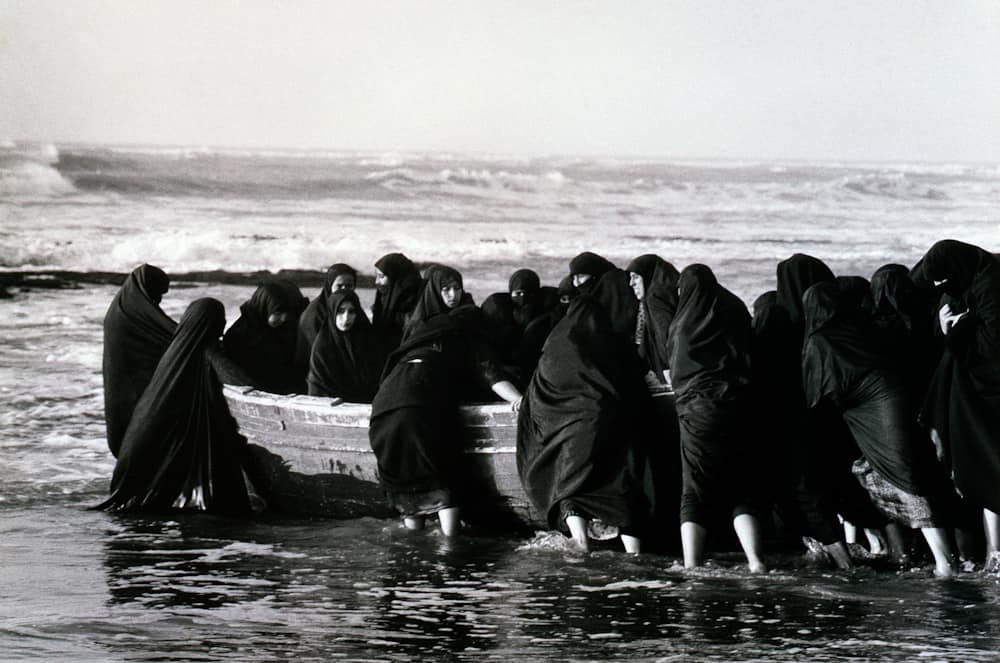 Return to Iran and Return to Art
Neshat was confronted with an Iran that had radically altered since she had left the country. The Iranian Revolution in 1979 and the Iran-Iraq war in the 1980s had changed Iranian society. The country, which had been modern, liberal and secular when Neshat lived there, was now a theocracy, Islamicized, and deeply conservative. Under the regime of Ayatollah Khomeini, women were required to wear the chador, so they were veiled from head to toe, showing only the face. During the trip, Shirin Neshat saw images of Iranian women who were glorified by the state as martyrs who had fought against Iraqi invaders. They were both militant and silenced, creating a fascinating paradox. Neshat felt compelled to understand what had happened to Iran, and the revolution, martyrdom, political injustice, the position of women became the subjects of her artistic enquiry. Her own relationship to her homeland and Islam, involving notions of displacement and immigration, also became important subjects for her. She started sketching hands and feet and writing on top of these sketches with Farsi script. From this, she gravitated towards photography.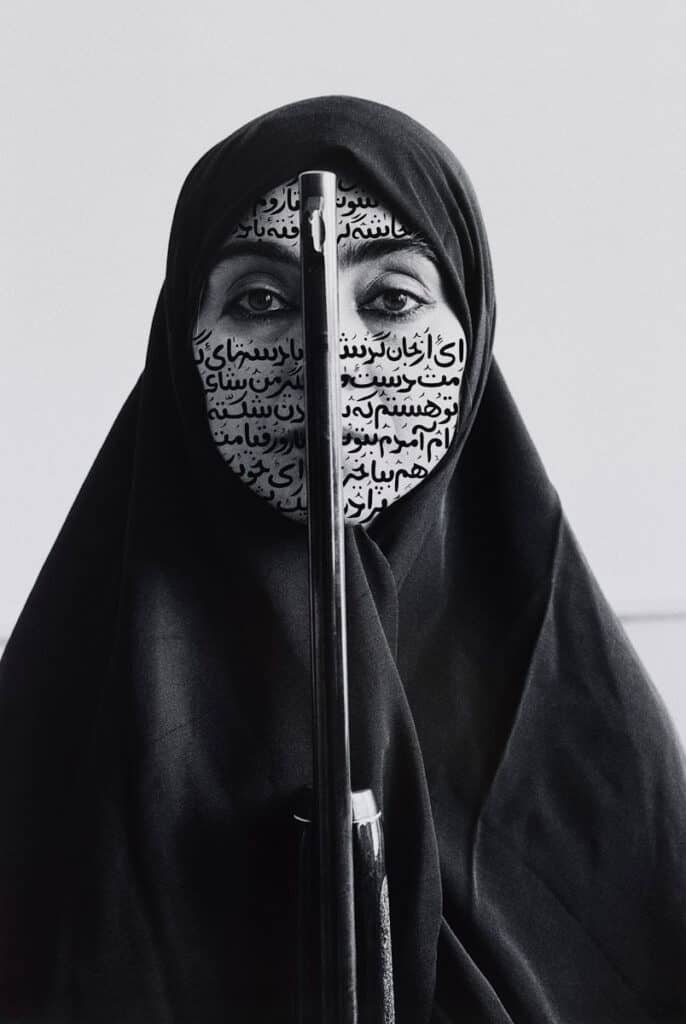 Shirin Neshat's Photography
Upon her return to the United States, Neshat made Women of Allah (1993-1997), her breakthrough series of self-portraits in which she wears the chador and often holds a gun. In the photographs, the parts of the body allowed to be shown by Islamic law (the face, feet and hands) are covered in Iranian poetry by the female poets Forough Farrokhzad, a subversive and revolutionary figure of great importance to Neshat, and Tahereh Saffarzadeh. The contrast between the poetry and the uniformity of the veil shows the women of Allah as complex individuals with their own desires and ambitions, balancing the personal and emotional with the public and political.
Other photography series include The Book of Kings (2012) and Our House is on Fire (2013), portraying the hidden faces of the revolution. In The Book of Kings, the Persian epic poem Shahnameh (The Book of Kings) covers the faces of the young activists fighting for democracy during the Arab Spring. In Our House is on Fire, Shirin Neshat photographed elderly people in Egypt who had endured the loss of their children during the revolution. Both series address the despair and traumas in the aftermath of the revolution.
"Surrealism, magic realism, dreams is a perfect language for an artist like myself, because it embodies all of those divides between reality and illusion, sanity and insanity, the political, the personal. I think it's the story of many immigrants, that once we leave our home we are never at home. We're always in half."

Shirin Neshat
Shirin Neshat's Work in Film
In 1998, Shirin Neshat took a cinematic turn with Turbulent, a piece consisting of two screens facing each other that portrayed a male and female performer. The two characters together create a metaphor for the gender roles and injustices in Iran. The man performs a traditional Persian love song by the poet Rumi to a full auditorium while the woman performs in an empty hall as women are prohibited from singing in public in post-revolutionary Iran. Neshat won the International Prize at the 48th Venice Biennale for this piece in 1999. She then continued in a similar set-up with Rapture (1999) and Fervor (2000), together forming an important trilogy of video works. Rapture presents a divided world where architecture and landscape are metaphors for entrenched cultural beliefs about men and women. While the men are trapped in a fortress, wrestling and praying, the women travel from the desert to the sea, eventually boarding small boats and leaving the land behind them. Fervor also explores gender roles in the context of a public lecture by a charismatic speaker, attended by a female audience on one side and a male audience on the other side.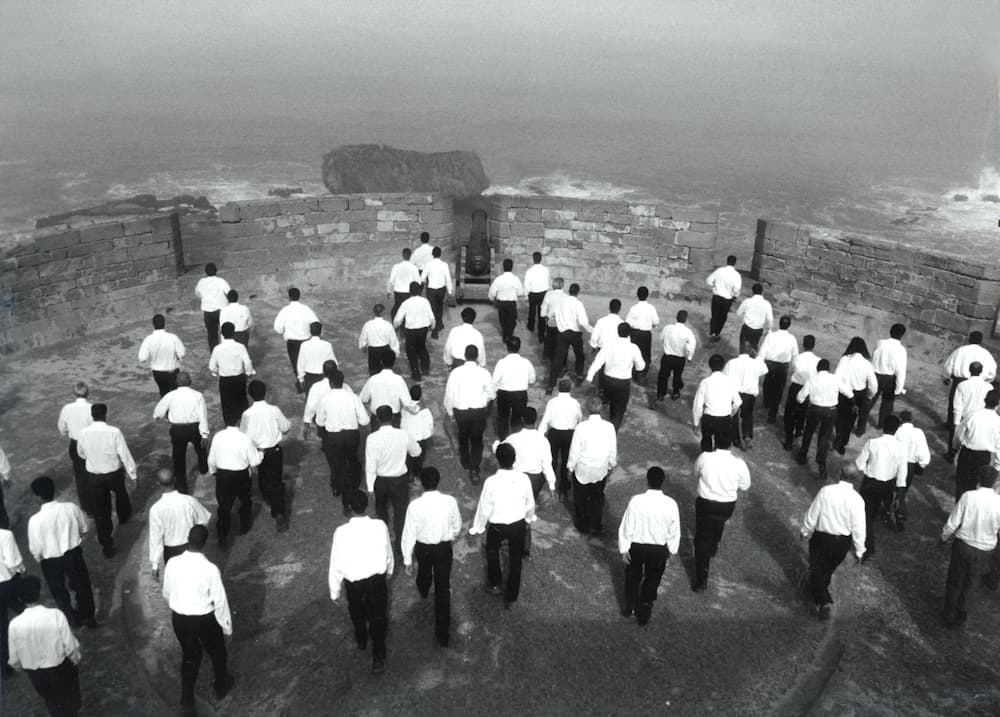 Evident in her entire body of work but particularly in her film works, Neshat makes use of the realm of dreams, surrealism and magic realism to work through the collective experiences, fantasies, traumas and realities of the Iranian people and humanity at large. "Surrealism, magic realism, dreams is a perfect language for an artist like myself, because it embodies all of those divides between reality and illusion, sanity and insanity, the political, the personal," she explains. "I think it's the story of many immigrants, that once we leave our home we are never at home. We're always in half." She goes on to explain that there is a certain creativity that goes hand in hand with living in or coming from a society with an oppressive regime. People are forced to find creative ways to speak their truths and ideas, and so they often turn to metaphors to communicate subversive thoughts. For Neshat, the language of poetry and dreams is a way to communicate her message in a subtle yet sharp way.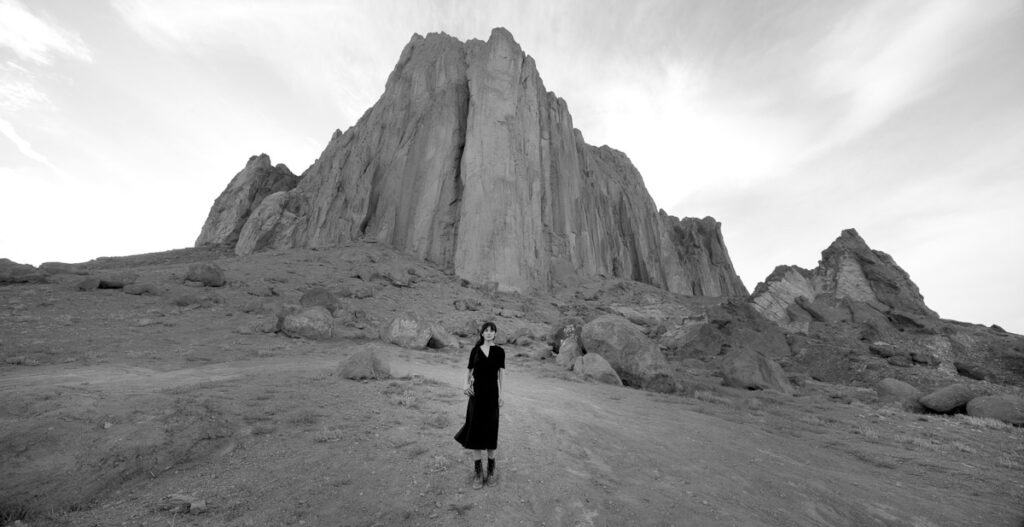 Land of Dreams
In her recent project, Land of Dreams (2019), the language of dreams features prominently. Land of Dreams marks an important shift for Neshat, as she focused for the first time on the people of America. The multidisciplinary body of work consists of a series of photographs, a film on a two-channel video installation, and a forthcoming feature film to be released this year. For Land of Dreams, Neshat and her team travelled to New Mexico, as they were searching for a location that looked both like Iran and the American Southwest. Her film's protagonist Simin travels around suburban and rural areas to photograph locals in their homes. Simin asks each of her subjects to recount a recent dream as she photographs them. The plot thickens as it is revealed that Simin is an Iranian spy given the task to archive the dreams and portraits of her subjects, which are then analysed in a bunker in New Mexico.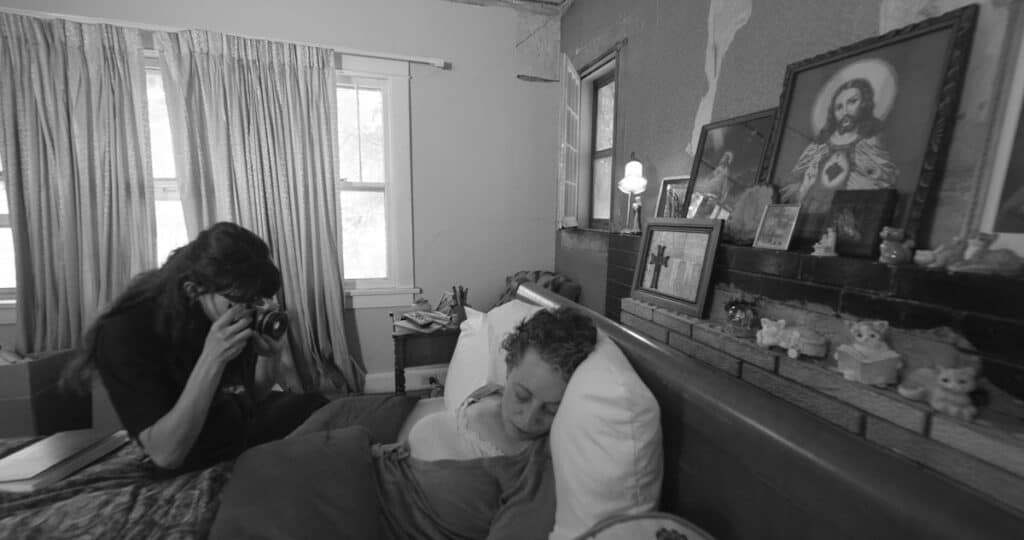 This project is a brilliant commentary on the similarities between the United States and Iran and the oppressive policies and politics in both countries, which also share a complex political relationship. With Land of Dreams, Shirin Neshat creates a deeply thought-provoking body of work that attests to her subtle understanding of both her countries. And in the photographic installation of Land of Dreams, we see the subjects photographed and interviewed by Simin, with their dreams recorded in Farsi on the portraits. At once fiction and documentary, this is Neshat at her strongest, weaving together her past practice with her present concerns in the language of dreams.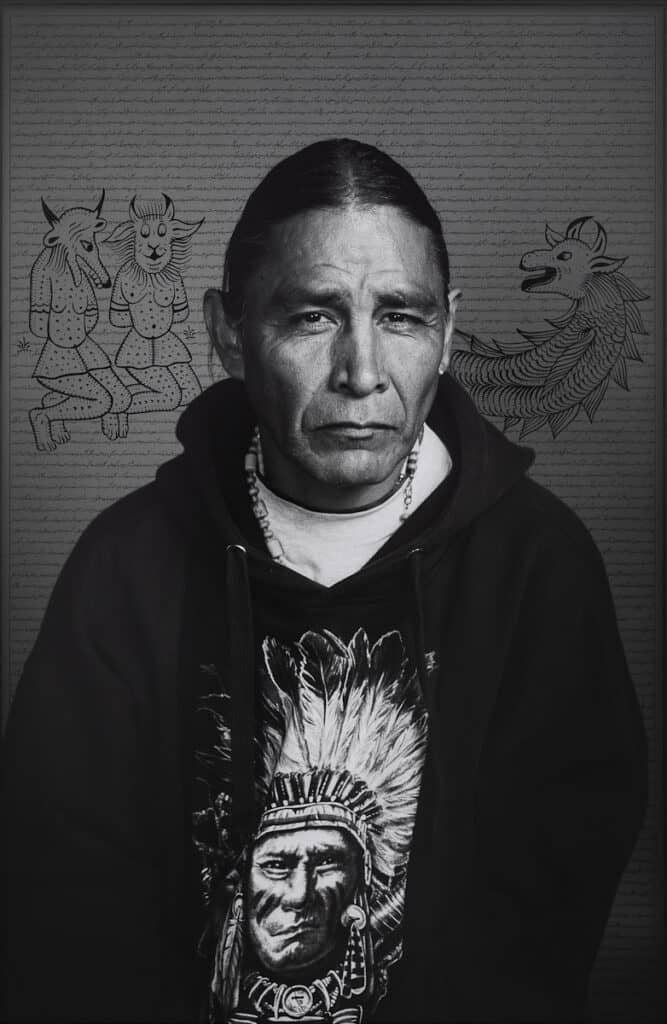 Relevant sources to learn more