Interview
The Abstract Metropolises of Lu Xinjian
By Adam Hencz
"I need to be very patient. I am continuously getting into a zone, where I don't think anymore. It is like meditation."

Lu Xinjian
For painter Lu Xinjian it was a dream come true when he arrived in the buzzing city of Nanjing, leaving the mountain village where he grew up behind. Coming from a tea farming family, Lu Xinjian's choice to major in graphic design was an economic necessity at first. Fascinated by the creative opportunities his new home and occupation shed light upon, the young designer thrived for continuing his education and moved to the Netherlands enrolling first to the Design Academy Eindhoven and then the Frank Mohr Institute. It was there that he discovered the fusion of painting and graphic design and was heavily influenced by his mentor and founder of the institute, Petri Leijdekkers, who exposed him to the De Stijl movement and the works of Piet Mondrian.
Coming from a design background, Lu Xinjian brings his particular understanding of the relationships among lines, shapes and colours into his artistic practice. He orchestrates these core graphic ingredients into paintings that balance on the fine line between reality and representation, between abstraction and realism. With Lu Xinjian, we talked about his creative process and revisited his distinct series born during the 10-year collaboration between the artist and Shanghai-based ART LABOR gallery.
Your debut into the art world was "City DNA", a series of large paintings, that abstracts different cities from around the world into minimalistic lines, ticks and symbols. What made you start painting in this style?
I started out from a graphic design background, liking illustration, so I used to use this line style to make drawings, some in a sort of style of Van Gogh and was also very influenced by Mondrian as well, a reason why I chose to study in Holland. When in Holland I got really into the Zero movement. So that influenced my painting technique, but I also come from a very tiny tea village in rural China, and so the big city always held some big interest in my mind. My graphic style proved to be very useful to capture the diagram of the urban environment from above.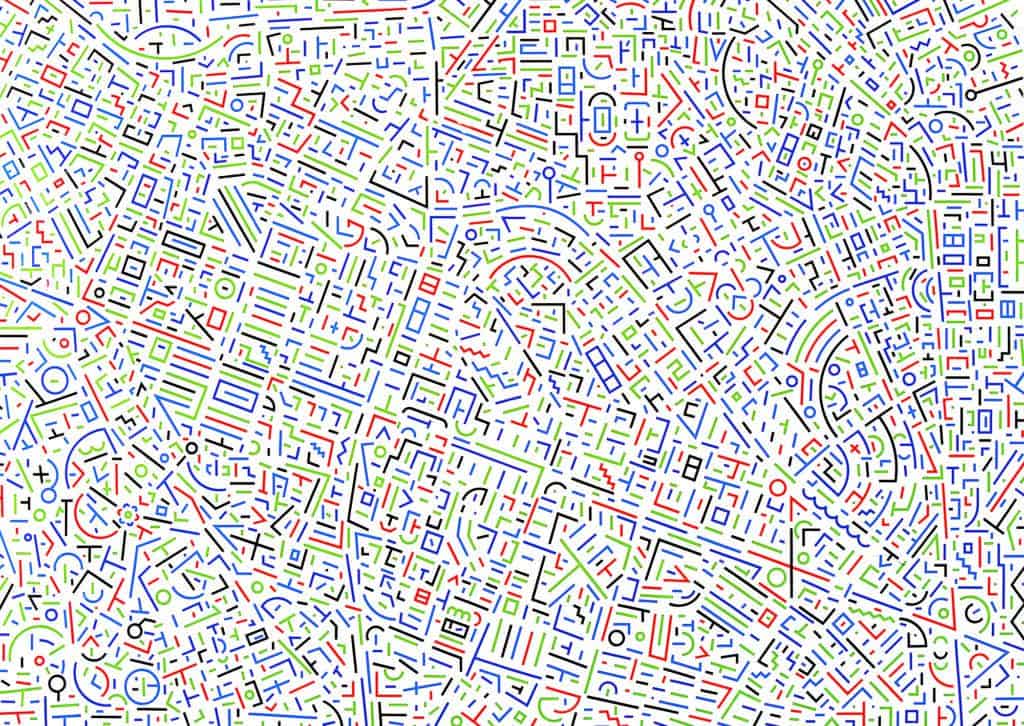 City structure is a repetitive motif in your artistic practice from the beginning with your "City DNA" series through "City Stream" to the most recent "Reflections". What fascinates you about cities?
Well, it is usually a dream from early on for most kids in the villages of China, to move to the big city, full of promise and excitement. Also, I wanted to escape the hard labour of the farm… So I traded the tough farming life for the endurance contest of the life of a professional artist and now reside in Shanghai, which as one of the world's largest is certainly filled with lots of interesting things to do.
How do you select cities to be included in these series?
I will still do the occasional "City DNA" style, mostly on commission for a collector, as many still want to get their own neighbourhood or city. In the beginning, I just chose the most famous ones, but they were also chosen for their interesting structure when viewed from above on Google Earth, such as New York's famous grid-like streets, which were the two first paintings I did, as Mondrian was quoted as saying he felt Manhattan was his dream home… so much like my own dream of living in the biggest cities… then I started looking around with Google and could see Paris and its spoke like streets heading out from the Arc de Triomphe, Barcelona, and I have done a few of Shanghai, most of the different areas of the city, just because it's close to my heart.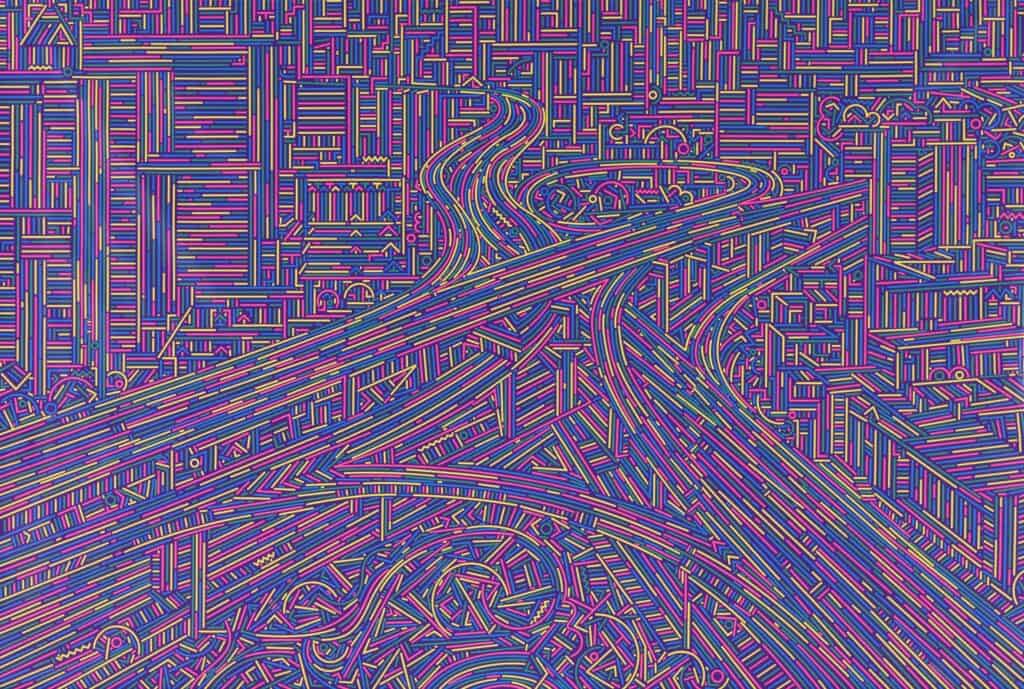 What cities have you lived (or exhibited) in before that made a profound impact on you? What fundamental differences do these cities have in your point of view?
I've lived in Eindhoven, and Groningen, where I finished my master's degree at the Frank Mohr Institute, and later, Beijing and Daegu, Korea, and now finally Shanghai. But I have visited many of the cities in Europe I've painted, such as Venice, Berlin and so on.
Every city's unique style was largely a product of when the city was built, in Europe everything is very walkable because most towns had no cars at those times. Beijing's structure as our capital was built out of walls, so it has a very square structure and was also rebuilt in the era of the birth of communism, so streets are meant to impress and provide room for large parades.
Shanghai, where I am now, is all chaos, formed from the former colonial neighbourhoods that weren't so much planned as just taken, with different groups grabbing what they could, and building roads to each of the neighbourhoods as needed… although today it is an efficient city, with quite good transport lines, raised upper highways that crisscross the city over this ground-level chaos, and make it fast and energetic, much like the speed of the city's life and the people.
What will they look like in the future in your opinion? What will life be like in the cities of the future?
I guess they will become more convenient and more ecological, I think we have reached the point as far as maximum size, now it will be about organizing the people better within the structures of the city. Hopefully anyhow!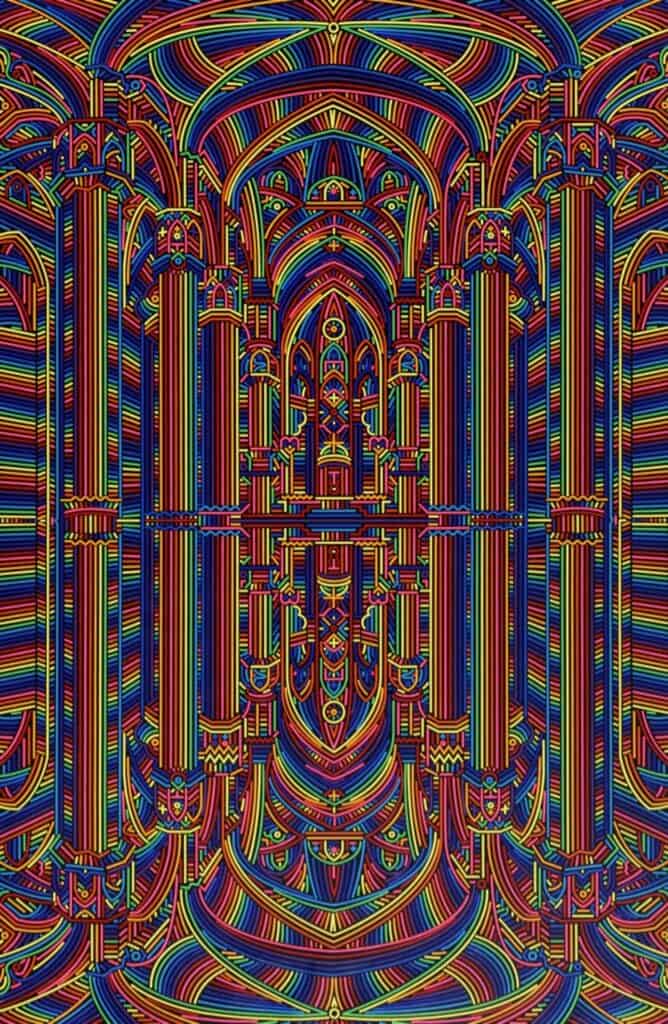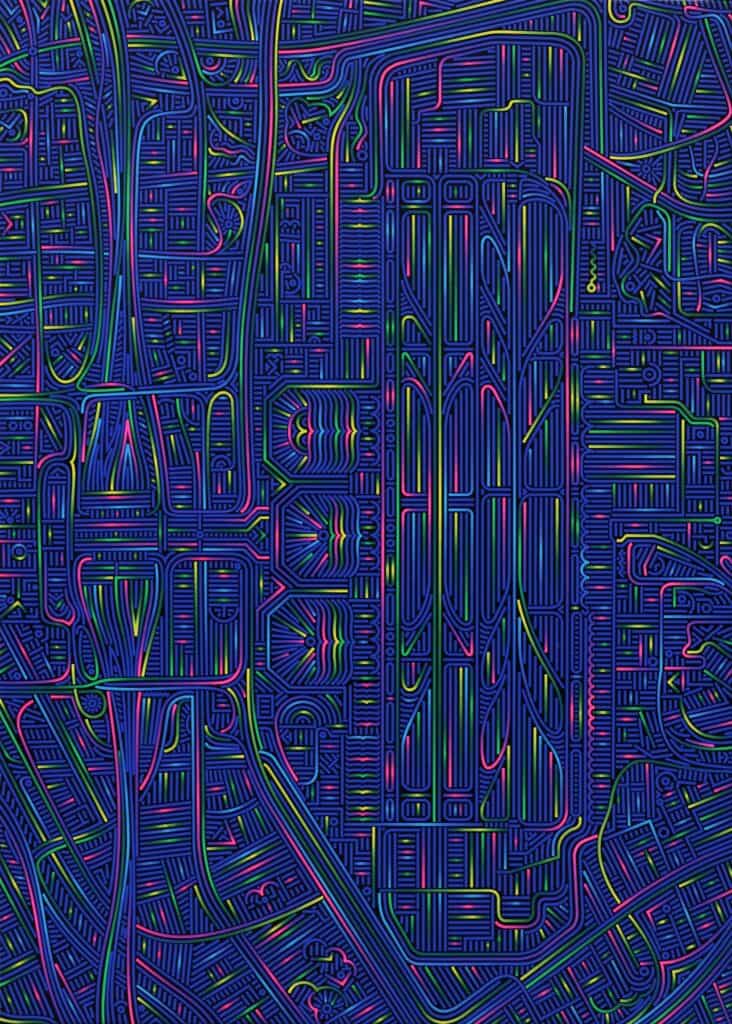 Your painting process is somewhat reminiscent of the creation of sand mandalas in Tibetan buddhist temples. They are meticulous, precise and require belief and determination. Is art a spiritual, meditative occupation for you?
Yes, as the work is large and detailed and requires me to be quite repetitive and precise – so to achieve this I need to be very patient and put a lot of hours into it continuously, so I get in a zone, I don't think about much while painting, so in that sense, it is a bit like meditation. I need to pay attention to the colour balance between the different colours, as I do not usually stick to my original plan 100%, but rather paint it from feel, say too much red or blue or yellow, they need a balance. Harmony between all.
How do you incorporate digital technology in your creative and working process? How do you find the balance between working on a piece behind the screen and doing art by hand?
As I was a designer first, I learned how to create both by hand and computer. I use the computer to create designs for the paintings, and then move that plan onto the canvas by hand. My "City DNA" series are created from Google Earth images, which are then worked on by hand, to create the shapes and find the flow. I use a cutting plotter hooked up to a computer to apply the final patterns onto tape, which allows me to be more precise and productive. Really though, the painting is an artwork made by my hand, with visible brush strokes on the different layers. All of the work is touched by my hand.
What is normally the starting point or starting force for you to embark on a new body of work?
I research many things, and often just stumble across a new idea, inspired by images I see, and my earlier series sort of followed one another, "City DNA" being an aerial viewpoint, then "City Stream" began to look at the city from more of a plan elevation type view, and then I did a series called "Constellations" to look up at the stars and the heavens, which led me to the more spiritual paintings of the "Reflections" series, where I painted the inside of some of the world's most beautiful buildings, like cathedrals, the Duomo in Milan for example, which we showed in Venice a couple of years ago during the Biennale. Important halls where art fairs are held, buildings of power such as the Forbidden City in Beijing. And also the importance of water, with cityscapes that show both up and down across the water.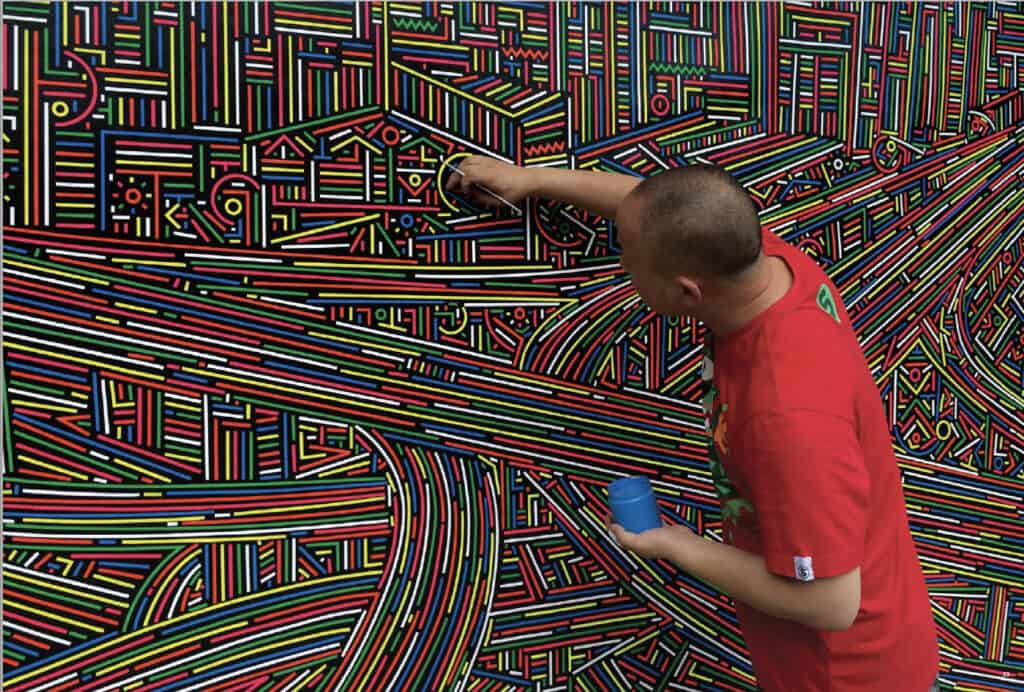 Your rising reputation gained the opportunity to collaborate with well-known global brands such as Absolut Vodka, Nike and Beats amongst others. What are the most challenging and most rewarding parts in such collaborations?
I have been very fortunate with my collaborations, and as a former designer, I am ok with working on commercial projects alongside my "proper" art career. I find it a welcome challenge to find a common ground with an agency or brand, find a way of keeping my unique style and making something that is a proper artwork in the process, easy with Absolut when they chose me to be the first artist in Asia for their decades-long campaign, so they just let me make whatever I wanted, and that was a very motivating thing to be involved in their project, as I was alongside, Warhol, and Robert Indiana, Louise Bourgeois, so for a young artist, I was quite excited! For the shoes that Nike commissioned for world champion Eliud Kipchoge, they asked me to make a painting of the Shanghai marathon path and then we put that painting image on the shoe with a very special hand dipping technique. Beatz asked me to do a painting of Shanghai, so there is always an original artwork created along with the commercial project. Rolls Royce last year asked me to paint 6 original paintings for them, so it all remains pretty creative and "pure". I am not creating "collectable products", like dolls and so on, my work remains "fine art" despite the brands being involved.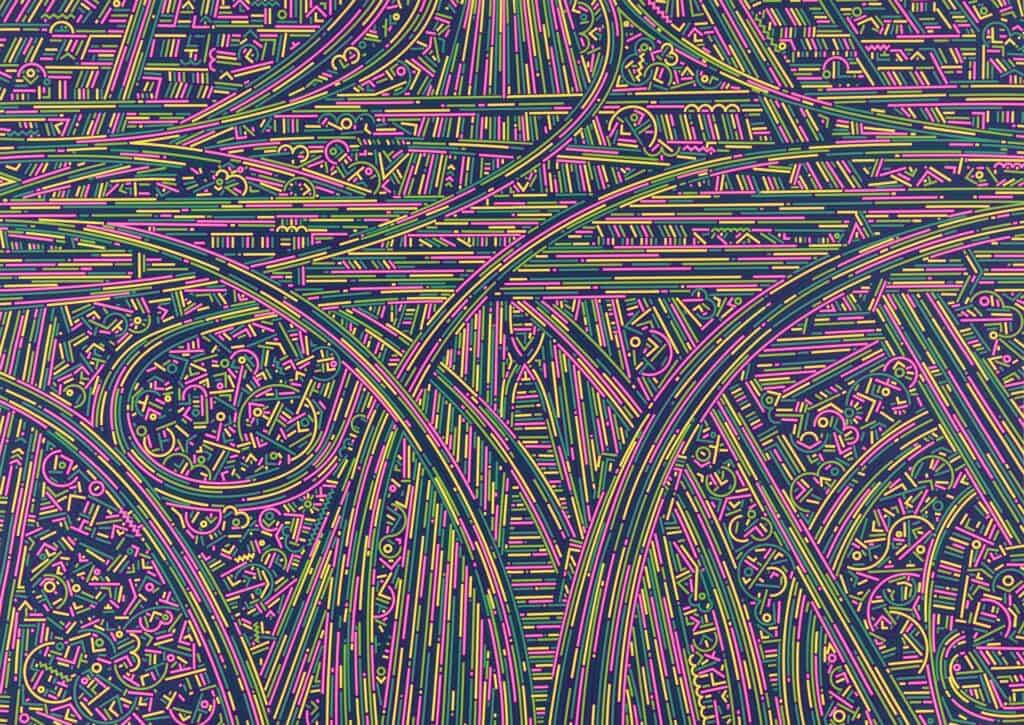 What is a yet unrealized or unfinished project for you? Is there an idea for a work that you cherish but did not have the means or momentum yet to realize it?
Well, that's the thing about inspiration in that you never know when it will hit you. As I have been through a few series as mentioned before, I am now looking at the people within those cities and developing a portrait style based on my original "City DNA" aesthetic. I'll be looking forward to getting back to being able to travel, now that my little girls are getting older and once this pandemic ends of course. I would love to do some big exhibitions, especially in the United States. We had a proposal for something in Silicon Valley which got put away once the pandemic started, so hopefully, that would come alive again, as it would be paying tribute to my original source material.
What is your next commission or project that you are working on?
I'm doing a couple of portraits at the moment, and I have an upcoming solo exhibition in Beijing, that is aimed more at the higher end local collectors, who have really started to take an interest in my work, which is nice, as I was mostly collected internationally for many years.