Art Collecting Insights
Private Art Collections in VR
UNCURATED COLLECTION – Interview with Estevan Maestas
"I think that finding new ways to display and share one's collection via digital and virtual spaces is an exciting element for collectors and the artists that they support. This provides new opportunities for both parties to share the work with an audience as accessibility to the work is an important factor."

Estevan Maestas
UNCURATED COLLECTION is a diverse private art collection created by Estevan Maestas, featuring young emerging to mid-career visual artists with different backgrounds and from historically underrepresented communities and cultures.
The collection is part of Artland's campaign aiming to provide art collectors with new means for enjoying, curating, and sharing the artworks they cherish through cutting-edge VR technology.
Read our interview with Estevan Maestas below and learn more about his collecting journey, his goals as a collector, the importance of supporting living artists, and much more!
Discover the works from the UNCURATED COLLECTION here.
"Buy the art, invest in the artist."

Estevan Maestas
What first drew you to contemporary art and how did you become an art collector?
Growing up in Northern New Mexico, between Abiquiú, Taos, and Santa Fe, one of the top art markets in the United States, I've been surrounded by countless artists, galleries, museums, and art institutions from a young age. I frequented many gallery openings and events and formed great relationships with gallerists which led me to start my art collection. Later in life, at around the age of 20, I founded my first gallery, an online platform that represented early-career international artists, which provided me with the privilege of supporting creatives while building upon my collection at the same time.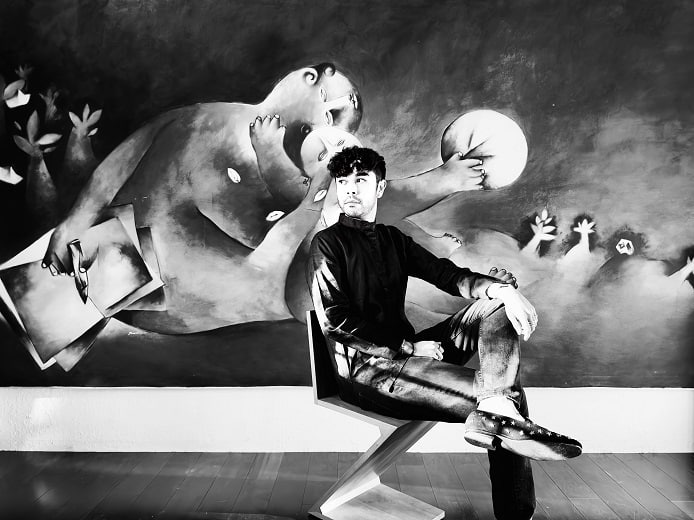 Describe your art collection in three words.
Diverse, inspired, evolving.
Is there a common thread within the UNCURATED COLLECTION (a particular style, medium, theme, historical period…)?
The primary focus of my collection at its current stage is to support a diverse group of international artists of varied backgrounds, communities, and cultures with a focus on those who've historically been underrepresented, namely those in the LatinX, LGBTQIAP2S+, BIPOC, and AAPI communities, working across all mediums.
I've come to realize there is a recurring theme in the works I've collected which revolves around figurative depictions of human connection and embrace. There's a certain relatability in those works that I resonate with and find comforting. Another notable visual element in my collection that has emerged over the years is vessels, vases, and amphorae. I'm intrigued by these historical forms and how the artists have interpreted and repurposed them to convey their message in a contemporized way.
Is there any piece of art in your collection that plays a significant role to you? Can you tell us why?
There is a powerful work in my collection by David Heo, a Korean-American artist based in Chicago, that certainly makes an impact every time that I look at it. It is a collaged work on paper entitled, "Kinship" that – my personal interpretation – depicts a moment of suffering and unity between two individuals of differing backgrounds with seemingly shared experiences. It's one of those works that is striking, thought-provoking, emotional, and empowering at the same time.
Has your taste changed since you started collecting art?
My taste has most definitely evolved from the early days of my collection's formation. Initially, there was less of an objective when it came to acquiring works, although I still collected what I loved. Now I take a more considered approach especially as space constraints become a greater factor as the collection grows.
What aspects do you take into consideration when buying a work of art?
When considering an acquisition, I take into account how the work aligns with the direction and values of my collection, how I personally connect with the work, and most importantly how it benefits the artists.
Where do you display your collection? Do you think that custom VR environments for private art collections can be an enabling opportunity for collectors?
As my collection has grown to well over 100 works, it is shared and displayed between my primary residence and family properties, if not in storage. I think that finding new ways to display and share one's collection via digital and virtual spaces is an exciting element for collectors and the artists that they support. This provides new opportunities for both parties to share the work with an audience as accessibility to the work is an important factor.
I believe that as collectors, we are stewards of the work we are entrusted to own and live with, we must be responsible for how they are handled and presented. It's important to be able to share the work and provide visibility for the artists, VR and digital platforms are a safe and effective way of reaching a greater audience.
Can you tell us the names of three inspiring artists currently under your radar?
David Heo will always be on my list of inspiring artists. His work will never cease to amaze and inspire.
Peruvian artist, Braddy Romero Ricalde is another artist that I'm very excited about. His work has a playful yet powerful nature to it in such a unique style. The work he's done in and for his community, writing, illustrating, and distributing bilingual children's books for the children in the pueblos who do not have easy access to books is admirable.
Marcelo Eli Sarmiento is an artist that I've had the absolute pleasure of working with through my gallery as well as in my collection. His work tells a story through historical Latin American iconography in a refreshing contemporary style.
Looking ahead, what are your main objectives and expectations for the UNCURATED COLLECTION? Anything in particular that you look forward to?
As I go forward, I intend to continue following the principles of my collection and support living, early-career artists across the art landscape. I always look forward to discovering and connecting with new creatives.
What is the best advice you have been given about collecting? Any tips for aspiring collectors?
A common bit of advice that I have received, and the same advice that I'd give, is to just collect what resonates with you personally. Also, I will always advocate for investing in living artists. "Buy the art, invest in the artist."
Relevant sources to learn more
Explore the UNCURATED COLLECTION here
Follow the UNCURATED COLLECTION on Instagram here
Browse other private art collections and exhibitions in VR

Wondering where to start?