Articles and Features
The Most Famous Paintings by Edvard Munch Everyone Should Know
By Shira Wolfe
Edvard Munch was born on 12 December 1863 in the village of Ådalsbruk in Løten, Norway. His family moved to Christiania, now Oslo, in 1864 and struggled financially. The young Munch was a sickly child, and he would entertain himself on his sickbed by drawing and watercolor painting. At the age of 13, he started to try his hand at oil painting, and by 1882, he rented a studio in Christiania and exhibited his first work at the World Exhibition in 1885. 
Influenced by the work of Paul Gauguin and Vincent van Gogh, Munch wanted his paintings to look spontaneous and unfinished to depict emotion. His was a psychologically-charged, highly expressive style committed to unearthing and showing the most intense emotional experiences.
Munch always wished to be regarded as a contemporary artist, brave and experimental, often resulting in mockery and criticism from art critics who accused him of creating unrefined works and raw, at times brutally honest portraits. However, the controversy surrounding his style contributed to the making of the artist's name and his radical approach toward a symbolic use of color and simplifications of form did eventually pave the way for continental Expressionism and other groundbreaking art experiences rooted in symbolism. 
Munch was irrevocably tied to his personal and family fate. Mental and physical illness were recurring conditions in his family, and he too did not escape this. He wrote in his journal: "I inherited two of mankind's most frightful enemies – the heritage of consumption and insanity – illness and madness and death were the black angels that stood at my cradle." These themes continuously thread through Edvard Munch's paintings.
"It's not the chair that should be painted, but what a person has felt at the sight of it."

Edvard Munch
Themes
In 1902, Munch decided to start showing his paintings not as standalone works, but grouped thematically. He believed this would make them more accessible to the public. As such, he presented a series of 22 paintings as the Frieze of Life—A Poem about Life, Love and Death, divided into the following themes: awakening love, blossoming and demise of love, fear of life, and death. Titles of the artworks included Melancholy, Jealousy, Despair, Anxiety, and The Scream – all indicating his preoccupation with the four themes of the Frieze of Life. The exhibition, which was held in Berlin, was met with wide acclaim, making Munch a desired artist to collect. 
Fear, sexuality, and decay were deeply entangled for Munch, as illustrated by works like Puberty (1893), Man and Woman (1898), and Vampire (1893-94). Hope, innocence, deprivation, and despair interweave intensely in these paintings.
After very emotionally intense years filled with love troubles and anguish, Munch's later life was less tumultuous but mainly spent in isolation. He regarded his paintings as his children, and after he died in 1944, he left his work to the city of Oslo, which opened the Munch Museum to hold his legacy in 1963, on the occasion of Munch's 100th birthday. It is one of the largest collections of works by a single artist.
Famous Paintings by Edvard Munch
A prolific artist, Munch has left an incredible legacy of paintings, drawings, and prints bursting with emotion, which not only brutally depict the artist's psychological state at the time of their production, but also fully capture humane nature and all its darkest nuances through intense color and universal symbols. Read on to learn more about some of Edvard Munch's paintings that eventually led the artist to become one of the most renowned talents of his generation.
The Scream, 1893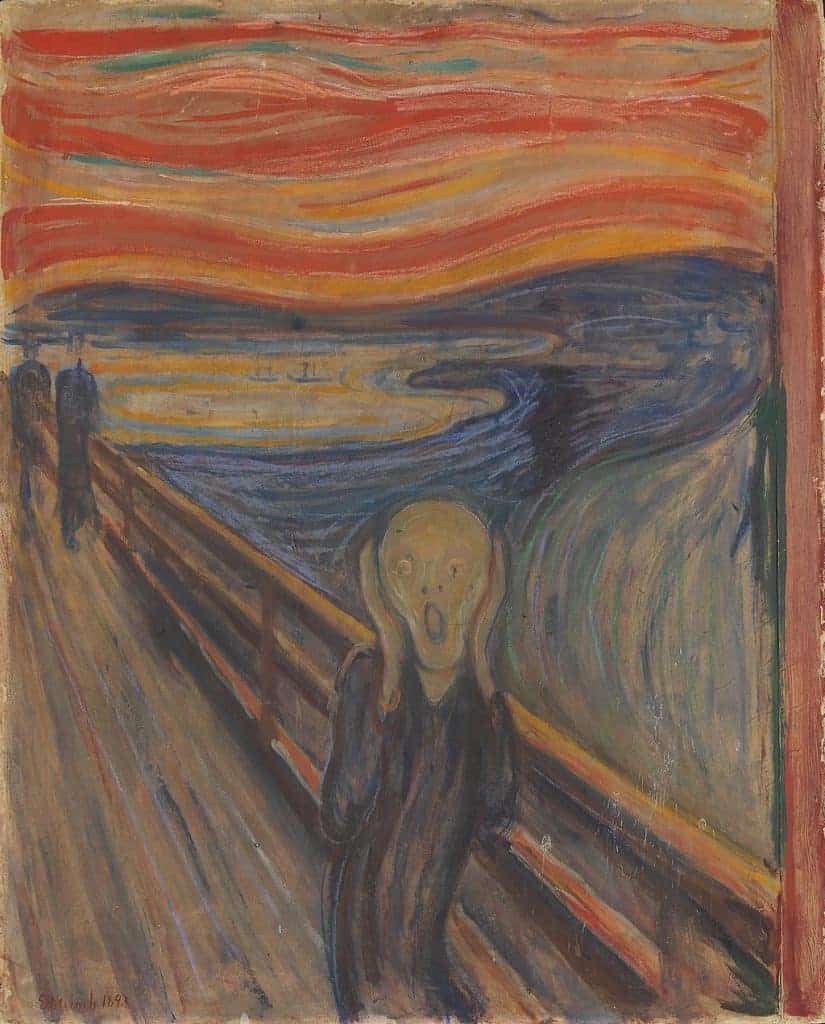 The Scream is not only the most famous Edvard Munch painting, it is also one of the most famous paintings of the modern era, one that came to define its anxiety-filled character.
The artist painted it following a vision he had. Munch recounted how he was walking down the road when the sky suddenly seemed to turn red, as if blood and fire tongues were looming over the city and the fjord, and he could sense an endless scream reverberating throughout nature.
There are four versions of The Scream, two oil paintings, and two pastel and crayon drawings. He also created a lithograph version, which is believed to have left around thirty impressions. Many interpretations and meanings have been attributed to this celebrated motif, making it a universal, and also one of the most parodied, symbols of existential angst and alienation.
The Dance of Life, 1899-1900
The Dance of Life (1899-1900) is a particularly autobiographical work where Munch processes his recurring themes of fear, sexuality, decay, and love-anguish. The painting is set in the seaside village Aasgaardstrand, where Munch owned a small cabin and where he had once had a love affair with Millie Thaulow, wife of a distant cousin of his. At the center of the painting, a man with a vacant expression, probably representing Munch himself, is dancing with a woman in a red dress, although they remain stiff and at a distance from each other. Other two women are portrayed on either side of the couple, one is dressed in white, while the other is wearing a dark dress. Although many see in these two women Munch's love-haunts, Millie Thaulow and Tulla Larsen, a common interpretation identifies the three women as a metaphor for three stages in life: youth, associated with innocence and expressed in white; adulthood, characterized by passion and pain, and symbolically represented in red; and lastly old age, connected to sorrow and death, and depicted in black.
Puberty, 1894-95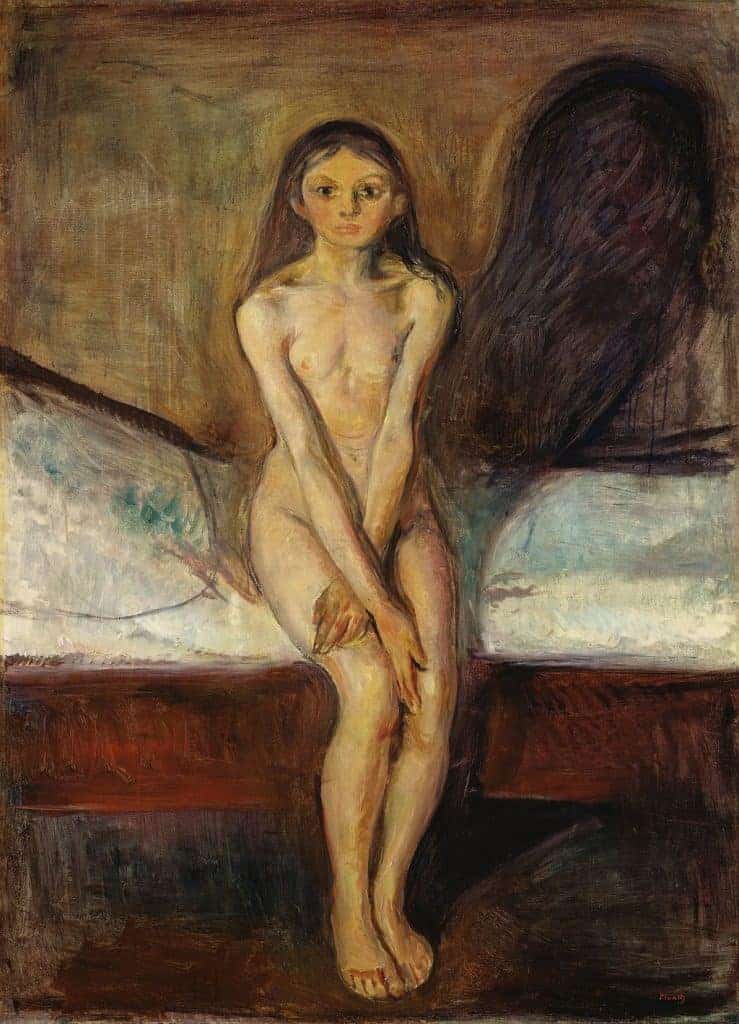 This 1894-95 painting was among the series that became associated with Munch's informal grouping of artworks known as The Frieze of Life. During the period in which he painted Puberty, Munch was spending a lot of time in Berlin. It is said that his friends there contributed to his sexually depressed state of mind, and this was reflected in the painting. It depicts a young naked girl, sitting on the edge of the bed, her arms crossed in front of her body and an ominous shadow behind her. The painting exudes anxiety and discomfort, but also the boldness that comes with the young girl's physical and psychological developments – she stares straight at the viewer, an unflinching look in her eyes. 
Madonna, 1894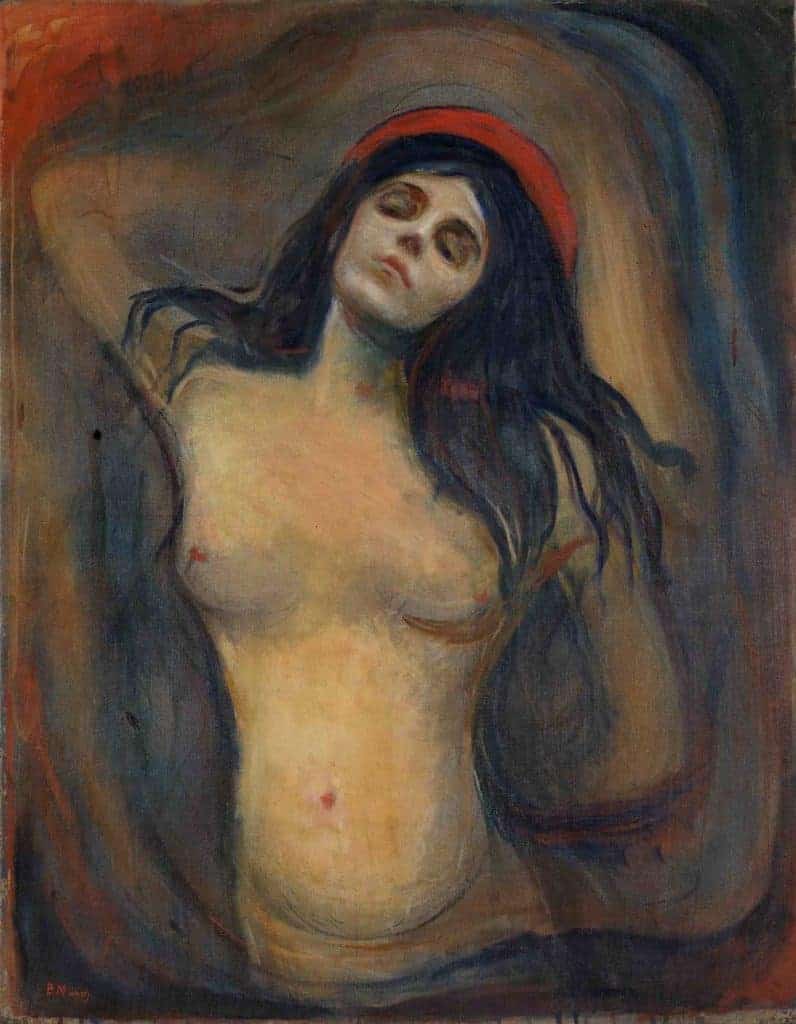 Edvard Munch's Madonna is a painting that shows a bare-breasted, beautiful woman stretching out. The motif recurs in several versions and constitutes a riddle for art historians and critics. Some have identified the woman as the Virgin Mary, with the red halo replacing the golden halo and symbolizing the duality of love and pain. Others describe the painting as a glorification of decadent love, and the connection to a vampire figure has also been made. The original title was Loving Woman, and taken as such, we can consider the painting to represent Munch's idealized and ambivalent archetype of womanhood.
In 2004, the Madonna painting held at the Munch Museum, along with the museum's version of The Scream, was stolen, to be recovered only two years later by the Oslo Police in relatively good condition.
The Kiss, 1897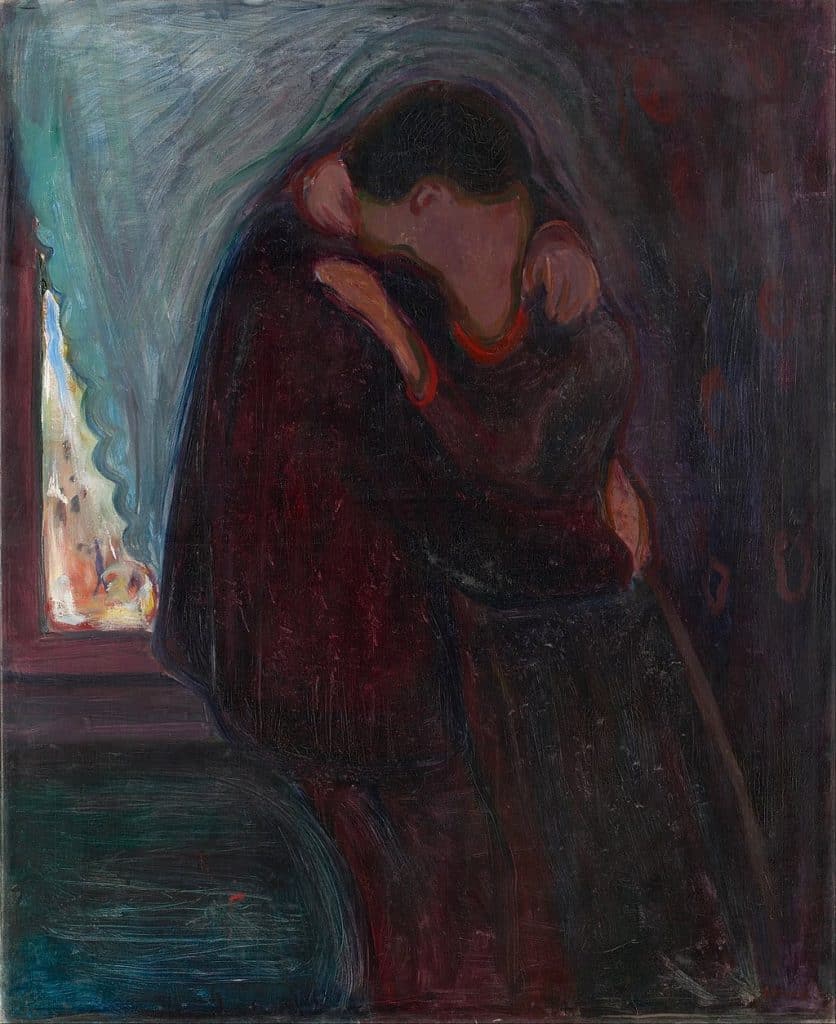 Munch started experimenting with the kissing motif in 1888-89 using painting and woodcuts and was included in his Frieze of Life series. In the numerous realizations of The Kiss, among which the 1897 version is particularly emblematic, we see a couple melting together in an embrace. With their two bodies merging into one, it is almost impossible to separate the two figures. The painting represents both their unity and the threat of the loss of one's individuality and identity. There is also a contrast between the room where the couple is situated, dark and timeless, and the world outside, which we see through the window and appears bustling and lively.
Vampire, 1895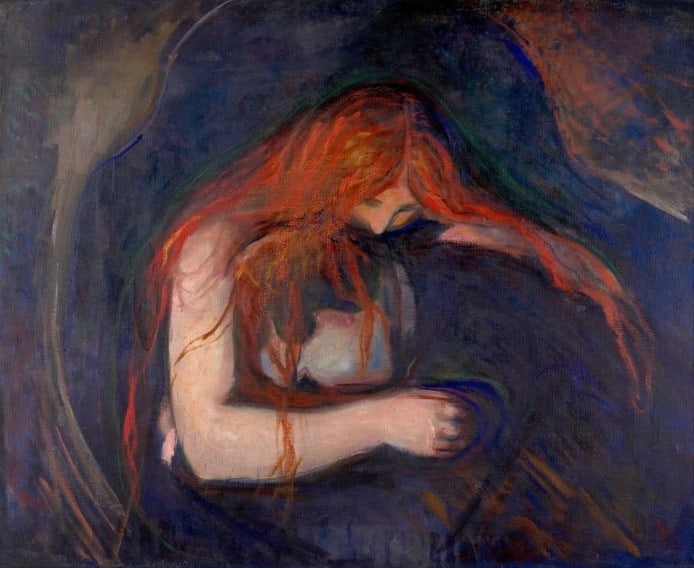 Edvard Munch's painting Vampire, which is also known as Love and Pain, depicts a man and woman embracing as the woman kisses the man on the neck. The man, bent over forwards, seems to be laying his head in the woman's lap in despair. The woman with fire-red hair has often been associated with a vampire who is holding the man in a tight embrace, biting his neck. Munch painted six different versions between 1893-95.  
Relevant sources to learn more
Read more from Artland Magazine
Art Movement: Expressionism
Art Movement: Symbolism
From the series
The Most Famous Van Gogh Paintings Everyone Should Know
The Most Famous Basquiat Paintings Everyone Should Know
Other relevant sources
Visit MUNCH, the museum dedicated to Edvard Munch in Oslo
Discover and Buy Artworks for Sale