Articles and Features
The Most Famous Basquiat Paintings Everyone Should Know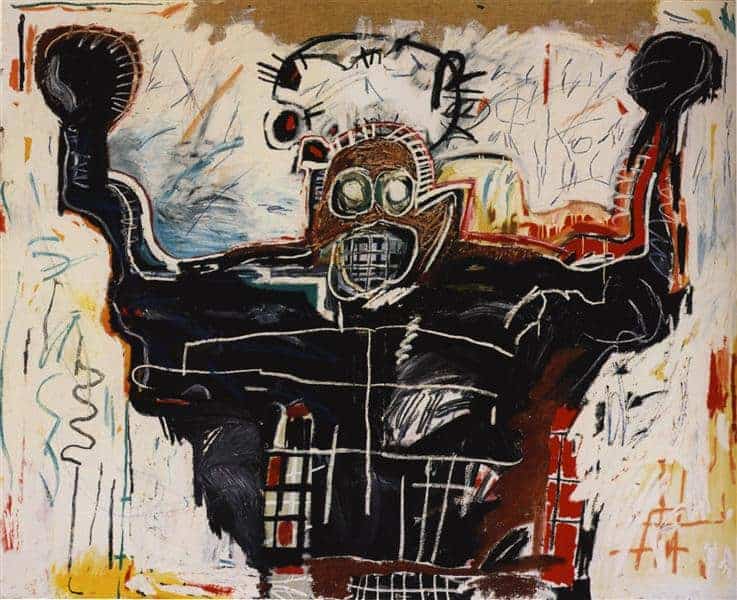 By Alice Godwin
"I don't think about art while I work. I try to think about life."

Jean-Michel Basquiat
A marvelous mystique hangs in the air over the legend of Jean-Michel Basquiat, the Puerto Rican-Haitian artist who shot to fame in 1980s New York and died tragically at the age of twenty-seven. For this star of the underground scene, who hung out at Andy Warhol's studio The Factory, sipped cocktails with Keith Haring, and even dated Madonna, it's often hard to separate the man from the myth.
The poetry, music, and art of downtown New York ignited Basquiat's imagination, and he defined the central themes of his work as "royalty, heroism, and the streets." The most famous Basquiat paintings fizz with the energy of the city, filled with an urgent visual language of sunken faces, graffitied words, and gestural marks that hit the viewer like a sucker punch to the chest.
When it comes to Basquiat's famous paintings, collectors and institutions clamor for those made during the explosive period between 1981 and 1983. The furor surrounding Basquiat paintings for sale has reached fever pitch in recent years, thanks to the intoxicating blend of Basquiat's raw talent and tragic biography, multiplied by a limited supply of work. Perhaps one of the more extraordinary stories has been the seized FBI Basquiat paintings shown at the Orlando Museum of Art in 2022, said to be forgeries.
Here are some of the captivating Basquiat paintings you should know…
Untitled, 1982
Untitled (1982) became one of the most expensive works of all time to sell at auction when it hammered for $110.5 million in 2017 at Sotheby's. The haunting skull, with its sneering mouth and staring eyes, was purchased by the Japanese billionaire Yusaku Maezawa, who had already added Basquiat's Untitled (Devil) (1982) to his collection a year earlier. This was the highest sum ever paid at auction for an American artist until Andy Warhol's Shot Sage Blue Marilyn (1964) unseated the record in 2022 at Christie's. The skull was a crucial motif for Basquiat, which spoke not only to the graffitied streets of Manhattan, but the memento mori of art history which symbolizes the ephemerality of life.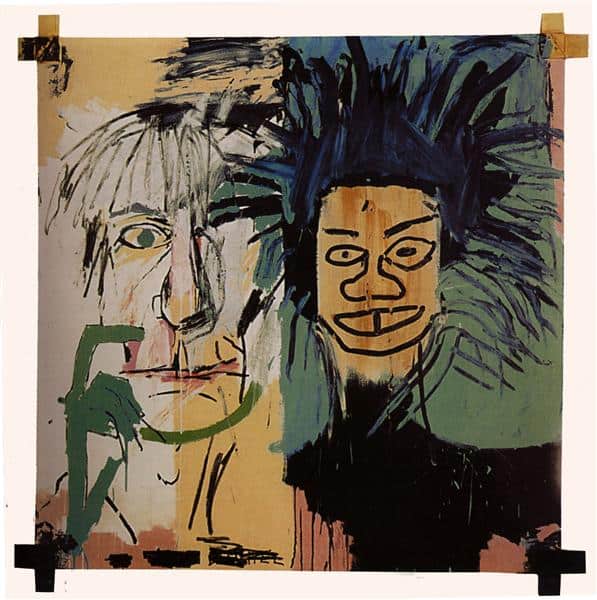 Dos Cabezas, 1982
A list of Basquiat's famous paintings would not be complete without mention of the unlikely friendship between Basquiat and the founding father of Pop art, Andy Warhol. Though they came from different generations and backgrounds, the two artists greatly admired one another. For Basquiat, Warhol's paintings represented everything he was seeking – fame, recognition, success. In return, Warhol was fascinated by the cool young rebel, who sparked a jolt of new energy in his art.
The pair met properly for the first time over lunch in 1982 and, so the story goes, a few hours later Warhol received a double-portrait painting that Basquiat had made called Dos Cabezas (two heads). Between 1984 and 1985, the pair teamed up to create an extraordinary body of work that embodies a conversation in paint between two giants of the twentieth century. Warhol / Basquiat paintings are amongst the most coveted works of the young artist's career and represent an extraordinary moment in time, one that was brought to life in the recent Broadway show The Collaboration, starring Paul Bettany and Jeremy Pope.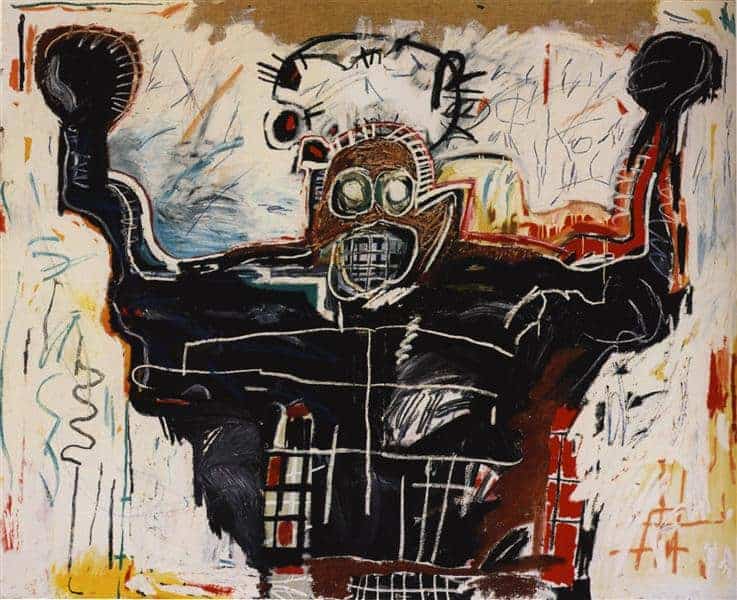 Untitled (Boxer), 1982
Basquiat filled his paintings with a roster of black heroes and icons from history who he empathized with as a successful black artist that still had trouble flagging a taxi in New York because of racial prejudice. Basquiat celebrated the lives and achievements of figures from the world of music and sports, including boxers Sugar Ray Leonard, Cassius Clay, Jersey Joe Walcott, and Joe Louis. For Basquiat, the boxer was a powerful motif, which represented triumph over racism and social injustice, and reflected Basquiat's ability to intertwine black history, popular culture, and personal experience. In many ways, the boxer was a self-portrait for Basquiat that reflected his struggles in the predominantly white art world and desire "to be a star, not a gallery mascot." In Untitled (Boxer) (2022), the athlete appears with a halo-like shape over their head, as if canonized. His arms are raised in an echo of the Black Power salute, famously made by the American athletes Tommie Smith and John Carlos at the 1968 Olympic Games in support of the Civil Rights Movement.
King Zulu, 1986
Music was another crucial source of inspiration for Basquiat, who had been a regular performer at the Mudd Club with the art noise band Gray, at the epicenter of New York's underground scene. Records were forever playing in his studio, conjuring a soundtrack that ranged from jazz and blues to Donna Summer and Bach, and undoubtedly influenced his frenetic mark-making. Basquiat had a huge collection of records and would even trade paintings for rare copies of blues and bebop LPs.
Much like his pantheon of athletes, Basquiat pictured musicians that had overcome racial prejudice, including Charlie Parker, Miles Davis, and Jimi Hendrix. In King Zulu (1986), Basquiat pictures three iconic American trumpeters: Howard McGhee, Bunk Johnson, and Bix Beiderbecke, alongside a character resembling Louis Armstrong at the traditional New Orleans Mardi Gras Parade when he performed as the King of the Zulus in 1949. As the city remained racially segregated, Armstrong could only stay at certain hotels and parade through Black neighborhoods.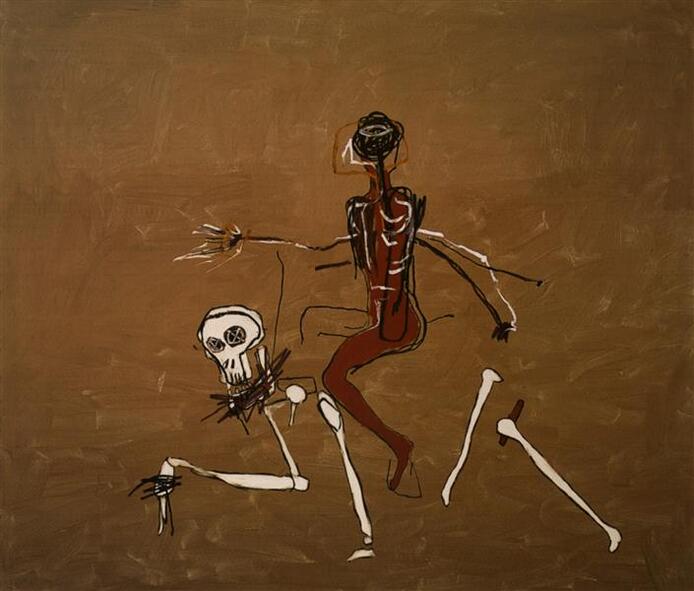 Riding with Death, 1988
One of the final paintings Basquiat made before a drug overdose in 1988, Riding with Death (1988) is an eerily prophetic painting that speaks to the enduring themes of racial injustice and art history that run throughout Basquiat's oeuvre. Here, an African American figure rides a skeletal horse through a dark void. But which figure is death? Both characters seem to be crumbling to pieces, as if everything we believe about life and death might be falling apart. This painting was inspired by a drawing by Leonardo da Vinci. Basquiat was well-versed in the Renaissance and profoundly knowledgeable about the wider arc of art history, recalling how he used to visit the Brooklyn Museum with his mother as a child. In the studio, Basquiat would pour over the books that lay open on the floor, like Da Vinci's Notebooks.
Relevant sources to learn more
Read other articles from the same series:
The Most Famous Van Gogh Paintings Everyone Should Know
Discover paintings on Artland
Works for Sale by Jean-Michel Basquiat
A selection of works in various media by Basquiat is available for sale on Artland's marketplace.
Wondering where to start?