Art Collecting Insights
Private Art Collections in VR
The Underdog Collection – Collector Interview
"We love artists that look at the world we are living in with a fresh, original and sometimes unexpected and provocative point of view. "

Underdog collectors
Four Italian art collector friends are the minds behind the Underdog Collection. Based in different cities in Italy, Bruno Izzi, Fabio Zivoli, Alessandro Mistretta and Tony Pecoraro are united by their shared passion for art created by young and emerging talents; a common interest that has led them to combine their individual collections into a unique, collective project.
We are delighted to feature the Underdog Collection as part of a campaign that aims to help collectors maximize the relish for collecting by enjoying, curating, and sharing the artworks they cherish anytime and anywhere through Artland's latest VR technology.
Explore the Underdog Collection here.
"Our collection is displayed at our homes and therefore is scattered around at the moment. Unfortunately, we don't live that close to each other. We think that a custom VR environment could be very useful in a situation similar to ours."

Underdogs collectors
What first drew you to contemporary art and how did you become an art collector?
Each of us has an individual story to tell because we approached collecting in four different ways. The thing we all have in common is that none of us has a background in the art world or parents who collect or love art. We have all started collecting just for passion: Alessandro decided to start collecting after watching telesales of established artists on tv; Fabio needed to hang something colored on the white walls of his new apartment; Tony and Bruno attended an online forum focused on contemporary art.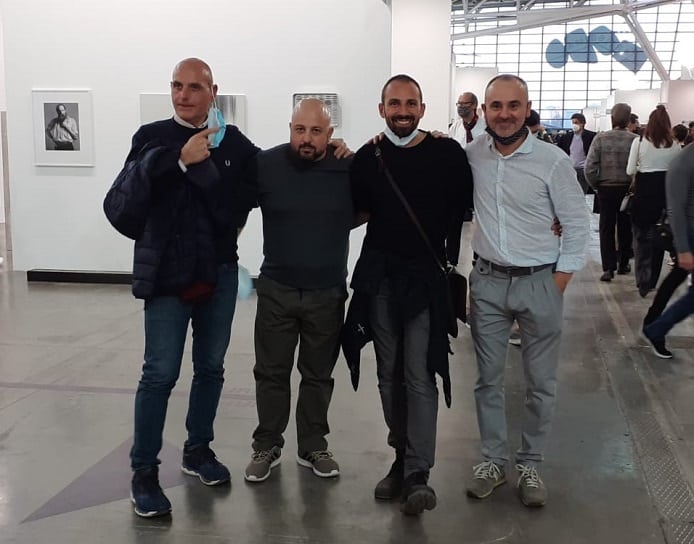 Describe your art collection in three words.
Contemporary, brave, forerunner.
Is there a common thread within the Underdog Collection (a particular style, medium, theme, historical period…)?
Our collection is mainly focused on emerging artists under 30 years. We love artists that look at the world we are living in with a fresh, original and sometimes unexpected and provocative point of view. We prefer painting as a medium but we are becoming more and more curious about sculptures and installations, and all the works that have something hidden in themselves and not immediate to perceive.
Is there any piece of art in your collection that plays a significant role to you? Can you tell us why?
Myne, the work by Bronwyn Katz. It is the first work that we bought all together. We can say that the "Underdog Collection" was born unofficially with this acquisition mainly because each of us has a piece of this work that is made by five different sculptures (we own four: the fifth is not in our hands, unfortunately), and then because it's our first shared work.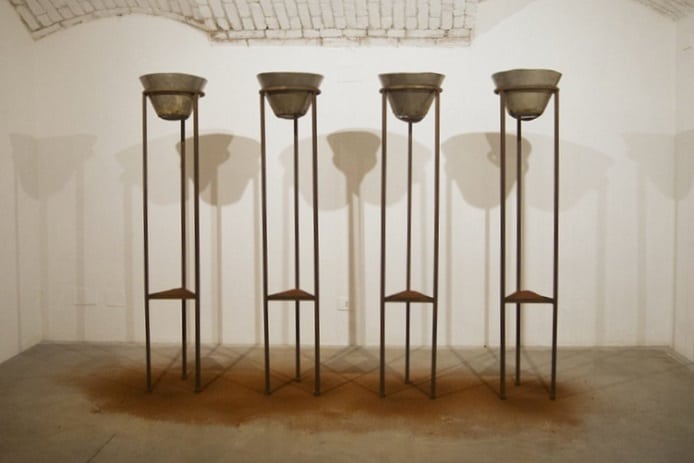 Has your taste changed since you started collecting art?
We should say it has changed a lot during these years but I think it would be a lie. In the last months, we have been pursuing a different strategy than in the beginning. We aren't as bulimic as we were in the first phases of collecting and we are trying to be more coherent in our choices. There are a lot of talented artists and an ocean of wonderful artworks out there. Unfortunately, money is always insufficient to collect everything we would dream of, but this situation leads us to make more thought-out (we hope good) decisions.
What aspects do you take into consideration when buying a work of art?
We don't care too much about the CV of an artist because we acquire mainly quite unknown artists, sometimes just graduated from school or at their very first group or solo shows.
We try to get in touch with artists we would love to grow with, in a certain way: first of all becoming friends, and then suggesting galleries, institutions, and residencies, as well as giving bits of advice about their career, especially at the very first stage.
When buying a work of art, we try to merge the aesthetic fascination and the power of its suggestion with the meaning and the ideas hidden behind the artwork. This is the reason why we always try to know the artists personally before any acquisition.
Where do you display your collection? Do you think that custom VR environments for private art collections can be an enabling opportunity for collectors?
Our collection is displayed at our homes and therefore is scattered around at the moment. Unfortunately, we don't live that close to each other. We think that a custom VR environment could be very useful in a situation similar to ours. The chance to see all the works in a VR environment would be a great opportunity to appreciate the coherence of the collection in its entirety.
Can you tell us the names of three inspiring artists currently under your radar?
Demetrius Wilson, Rikako Kawauchi, Marie Matusz and we would like to add a fourth name because we are Italian and there are a lot of talented but underrated artists in our country: Giuditta Branconi.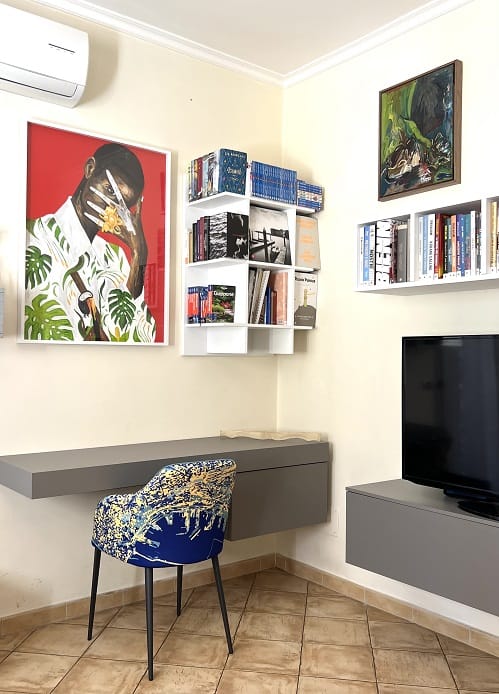 Looking ahead, what are your main objectives and expectations for the Underdog Collection? Anything in particular that you look forward to?
We have recently started to loan our works to museums and institutions. We are happy like children in a toy store. We would love to increase the frequency of our loans and we would love to have finally a unique space to show the collection in its entirety.
What is the best advice you have been given about collecting? Any tips for aspiring collectors?
Visit museums, galleries, and art fairs as much as you can. Arrange studio visits with the artists. Our tips for aspiring collectors are: be curious; trust your heart more than your head; be brave and don't have prejudices. Don't follow the trends but buy only what is meaningful for you, and most importantly, what you really love.
Relevant sources to learn more
Explore the Underdog Collection here
Follow the Underdog Collection on Instagram
Browse other private art collections and exhibitions in VR
Wondering where to start?