Articles and Features
A Gallery Walk Through The Artland 3D Archives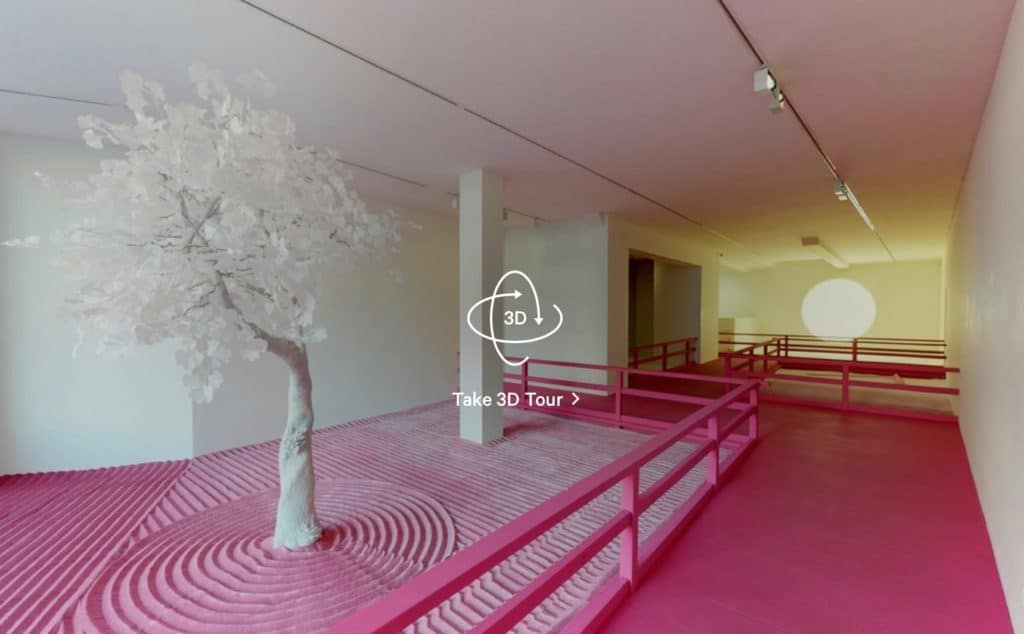 Artland has been making its acclaimed 3D tours of gallery exhibitions for nearly two years. At the time of writing we have made almost 1500 recordings in the galleries of the World. From far flung locations such as Buenos Aires to Seoul, and taking in the art capitals of New York, London, Paris, Berlin, Brussels, LA, and many more along the way, we have captured the essence, character and detail not only of exquisitely curated exhibitions the world over, but the uniquely stylish, elegant and quirky architectonic environments that have hosted them. Whilst we are active in as many resourceful ways as we can be, the straitened circumstances of the global pandemic, and the shutdown of much of life as we know it, means that the number of recordings we are making is not rising in the manner to which we've become accustomed. Consequently, we thought it apt to revisit a number of shows that have remained long in the memory. Whilst there are far too many for a distilled highlights reel, the following shows, we think you'll agree, deserve a meander once more.
Max Hetzler, Berlin. TRUE STORIES A SHOW RELATED TO AN ERA – THE EIGHTIES: PART II, Curated by Peter Pakesch.
November 2018.
Teeming with a raucous post-punk energy, and a museum show in everything but venue, Pakesch illuminates the gallery with a sweeping survey of art process and politics emblematic, as the title says, of an entire era. Including masterpieces by such luminaries as Oehlen, Wool, Kippenberger, Gober and Koons, as well as more subtle treasures like Herold's sculptures and Genzken's highly charged photographs, the exhibition encapsulates both the rawness of this emergent generation, but also their burgeoning sophistication as they collectively find their voices.
Sprüth Magers, London. Cindy Sherman. June 2018
Parodying the representation of women in film and television, fashion magazines and advertising, Sherman once more adopts limitless guises in her quest to illuminate the performative nature of subjectivity and sexuality. Like so much of her 35 year investigation into these modes of representation and identity, the works are alternately amusing, poignant and grotesque, rendered with scalpel-sharp perception and insight and no small measure of technical brilliance.
Harlan Levey Projects, Brussels. T.R. Ericsson, Industrial Poems. September 2018
Industrial Poems is a searingly poignant and deeply personal visual narrative of love, intimacy and loss within one family from America's post-Industrial midwest. In 2003, the artist's mother committed suicide by means of acute intoxication. She had overdosed on her anti-depressant, a medication she had routinely taken for many years as she battled mental health issues. The works in the show are frank yet poetic vessels of personal sadness. By the way he inventories elements of his mother's life, Ericsson creates a kind of relic-archive that both reflects and commemorates the complexity of their relationship.
Gagosian, Grosvenor Hill, London. Cy Twombly, Sculpture. December 2019
One of the greatest artists of the twentieth century whose influence has spilled over into the twenty first and shows no signs of dimming, Twombly's was a rare gift that extracted maximum expression from the restrained economy of his mark making. His sculptural practice had for many years been subjugated by the importance afforded to his painting, but the exhibition shown here leaves in no doubt the full range of his mastery. A show fully populated by the elegant forms extrapolated from classical exemplars, married to the formal language deployed by modernism's key practitioners, and sometimes also with the achingly beautiful chicken-scratch idioms and poetry of the artist's written draughtsmanship.
Carl Costyal, London. Oil Epp, Oxymoron, December 2019
Developing his post-internet pop idiom further in this show, Epp examines the duality of supervillains in film and television culture. With his trademark swathes of super flat color marking out biomorphic avatars of characters, combined with his technical mastery of trompe l'oeil detailing, the artist arrays a comprehensive and cartoonish universe to examine a chaotic and unjust world, in which uncertainty and anxiety reign.
Ron Mandos, Amsterdam. Daniel Arsham, Static Mythologies, January 2019
Arsham is well-known for his 'fictional archaeology'—sculptures depicting iconic cultural objects from our age, turned into relics by the artist who casts them in geological substances such as volcanic ash, rose quartz, obsidian and glacial rock. With their eroded, fossilized look, the works have been referred to as 'catalysts for the 21st century mind to travel backwards and forwards at once', whilst also giving the impression of how others might see our material culture centuries from now. The show also features the spectacular Lunar Garden, one of Arsham's signature architectural interventions. Inspired by his visits to Kyoto's famous Zen gardens, the artist describes their influence: 'whenever I visit them, they look as if time hasn't passed. But in fact they are heavily maintained by the monks. In my works, too, this balance between permanence and impermanence is very important'.

Relevant sources to learn more
Highlights of Barcelona Gallery week
Explore more Artland 3D Exhibitions
Michael Bevilacqua Studio Visit and Interview – Artland 3D