Articles & Features
Neon Art: Ten Artists Who Defined the Medium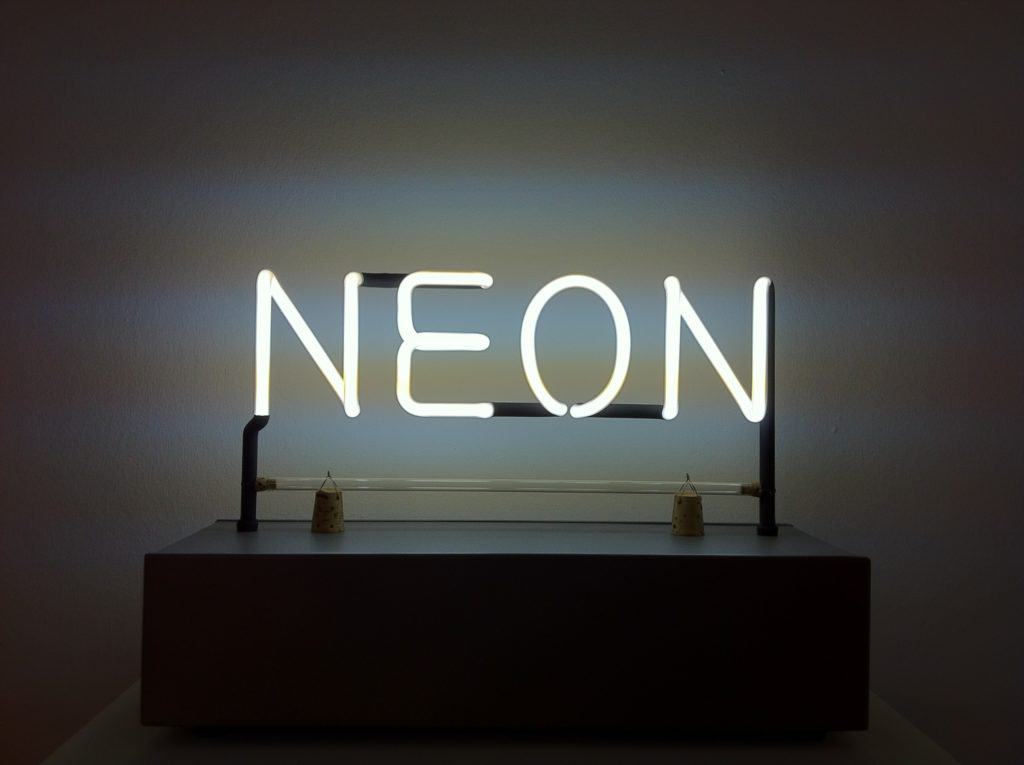 "I saw Times Square with its light and letters and I realized it was as beautiful and difficult to do as Japanese calligraphy."

Chryssa
Neon Art
Originally a medium employed for advertising and shop-front signs, the 1960s saw a shift in thinking when visionary artists began to experiment with neon lighting. These pioneering artists transformed a commercial mechanism of low culture, associated with the urban kitsch of commercial signage, into a powerful medium of fine art. Their sculptural works explored the intersection between light, colour, and space; as well as pop culture imagery, consumerism, and various themes associated with the contemporary lived environment. Join us to explore the works of ten pioneering artists whose iconic explorations have become synonymous with this electrifying medium.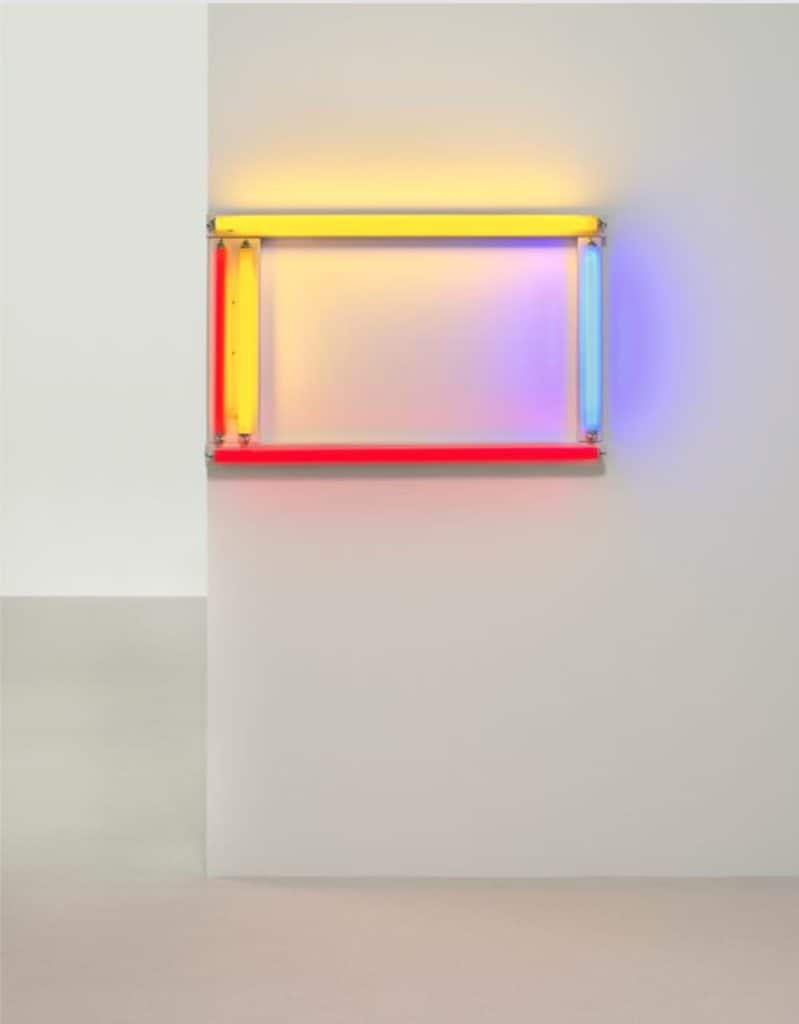 Dan Flavin's (1933-1996) first works were abstract expressionist drawings and paintings, though this quickly evolved into sculptural pieces that incorporated found, everyday objects. By 1961, while working as a mail clerk at the Guggenheim Museum, he became friends with artists Sol LeWitt and Robert Ryman, who encouraged his notion of utilising electric lights in his sculptures. This initial concept was realised, and became Flavin's sculptural "Icons" series, employing fluorescent tubes for the first time, in what would become a lifelong artistic career of experimentations with light, space, and colour. His oeuvre became defined by these iconic minimalist light works, created with factory-made fluorescent light tubes of various colours. Through his work with neon he was able to define the medium as a valid one for fine art practice, and as his career progressed he went on to develop more ambitious, larger, site-specific installations. Flavin's pioneering use of florescent light made him the father of neon art as we understand it today, and inspired the work of influential artists like Robert Irwin and James Turrell.
2. Joseph Kosuth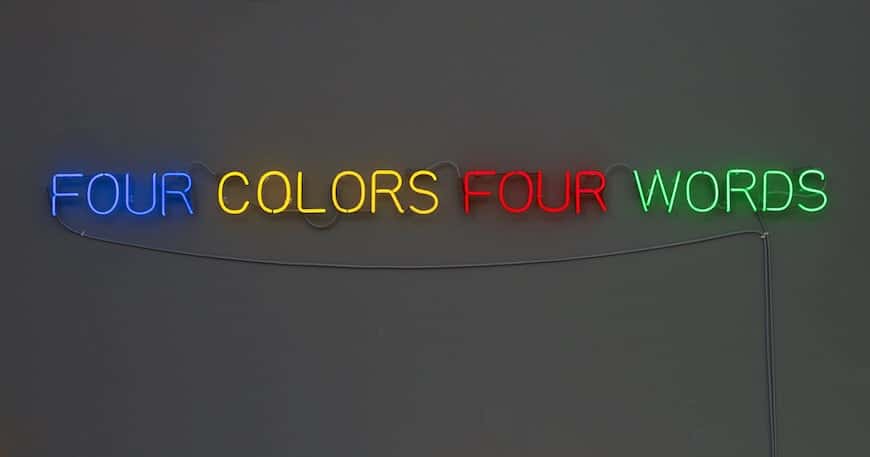 Joseph Kosuth (1945- ), one of the pioneers of conceptualism, used neon art to explore the forefront of this new artistic movement. With intellectual works like Four Colors Four Words, he clearly and literally spelled out what the audience saw. In doing so, Kosuth displayed to his audience two simultaneous, yet different realities of color and language, no one more real than the other. This work, created in 1966 while studying at the School of Visual Arts in New York City explored how literalness could be incorporated into the artistic process and output, and helped birth the conceptual art movement. Stripped of emotion and with stress on art as idea and not object, Kosuth's neon art pieces paved the way for other artists to explore the relationship between art, colour, and language. His ingenious visual summaries of complex themes concerning semiotics and semantics were to be among the defining works of the era.

Discover and buy art by Joseph Kosuth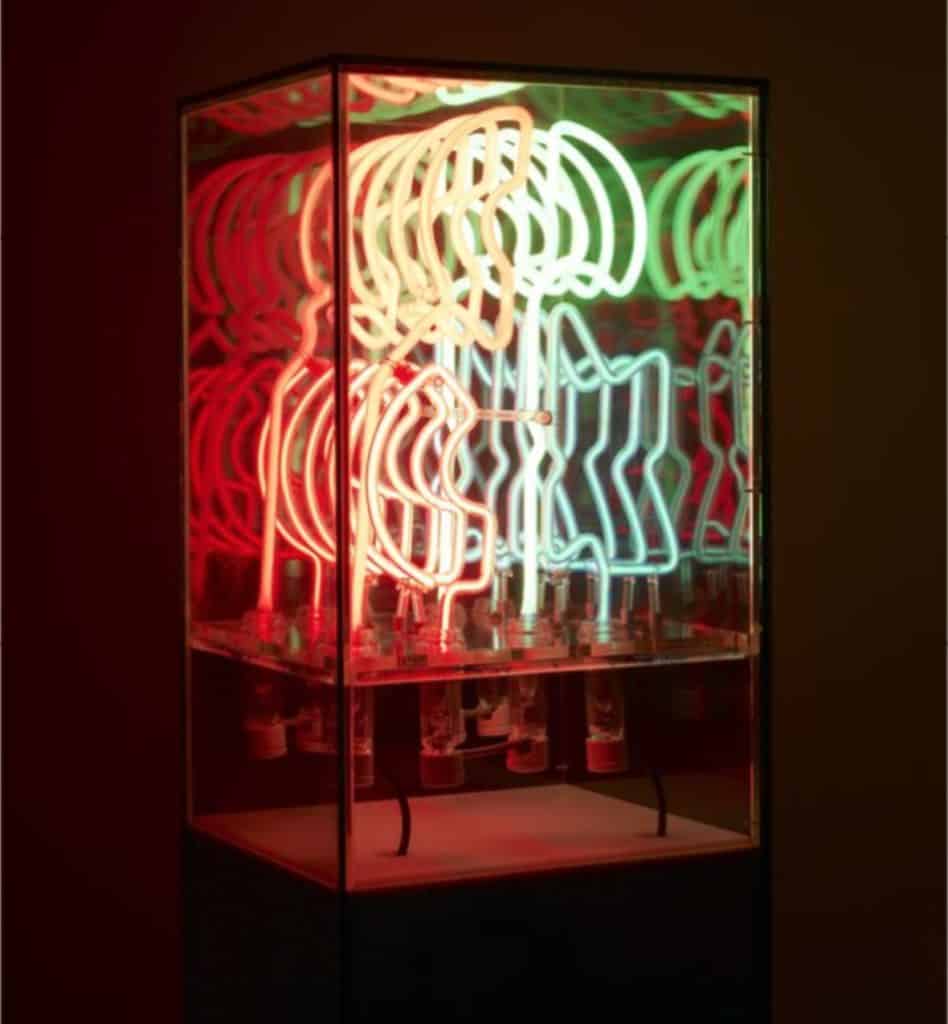 "I have always felt that when things are spelled out they mean less, and when fragmented they mean more."

Chryssa
One of the first artists to transform neon from advertisement into art, Chryssa (1933-2014) used neon art to serve as her artistic intersection of illumination, text, and colour. Raised amidst the Nazi occupation of Greece, Chryssa has cited the scrawled texts of the underground resistence movement as an early influence in her interest in fragmentary language. Fascinated with literary symbols and text, Chryssa's landmark work Times Square Sky was a mess of assemblage cursive text, scrawling and swirling in bright blue neon. This theme persisted in her The Gates to Times Square, a massive square structure of steel and neon that invited her audience in, via a large 'A' for a look around. Her Ampersand Series of 5 different ampersands of neon art expresses her desire to layer, fragment, and overlay texts — emblematic of her body of work and legacy.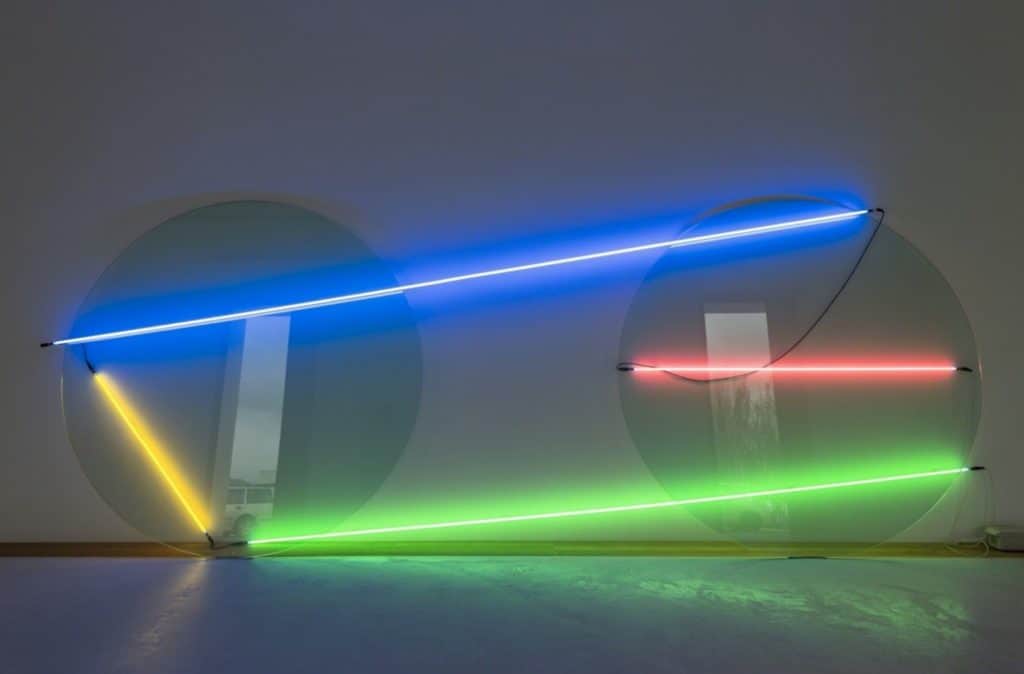 The 'Ba-O-Ba' works started in 1969 and were made as works with a visual and physical appearance. When you walk by or around the works they change your perception and colour your appearance".

Keith Sonnier
Heavily influenced by the local cultures he encountered on his many travels Keith Sonnier's (1941- ) installation-like sculptural works typically include both natural and industrial materials like bamboo, aluminum, and neon. Working within a minimalist and experimental approach that has been likened to the Fluxus movement, Sonnier's pieces often use objects, materials, or designs that he found on his trips. His neon art series Ba-O-Ba used coloured neon lights paired with glass and aluminum plates to recreate the titular experience: with 'ba-o-ba' coming from Haitian-French slang terminology for bathing oneself in light or colour. Despite appearing as a whole, the series is intended to be seen as independent neon art sculptures — bathing the art viewer in coloured light as they make their way around and through the works.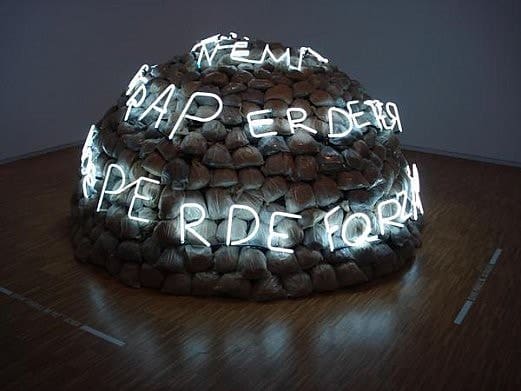 Mario Merz (1925-2003) was an artist best known for his association with the prominent art group and movement Arte Povera and his uniquely signature igloo installation pieces. Built out of a metal frame and adorned with mixed media like clay, wax, glass, burlap, mud, and phrases spelled out in neon lights; his igloo series began in 1968 and continued for numerous years. Drawn to the symbolism of the igloo as a nomadic shelter, as a metaphor for the artist's space — he incorporated neon art onto the surface of the structures — spelling out catchphrases, or political slogans. By including these texts in his work, he literally and figuratively gave them energy by casting them permanently in neon lights, becoming the first artist in Italy to experiment with the medium. He sought to marry these phrases with reflections on the human need for interaction and our relationship with nature.
6. Tracey Emin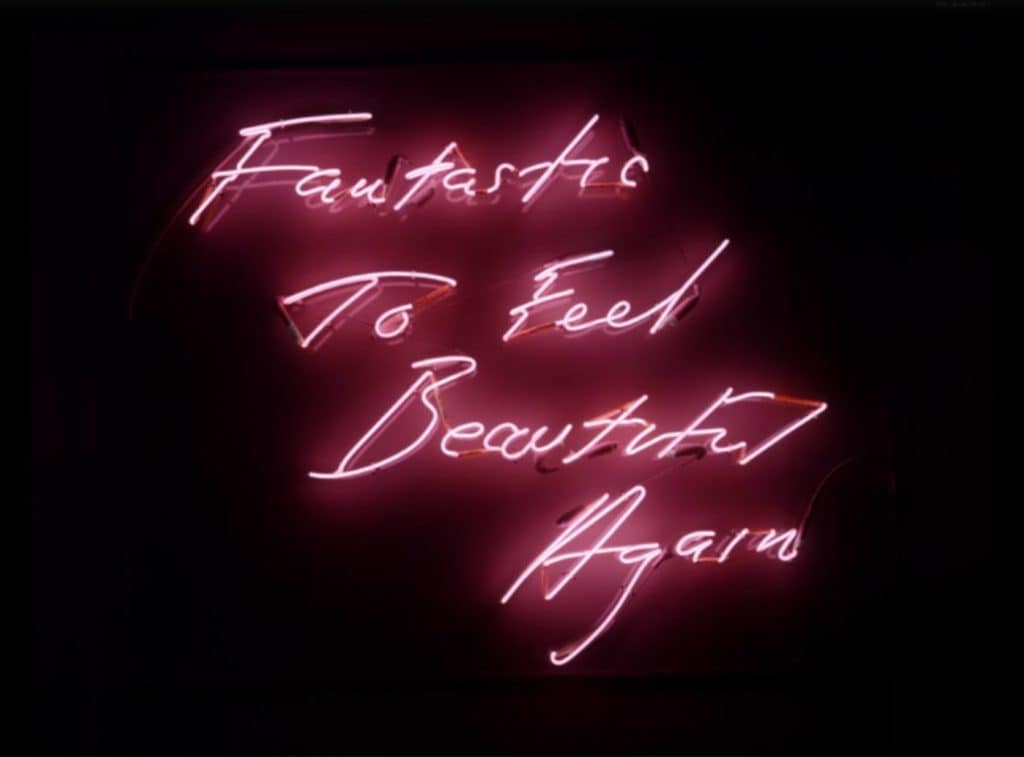 "I don't think I'm visually the best artist in the world, right? I've got to be honest about this. But when it comes to words, I have a uniqueness that I find almost impossible in terms of art – and it's my words that actually make my art quite unique."

Tracey Emin
Known for her deeply personal, confessional style of incorporating text in her art Tracey Emin (1963- ) has worked in many different media; drawing, painting, film, photography, and of course, neon art. Her neon text series has built upon the post-modern aesthetic of aforementioned artists like Joseph Kosuth, and in her signature cursive-like script she scrawls highly personal statements that get transposed to the perspective of the every-man/woman viewer. In mantraesque form Emin's works such as Fabulous to Feel Beautiful Again or Kiss Me, Kiss Me, Cover My Body in Love shamelessly embrace the kitsch and sentimental — fearlessly and boldly communicating our very human desires to be loved and cared for. Her neon art allows you to step into her world of raw emotion, and provides a space for release and acknowledgement of the intensity of the human experience.

Discover and buy art by Tracey Emin
7. Tim Noble and Sue Webster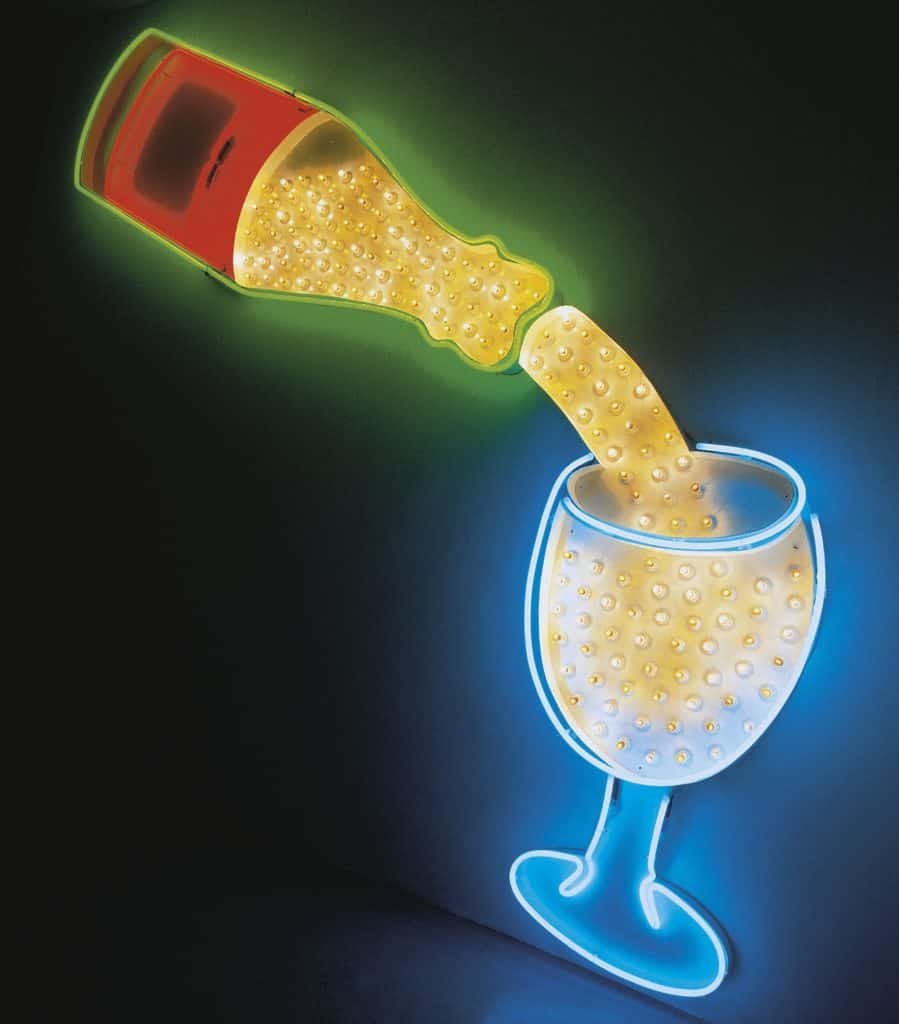 The British artist duo of Timothy "Tim" Noble (1966- ) and Susan "Sue" Webster (1967- ) can best be defined by their characteristic "Light Works" and "Shadow Works". Their "Shadow Works" are sculptural assemblages of scrap and found items, illuminated to create an intentionally-crafted shadow in a desired form and shape. Conversely, their "Light Works" are comprised of light — pieces of neon art computerised to flash and strobe in chaotic, overwhelming, and contradictory ways. Their work The Sweet Smell of Excess references pop culture symbols with an ironic punk-awareness; representing the familiar iconography of store-front signage and carnival culture of British seaside towns. The blending of this low art medium and form into a piece of fine art calls into question the very value of artistic work itself — asking the audience to observe this sculptural "anti-art" and reckon the nature of opposition.
8. Glenn Ligon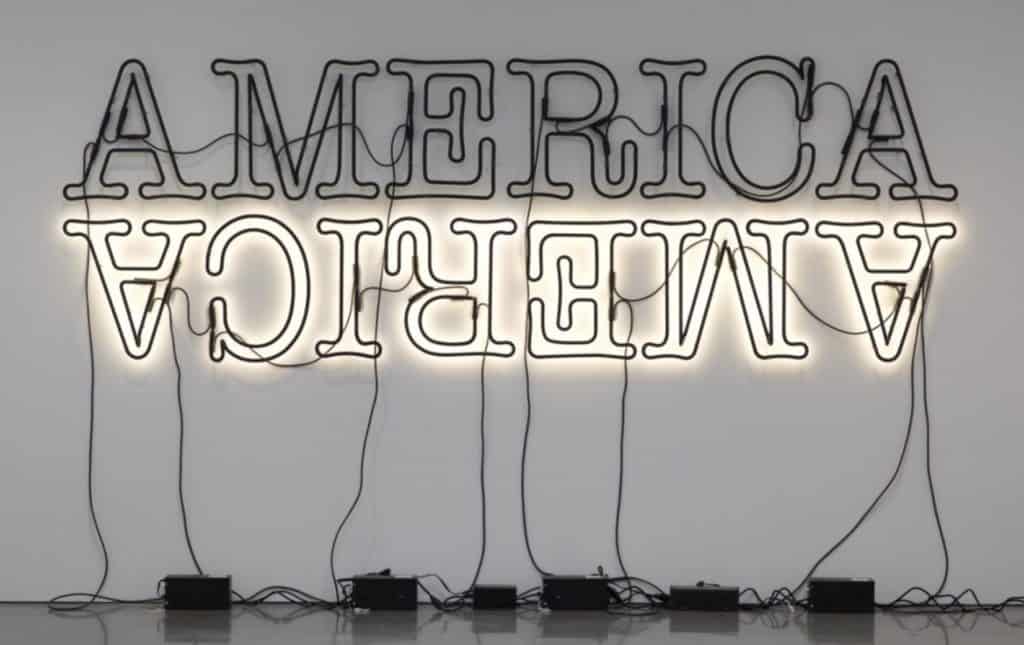 In his ambitious body of work Glenn Ligon (1960- ) has explored American history, culture, and society through the lens of conceptual art. Known for his series of text-based works made since the late 1980s, arguably one of his most famous pieces is his 2006 work Double America. A neon art piece comprising one upright and one inverted "America" the work is a rumination on the state of America and what the country means to the individual. In many versions of this work the neon tubes are painted black. Thus, the light coursing through the neon casing shines through only at the abrasions and cracks in the dark paint — a direct reference to the ruptures in the veneer of American society. Though American politics has always been partisan, the work contains even more weight and meaning today than it did when it was unveiled over a decade ago; as rifts and inequalities within the political, economic, and social systems in the country have become larger and even more exposed.
Glenn Ligon - On Double America
9. Mary Weatherford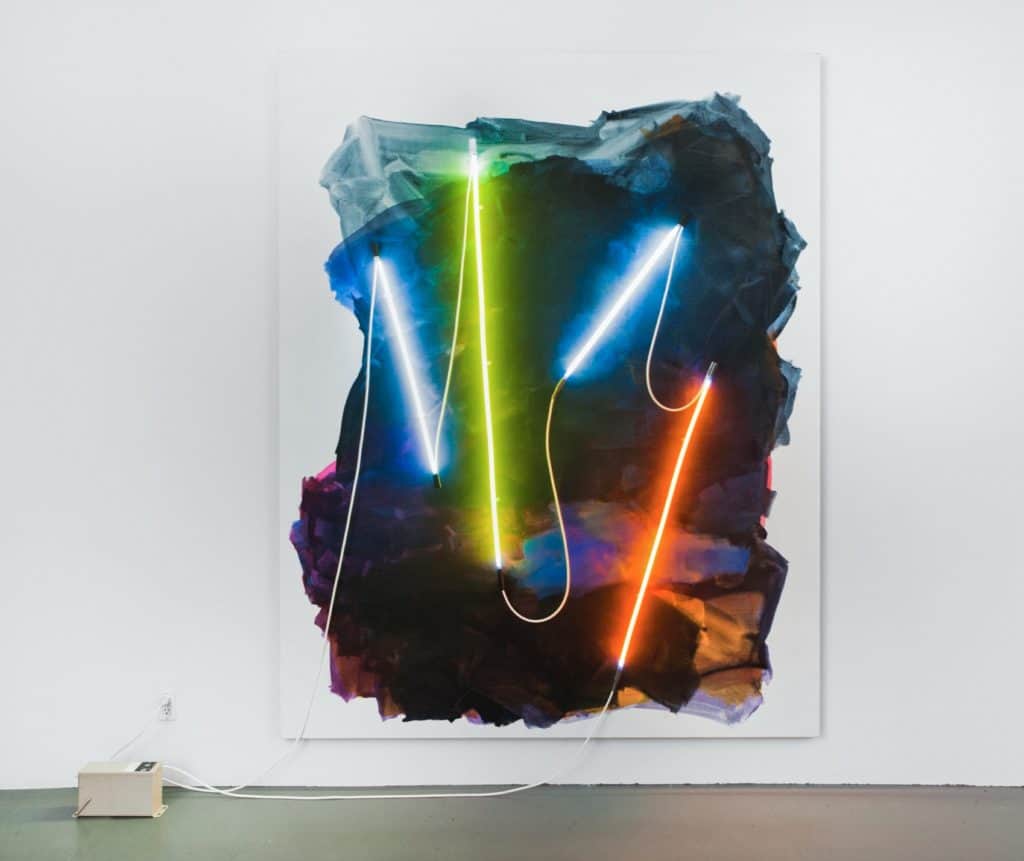 Since 2012 Mary Weatherford (1963- ) has been incorporating the sculptural element of neon tubes into her artistic output. Working with the concept of place within her works — she incorporates paintings, location, and neon to create works that are reminiscent of narratives she associates with each location. Her Manhattan series, which includes the work Coney Island was her first to employ neon — and to great acclaim. By adding neon art to her paintings Weatherford was able to inject them with electricity (literally) and her two-dimensional paintings became abstracted sculptural pieces that allude to a bright and vibrant world outside the walls of the exhibition hall.
10. Alex Da Corte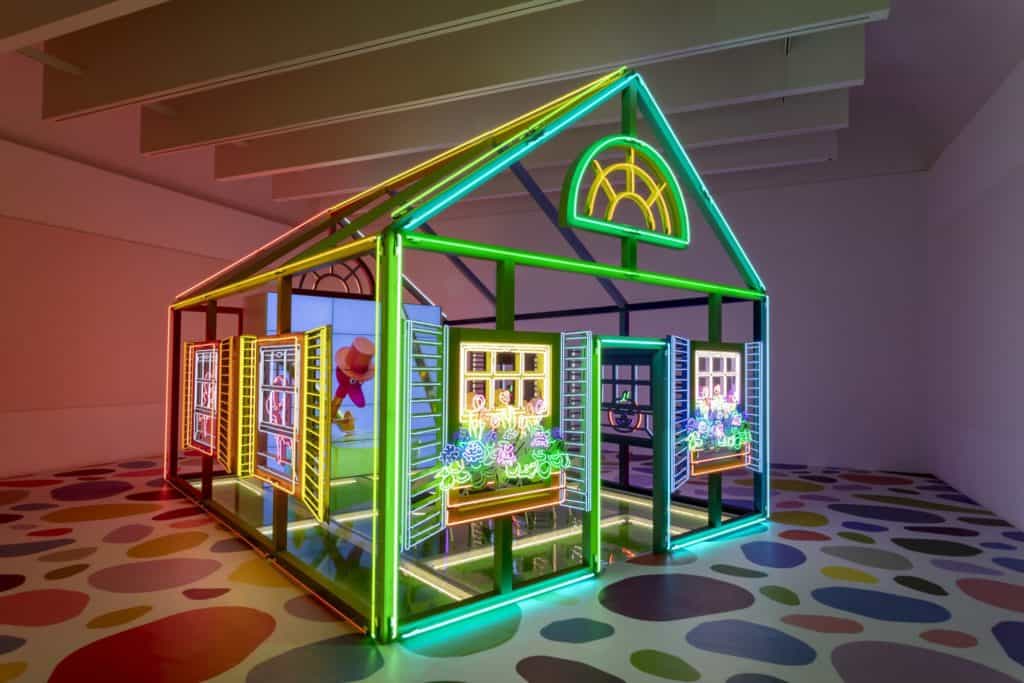 Conceptual artist Alex Da Corte (1980- )works with painting, sculpture, video, and installation to create pop-surrealist works critical of consumerism and American pop culture. His 2019 work Rubber Pencil Devil created for the Carnegie International, is comprised of 57 short films full of pop culture references to icons like beloved children's television personality Mister Rogers, and country singer Dolly Parton. These films are housed within a neon structure, a frame of a conventional home. Da Corte's neon art house is in fact based on the late architect Robert Venturi's ghost house, an architectural exploratory reimagining of Benjamin Franklin's home through a recreation of just the pure skeleton of the home. Da Corte's Rubber Pencil Devil provides his audience with just enough familiarity, by way of the homey structure and childhood icons, to allow viewers to reconsider these everyday pop images and see their narratives in new ways.
Alex Da Corte - Rubber Pencil Devil (57 Varieties) - Venice Art Biennale 2019
Relevant sources to learn more
Check out another article from our top ten series, examples of exceptional installation art
Did you know there is a Museum of Neon Art? Visit neonmona.org