Articles and Features
Art Films And Films About Art…Whilst You Have The Time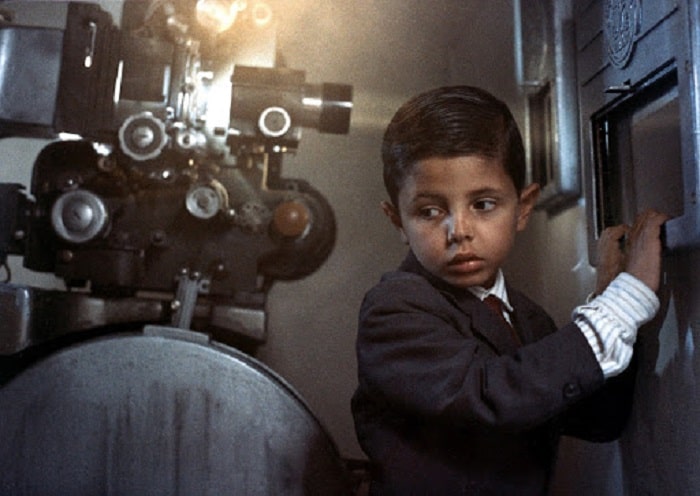 In these days of social distancing, why not seize the opportunity to watch that film you have wanted to check out for years without ever getting round to it?
Whether you are bored of self-isolation, stressed because of smart working, or just need to distract yourself for a couple of hours, a good movie is always the answer.
Here is Artland's suggested watchlist of films we heartily recommend to provide you with varied and valuable content now that you finally have the time.
If you are always undecided between a classic or a new release (eventually watching the same box set), this watchlist might be just right for you. To please everyone, our watchlist is divided into three categories: artist biopics, narrative films related to the art world, and documentaries. Grab some popcorn, get comfortable and enjoy.
Artist Biopics
Frida (2002)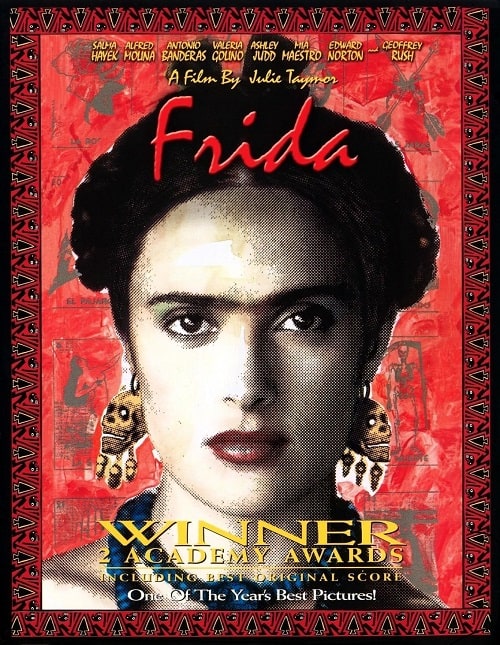 Our watchlist begins with Frida, directed by Julie Taymor. The film depicts the life of one of Mexico's most iconoclastic artists, Frida Kahlo, with Salma Hayek starring as the main character and Alfred Molina as her husband, Diego Rivera. In the deep intertwining of art with life, we watch Frida channelling her torment into her paintings – suffused with both Surrealist and folkloric imagery she made some of the twentieth centuries most iconic images in her short, yet incredible life. Among other nominations, the film has been awarded two Academy Awards for Best Makeup and Best Original Score.
Séraphine (2008)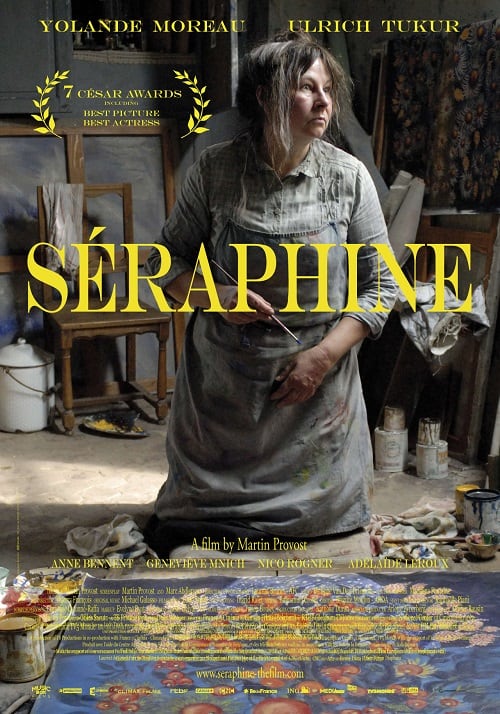 Senlis (France), 1913. A middle-aged housekeeper for a rich local family, in her off-hours, holes up in her humble apartment and paints. Mainly inspired by nature and her religious faith, she looks at the outdoor world with incredible originality, resulting in a naive and ecstatic style. Her life will change after her encounter with the German art collector and critic Wilhelm Uhde. This is the story of the French painter Séraphine Louis, also known as Séraphine de Senlis, and her life on a tightrope between success and madness. The film won seven César Award including the one for Best Film and Best Actress for Leading Role (Yolande Moreau).
Pollock (2000)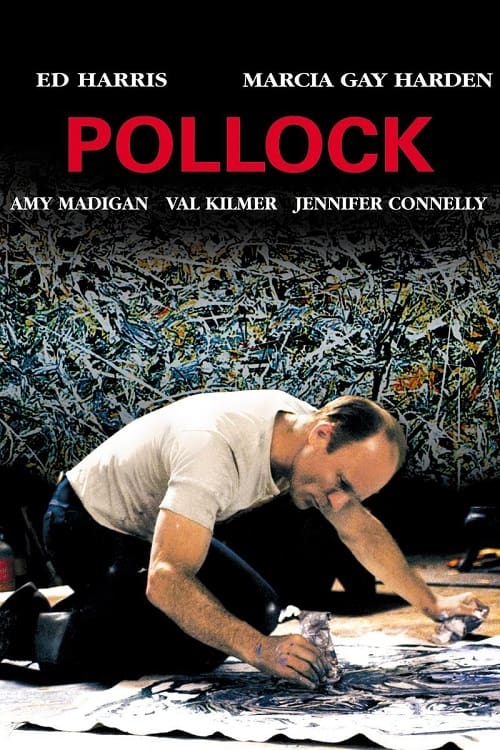 Our watchlist continues with this film, directed by Ed Harris (also acting in the eponymous role), about the private and professional life of the American painter Jackson Pollock, based on the book Jackson Pollock: An American Saga by Steven Naifeh and Gregory White Smith. The plot opens in 1949 when the painter is already regarded as among the greatest artists of his time and the reigning master of Abstract Expressionism. It continues with a look back into his life, highlighting his features as a human being as much as his creative path. We follow him in the struggle with marital crisis, self-doubt and crippling alcoholism.
At Eternity's Gate (2018)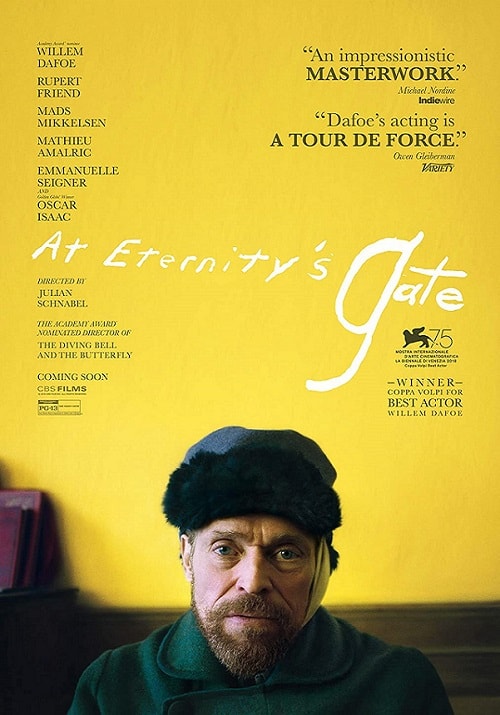 A glimpse of the last years of Van Gogh's life. With an unsteady handheld camera and a scenario characterised by a yellow colour palette, evoking both Van Gogh's paintings and the intense sunlight of Southern France, we immerse ourselves in his tormented existence thanks to the amazing Oscar-nominated performance of Willem Dafoe. Directed by renowned artist Julian Schabel, we can enjoy his empathy with the painters' path, a trait also applied to his memorable 'Basquiat' biopic of 1996.
If you are especially enamoured of the Van Gogh legend, you will surely also appreciate the films Lust For Life (1956), a bit outdated but still valuable, Vincent & Theo (1990), about the beautiful relation between the Van Gogh brothers and, finally, the "oil painted" animation Loving Vincent (2017).
Narrative films related to the art world
The Best Offer (2013)
Directed by Giuseppe Tornatore and starring Geoffrey Rush, Jim Sturgess, Sylvia Hoeks, and Donald Sutherland, this movie adds some thrilling vibes to our watchlist, it is a psychological thriller set amidst the intrigue of the art market.
Virgil Oldman (Geoffrey Rush) is a solitary and austere art expert, he is reluctant to engage with other people and seems obsessively immersed in his work. Virgil's life takes an unexpected turn when a woman phones him asking to manage the disposal of some family works of art. You will be surprised by the many unpredicted twists and the amazing musical score by Ennio Morricone.
The Monuments Men (2014)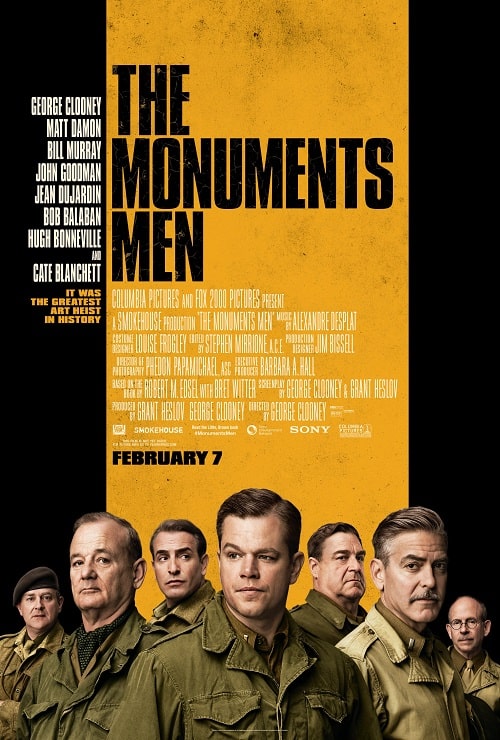 Join an outstanding cast including George Clooney, Matt Damon, Bill Murray, Jean Dujardin, and Cate Blanchett for an entertaining film about The Monuments, Fine Arts, and Archives program, a group formed under the Civil Affairs and Military Government of the Allied armies established in 1943, with the aim of protecting cultural heritage in war-torn areas.
We follow the adventures of an unlikely platoon responsible for rescuing artistic masterpieces looted by the Nazis. The facts of actual events have been a bit elastically treated to serve the big screen, but the story is based on historic people and occurrences, particularly inspired by the book The Monuments Men: Allied Heroes, Nazi Thieves and the Greatest Treasure Hunt in History by Robert Edsel and Bret Witter.
Francofonia (2015)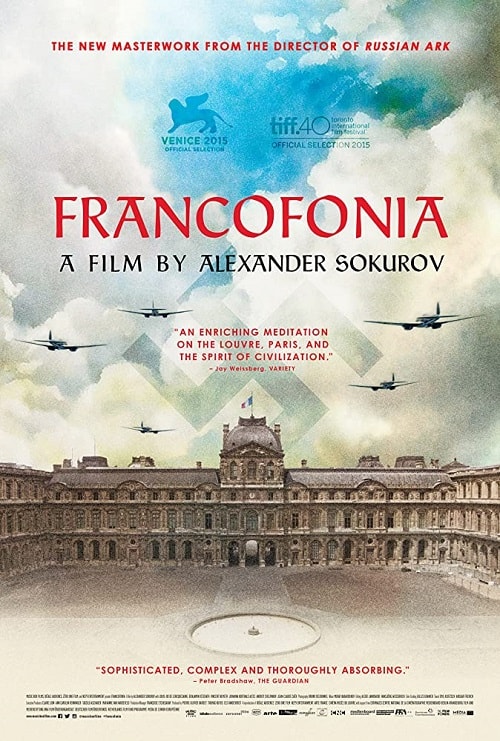 Taking place in the same historical context but with a totally different atmosphere, Francofonia describes the Louvre during the Nazi occupation and the negotiations between Jacques Jaujard (Louis-Do de Lencquesaing), director of the Louvre at the time, and Count Franz Wolff-Metternich (Benjamin Utzerath), art connoisseur to the Reich as designated by Hitler himself. Directed by the Russian filmmaker Alexander Sokurov, the film is a touching meditation on everlasting themes such as art, power, history, and humanity. Sophisticated and melancholic it is a reminder of the responsibility we need to take to protect Art.
Velvet Buzzsaw (2019)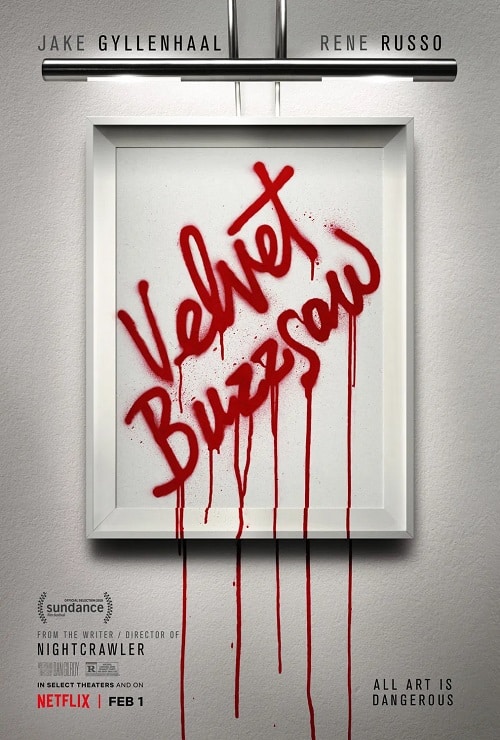 Turning our watchlist to something totally different, we suggest Velvet Buzzsaw. The film, starring Jake Gyllenhaal as an ambitious and cynic gallery worker in Los Angeles, is a mix of comedy, thriller, and horror; not flawless but definitely intriguing. Directed by Dan Gilroy for Netflix, it is an entertaining look at the contemporary art world scene from an unusual perspective.
Documentaries
Exit Through the Gift Shop (2010)
Directed by the well-known street artist Banksy, Exit Through the Gift Shop is the story of Thierry Guetta, owner of a vintage clothing shop in Los Angeles who finds himself an improvised documentarist of the street art world. The film has been described as "a raucously entertaining postmodern survey of guerrilla street art that appears to be one thing (a chronicle of the scene centered on its most enigmatic figure, Banksy), only to fold back on itself and examine would-be filmmaker Thierry Guetta instead". There has been some debate whether it should be called a documentary or a mockumentary – a show depicting fictional events in a documentary style – in any case, there is no doubt that is provocative and funny and it worth seeing for the exclusive footage of Banksy, Shepard Fairey, Invader, and many other street artists.
Sky Ladder: The Art of Cai Guo-Qiang (2016)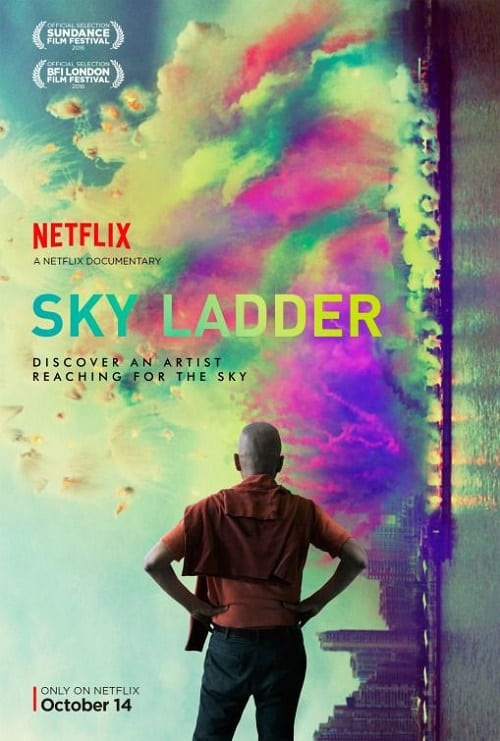 This Netflix documentary, directed by Kevin Macdonald, follows the extraordinary Chinese artist Cai Guo-Qiang in his life-long project of creating Sky Ladder, a burning ladder that stretches upward for 1,650 feet, dedicated to his grandmother.
Through Cai's words and those of his family and friends, we get to know this humble artist with a special penchant to the use of gunpowder and to create spectacular firework performances.
The Salt of the Earth (2014)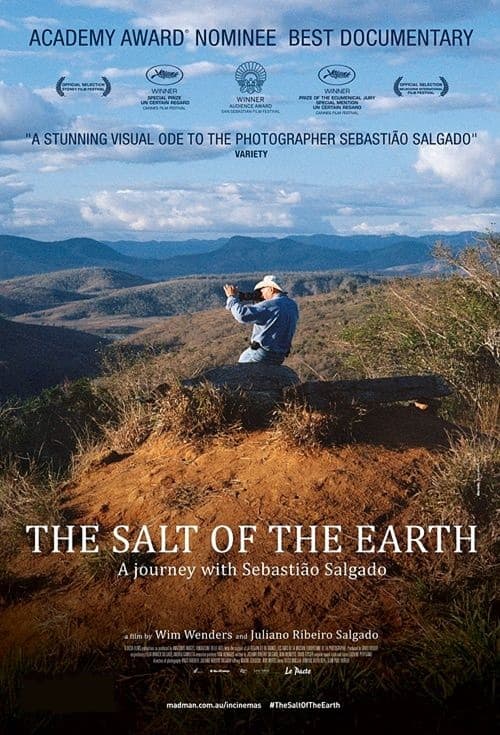 Our watchlist concludes with two recommendations concerning photography. The Salt of the Earth is an astounding and moving documentary about the work of the Brazilian photographer Sebastião Salgado, directed by Wim Wenders and Juliano Ribeiro Salgado, Sebastião's son and a photographer himself.
This award-winning work gives an overview of Salgado's forty-year-long career and on his several projects across the globe, documenting social issues and humanity in all its forms, as well as grandiose landscapes and pristine nature in the hidden corners of the world. For anyone passionate about photography, but not only for them, this is a masterpiece not to be missed.
The B-Side. Elsa Dorfman's Portrait Photography (2016)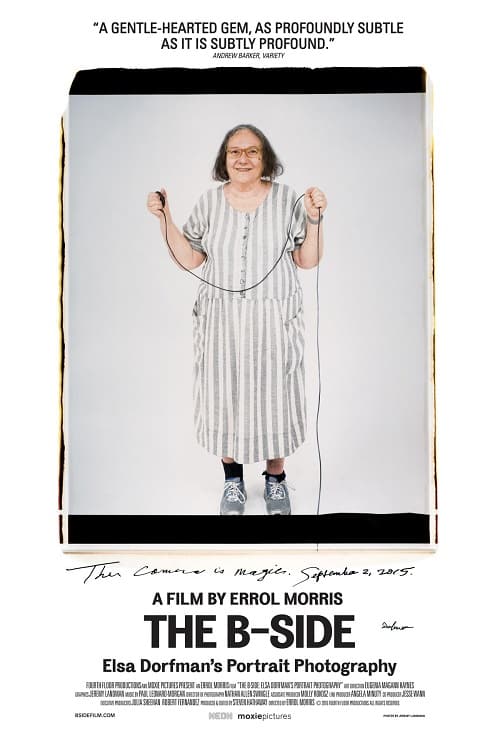 This documentary, directed by Errol Morris and available on Netflix, explores the life and work of the Polaroid photographer Elsa Dorfman. Since the 1980s, the artist was able to catch the intimate beauty of ordinary life, portraying all those who visited her studio in Cambridge, Massachusetts, from her family, to rock stars and Beat poets. With empathy, honesty, and humour (and also a bit of surrealism) she guides us in the discovery of her incredible work.
Relevant sources to learn more
Exit Through The Gift Shop
Cai Guo-Qiang
The B-Side. Elsa Dorfman's Portrait Photography