Articles and Features
Art Movements: Precisionism
By Shira Wolfe
"As the 1920s took shape, a group of North American painters responded to the expanding urban and industrial landscape around them with a style that combined the geometric scrutiny of Cubism with the exactness of photography. In Europe, the Futurists proclaimed the triumph of technology over nature, but in North America the artists similarly inclined to glorify the industrialised modern world were not formally organised and had no manifesto to bind their beliefs. Precisionism, a term coined in 1927 by Alfred H. Barr, director of the Museum of Modern Art, came to define their sharp, clean, imposing aesthetic."

Art in Time, Phaidon
Precisionism definition: what is Precisionism?
Precisionism was the first real indigenous modern art movement in the United States and contributed to the rise of American Modernism. Taking its cues from Cubism and Futurism, Precisionism was driven by a desire to bring structure back to art and celebrated the new American landscape of skyscrapers, bridges and factories. The Precisionists found inspiration in all different forms of American architecture in order to establish the structure underlying reality which they sought to depict. Precisionist artworks are characterised by their unexpected viewpoints and angles, a sharp focus, and dynamic compositions. For a period, Georgia O'Keeffe painted in the Precisionist style, depicting imposing cityscapes during her time in New York; and Edward Hopper is another famous name associated with Precisionism.
Key period: 1920s and 1930s
Key regions: United States
Key words: sharp focus, dynamic compositions, unexpected angles, architecture, industrialisation
Key artists: Charles Sheeler, Charles Demuth, Edward Hopper, Joseph Stella, Georgia O'Keeffe, George Ault, Preston Dickinson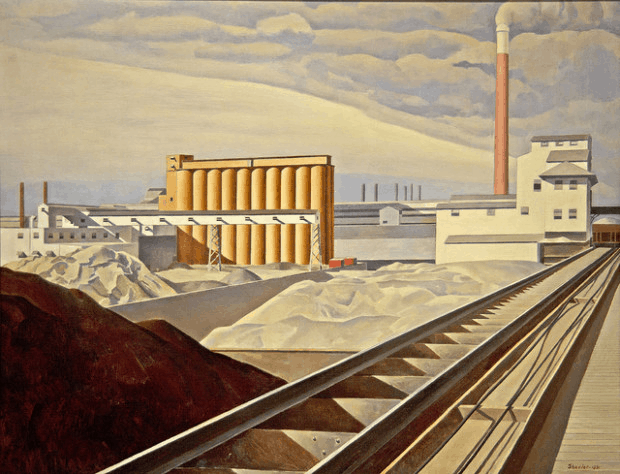 Origins of Precisionism
Precisionism emerged after World War I and lived its peak during the 1920s and 1930s. The American architectural photographer Charles Sheeler was commissioned in 1927 to photograph the Ford Motor Company's new industrial complex, which was built along the Rouge River in Dearborn, Michigan. Sheeler had travelled to Europe in the 1910s and had become familiar there with Cubism and other modernist developments.
Being both a photographer and a painter, after taking pictures of the Ford plant, he returned to the subject over and over in his painting in a series that combined Cubist motifs with elements associated with Futurism and Photorealism.
Sheeler's sharp and accurate take on the modern world became known as Precisionism, and he was joined by like-minded contemporaries such as Charles Demuth. The artists were inspired by Cubism's fragmentation, the experimental use of lighting and framing in photography, Synchronism's colour harmony, and Futurism's love of all things modern. Precisionism combined these influences in a crisp, clean style emphasising geometric form and celebrating science and industry as important parts of the American culture.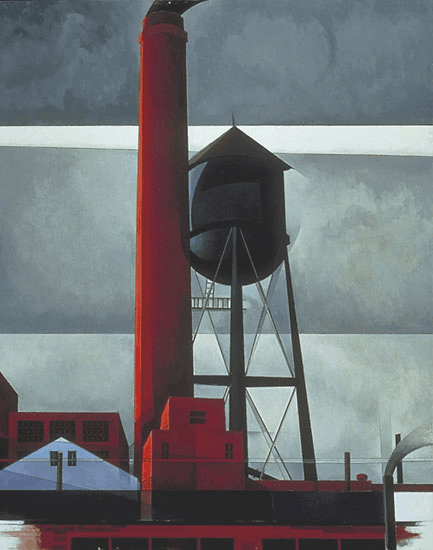 As phrased in the Phaidon publication Art in Time: "As the 1920s took shape, a group of North American painters responded to the expanding urban and industrial landscape around them with a style that combined the geometric scrutiny of Cubism with the exactness of photography. In Europe, the Futurists proclaimed the triumph of technology over nature, but in North America the artists similarly inclined to glorify the industrialised modern world were not formally organised and had no manifesto to bind their beliefs. Precisionism, a term coined in 1927 by Alfred H. Barr, director of the Museum of Modern Art, came to define their sharp, clean, imposing aesthetic."
Key ideas behind Precisionism
Unlike Futurism, Precisionism was less about praising the glory of modern technology, accurately capturing the technology and architecture of the modern world instead – even if this meant depicting their less positive sides. Precisionism's greatest strengths were in fact the ability to combine the utopian ideal of technology with the destructive, dehumanising effects it could have. The two attitudes could at times coexist within a single work of art, creating a powerful tension.
Famous Precisionist Artists
Georgia O'Keeffe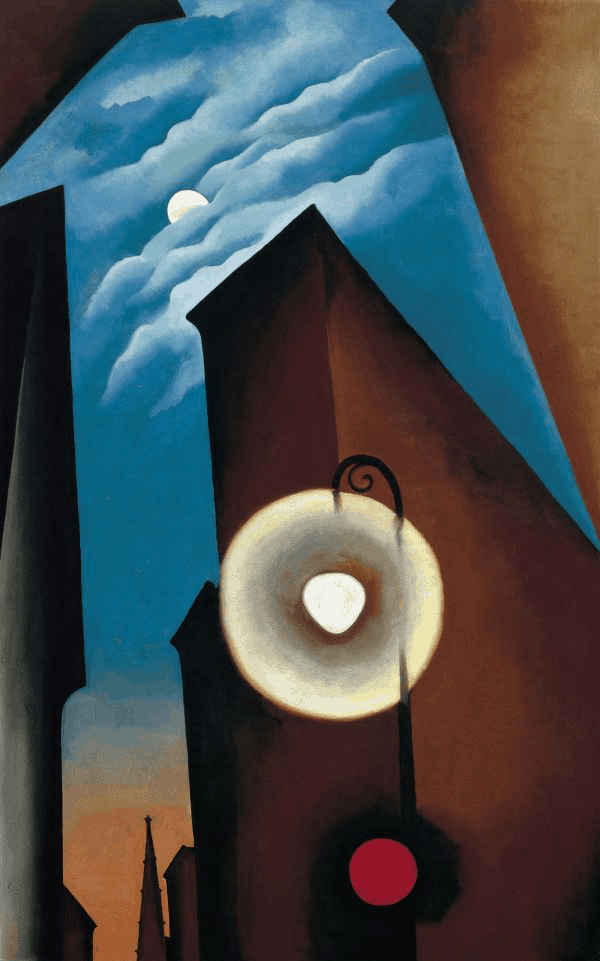 Before Georgia O'Keeffe moved to New Mexico and became famous for her flower paintings and depictions of the incredible scenery in the southwest, she lived in New York and painted stunning cityscapes. Although O'Keeffe was never one to embrace labels, her imposing angles, composition and form certainly fit with the Precisionist ideals.
George Ault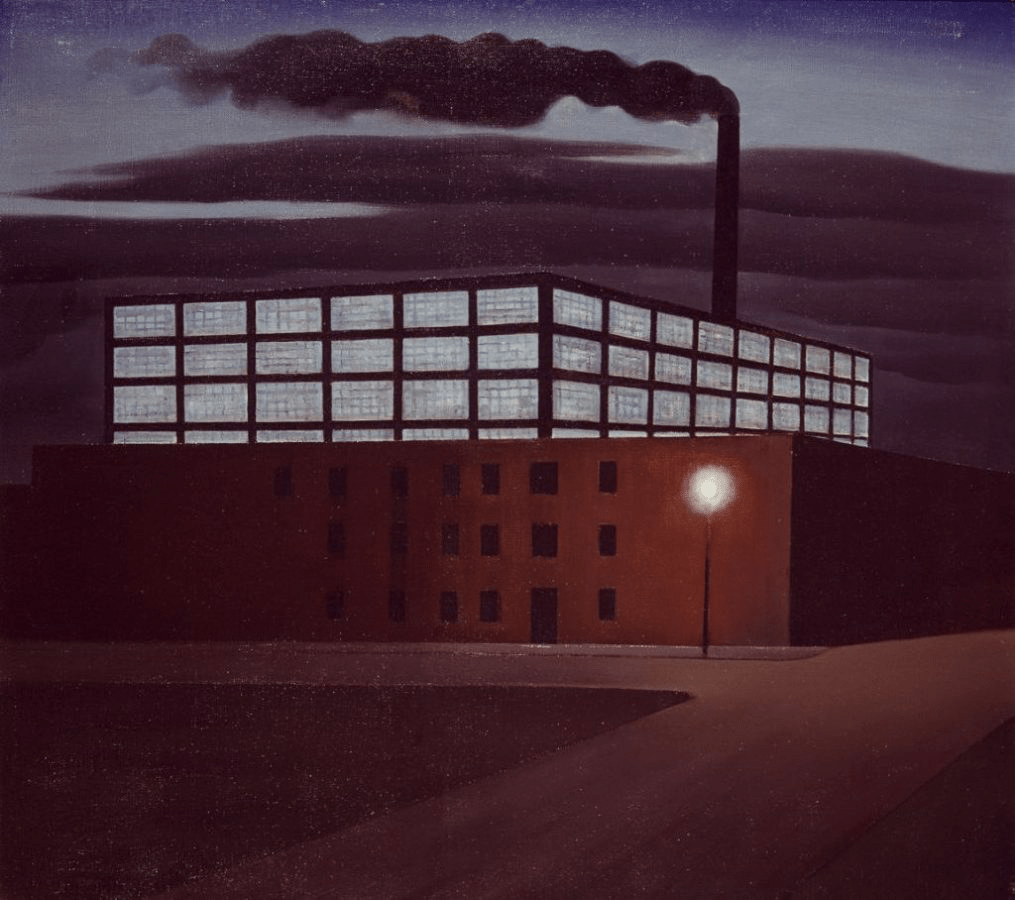 With his Precisionist artworks, the troubled artist George Ault attempted to make order out of a chaotic world. Atmospheric and haunting, his paintings frequently show nocturnal urban and industrial scenes where it seems the form of the architecture has taken over completely. Devoid of any human presence, Ault's masterful use of light and dark creates all the emotion in his paintings.
Edward Hopper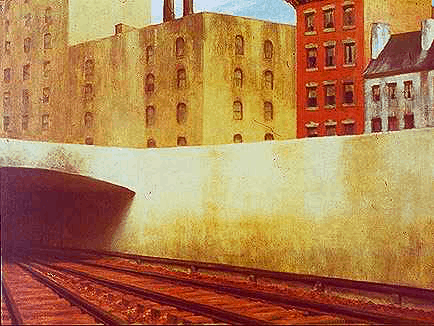 Edward Hopper is perhaps the most famous American artist when it comes to urban landscapes and architecture. With his depictions of lonely city-dwellers and empty streets and bars, he captured the particular mood and essence of America during the Depression-era and in the following decades. His paintings, though generally less crisp and sharp than those of other Precisionist artists, contain many of the ideas and approaches of Precisionism.
"Precisionism came to an end when the inspiration for a painting came from feelings rather than form. Surrealism began this and soon, a new American style developed – Abstract Expressionism."

Deedee Wigmore, D. Wigmore Fine Art
Exhibitions and Decline
The Precisionists never formally organised or issued a manifesto. However, they began exhibiting together in New York at the Whitney Studio Club and the Charles Daniel Gallery in the 1920s. When the Charles Daniel Gallery closed in 1932, the place to be for Precisionism became Edith Halpert's Downtown Gallery. As the years went by, the American art scene was undergoing rapid and intense changes. American Scene Painting, Social Realism, Magical Realism, and Surrealism all appeared on the scene.
European avant-garde artists were arriving in the United States, fleeing the Nazi rule that started to take over Europe, and they brought their styles and approaches with them. During the '40s, a desire became increasingly apparent for an art that would speak to all Americans, and that stemmed from feelings rather than form. Artists moved more and more towards abstraction, feeling that realist depictions in art no longer made any sense following the horrors of the Second World War. Abstract Expressionism took over, and Precisionism, faded out. The movement had been about the search for architectural style underlying reality. As such, it played an important part in leading American artists out of the realm of pure realism, towards complete abstraction.
Relevant sources to learn more
Read more about Art Movements and Styles Throughout History here
Phaidon
Incollect
The Metropolitan Museum of Art