Articles and Features
Barcelona Gallery Weekend Highlights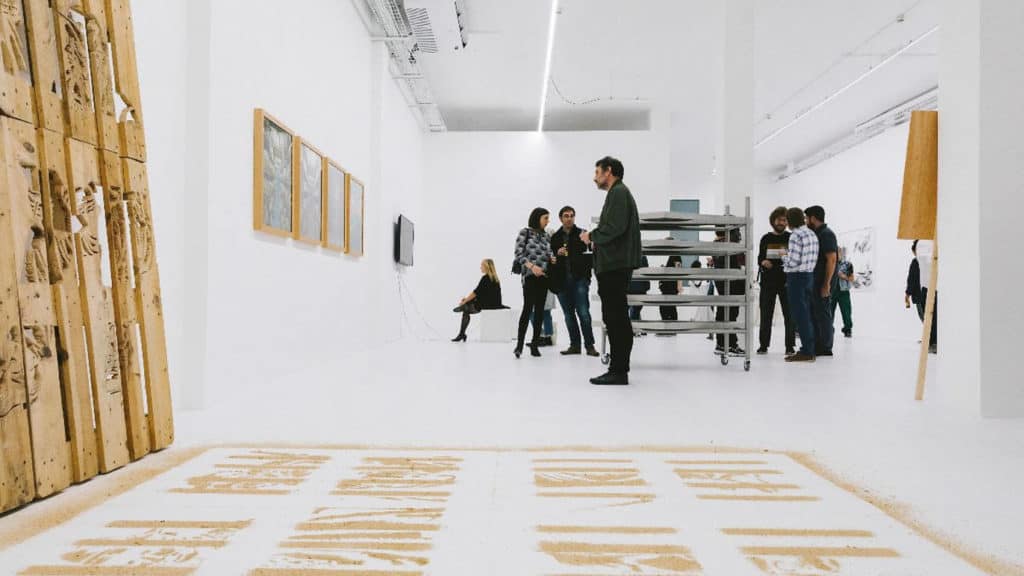 ---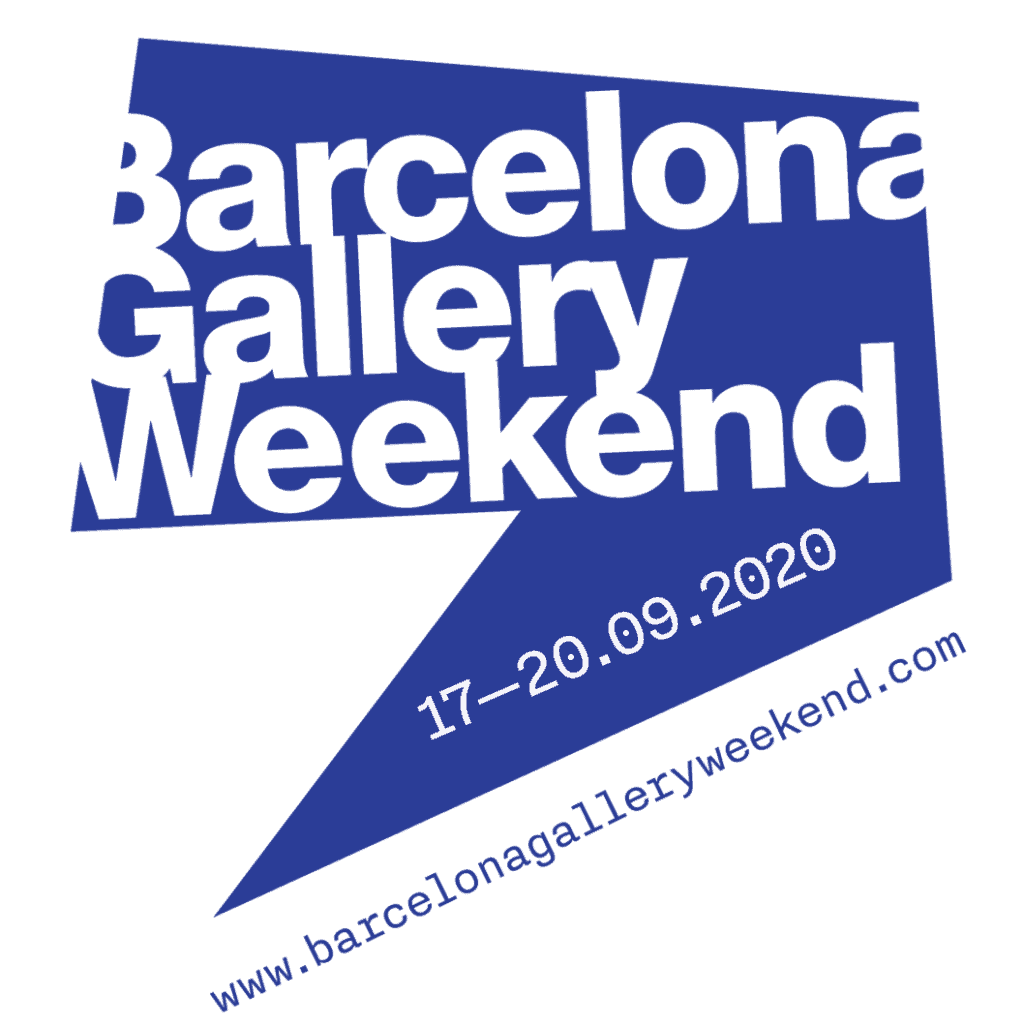 Barcelona Gallery Weekend is an annual four day event promoted by Art Barcelona. From 17th to 20th September it will celebrate its sixth edition. It gathers a program of exhibitions in the city's galleries, with a parallel program of guided visits by gallerists, artists, curators, as well as performances and talks and other special presentations. Visit the exhibitions in 3d exclusively at Artland, and see our highlights of the city's vibrant program below.
---
Anna Dot: 'The Seeing Skin'
Galerie Bombon Projects
How can one see when sight is denied us? This is the sensory question posed by Anna Dot for her solo installation at Galerie Bombon Projects, 'The Seeing Skin'. How can space be utilised and what materials can be deployed if the objective is to stimulate a deeper sense of feeling stimulated by touch rather than observation?
A series of guiding sticks bisect the space and float in space, referencing the salient characteristics of Brueghel's great parable The Blind Leading The Blind. The gallery space is otherwise sparsely installed, allowing, in the words of the artist, a 'choreography…so we can activate the skin that feels'. Braille works are placed on the walls, echoing the apparently haphazard arrangement of sticks, and embossed paper works complete the thoughtful and lyrical exhibition.

Watch artist video here: https://vimeo.com/442315864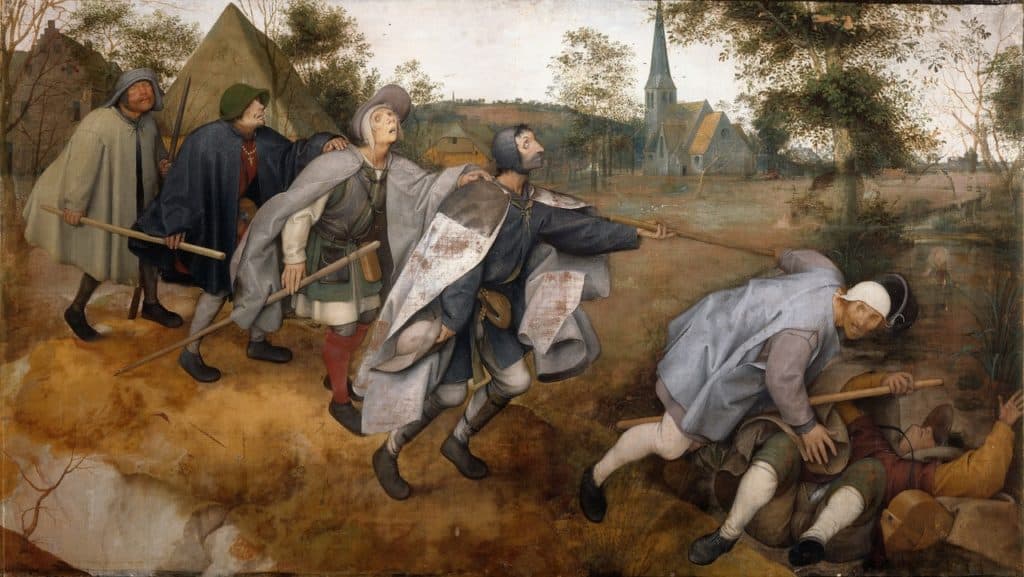 Gallery contact info:
Galeria Bombon Projects – Trafalgar 45, 08010, Barcelona.
Website: bombonprojects.com
---
Peter Halley: New Paintings
Galeria Senda
In his latest solo at Senda, his sixth with the gallery Halley further develops his signature aesthetic. Typified by the day-glo and roll-a-tex surfaces, and even multipartite canvases (something the artist has done for 40 years), the key development here being an increased departure from the rectangular format, and a softening of the palette. The cells, conduits remain, but here, instead of being connected by Halley's famed circuits, they exist as more discrete entities, each pushing at the perimeter and expanding either upwards or outwards.
The colours too are changed, fluorescent and pulsing as ever, yet softened away from the primary and jangling dissonance one often associates with the work. Soft purples and pinks prevail, as close as Halley would ever come to a pastel Impressionism, yet with no loss of the masterful graphic punch. A great master at the peak of his powers.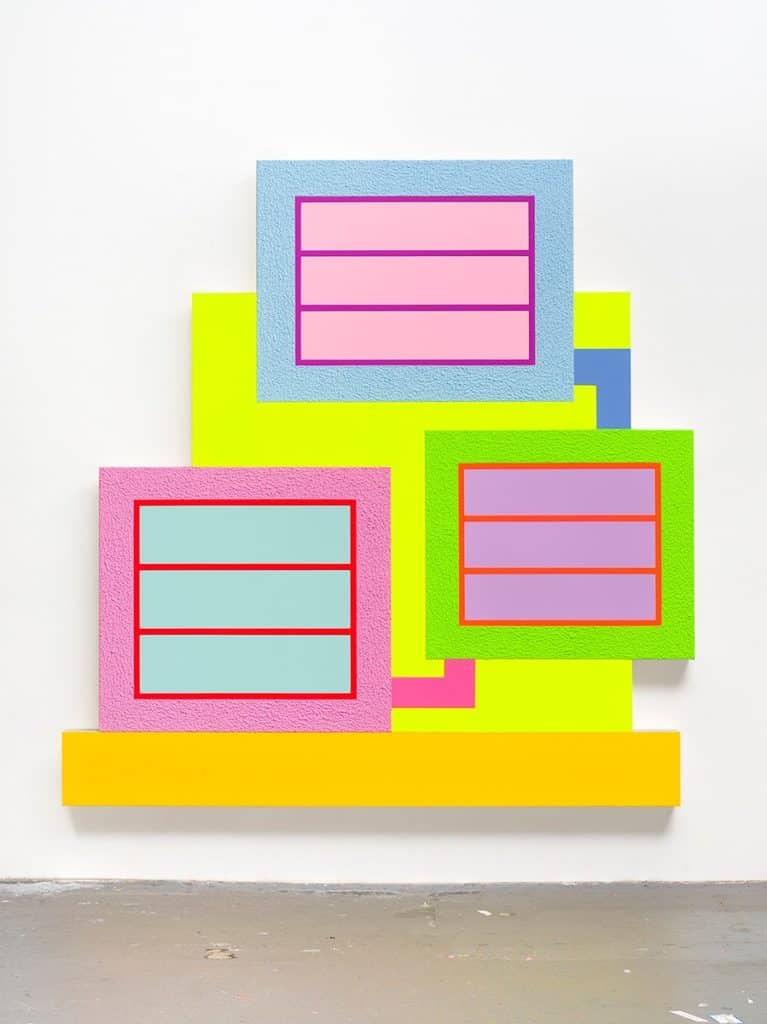 Gallery contact info:
Galeria Senda – Trafalgar 32, 08010, Barcelona.
Website: galeriasenda.com
---
Kepa Garraza: 'Propaganda'
Victor Lope Arte Contemporanea
As the title suggests, Garraza's new works consider art's power and potential to form narratives and shape history, or at least the perception of it long after the events have taken place. The immaculately rendered charcoal works replicate either renowned artworks or iconic images that depict seminal moments in history, or at least how that image has packaged the moments in question and their subsequent embedding in the collective consciousness. That art can have a political dimension is not a new phenomenon, but Garraza shows that representation of the types he has selected had as their main objective to corral and influence the behaviour of social groups or entire populations, with consequent influence in the development and narration of history itself. In his idiosyncratic and mildly arbitrary selection of 'moments', the power of his works lies both in their tour de force execution, and their collective ability to reflect on the nature of power and the tropes of its visual representation.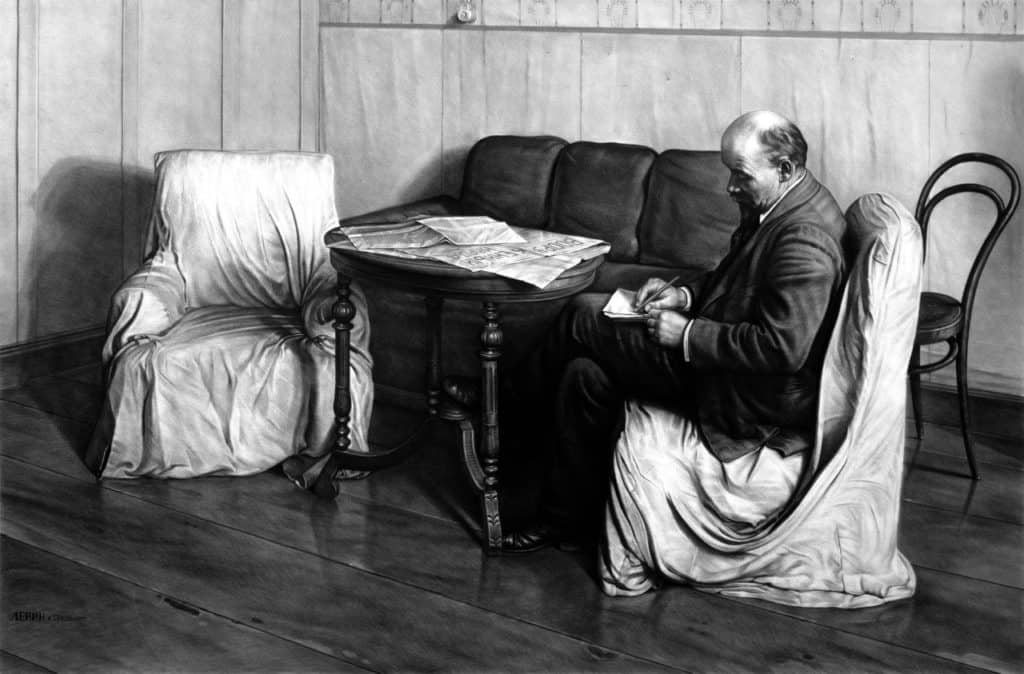 Gallery contact info:
Victor Lope Arte Contemporanea – Carrer d'Arribau 75, 08036, Barcelona.
Website: victorlope.com
---
Virginia Rota: El Mundo al Principio
Alalimón Gallery
A group of 22 photographic portraits, depicting children ranging in age from 4 to 11. Essentially a photographic essay about innocence and beauty, Rota's photographs explore the identity of her sitters, and the manner in which they assert the instructions she imparted to them prior to shooting; instructions as to how their portrait could embody 'beauty' and 'what is important', creating, in essence, a conscious effort from each sitter to convey their own sense of self. Exquisitely lit and showing impressive technical mastery, the portraits have an unmistakably Spanish feel, inescapably referencing portrait formats and chiaroscuro that call to mind antecedents ranging from Zurbaran and Murillo to Goya.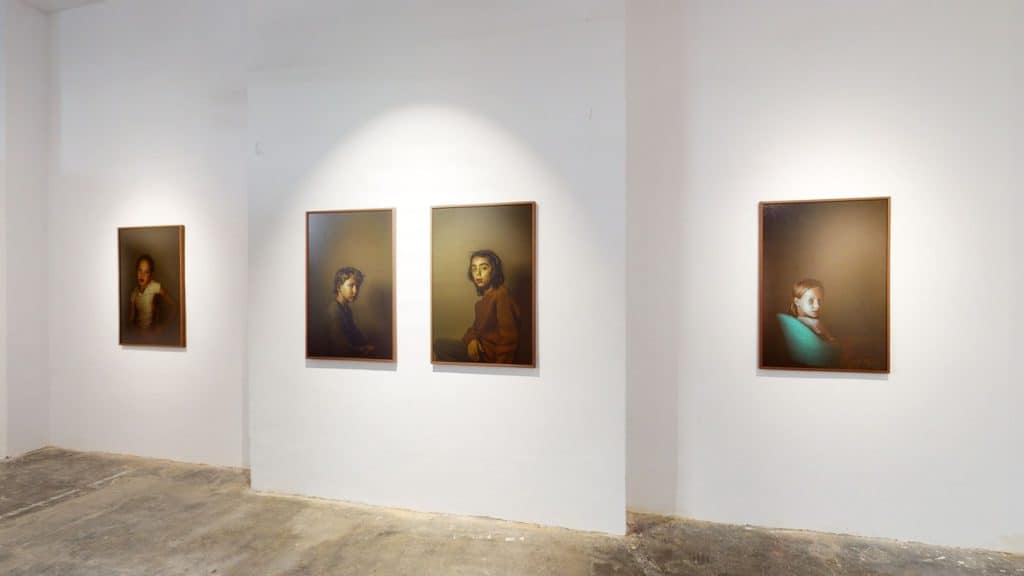 Gallery contact info:
Alalímon Gallery – Carrer de Mexic 19, 08004, Barcelona.
Website: alalimon.org
---
Group Exhibition: Notes on the Anthropocene
Pigment Gallery
A group exhibition hosted in Montoya's beautifully evocative space, showing three distinct bodies of work by three artists; Diego Ferrari, Rosa Galindo and Rubén Martín de Lucas. The Anthropocene has been defined as our current geological epoch, which is dated from the commencement of significant human impact on Earth's geology and ecosystems, especially, but not but not limited to, the most impactful influences such as climate change. Through the various media disciplines of video, photography and painting, the artists working interrogate the relationship between the human and geographic realms. What unites them is a conceptual and practical interest in boundaries. Diego Ferrari draws literal lines on the land; Rubén Martín de Lucas constructs 'Minimal Republics'; Rosa Galindo creates large scale impressionistic canvases whose materials belie their pastoral impression. Through various pictorial and compositional conceits the artists all take a sly, playful approach to the great conundrum of our era: we are the architects of its disasters—simultaneously the perpetrators and the victims of a great crime—against nature, the planet, the future.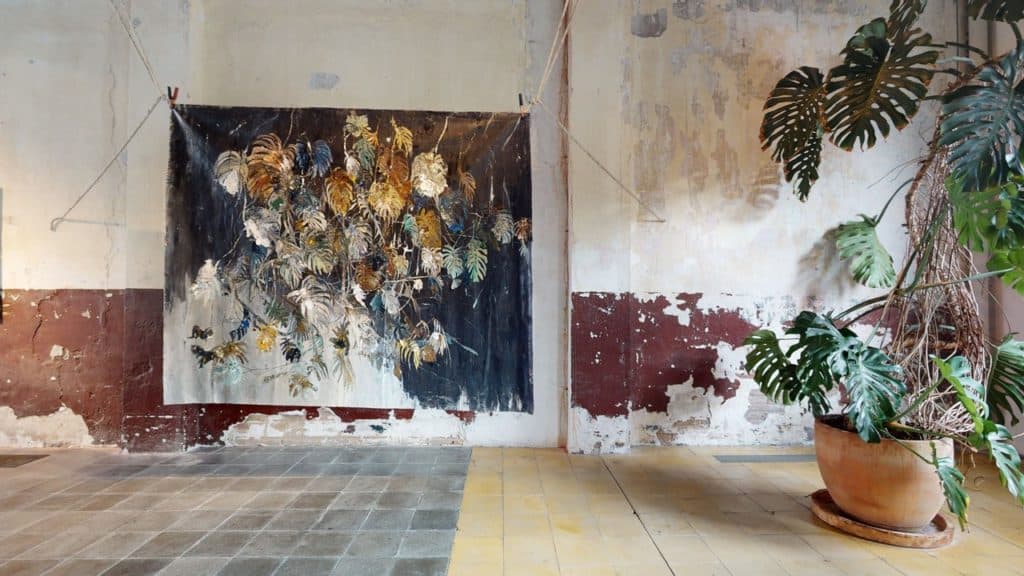 Gallery contact info:
Pigment Gallery – Carrer del Rosselló 193, 08036, Barcelona.
Website: Pigmentgallery.es
---